When summer arrives, you'll find most people enjoying at least some time outdoors. Summer activities, from camping to hiking to fishing, continue to grow in popularity. Moreover, 44% of urban residents plan to replace at least one of their leisure vacations with a camping trip this year. All this summer fun makes high-end camping giveaways ideal. They allow your employees and customers to take your name on all their adventures for many summers to come.
Promo products for the great outdoors
There's a reason cooking on the grill is so popular—a barbeque brings people together for a delicious meal. Remind customers of these special times by giving them outdoor giveaways perfect for a backyard barbeque or camping trip. Hand one of these items out after you close a large deal or as grand prizes at your next company picnic.
The Party Pail Charcoal Grill makes it easy to take camping, tailgating or to the park. Pair it with a 50-Can Outdoor Cooler, which is ideally suited for picnicking or barbecuing. It's heat-sealed and contains a leak-resistant PEVA lining,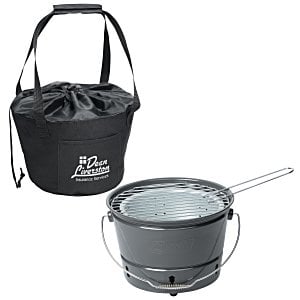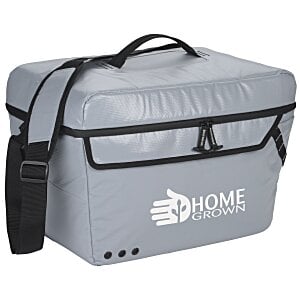 If you're looking for a multipurpose promo, you can relax knowing customers will love the Crossland® Camp Chair. This chair is easy to store, carry and set up. And it features two mesh cup holders with a metal bottle opener on one side strap. Now they can enjoy their food without having to get up for a beverage.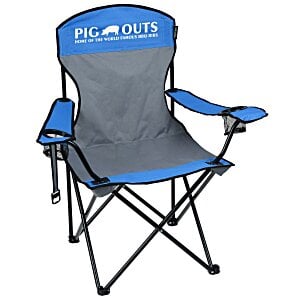 Camping giveaways are a natural choice
Roughly 48 million households go camping (PDF). With so many gearing up to head outdoors, camping giveaways are a natural choice at an event or trade show.
The 10×25 Camo Binoculars help sightseers get in touch with nature. The lenses bring every cloud, bird and tree into view as they've never seen before.
Campfire sing-alongs will never be the same once they have the Lantern with Wireless Speaker. This fun gift includes a removable COB flashlight and a braided carrying handle, plus a retractable phone stand.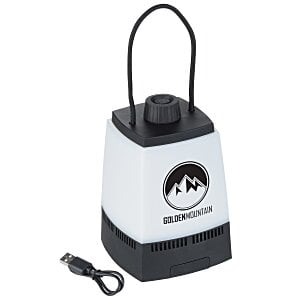 The Basecamp Hammock is a comfy choice for sleeping under the stars or reading a book outdoors. With an easy-to-configure rope and carabiner setup, this must-have item is always ready to move from backyard to campground and back again. Include it in a camping-themed gift basket or use it as a prize donation for a silent auction.
Outdoor giveaways to keep them comfortable
When most people think of summer, they think of long, hot days. But things can get cool once the sun goes down. Our exclusive Crossland® brand is sure to provide warm feelings about your organization.
The Crossland Roll-Up Blanket with a carrying handle is excellent for the campground or a picnic. And it's nice for those chilly evenings around the campfire. Give it as a thank-you gift to a hardworking employee or a favorite customer.
The Crossland Heather Fleece Jacket for women or men will ward off any chills. With their fashionable heather look, these make ideal employee jackets that show off your brand while keeping them comfortable.
Warm employees or customers from the inside out with branded drinkware. The Crossland Vacuum Mug keeps drinks hot (or cold) and is perfect for coffee on the go or sipping a hot beverage by a campfire. Consider it when you need a premium giveaway at your next event.
Camping giveaways make your brand look bright
As everyone gets out of the house and into the open air, employees and customers will surely appreciate these outdoor giveaways. And the same way food tastes a little better when cooked over an open flame, your brand will stand out a little more in the sunshine when people break out their camping giveaways imprinted with your brand. Get more outdoorsy inspiration in our promotional camping products and hiking gear article.