The holidays can be a time of fun, with festive gatherings of friends and family (and a little gift giving). The season provides a perfect opportunity to spread holiday cheer at work too. Research shows that giving and receiving gifts can boost happiness and create feelings of hopefulness and excitement. What's more, it causes the brain to release oxytocin, a chemical that signals trust, safety and connection.
There are so many ways for employers to surprise employees during this season of giving. And seasonal promotional products are the perfect way to foster connections and encourage employees to relax, take care and enjoy the winter months.
Even better, holiday promotional items promote your brand while also showing recognition and support, which are rated among the top three most important factors in workplace happiness by a recent survey on the Canadian workforce. Keep these ideas in mind when shopping for your employee holiday gifts this year.
Bundle them up in winter promotional items
Promote relaxation with soothing winter swag
Get them outdoors with cold-weather promotional items
Promote togetherness with holiday promotional items
Prepare them for the winter with seasonal promotional items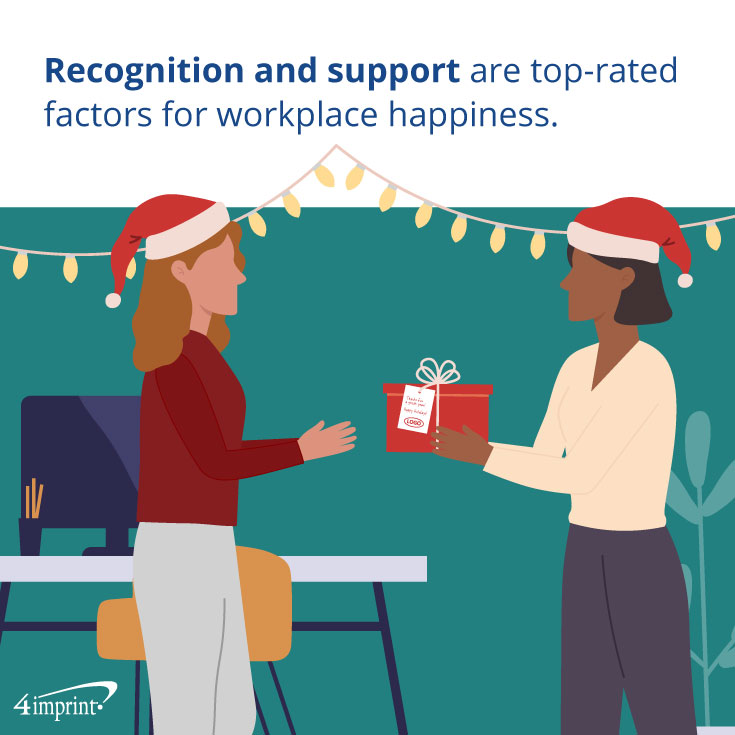 Bundle them up in winter promotional items
When the temperatures drop and the days get shorter, most people tend to spend more time inside. But research shows that spending time outdoors year-round is extremely beneficial to our well-being. Combat the cold weather this winter by giving your team gifts to keep them warm, indoors or out.
A pair of joggers not only makes a good holiday gift for employees but can also make going outdoors more comfortable. A ceramic mug or vacuum tumbler is just the thing to keep their coffee, tea or hot cocoa warm, whether they're sipping at their desks or taking a walk outside. Help them warm up after being out in the elements with a cozy fleece blanket. Toss in a reusable hand warmer for extra comfort.
Promote relaxation with soothing winter swag
Nearly half of Canadians report being very happy, particularly at work. Keep this momentum going while helping them make it through the shorter days by handing out gifts that help them take care.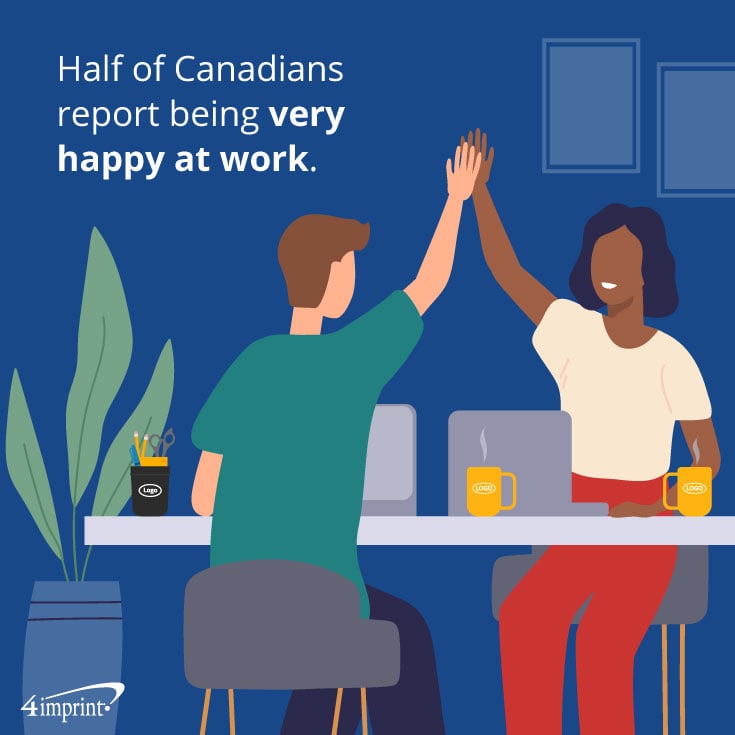 Remind employees that winter is traditionally a time of rest. Encourage them to relax and unwind this season with a comfy bathrobe and a fragrant-scented candle. Combine with something sweet, like cookies and hot cocoa, to help them treat themselves.
Practicing gratitude is another research-backed tactic to stay energized during the long winter months. So is planning a vacation. Help them do both by gifting them a journal and monthly planner this holiday season.
Get them outdoors with cold-weather promotional items
Research confirms what outdoor enthusiasts have known for decades: spending time in nature every day can significantly increase feelings of peace, happiness and hope. Motivate your team to brave the cold by equipping them with winter promotional items, like a fleece vest and an accessory set that includes a hat, scarf and gloves. Want to inspire fair-weather hikers to hit the trails? A new backpack or water bottle makes a motivating holiday gift.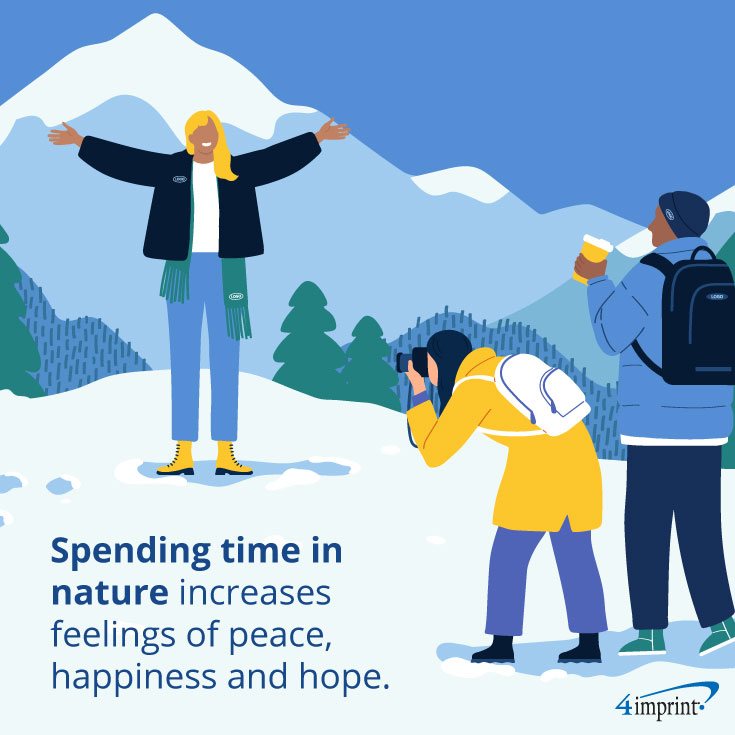 Promote togetherness with holiday promotional items
Give the gift of wellness this season by promoting togetherness. Research shows that connection to a community has a positive impact on physical and mental well-being, making the opportunity to be with others one of the best holiday gift ideas for employees. Whether you host a holiday party or schedule winter meetups, frequent chances to connect remind everyone of the power of community.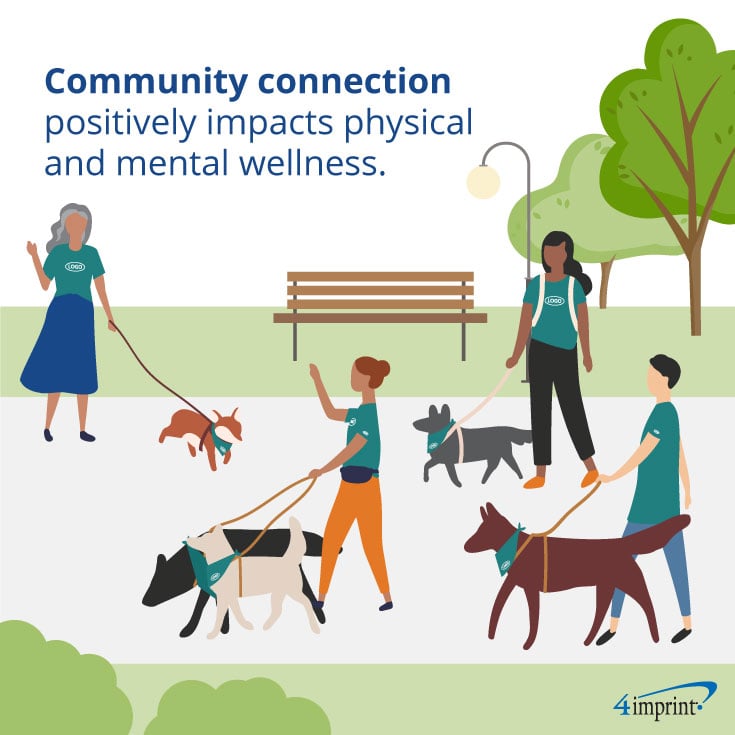 Gift decks of branded playing cards to team members and plan a game night. Equip employees with holiday cookie cutters and plan an in-office baking day (or a day to share baked goods made at home). Or get all the dog lovers together to walk in the park and give a dog toy to each four-legged participant.
Prepare them for the winter with seasonal promotional items
With the winter season comes heavy snowfalls, icy roads and temperatures falling to minus 30C in some areas. Although Canadians are great at managing these obstacles, cold-weather promotional items will still be much appreciated.
Put together a holiday weather kit for those just-in-case moments, complete with a snowbrush or ice scraper, a roadside safety flashlight and a travel-ready blanket. Your team will be grateful for your consideration of their safety and comfort during their travels.
Give the gift of cheer with the best holiday gift ideas for employees
The best holiday gifts for employees are ones that they will put to good use. By giving holiday promotional items to keep your team warm, relaxed and prepared for the season, you can help to make spirits bright and promote a positive workplace culture.