The next generation of writing technology is here with branded Moleskine® Evernote® smart notebooks. What's a smart notebook? It's the latest innovation, enabling users to leverage the power of an app to digitize content they've handwritten in these notebooks and journals. The technology is growing in popularity for obvious reasons: it pairs the journals and notebooks clients, staff and prospects love with advanced technology. If you're looking for a personalized Moleskine notebook with smart technology, we've got you covered.
The power of the pen goes digital
These custom Moleskine notebooks are ideal gifts for your clients who love using a pen and paper, particularly those who are already fans of quality Moleskine products. It's the best of both worlds: your clients can continue writing in their preferred longhand and are able to store, file and search their images and notes digitally with ease.
How do branded Moleskine Evernote smart notebooks work?
The smart notebook app allows your customers or employees to capture thoughts, ideas and stories digitally with a "Page Camera" app, and store it for later use. Sounds incredible, right? Special dotted lines within the Moleskine Evernote notebook enables the program to recognize written text. It digitally captures a clean image and adjusts it for distortion. The captured image is now a note in the program, which means the text is now searchable. Think of what it could mean for your clients or employees. Handwritten pages—including sketches, notes and drawings—once easily lost or misplaced, are now organized and uploaded with help from the Evernote iOS or Android® app.
The Moleskine Evernote smart notebook also comes with "smart stickers," which allow users to categorize and tag their images to keep them organized. Plus, all Evernote Moleskine notebooks come with a three-month subscription to Evernote Premium, which has additional features to make notes even more accessible and convenient.
A digital backup to analog insights
If you're ready to take a closer look at custom Moleskine Evernote smart notebooks, look no further than 4imprint®.  We offer a quality, smart notebook in classic black with the option to emboss your logo on the cover: the Moleskine Evernote Smart Notebook.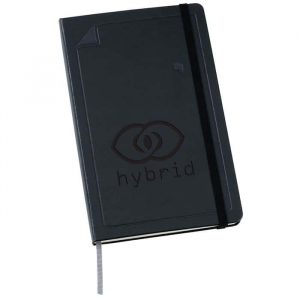 Need it fast? Consider the Moleskine Evernote Smart Notebook – 24 hr.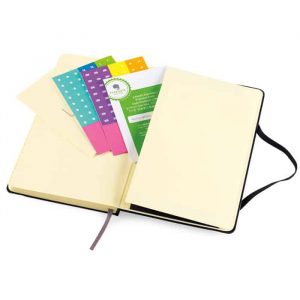 This Moleskine notebook is ideal as a thank you to dedicated employees who are too busy to transcribe meeting notes, for the tech-lover on your prospect list, or even for valued clients who are dipping their toes into the sea of technology. This gift will inspire them to pen (and digitize) a thank you to your organization.
The branded Moleskine Evernote smart notebook will quickly become an invaluable tool, putting your brand on the cover of their most important note keeping.