Picture your team wearing logo'd shirts and hats at a tradeshow. Imagine your new hires receiving logo'd backpacks welcoming them to your team. Creating custom embroidered apparel can lead to a polished, professional and attention-getting look. Here are a few tips to really make your logo pop.
Logo'd custom embroidered apparel
You want embroidered apparel (such as a shirt, hat or bag) to pack a branding punch. One of the first things to note is that embroidery is different from other imprinting processes. For example, in a screen-printing process, ink colors are combined to create a close replica of your logo. With embroidery, threads in colors similar to your logo are used. A skilled digitizer will use your logo artwork and turn it into an embroidered logo.
Tips for embroidered apparel designs
For the overall best-looking embroidered apparel products, your logo design should use bold graphics and lettering. Gradient graphics, drop shadows and metallic highlights can be challenging.
As a general rule, keep your image and text clean and relatively simple so it's easy to read and understand. You want people to know exactly what the image is when they glance at the embroidered logo.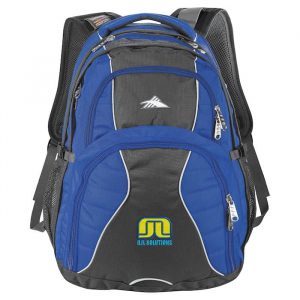 For example, look at this High Sierra® Swerve Laptop Backpack. The embroidered logo is easy to read and understand because of the strong, bold text.
Fonts that work well for embroidered apparel
When it comes to embroidery, fonts matter. Choosing the right font for personalized embroidery can make your logo easier to read.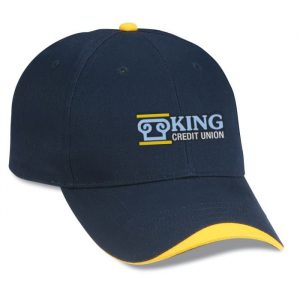 The best logos for embroidered promotional products like the Wave Cap have a font that is big and bold. Bold fonts are easiest to work with, but if the type size is large enough, you can use just about any font. This may mean the font for your embroidered logo is slightly different from your standard brand font in size or style.
For best results, embroidery text should be bold, block letters at least 1/4″ tall. If you use a script or thin font, make sure letters are at least 3/8" tall. If you need an embroidered logo or text in outlined fonts or with drop shadows, make sure they're at least 1/2″ tall.
Color considerations for embroidered apparel products
Most designs found on custom embroidered apparel have three colors or less, but if you have a highly detailed embroidered logo or other vibrant design, you can go with as many as 15 colors.
While considering the number of colors in your logo, also look how embroidery appears on different materials. Experienced digitizers take into account the characteristics of the thread being used and the material being decorated. For example, white and light-colored thread is more transparent than darker colors, so some of the color of the material behind it passes through. This can change the look of the thread, making it seem like a different color. Digitizers will compensate for this, using a slightly different thread color or stitch value to make a light-colored logo look spectacular on a dark-colored fabric.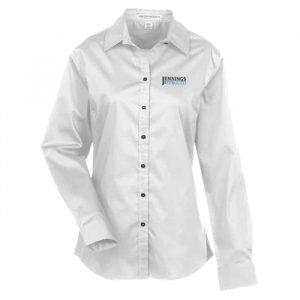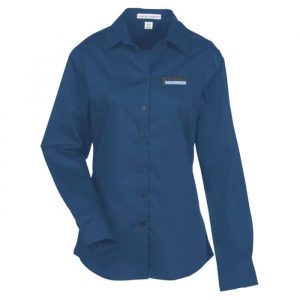 For example, an experienced digitizer might use one set of colors or stitch values on a white Wrinkle Resistant Stretch Poplin Shirt and a slightly different set of colors or stitch values on the same shirt in navy. Yet, the finished products will look almost identical.
Digitizers can also make color-changing gradients in designs pop. If the original artwork has a red-to-yellow blend, the actual threads used may include red, orange and yellow to achieve the desired look.
Custom embroidered apparel design sizes
Most designs are embroidered within a four-inch area, though the final embroidered apparel product may have embroidery areas of varying sizes.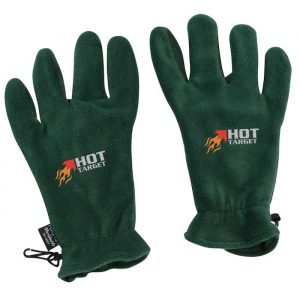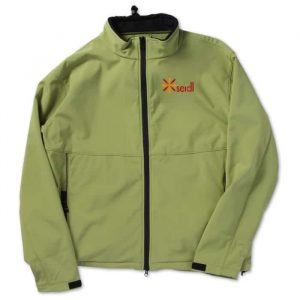 For example, the back of a Polar Fleece Glove has a 1-inch embroidery area while the Clique Soft Shell Jacket has a full back imprint area of up to 15-inches square.
Choosing custom embroidered apparel
Custom embroidered apparel is durable: it retains its color and easily stands up to repeated washings. It also adds the professional touch of a high-quality, textured design element. That's what makes it a good value for organizations looking for employee uniforms, tradeshow apparel or business gifts. By giving a little extra thought to embroidery fonts, colors and sizes, you can be sure your embroidered apparel products are exactly what you envisioned.