Promotional drinkware items—coffee mugs, travel mugs, water bottles, tumblers, and wine or pint glasses—are the promotional products people can't take their hands off. Whether you need a practical gift or an event giveaway, these must-have drinkware products hit the spot!
Promotional drinkware draws cheers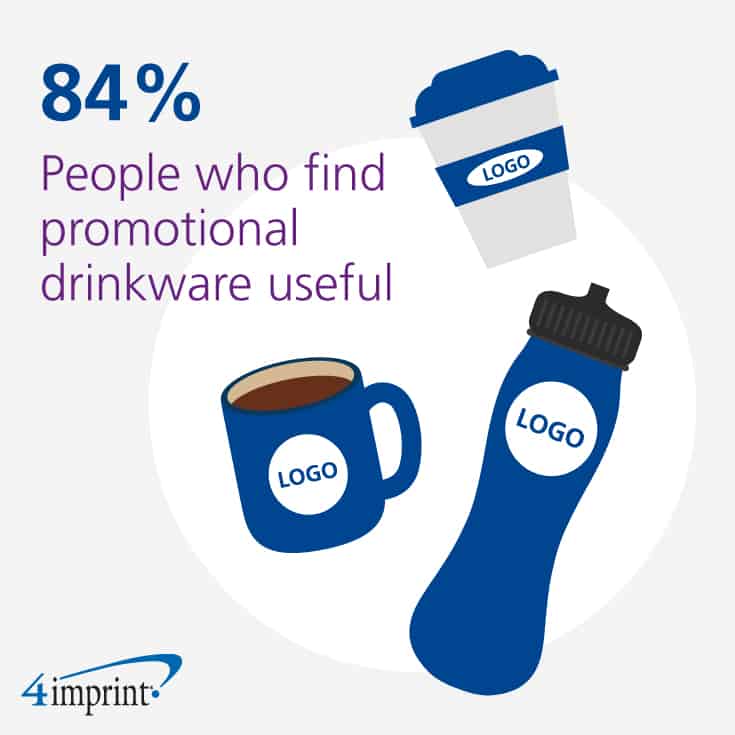 Drinkware is one of the most popular promotional products. Mugs, water bottles and tumblers take up three of the top six promotional product categories. That's because people who receive promotional drinkware find it useful—84 percent of them, in fact, according to the Advertising Specialty Institute (ASI). Plus, says ASI, the 53 percent of U.S. consumers who own promotional drinkware use it two to three times per week. Imagine how many impressions your brand will get with that kind of use!
Now that you know how popular and useful these products are, it's time to pick your perfect match. Here's how to choose promotional water bottles, mugs and tumblers in sizes, colors and materials your customers will crave.
3 Considerations for Promotional Drinkware
Match the Drinkware with Your Audience or Event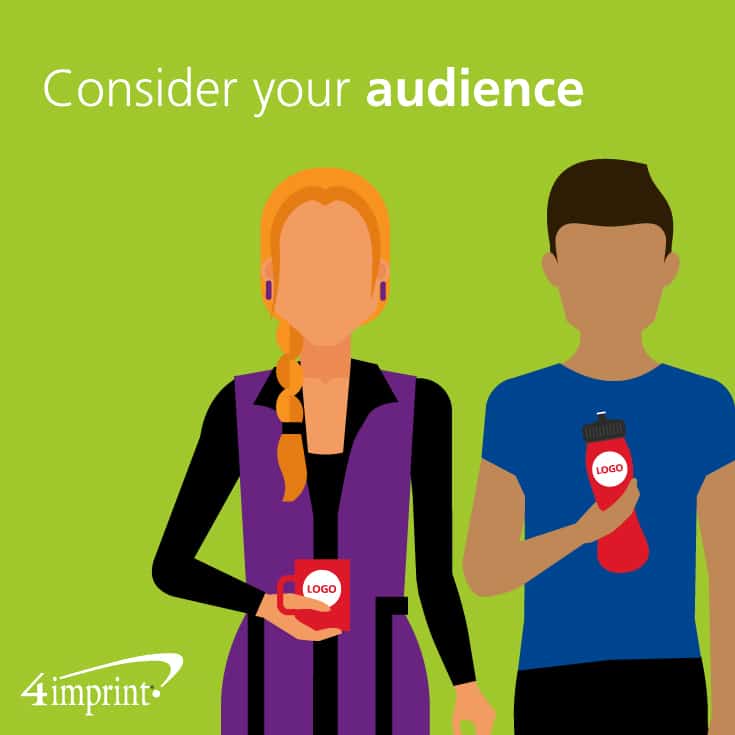 If you're searching for a gift, consider the recipient. If your employees reach for a cup of joe every morning or your customers enjoy a local coffee shop, chances are they will appreciate promotional mugs. But, if you're looking for the perfect match for your organization's run/walk, custom water bottles are the easy choice. If you're unsure of your recipients' tastes, the usefulness of water bottles, tumblers or pint glasses make them universally popular choices.
Stand Out from the Crowd with Custom Water Bottles, Mugs and Tumblers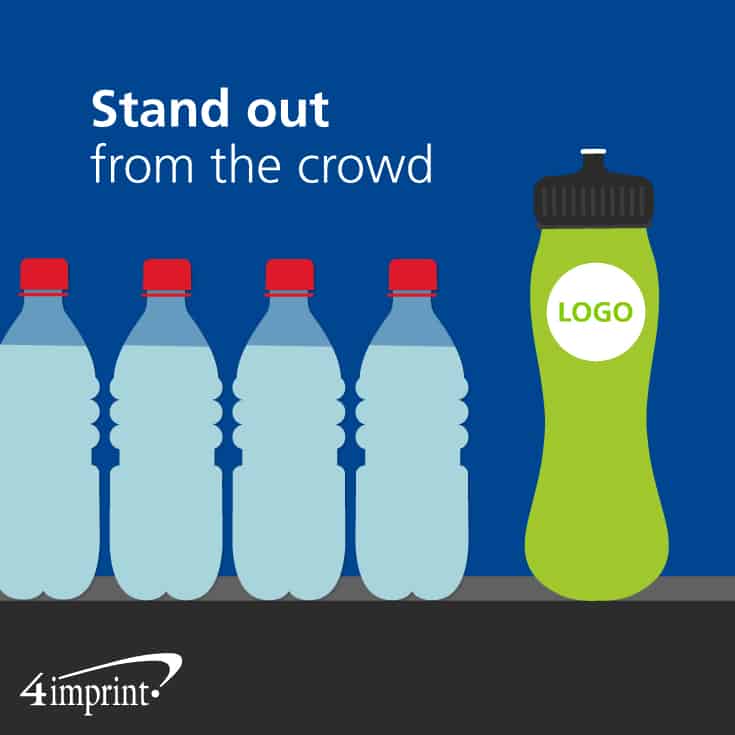 As we mentioned, drinkware is among the most popular promotional products. To stand out from the crowd and make sure your promotional drinkware is the most likely to be nabbed, choose drinkware that offers both style and substance.
Custom coffee mugs in a unique shape or color scheme (that matches your brand!) will have users enjoying the cup as much as the beverage inside. Some mugs come with accessories, like this Double-up Mug with Coaster or this Spooner Mug that comes with a stirring spoon built right in.
Or, if a stemless wine glass is your choice, consider the Offero Omni Stemless Wine Glass with its modern angled rim.
If you're opting for a water bottle, consider the quality of stainless steel, like this h2go Solus Stainless Sport Bottle. Or, if your audience appreciates eco-friendly products, consider travel mugs and tumblers made from recycled materials, like this Insulated Auto Mug or Sport Sipper with Straw.
For an added touch, consider imprinting a few words of inspiration on your promotional drinkware. A promotional mug may sport a saying that gets people on track for success each day, whereas a water bottle could offer motivation to stay healthy.
Choose Custom Coffee Mugs, Tumblers and Water Bottles that Align with Your Brand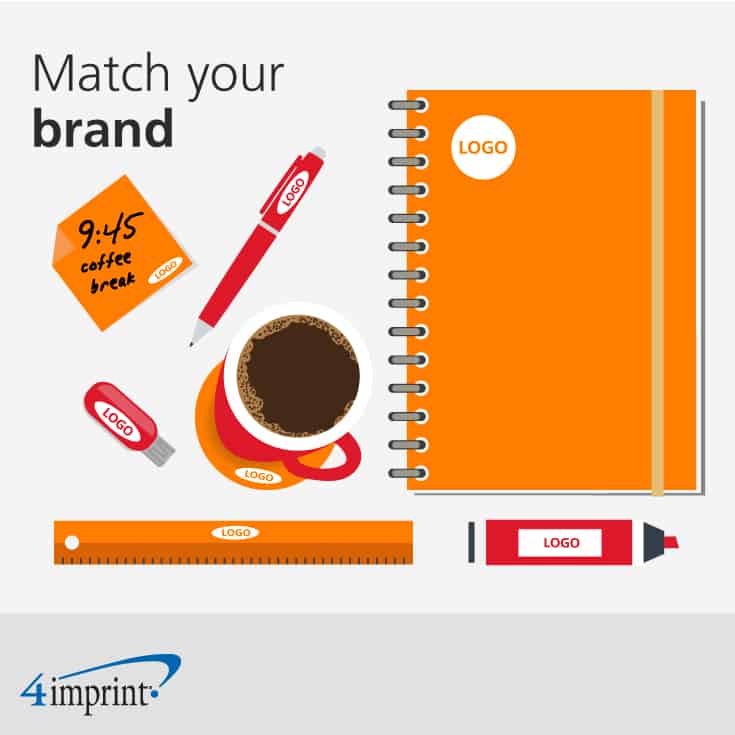 Not only should the color you choose match or complement your brand, so should the quality. Be sure to review the product to be sure it speaks well of your brand. After all, when drinkware is used at the office, at home or on the go, you'll want everyone who sees it—and uses it—to think highly of your organization.
Using Promotional Drinkware to Promote Your Business
Once you've chosen the right piece of drinkware, make use of the space inside to tuck brand materials, coupons, recipes and more to promote your business.
Custom drinkware offers a great mix of function and style, making it a perfect fit to promote your business. Choose promotional tumblers, water bottles and mugs with audience needs in mind, in noteworthy shapes and colors and of a quality that aligns with your brand. By doing so, you'll be sure to select the perfect promotional products your customers or team members will reach for again and again.