4 referral gift ideas for your customer referral program
Promotional gifts to encourage more meaningful referrals
Business referral gift ideas to start a conversation
After-hours referral gift ideas
Gifts to remind them of your brand
Finding new clients can be a stressful challenge that costs an organization time and money. Thankfully, customer referral programs are an effective, cost-efficient way that is proven to encourage new—and loyal—client relationships. In fact, people are four times more likely to buy a product or service when it is referred by a friend. Encourage dedicated customers to share with others what they love about your company with these business referral gift ideas.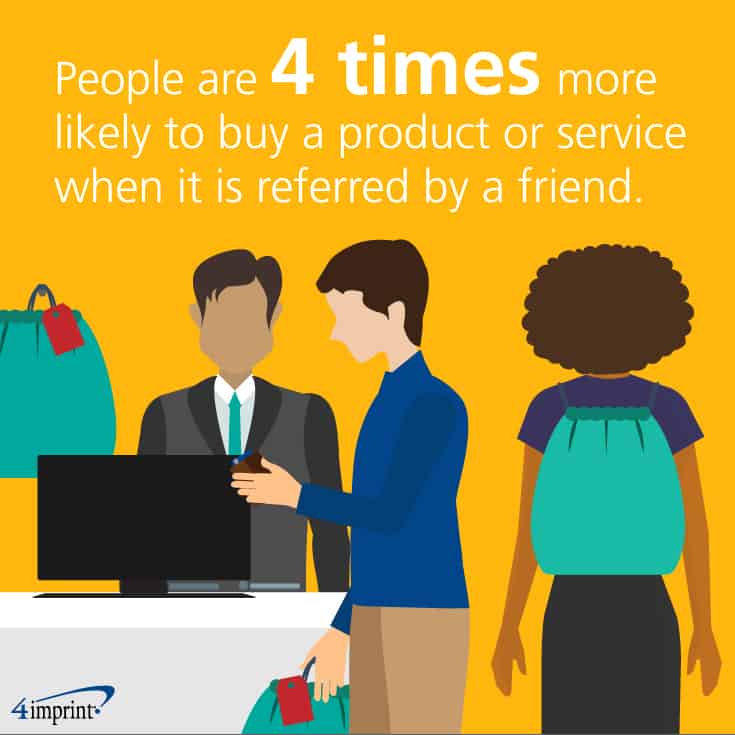 Promotional gifts to encourage more meaningful referrals
A great way to motivate customers to recommend your business to others is to offer a token of appreciation with exclusive logoed company products. Non-cash incentives like promotional gifts are 24 percent more effective at boosting client referrals than cash incentives.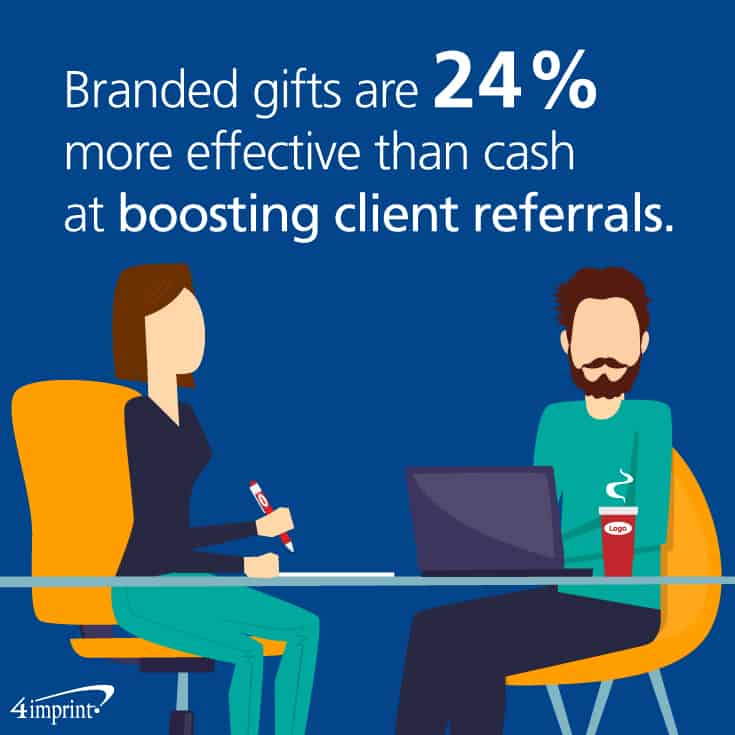 You can take your current referral program to the next level by offering tiered rewards. Some of the most successful programs feature increasing incentives, which set a series of goals and corresponding rewards based on referral amounts.
Business referral gift ideas to start a conversation
The first step to increasing customer referral rates is to start the conversation! Texas Tech found that 83% of consumers are willing to refer after a positive experience, however, only 29% actually do. Give your most loyal customers a reason to start a conversation about your business with the elleven Traverse Travel Tumbler. This trendy yet functional double-wall stainless steel thermal mug will go everywhere with your clients, starting their mornings (and conversations) off right. Or try the Cross® Calais Twist Metal Pen. This elegant pen is a great participation incentive for any referral program. It's perfect for rewarding customers who give referrals and to welcome new customers that have been referred!
After-hours referral gift ideas
Great referral gift ideas don't have to be limited to office use! Spark referral conversations outside of business hours with these thank-you gifts that will be enjoyed long after the workday ends.
Join them around the table—figuratively—with this Leather Coaster Set. It features genuine leather and supreme functionality, perfect for any happy hour with friends and family. This Wooden Box Poker Set will 'up the ante' for customers to participate in your referral program and enjoy themselves while doing so!
Gifts to remind them of your brand
Giving useful and thoughtful gifts is one of the best ways to thank customers for referring your company. In the cold and dreary days of winter, thank your loyal clients with something that will give them warm thoughts about your brand. The Fairfield Throw Blanket will help keep customers warm and cozy as the temperatures drop. This luxurious blanket features soft imitation lamb's wool for comfort and insulation. Add to the feeling of total relaxation with the Zen Candle in Small Window Tin. The lavender and chamomile in this tranquility scented candle will help ease any stress.
Business referral gift ideas to help you gain more customers
Referrals can be a powerful marketing tool because when they are done right, everyone wins. Business referral gift ideas are truly endless. From office essentials to after-work enjoyment and even at-home relaxation, great incentives will encourage great referrals. To learn more about referral marketing, read "Get More Referrals with Marketing Giveaways."