As a way to give back, every business day 4imprint awards two $500 gifts of promotional products to deserving charitable groups and agencies. Since 2006, 4imprint has awarded more than $2.4 million in grants. We love hearing about the creative ways these organizations use their one by one® products and hope their ideas give you suggestions for your own charity, nonprofit organization or business.
You can also read the stories of a few one by one grant recipients here.
1. TRUE Skool: Water bottles in a welcome bag
Milwaukee-based TRUE Skool uses music, dance and other arts to help high school students succeed at life by learning a variety of coping and social skills. The free after-school program has been promoting wellness, leadership and other skills for a dozen years. Students generally stay in the program two to four years and can continue their TRUE Skool experience through summer workforce-development programs, internships and even teaching opportunities. Executive director Sarah Dollhausen received a one by one grant and used it to purchase branded water bottles, which are given to new TRUE Skool students in a bag with a notebook/sketchbook, pen and stickers.
"All the items in our welcome bag are very purposeful," Dollhausen said. "We are big on conserving water, and the reusable bottles help support that goal."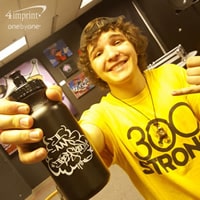 2. Pinson Public Library: Yard signs draw readers
Don't let Pinson Public Library's dozing cat, Socrates, make you think the library is not a hopping place—the summer reading program grew last year by 25 percent. Now celebrating its fifth year, the library continues to grow. Pinson's library even received the Alabama Library Association's prestigious silver ranking: one of only four libraries in the state to receive a medal. Despite its success, the library still struggles to let residents know it exists. The one by one grant was used to purchase yard signs to promote the library and its summer reading programs.
"We were so excited to be chosen for this grant, as the signs were not in the budget," said library director April Wallace. "We really think the signs helped increase participation."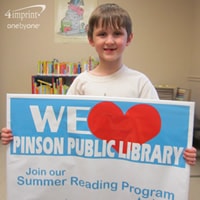 3. Mercer Street Friends Food Bank: outreach with polo shirts, tablecloth
Feeding the hungry in Mercer County, N.J., is the mission of Mercer Street Friends Food Bank. And this agency has done well: Last year, it distributed 2.9 million pounds of food through a network of 80 local food pantries, soup kitchens, schools, senior centers and summer feeding sites. A partner with the Community Food Bank of New Jersey and Feeding America®, Mercer Street Friends has seen pleasing results. From at-risk children to elderly shut-ins to people with disabilities, homeless individuals and beyond, the food bank helps alleviate hunger for more than 30,000 people annually. Yet the importance of marketing is undeniable—it helps cultivate donors and volunteers while spreading the word about the good work the organization is doing. So when Mercer Street Friends Food Bank was selected to receive a one by one grant, the group chose a custom tablecloth and stylish branded polo shirts that reflect the seriousness of its mission.
"It's a work of love," said Brian Peterson, Community Resource Liaison for Mercer Street Friends Food Bank. "And hopefully one day they'll tell us, 'You are no longer needed because there's no more hunger."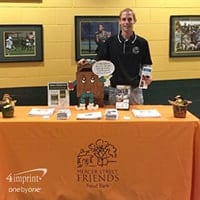 4. KPETS: little plush dogs win big hearts
The gentle touch of a therapy pet can brighten even the darkest of days for folks suffering from physical, mental or emotional difficulties. Keystone Pet Enhanced Therapy Services (KPETS) uses registered therapy teams to comfort individuals from all walks of life. KPETS volunteers spread joy to retirement facilities, hospitals, hospice, schools, libraries and more. More than 350 volunteers, 400 dogs, several cats, mini horses and even a Juliana pig combine to make more than 8,000 visits each year. KPETS used its one by one grant to buy adorable plush dogs in KPETS logo'd T-shirts. The dogs, along with candies and other goodies, were placed in a basket and used as centerpieces and raffle items for the group's annual fundraising dinner. The dinner was a huge success, drawing more than 130 volunteers and community supporters, plus a record $13,000 for the group!
"We were just elated to receive this grant," said KPETS' Karen Gerth. "It was the answer to our prayers!"