People who have been working from home the past year have relied heavily on technology to stay linked with offices and staff around the block or across the globe. With things looking promising for a return to the office—or perhaps a hybrid home and in-person work schedule—branded tech gadgets will remain important.
We checked in with Michelle, a tech products specialist in our merchandising department, for some new products and old favorites that will be appreciated and used by your staff, no matter where they are.
"Whether you're working from home or heading back to the office, now is a great time to revive your workspace," Michelle said. "Go for style and comfort and get organized with our latest and greatest promotional tech accessories."
Reduce distractions with personalized headphones and ear buds
"Noise-cancelling ear buds help people focus on the task at hand, especially if they live with other people who are also working from home—or to block out other distractions," Michelle said. One great choice for staff and customers is the  A'Ray True Wireless Auto Pair Ear Buds with Active Noise Cancellation. These feature Bluetooth® 5.0 technology and a case that charges the ear buds in 90 minutes to provide four hours of playback. Catch their eye while entertaining their ears with the Harlow Light-Up Logo Bluetooth® Headphones, which feature your laser-engraved logo on the right ear cup—and it lights up when the headphones are on.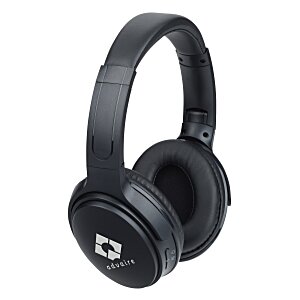 Stay connected with branded tech for their webcam
"Video conferencing has become a major part of our daily tasks," Michelle said. She suggested some promotional webcam covers and video conference lights that will help protect associates' privacy when they aren't using a webcam—or improve the lighting when they do. "The Ring Light Clip helps reduce shadows and offers a uniform glow for video calls," she said. The clever Webcam Cover and Video Light combines two helpful branded tech products into one: a webcam cover for privacy plus four interior LEDs for better lighting.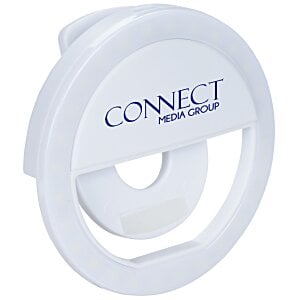 Cut the cord with multifunctional wireless chargers
Chargers have followed two popular trends: wireless tech and integrating tech with other products. A great example of this is the Wireless Charging Desk Kit. Beneath the wireless charging pad are three trays of colorful paper clips, note flags and sticky notes. Talk about a practical, space-saving office giveaway! Another clever promo gift they'll love and use is the Wireless Charger Photo Frame. Slide a 4″ x 6″ photo into the frame and set a Qi®-enabled device on the built-in wireless charging stand next to it. It also includes your laser-engraved imprint.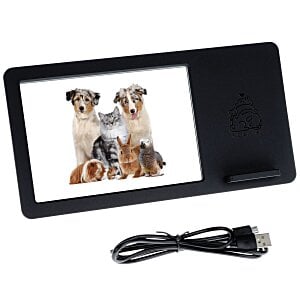 Get your name noticed daily on wireless or hub mouse pads and mice
Old-school computer mice have come a long way in recent years. Michelle showed us just a few of the high-tech mouse options available with your printed logo, including the Wireless Ergonomics Optical Mouse, which has two main buttons, two side buttons and a sensitivity adjuster. Another great two-in-one promotional gift is the 3-Port USB Hub Mouse Pad, featuring a smooth-gliding neoprene mouse pad with a flip-up storage compartment and three high-speed USB ports. Another smart space-saver they'll love to receive.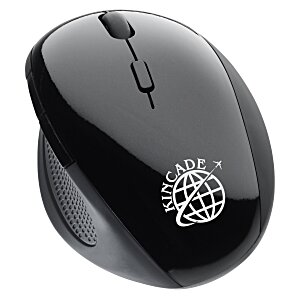 Whether working at the office or from home, your staff and customers are sure to appreciate and use branded tech gadgets.