one by one®: Tiger Historical Center
Think back to a place where you made fond memories growing up—a place that's near and dear to your heart. That's what the Tiger Historical Center is for many Ione, Washington, residents. Located in a small town, the Tiger Historical Center served as a store and post office from 1912 to 1975, when the post office shut down. Now it's a museum and rest stop, and grandparents who used to come into the store as kids bring their grandchildren in to enjoy a nostalgic piece of personal and community history. See how the best gifts for volunteers play a part.
Bonding locals, welcoming tourists
The Tiger Historical Center, the last building of the original town of Tiger, was built as a post office, general store and gas station in 1906. At that time, miners and loggers were flooding into the region. The community housed about 300 residents and had a small school. Situated next to a river, supplies were shipped by riverboats.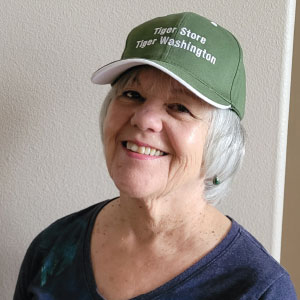 Later, the addition of a highway and railroad made access to the area easier, and Tiger melded into the larger community surrounding it. When the post office stopped delivering mail, the local women who loved the store wanted to keep it open, so they founded the Tiger Historical Society (later renamed The Tiger Historical Center) and sold handmade gifts and postcards for tourists.
In 1999, volunteers transformed the Tiger Historical Center into a museum. When the center received a grant to open to the public as a rest stop and tourist information center for Washington state, a gift shop was added. All the museum pieces have been donated by the local community, including an old coffee machine and a large bell that once hung in Tiger School more than 100 years ago.
The Tiger Historical Center now serves as an entirely volunteer-run museum and rest stop situated on a corner enroute to Canada (which is only 28 miles away) and a popular tourist byway going west. Not only can people get tourist and travel information, but they can also stop for a picnic lunch, explore the museum's original artifacts and browse the gift shop.
"Because we're all volunteer, grants are so valuable for us to get to help with expenses. Our only income comes from grants, donors, gift shop sales and membership drives," said Edie Clark, president of the Tiger Historical Center.
Keeping the Tiger Historical Center thriving is great for the community's spirit. "It's always a delight when someone comes in and remembers shopping here when they were a kid. Or when someone brings their grandkid to show them different things. It's also educational for local kids to see a piece of their past," Clark said.
Saying thank you with the best gifts for volunteers
Volunteers, who run the store 5 to 7 days a week from May through October, are the lifeblood of the Tiger Historical Center. The work they do is very personal to them, and they love spending time at the center. Clark wanted a way to thank the volunteers and also spread greater awareness around town.
Thanks to the 4imprint one by one® grant, Clark was able to order forest green ball caps as volunteer thank-you gifts.
"The hats identify who the volunteers are. I also give them to other people, like if a handyman comes to do a job, I plop a hat on his head. People wear them around town, and they give us more visibility in the community. Next year, I plan to do a promo with the hats, like handing them out to the first 20 customers on the day we open for the season," Clark said.
A note from Cheryl
It's fantastic how volunteers have been able to keep the Tiger Historical Center alive and well in the community. 4imprint is honored to provide the ball caps as one of the best gifts for volunteers to help spread the word. To learn more about a 4imprint one by one® grant, visit onebyone.4imprint.com.