one by one® grant: The Doorway
For more than a decade, Sarah Smith, a young mom, tried to quit committing crimes. She desperately wanted a healthier life for herself and her children. "Every time I tried, my past would get in the way, and I would end up being pushed out back into the life I was trying so hard to leave behind," Smith said.
Smith felt she was viewed as a "criminal junkie" who would never make a true change without a support system to help her. However, there is always hope, and that's where The Doorway opens opportunities. And with help from fundraiser bags, the organization raises money to support its initiatives.
Providing a chance for a brighter future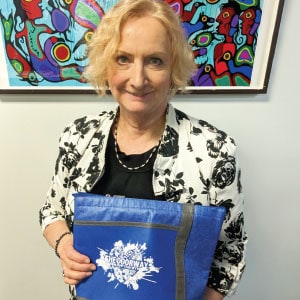 Through a self-directed program, The Doorway helps youth leave the streets and build a better life. Over two years, young participants—many who have children—set goals in 13 areas including housing, employment, health, education, finance, legal, addiction and more.
"I finally found a community outreach worker with a huge heart who has worked so hard to help myself, my fiancé and my kids live the life we deserve. She told us about The Doorway, and in the month I've been coming here, I've gotten a job, am getting housing and have gotten my kids back," Smith continued. "I'm now clean three months and I know The Doorway has helped me so much to stay clean, and without it I wouldn't be employed and wouldn't be getting a home either. I'm so happy, grateful and lucky to have found this place."
Throughout the two-year program, participants identify two goals at a time and create a plan to reach those goals, while attending sessions with staff members. Many young people carry trauma and need someone who understands what they're going through. The Doorway is there to support, encourage and genuinely listen to participants.
At the end of each month, participants take part in self-reflection where they journal, write poetry, create art or write music. While these activities foster creativity and introspection, they also provide participants with opportunities to see how their mindset has changed throughout their experience at The Doorway. With time and encouragement from staff, they feel empowered to transition off the streets and into a life of independence and self-fulfillment. Upon the program's completion, participants often experience wonderful changes that include gaining employment, securing housing and providing better support for their children.
"When young people first come in, they typically just have basic survival skills and may be battling addiction. But after the program, they make the changes they want to see in their life," said Cindy Neufeld, development specialist. "They're given the opportunity to nourish their dreams and decide what they want. They're given the opportunity to make that change."
Participants can return to receive additional support for up to six months post-graduation. "It's very important that we don't create dependency on us," Neufeld continued. "We help them access other resources in the community, but they do it themselves. We don't solve all their problems. They do their own solving, and they get the credit for it."
Keeping cool for a cause using fundraiser bags
To help support its initiatives, The Doorway hosted a fundraising run called Steps off the Street. Every dollar raised was eligible for up to a 50% match by another local charity. Staff wanted to give each participant a token of gratitude.
Thanks to a one by one grant, they were able to order fundraiser bags with a built-in cooler. "It was wonderful receiving the grant because it helped us offset some of the costs," Neufeld said. "That way, more money can go toward the youth we help."
A note from Cheryl
It's inspiring to see how The Doorway is giving young people a chance to create permanent change. 4imprint is honoured to play a small part by providing fundraiser bags. If you're interested in a one by one grant, visit onebyone.4imprint.ca.