Whether the goal is to thank volunteers or raise awareness, it's really fun to hear about some of the creative things charities do.
-Cheryl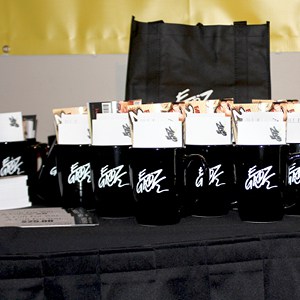 As part of its work, the Saskatoon Downtown Youth Centre Inc., better known as EGADZ, offers a safe haven for youth, young mothers and their children. One woman got to know EGADZ well—she stopped into the Drop In Center daily and eventually made use of the Residential Homes and Outreach Services.
"This summer she was working for us and helping with our summer camps that we have," said Jolene Morris. "She's now on staff. She was a client utilizing our programs and has transitioned."
It's just one of the ways EGADZ is committed to ensuring that every child grows up to become a contributing citizen. The organization uses thank you swag (custom bags and mugs) to show gratitude to those who support their vision.
Morris explains that making their vision a reality requires a multifaceted program, "We are a nonprofit organization that helps to serve the people in our community that would be considered hard to serve." That includes individuals who are less fortunate, low income, and those who are vulnerable to high-risk lifestyles.
To reach these hard-to-serve individuals, EGADZ provides Street Outreach, connecting with their clients by providing nutrition, crisis support, advocacy, addiction referrals, community referrals, health education, clothing, baby supplies and violent-offenders sheets. The organization's offerings also include a Drop-In Centre where anyone between the ages of 12 and 19 can stop by just to hang out, take a shower, find some fresh clothing, or eat dinner by providing a contribution to the meal being served. "That's a big way that we get in touch with our communities," Morris says. Providing refuge, personal care and a sense of community to those who might otherwise have none of that is essential to building the foundation for a successful future.
As a recipient of a 4imprint one by one® grant, Saskatoon Downtown Youth Centre Inc./EGADZ ordered promotional products for nonprofits, the Jumbo Grocery Tote. The bags, used as thank you swag, showcased the organization's brand at an annual fundraiser for their Action to Employment Program.
"We employ at-risk youth and young mothers to provide seasonal yard-care services, free of charge, to seniors and those in need in our community, in order to allow them to stay at home," Morris said of the Action to Employment Program.
"This year we applied for the grant for the totes as one of our giveaways for those who came out and supported our fundraiser." In addition, EGADZ ordered custom coffee mugs from 4imprint as event giveaways. All told, the event raised $77,000 for the program.
Read more one by one recipient stories on Cheryl's blog. To apply for a one by one grant, visit our website at onebyone.4imprint.com and click the Application tab.