one by one® story: NAMI Billings
NAMI Billings supports individuals and families affected by mental illness. Whether someone has anxiety, depression, bipolar, schizophrenia or another mental health condition, NAMI Billings is here to help. A local affiliate of NAMI Montana (an affiliate of the National Alliance on Mental Illness (NAMI)), NAMI Billings receives state training on facilitating support groups, leading classes, and holding presentations to educate the community on mental health conditions and break the stigma surrounding it.
Meeting people where they're at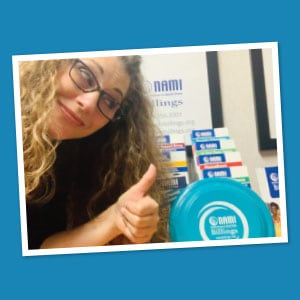 With support groups that meet twice a week online and in-person, NAMI Billings helps individuals and their families get the support they need at the moment they need it.
One such support group is facilitated by a trained peer who actively manages their wellness with treatments such as therapy and medication. Another group to support family members is led by people who are currently supporting a loved one with mental illness. A gentleman who has been faithfully attending a support group for quite some time has been so impacted that he decided to attend training to become a group facilitator.
NAMI Billings provides educational classes for peers, family members, and parents and guardians of children and adolescents exhibiting signs of mental health challenges. The organization also teaches healthcare professionals how to best work with peers and families. Staff and volunteers give presentations at churches, schools and other places in the community. During an interactive presentation called "In Our Own Voice," someone with a mental health condition speaks about what it's like to live with that condition.
Event giveaways that draw people in
At events, NAMI Billings finds it can more easily draw people to its table if there is something tangible to give away. Thanks to a one by one® grant, it was able to order sport flyers and pens.
More than just swag, these products help open doors and break the ice for people who are hesitant to talk about mental health issues. They're more willing to walk over to grab a fun sport flyer or useful pen, which will serve as a reminder for months to come that NAMI Billings is here to help.
"Someone called me the other day and said that several months ago, she received something with information about us on it and kept thinking she needed to reach out to us. After the situation hit the tipping point, she finally picked up the phone. You never know where your organization's name is going to end up that's going to make a difference for someone," said Alicia Willard, office manager.
A note from Cheryl
NAMI Billings is doing fantastic work in its local community. 4imprint is honored to help staff start life-changing conversations by providing event giveaways. To learn more about a one by one® grant, visit onebyone.4imprint.com.