one  by one® story: Canadian Adaptive Snowsports
There's nothing like the thrill of gliding down a beautiful snow-covered hill on a pair of skis or a snowboard. But for those who are visually, physically or cognitively impaired, that kind of experience can sometimes feel out of reach. That's where Canadian Adaptive Snowsports (CADS) steps in. Thanks to their volunteer instructors, CADS is able to help those living with disabilities experience the joy and freedom of snow sports. As a special thank you to their instructors, CADS ordered branded toques for them to wear at an annual event.
Sharing the love of snow sports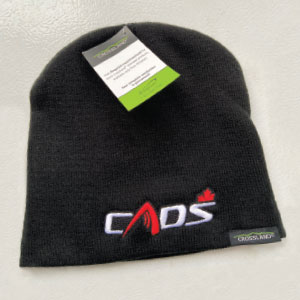 Each year, over 1,600 certified instructors plus an additional 1,500 non-instructor volunteers share their love of snow sports with more than 2,100 students. With students ranging from age 5 to 89, CADS helps people in all skill levels, from beginners who've never worn a pair of skis to those who live and breathe snow sports and want to compete. In fact, CADS is the first steppingstone for those in Paralympics® training. One mom captures the feeling countless students and families have experienced through CADS saying, "CADS has been a life changer not only for Jamie, but for our whole family!"
A week of fun and training
CADS' annual event, Festival, attracts people from Canada and the United States for a full week of training in British Columbia. Athletes also compete for national awards during Festival.
For instructors, it's an incredibly rewarding experience to see a visually, physically or cognitively impaired person ski down a hill by themselves—all thanks to their training. And every instructor who attends is a volunteer who is deeply dedicated to helping those with disabilities. They pay for their own flight tickets, food, transportation and lodging.
CADS is incredibly appreciative of the instructors and volunteers who make its programs possible. As a thank you, CADS used a 4imprint one by one grant to order branded toques for instructors to wear at the next Festival, which is scheduled for March 2022.
"These beanies are SO fantastic. They look great and we can't wait to give them to our instructors as a huge thank you from us. We really appreciate the help we received from the 4imprint grant to make this possible," Amy Royea, CADS operations manager, said.
A note from Cheryl
We're rooting for all the athletes who will participate in the next Festival! We love to see how our products, like these branded toques are used to help thank dedicated volunteers. For more information on the 4imprint grant program, visit onebyone.4imprint.ca.