one by one®: GiGi's Playhouse
GiGi's Playhouse is a Down syndrome achievement center that provides free educational and career development programs. With a mission to set the bar high and offer opportunities for people with Down syndrome, GiGi's Playhouse supports thousands of families while celebrating milestones and progress every step of the way.
One impactful service offered is the Amina Grace Speech and Language Program. Over 10 weeks, participants experience life-changing communication transformations. GiGi's Playhouse partners with a local university to help individuals develop essential speech, language and communication skills that empower better communication with the world around them.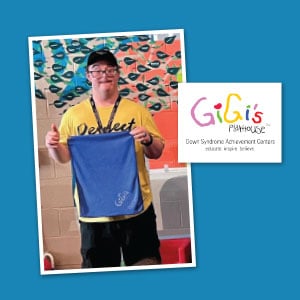 "It's incredible to see people's lives literally being changed in a 10-week program. Some work to build muscles they need to form words and sounds, some people learn how to use an assistive device to communicate with the outside world and some use other agents," Site Director Kelly Antonson said. "Some people come to us unable to communicate hardly at all. After 10 weeks, they have a lot of skills to communicate with family and friends."
Fundraiser items tee off for a brighter future
To support its cause, GiGi's Playhouse organized its third annual golf tournament fundraiser slated for August. This year, the organization used a 4imprint one by one grant to order golf towels, adorned with its logo, as fundraiser items. The towels serve a dual purpose—not only are they perfect for the upcoming tournament, but they also spread awareness long after the event is over.
"By having our logo on the golf towels, participants can proudly display their support for GiGi's Playhouse," Antonson explained. "It's a way for them to share our mission, even when they're not actively fundraising for us."
GiGi's legacy: Advocacy and inclusion
GiGi's Playhouse derives its name from GiGi Gianni, a 21-year-old with Down syndrome. Founded by GiGi's mother, Nancy Gianni, the organization has grown by leaps and bounds over the past two decades, with local chapters popping up across the nation.
The driving force behind GiGi's Playhouse is to change the way society views Down syndrome and send a global message of acceptance for all. GiGi is a passionate advocate. She travels with her mom across the country, showcasing the immense potential of people with Down syndrome and singing the national anthem at events.
"GiGi's Playhouse isn't just a place for learning. It's a community that helps people with Down syndrome and their families feel included and supported," Antonson continued. "We're committed to creating a world where people with Down syndrome are recognized for who they truly are."
A note from Cheryl
It's inspiring to see how GiGi's Playhouse empowers people with Down syndrome and opens doors for opportunities and inclusion. 4imprint is honored to support GiGi's Playhouse by providing the golf towels as fundraiser items. To learn more about a one by one grant, visit onebyone.4imprint.com.