one by one®: Change Course
Joseph Johnson, once imprisoned, faced the daunting challenge of reentering society and finding a stable career. He credits his success to the strong, supportive community that rallied around him after his release.
Johnson saw many peers struggle after being released, with some resorting to selling drugs to make ends meet and others wanting to return to prison. They didn't have the support system to help them make a successful transition. Johnson founded Change Course, a career development program, to change that. And backpack giveaways play a small, but encouraging, role.
A window of opportunity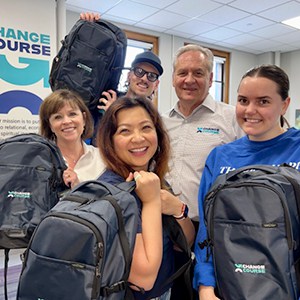 Change Course is planted in the lowest-income area in Des Moines, Iowa, to help spread the message farther and faster.
"Many people come from poverty where their whole lives have been about survival. They've never had the chance to sit down and figure out what they're actually good at," said Bradford Johnson, Joseph Johnson's son and director of communications.
That's where Change Course steps in.
Productive lives, positive impact
While Change Course empowers people to take control of their life's direction, team members make it clear that they're just helping—the participants are the ones making it happen. When someone joins the Change Course program, they participate in the following process:
Step 1 – Six-week personal development course
This includes developing multiple soft skills vital to finding success, like practicing proper etiquette, building a resume and making a presentation.
Step 2 – Choose a career track
As participants go through their personal development course, they figure out what they're naturally good at and enjoy doing, which helps guide their career choice.
Step 3 – Earn credentials
Over the next three months, participants work to gain real-life certifications or credentials to land a job in their chosen career path. A nursing program participant may achieve CNA certification, while someone in construction may get an apprenticeship.
Step 4 – Land a job
Change Course works with corporate partners to connect participants with careers. Positions have a minimum $19/hour pay, full benefits and no limit to how far someone can move up.
Backpack giveaways encourage graduates
After participants complete the entire program, they celebrate with an official graduation ceremony.
"This ceremony means a lot to our participants, especially because many of them didn't receive high school diplomas. Several of them also have kids, so this is a time where they can show their family they can achieve anything and they'll be there for them in the future," Johnson said.
Change Course team members wanted to give graduates a reminder that they can continue to accomplish anything they put their minds to. Thanks to a 4imprint one by one® grant, they were able to order backpack giveaways.
The backpacks are filled with gift cards, letters from the graduates' family and the community, gifts, and various tools. These resources help graduates build a productive life for their families and themselves.
"We also put reminders in the backpack that, 'You're in control of your own life. Nobody saved you. You did this yourself. You have everything you need to thrive.' We really drive it home to our participants that they're the ones who are making the change, we're just facilitating it," Johnson said.
A note from Cheryl
It's inspiring to see how Change Course empowers individuals to overcome adversity and rewrite their futures. 4imprint is thrilled to play a small part by providing backpack giveaways for program graduates. To learn more about a one by one grant, visit onebyone.4imprint.com.