one by one®: Billy's Place, Inc.
Losing a loved one can be devastating for anyone, but for children, grappling with their feelings can be especially challenging. Children may feel sad, hurt or angry and may struggle with how to express their emotions in a healthy way.
Juli McGreal's son, Billy, was just 15 months old when her husband, Mike, passed away. When Billy was around three years old, he began acting out, prompting McGreal to seek help. A grief support center in Wisconsin helped tremendously, but when McGreal relocated to Arizona, she found that there weren't many options.
"There was really nothing in the area to help grieving families," said Kris Friedman, executive director. "We offer opportunities for kids to come together and normalize all the feelings they're having."
Today, Billy's Place offers both in-person and virtual peer-to-peer support groups for children and families completely free of charge. While most of the programs focus on children and teens, there are also support services for the entire family, including the adults. The organization hosts programs about 11 nights a month, some of which are themed and curriculum-based with a focus on mindfulness practices, activities, crafts and even music and art therapy.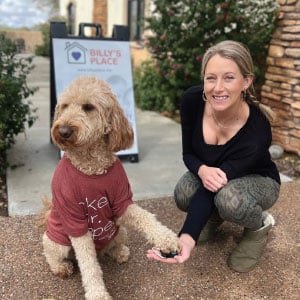 "We're a safe community for families," Friedman said. "If a child comes to us and says they're mad at having lost their special person, that child has every right to feel that way. We just want to help them define that feeling and channel it instead of hurting themselves or others."
How event giveaways help point the way to handling grief
To help ensure resources remain free, Billy's Place hosts an annual mission-based fundraising celebration called Hike for Hope. This themed event is a special way to celebrate the memory of loved ones who have passed away. It is also an opportunity for kids to enjoy fun activities that promote healthy grieving. To fit with this year's theme "Finding Our Way," the organization planned a variety of stations to represent the twists and turns of the grief journey.
"For example, we'll have a labyrinth," Friedman said. "We will also have dissolvable paper where the kids can write their intentions or something they need to let go of while they are missing their special person. They'll be able to walk through the maze and put their paper in water to let it dissolve as their way of letting it go."
Another station will feature Navigating Carabiners as event giveaways that the children can take home. Volunteers from local Boy Scout® and Girl Scout® troops will be on hand to teach the children how to use the built-in compasses for navigation, just like program coordinators at Billy's Place help them learn how to navigate grief.
Friedman says the most important impact of Billy's Place is the effect their support can have on the children. She remembers a family that experienced the death of their young son in a car accident, and his sibling who had a very difficult time with the loss.
"When they came to us, he was laying down in the classrooms or parking lot, kicking and screaming," she recalled. "He just didn't want to be at school. After two or three months of being a part of Billy's Place, he got a Student of the Month award from his teacher. That was a really impactful moment."
A note from Cheryl
It is humbling to see Billy's Place providing a safe haven for children experiencing grief. 4imprint is pleased to play a small role in its mission by providing promotional event giveaways. To learn more about a 4imprint one by one® grant, visit onebyone.4imprint.com.
Trademarks:
Boy Scout is a registered trademark of Boy Scouts of America United States Federally Chartered Corporation (Title 36) UNITED STATES 1325 West Walnut Hill Lane Irving TEXAS 750152079
Girl Scout is a registered trademark of Girl Scouts of the United States of America CONGRESSIONALLY CHARTERED NONPROFIT CORPORATION D.C. 420 Fifth Avenue New York NEW YORK 10018