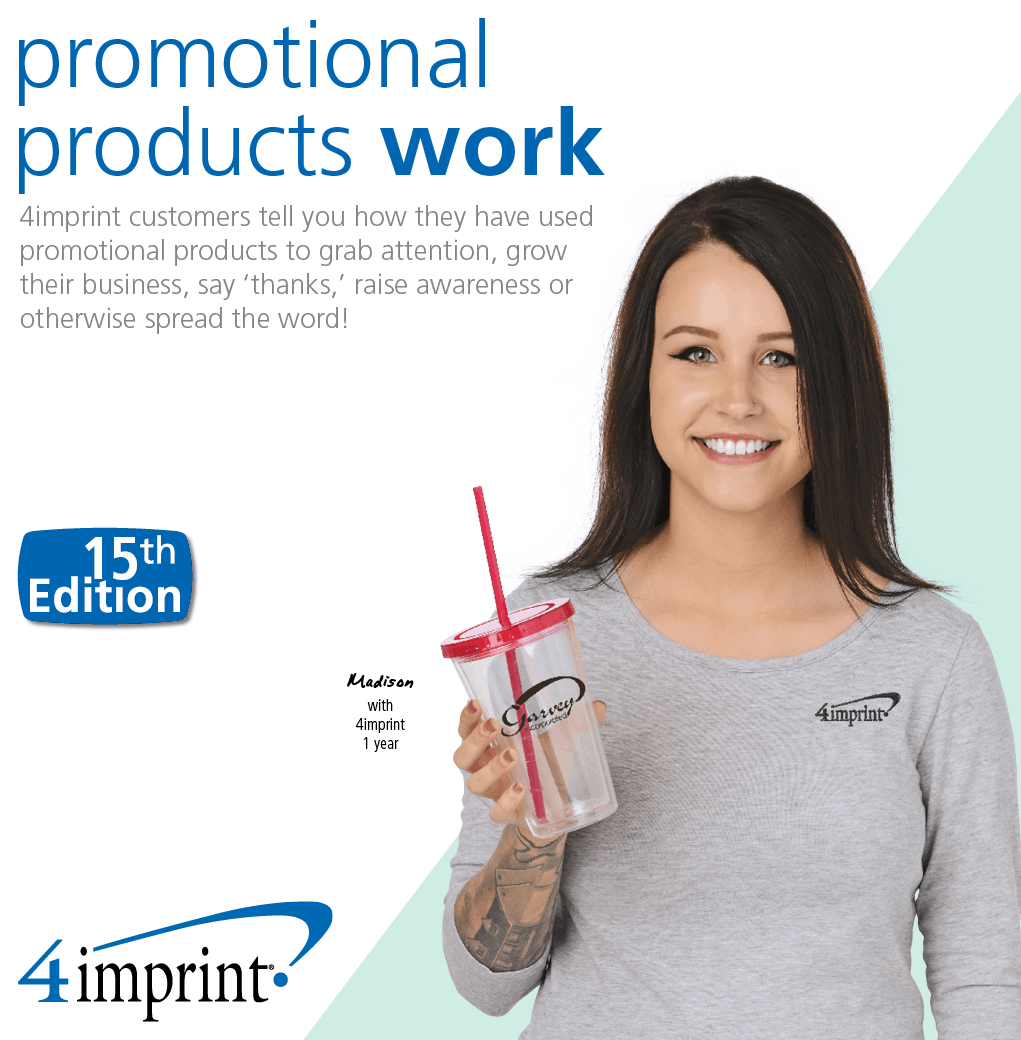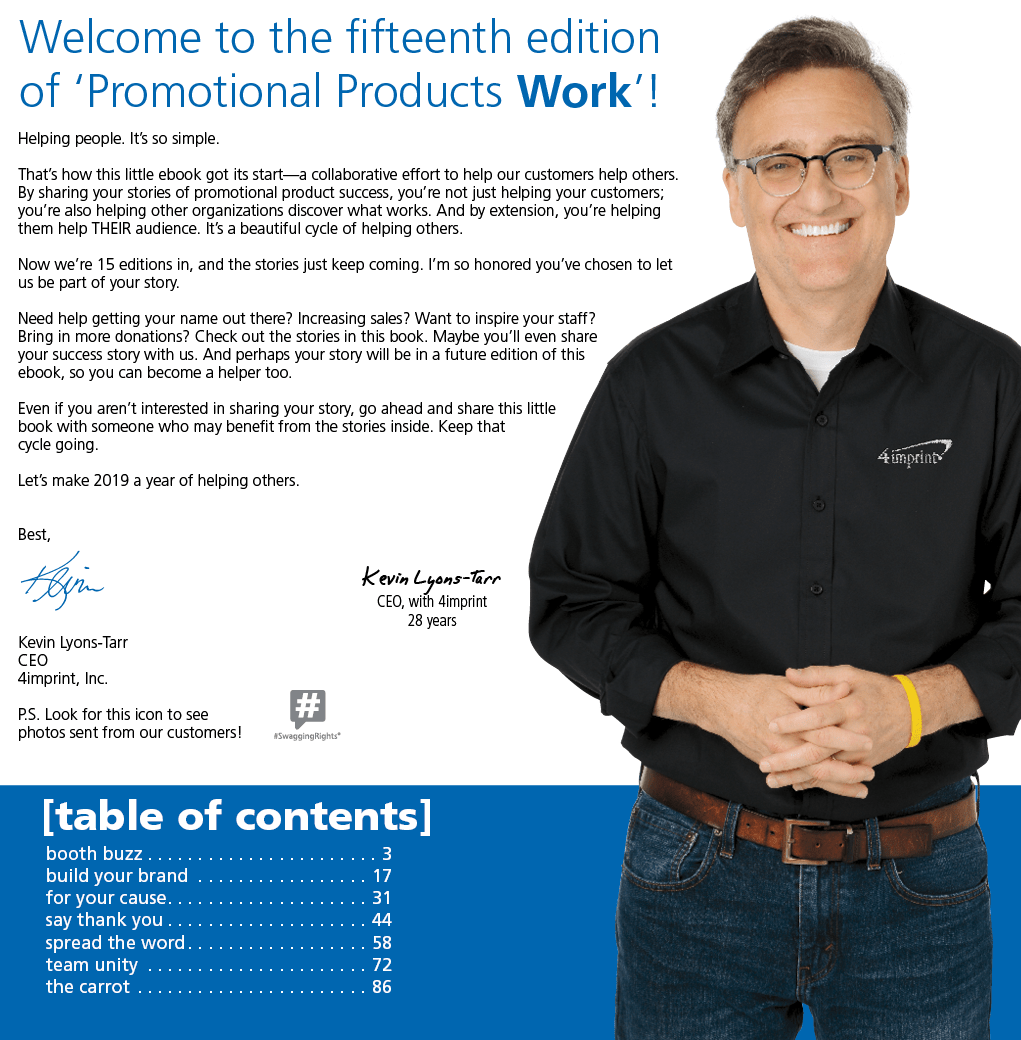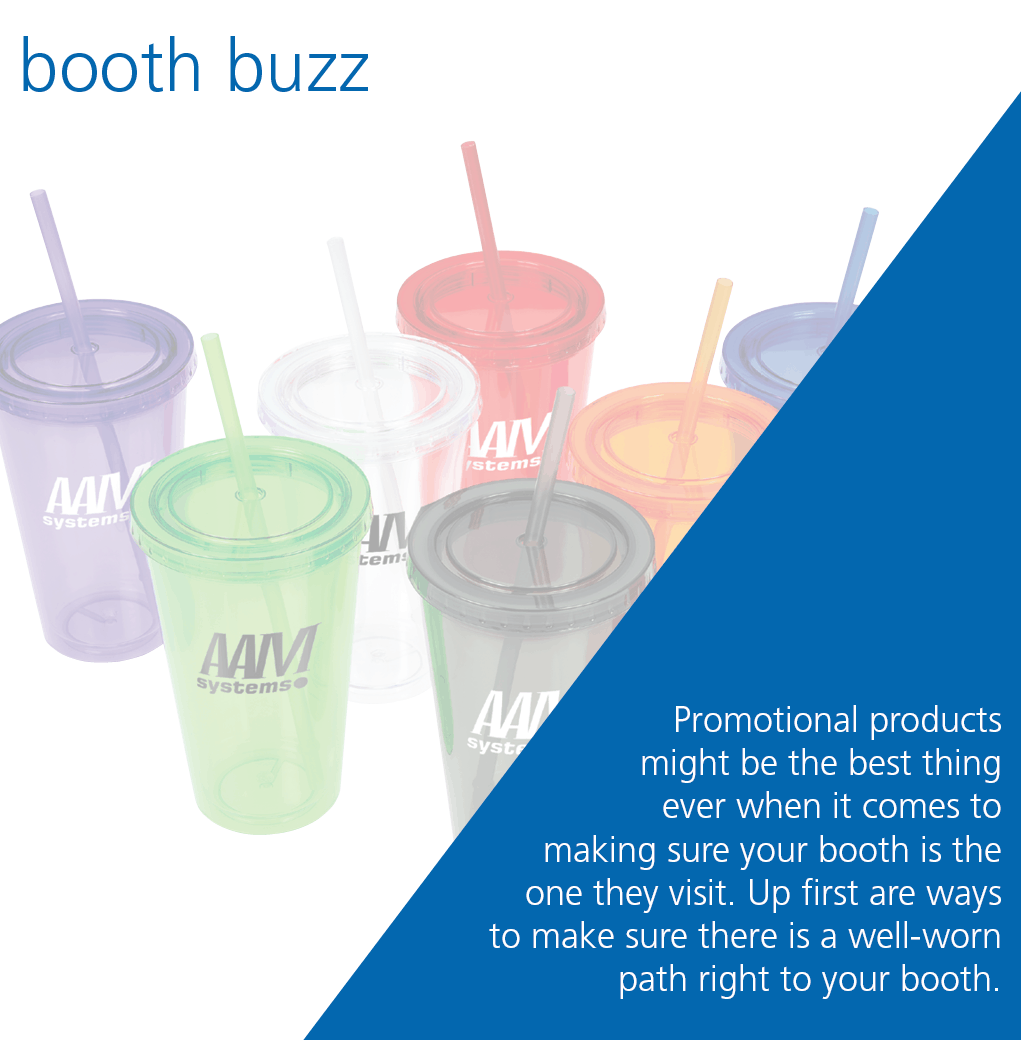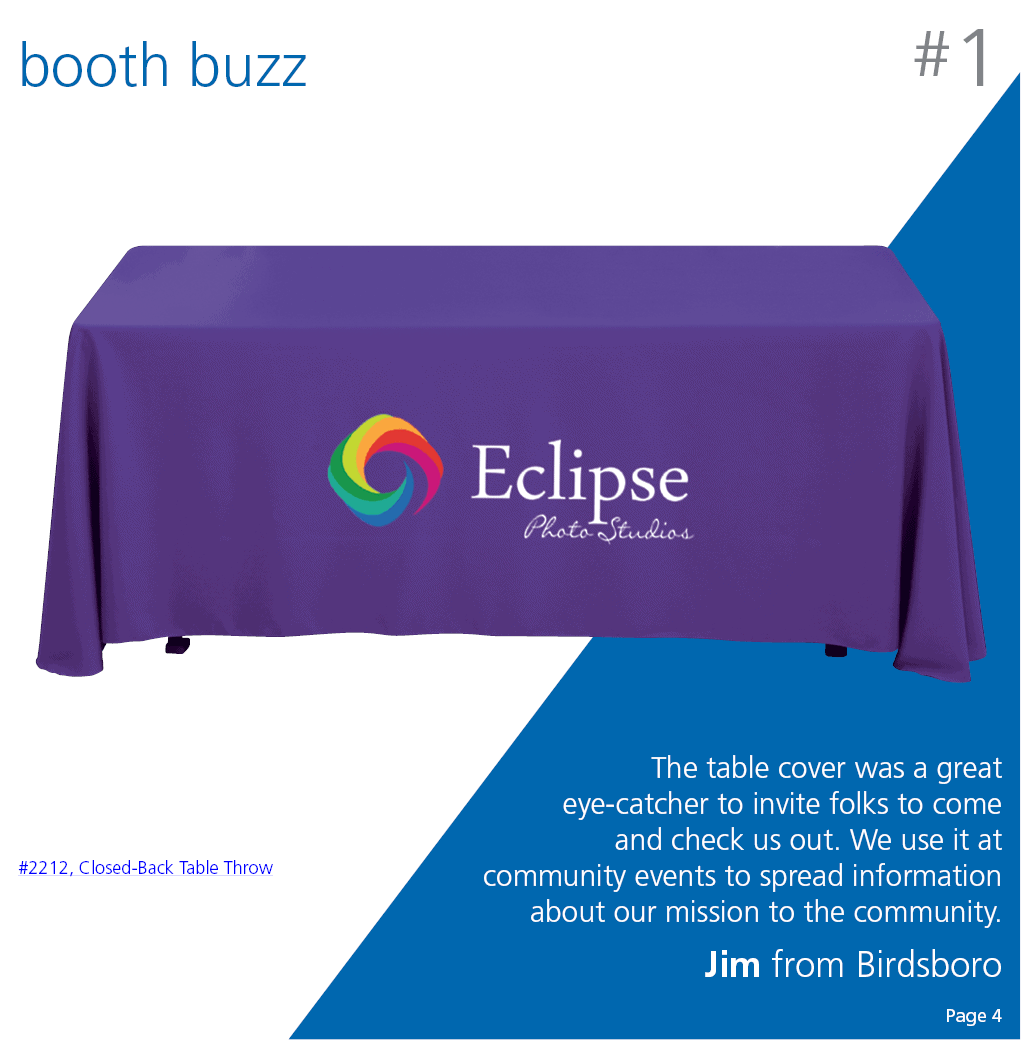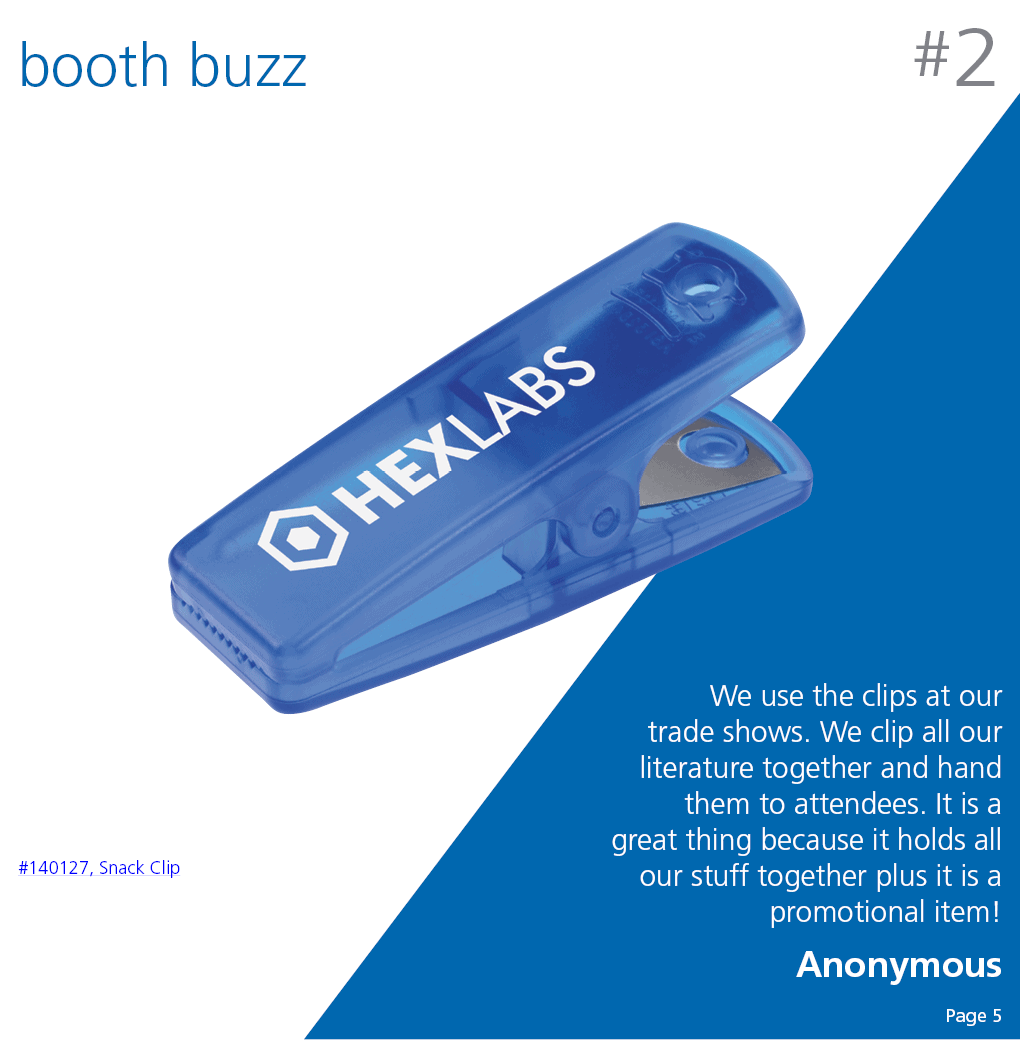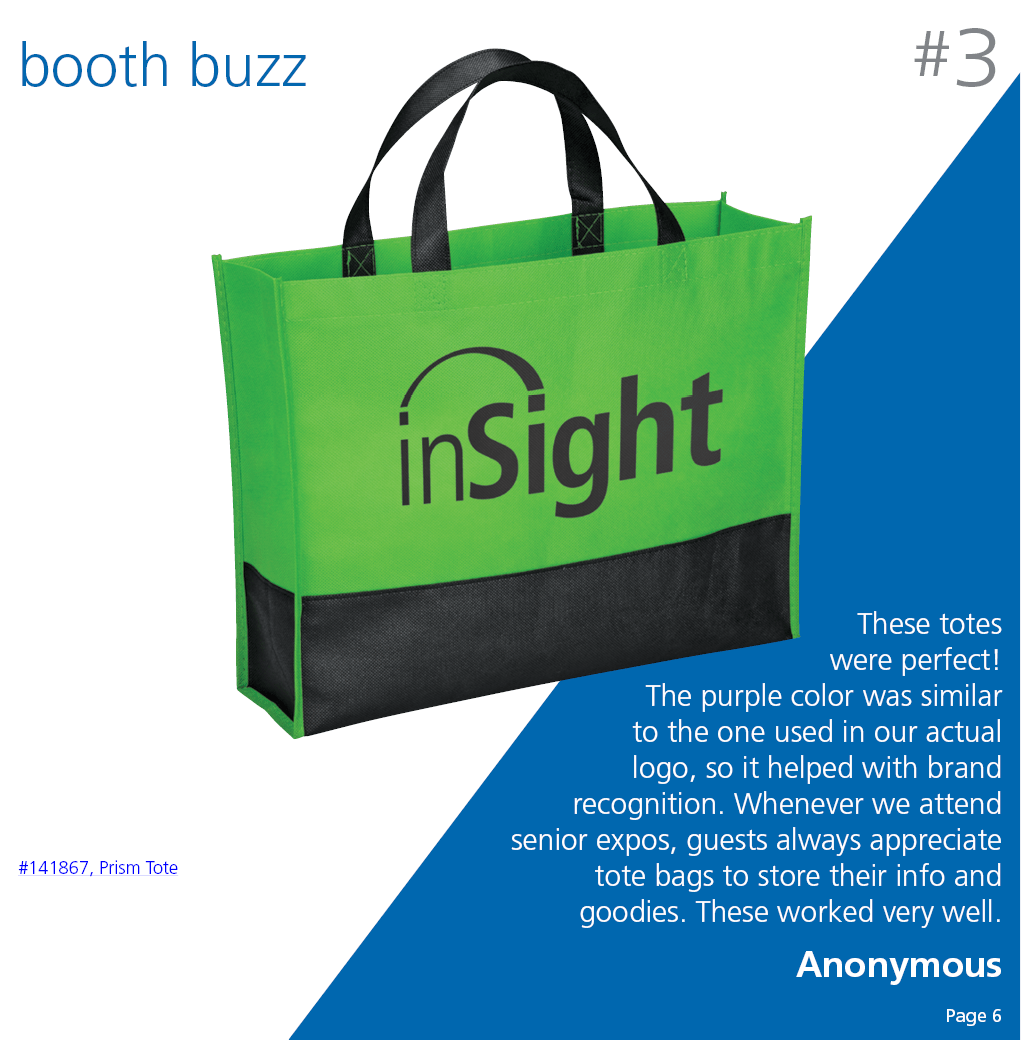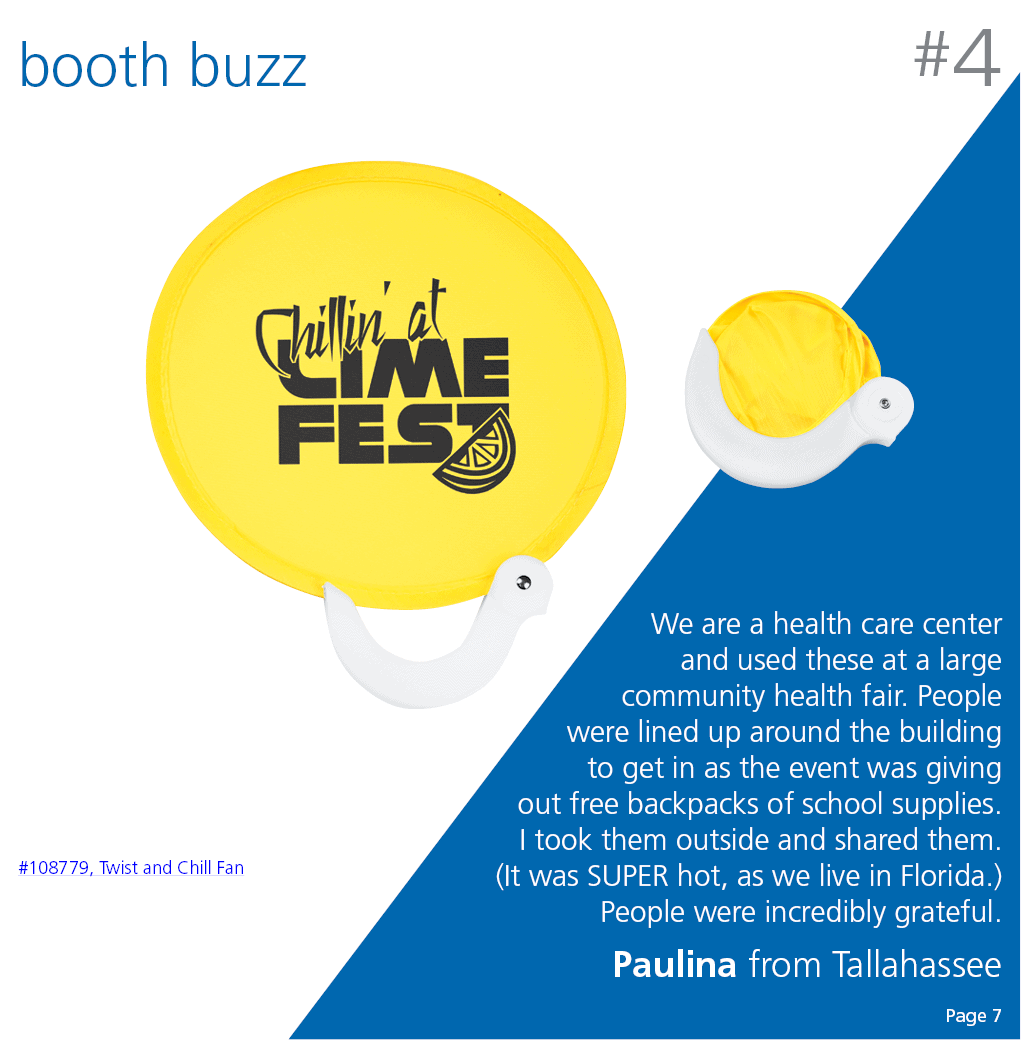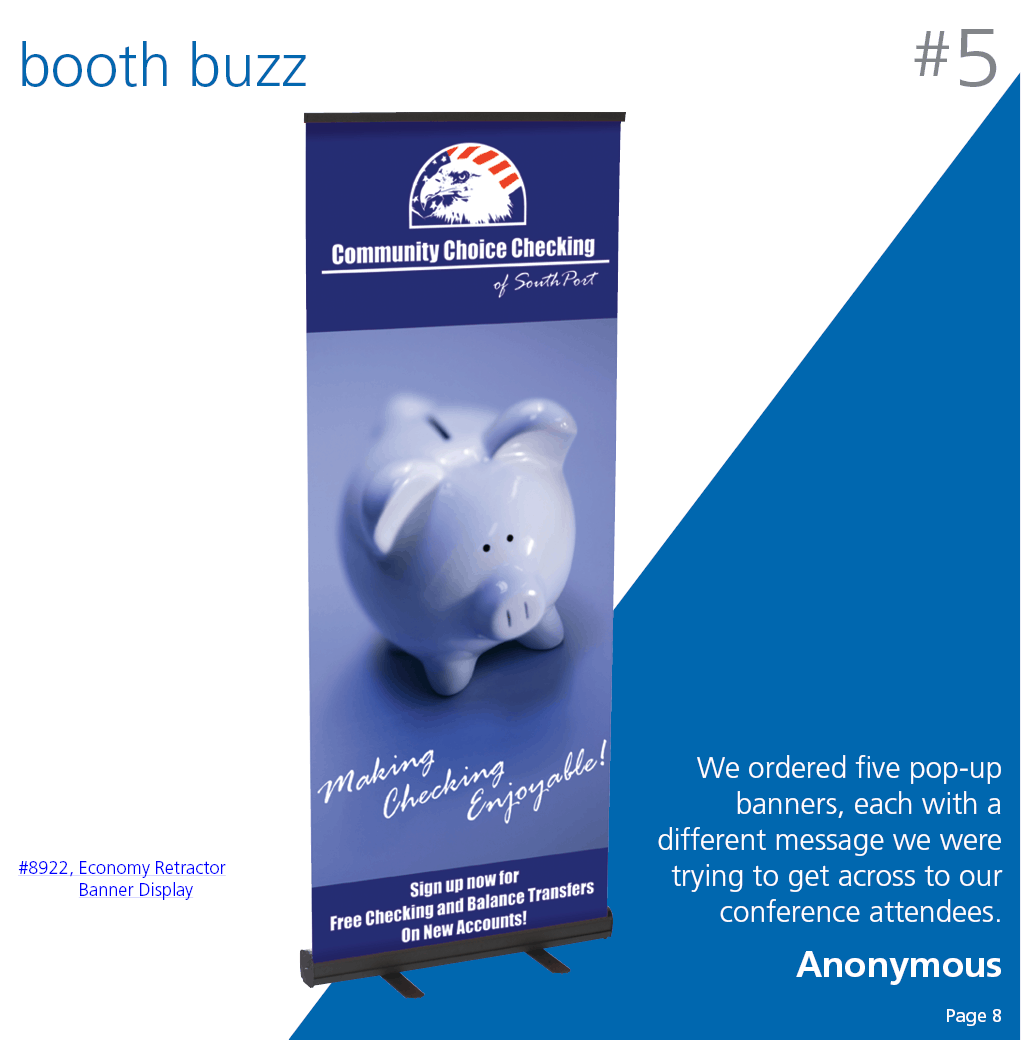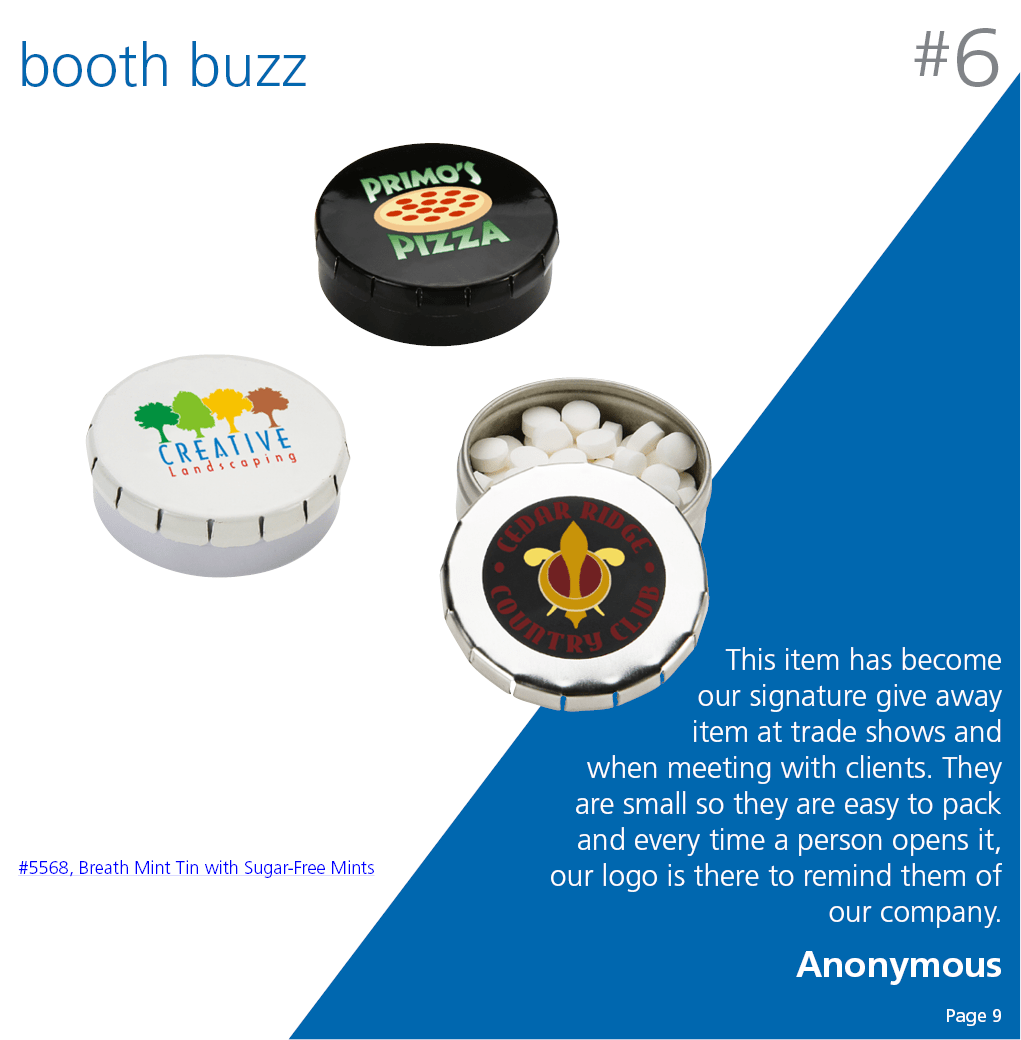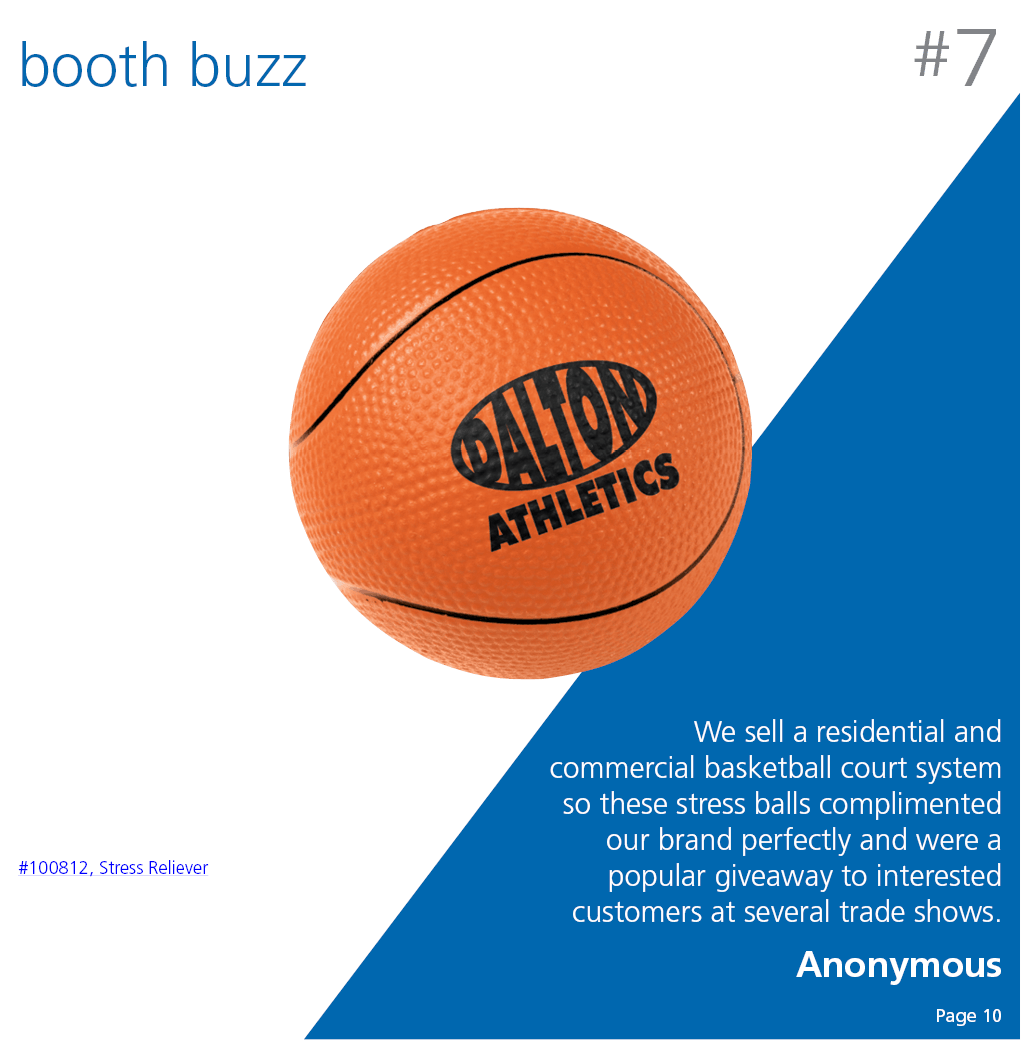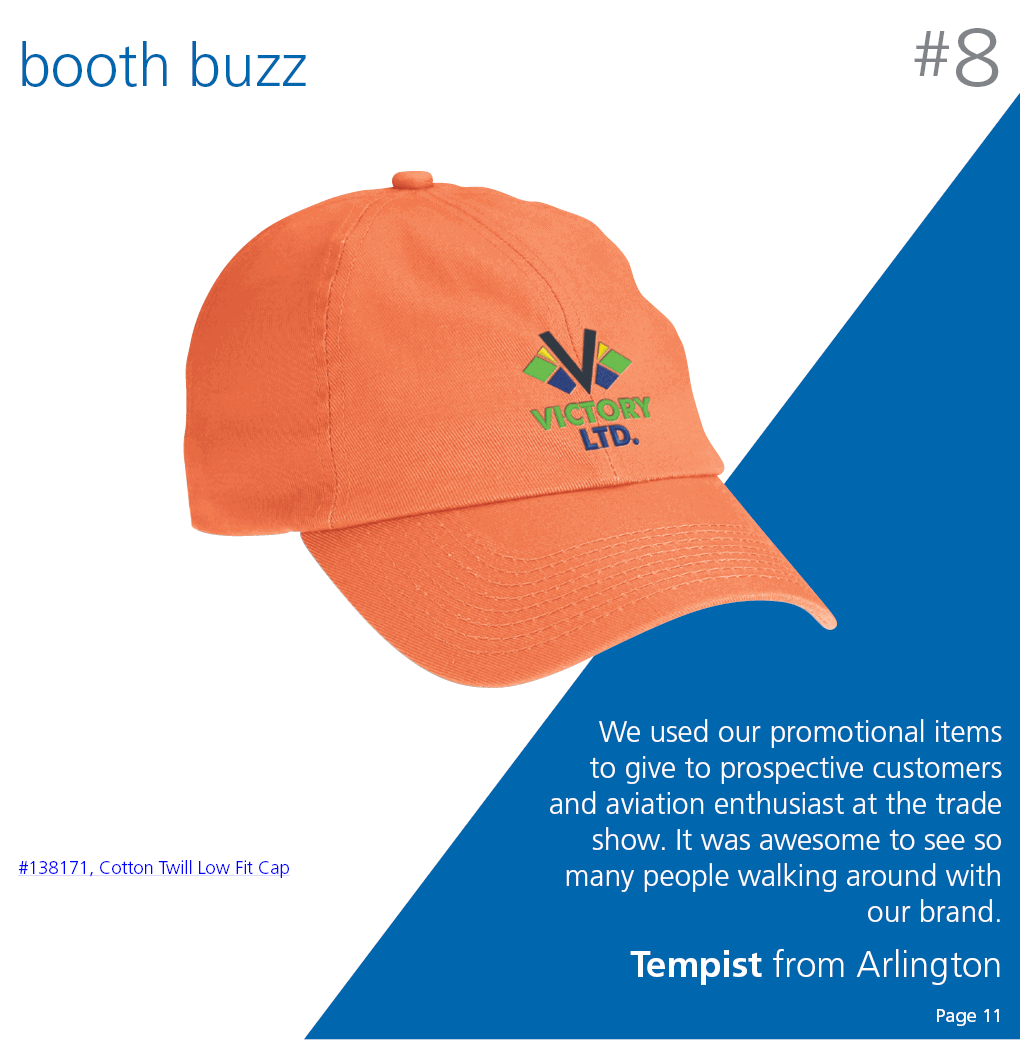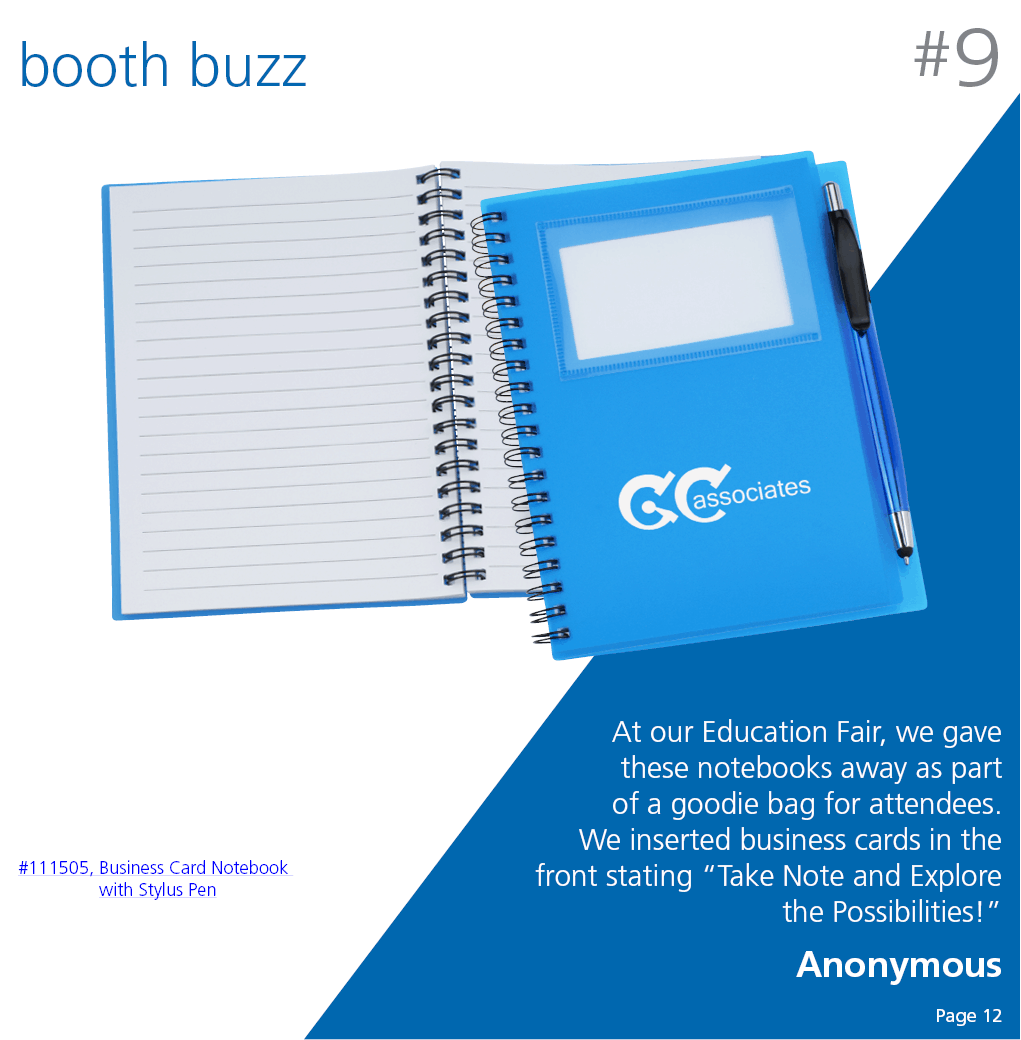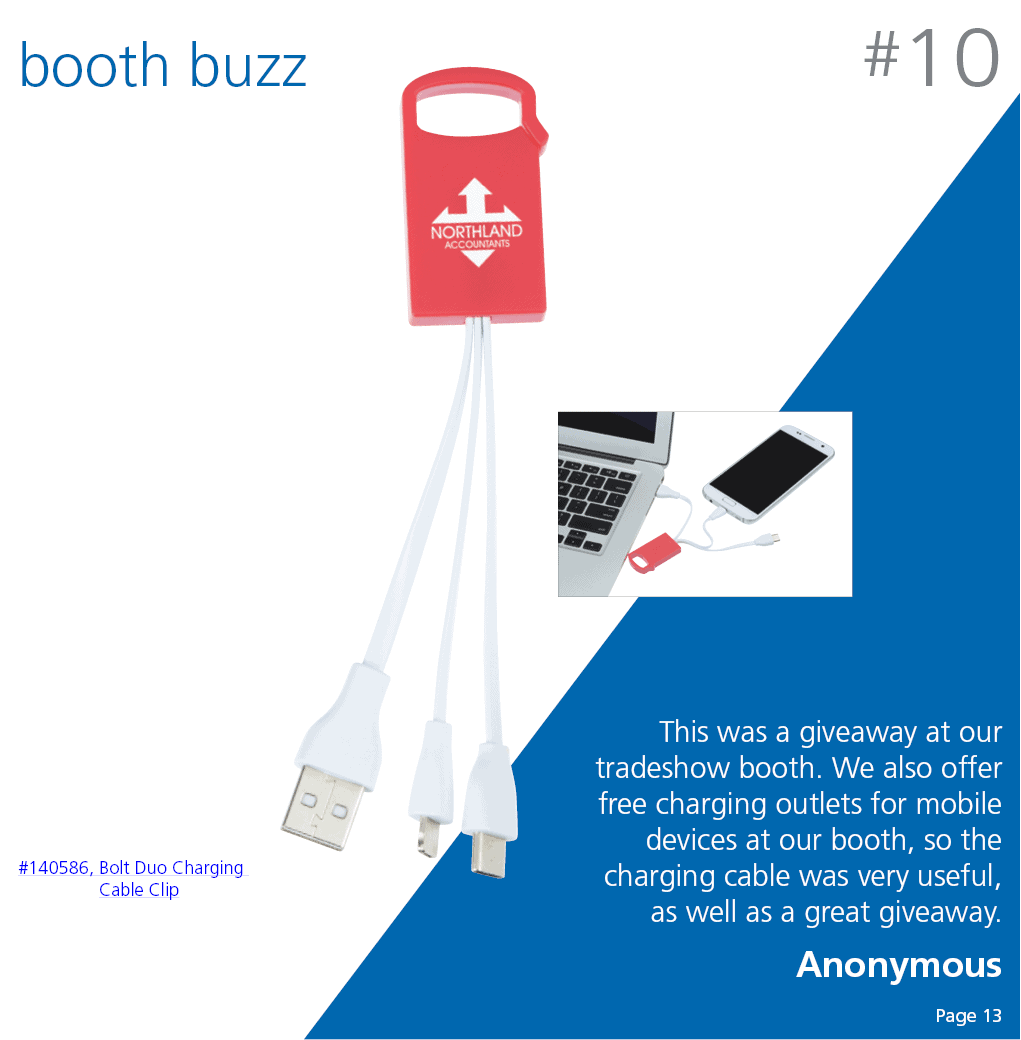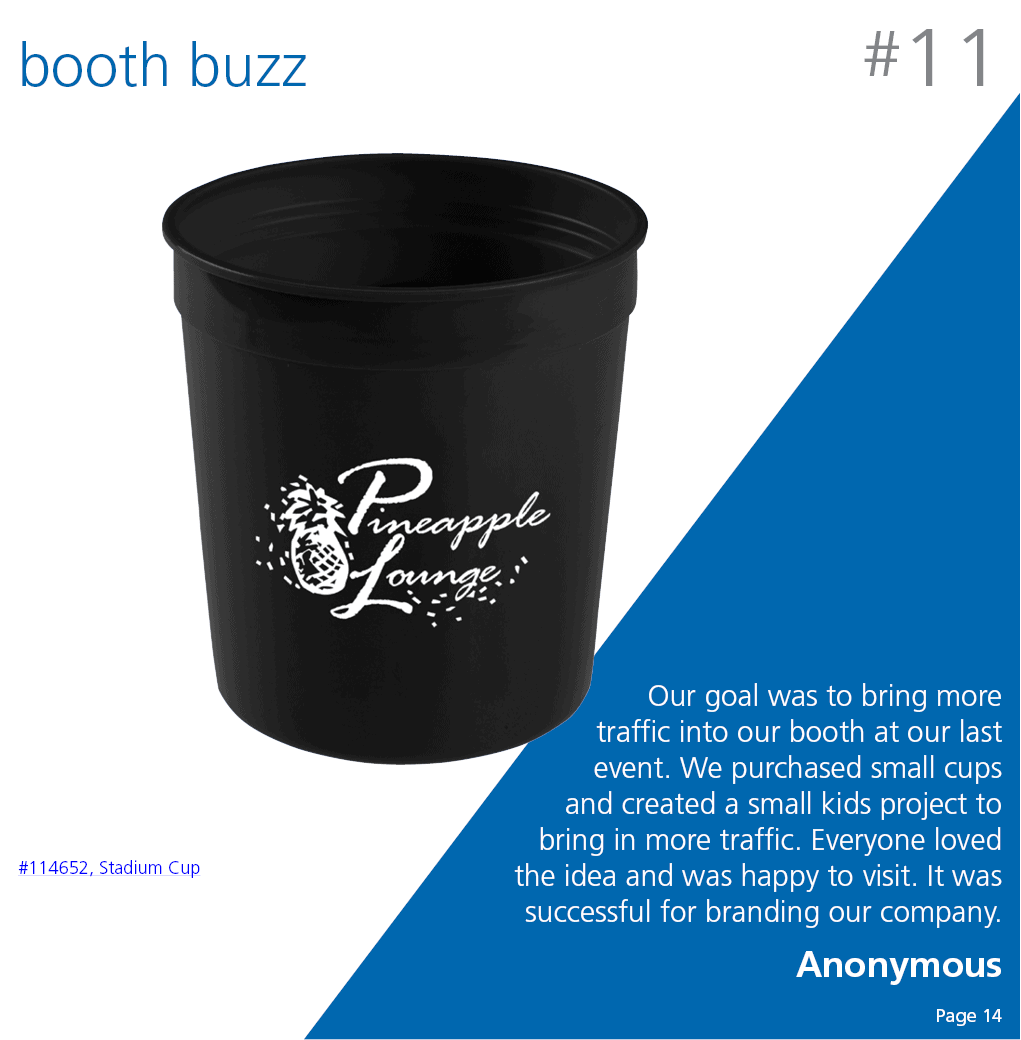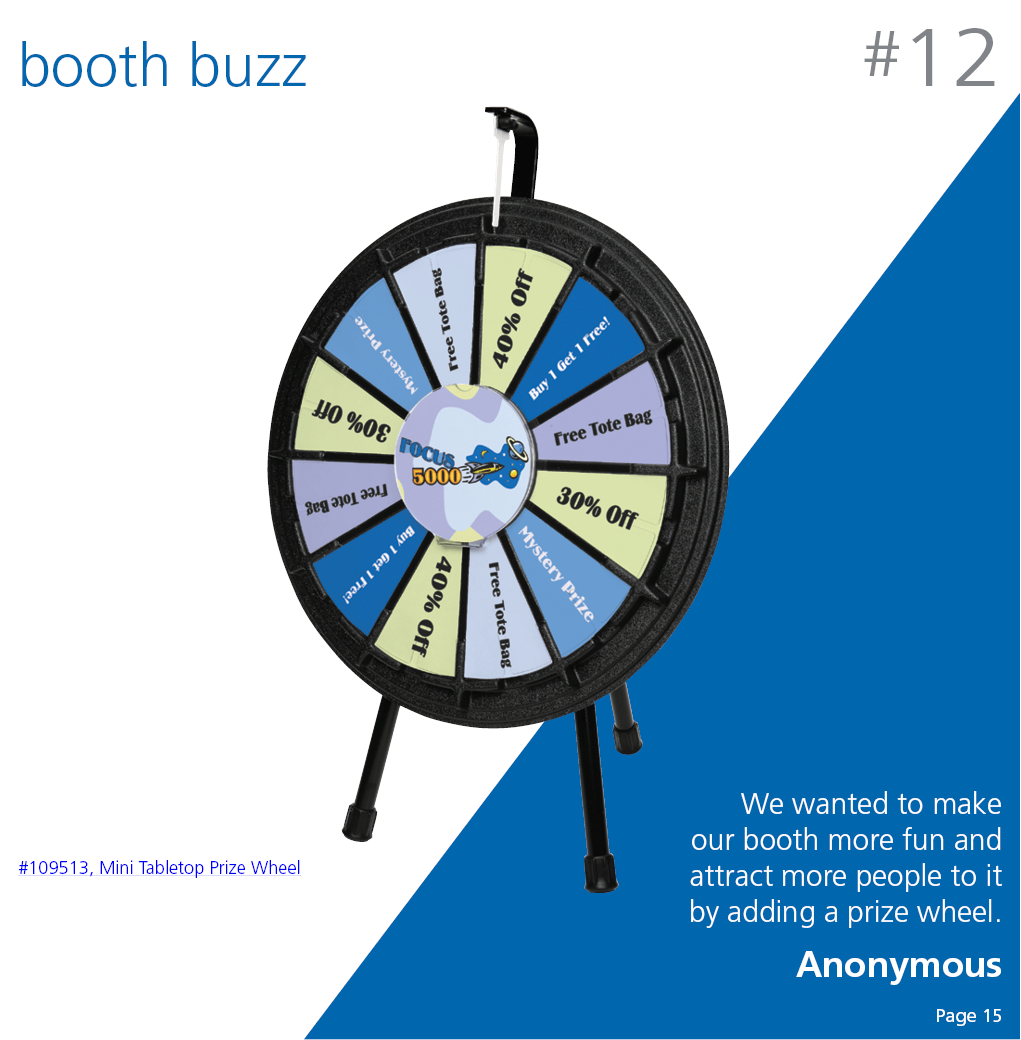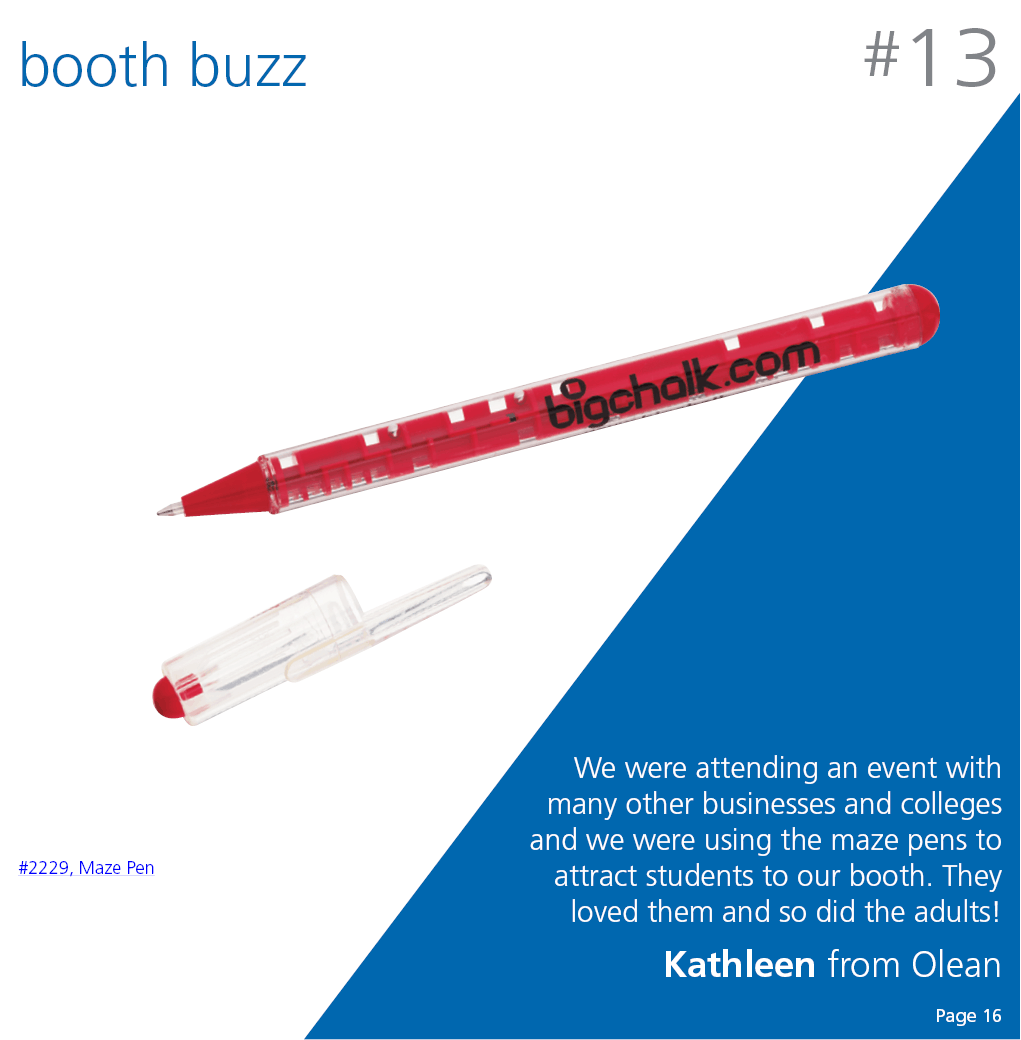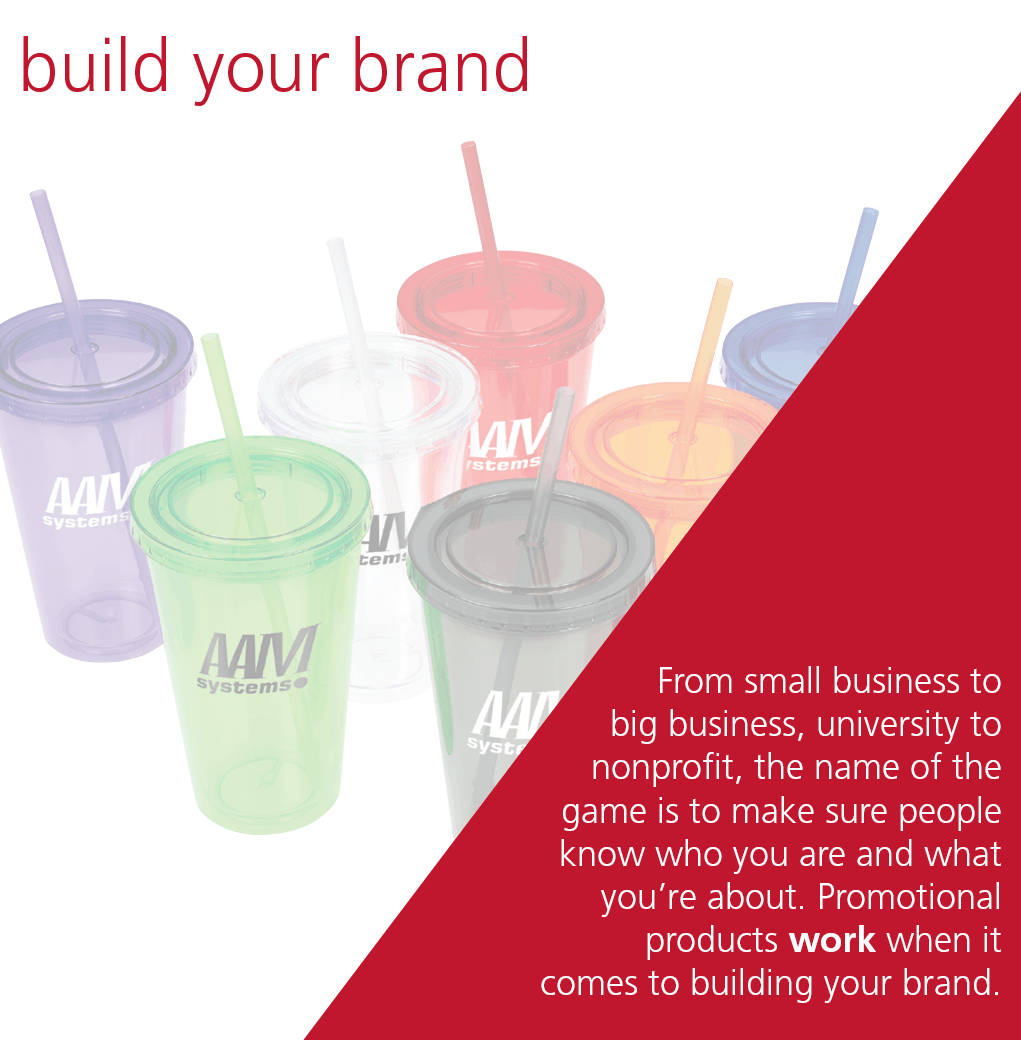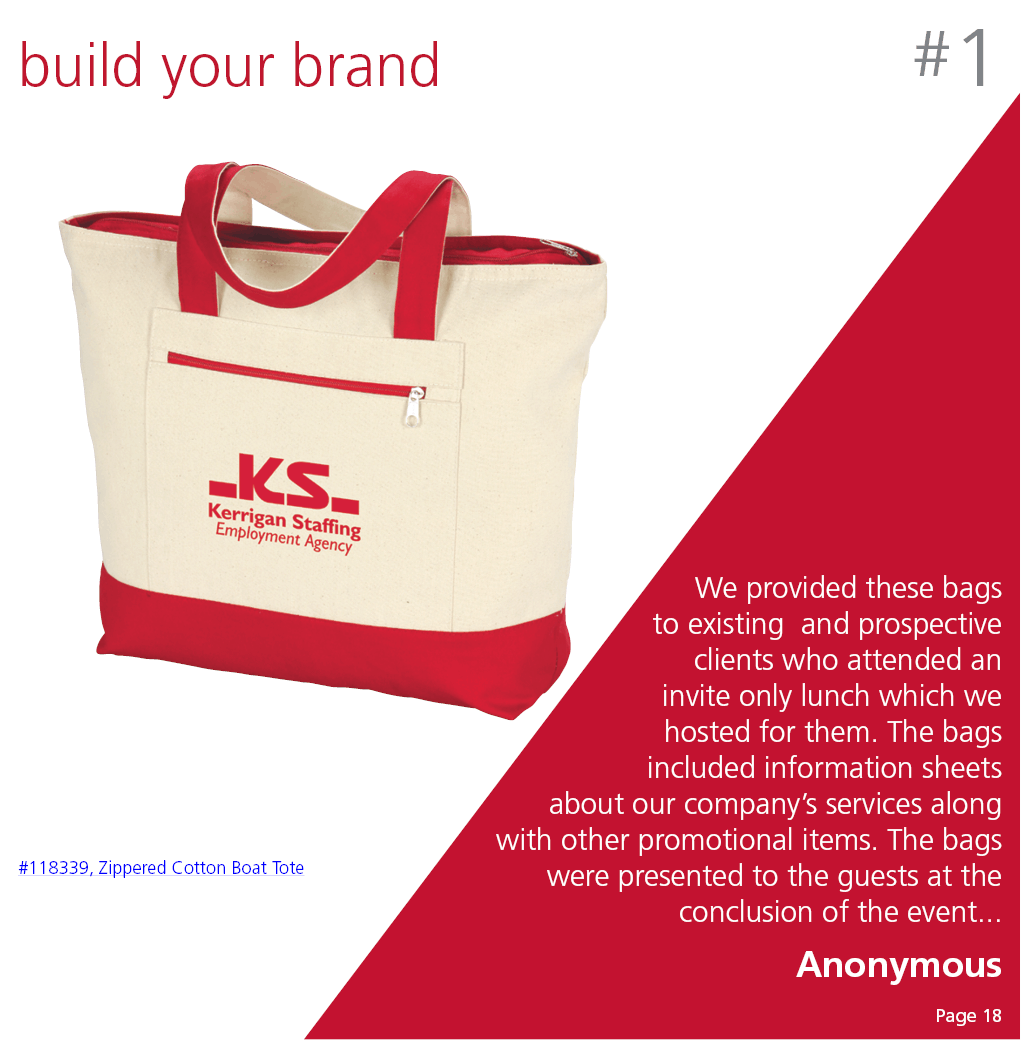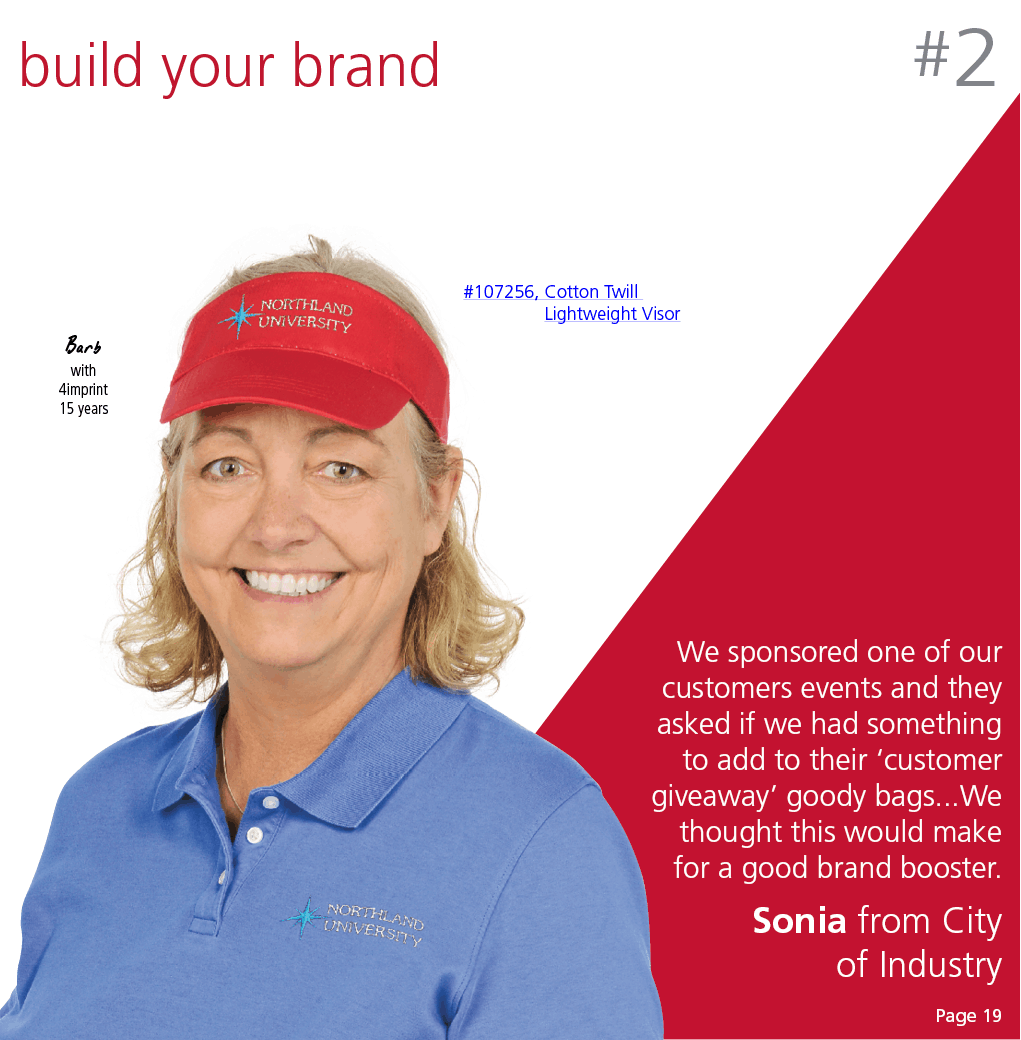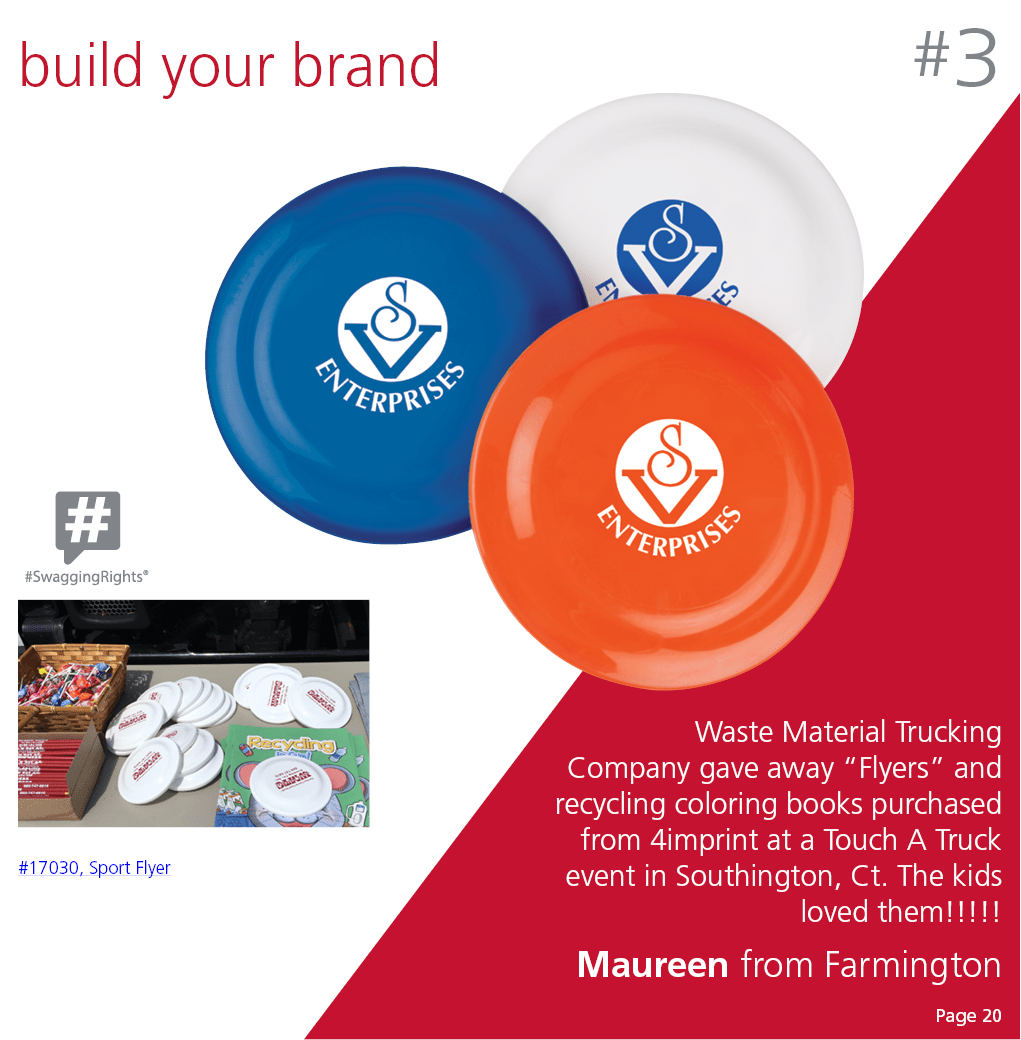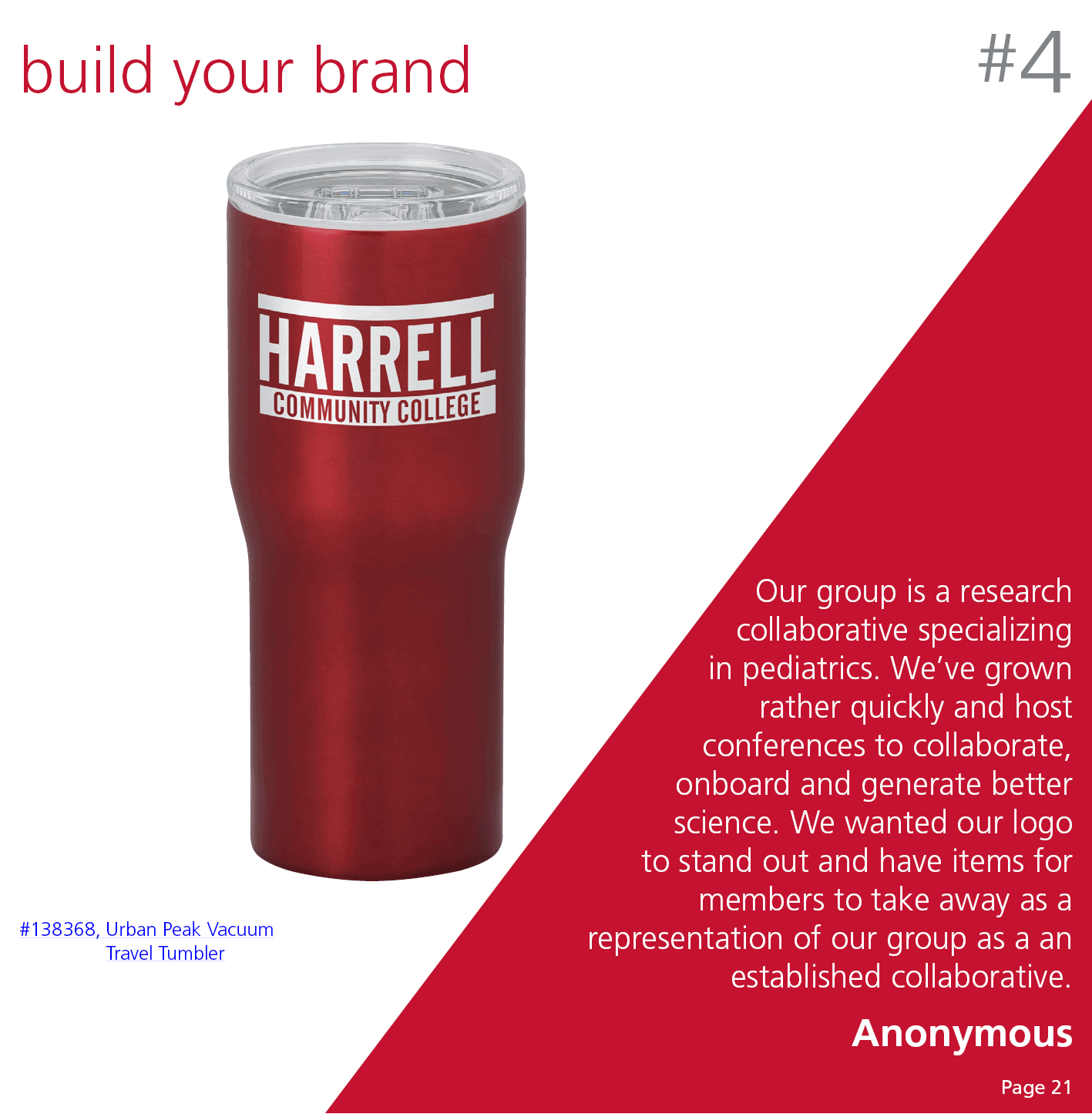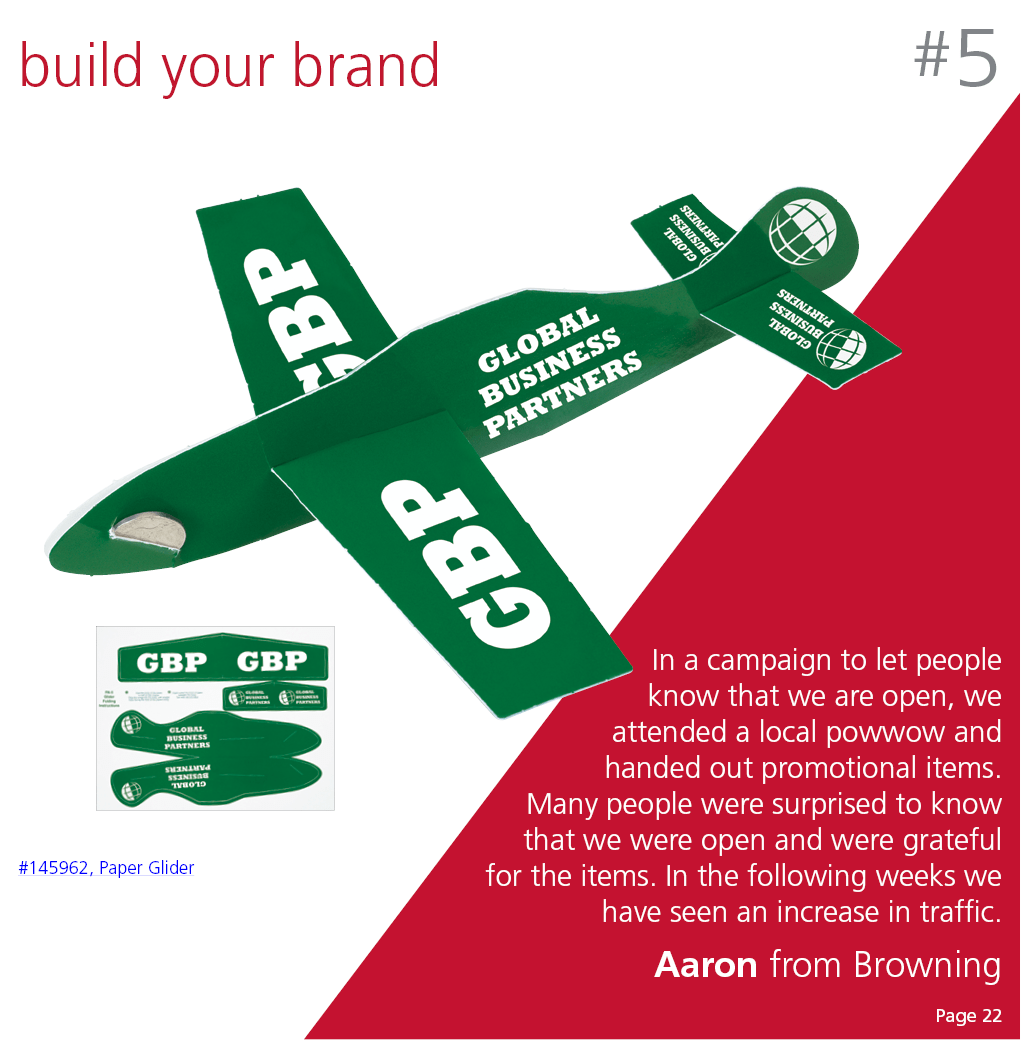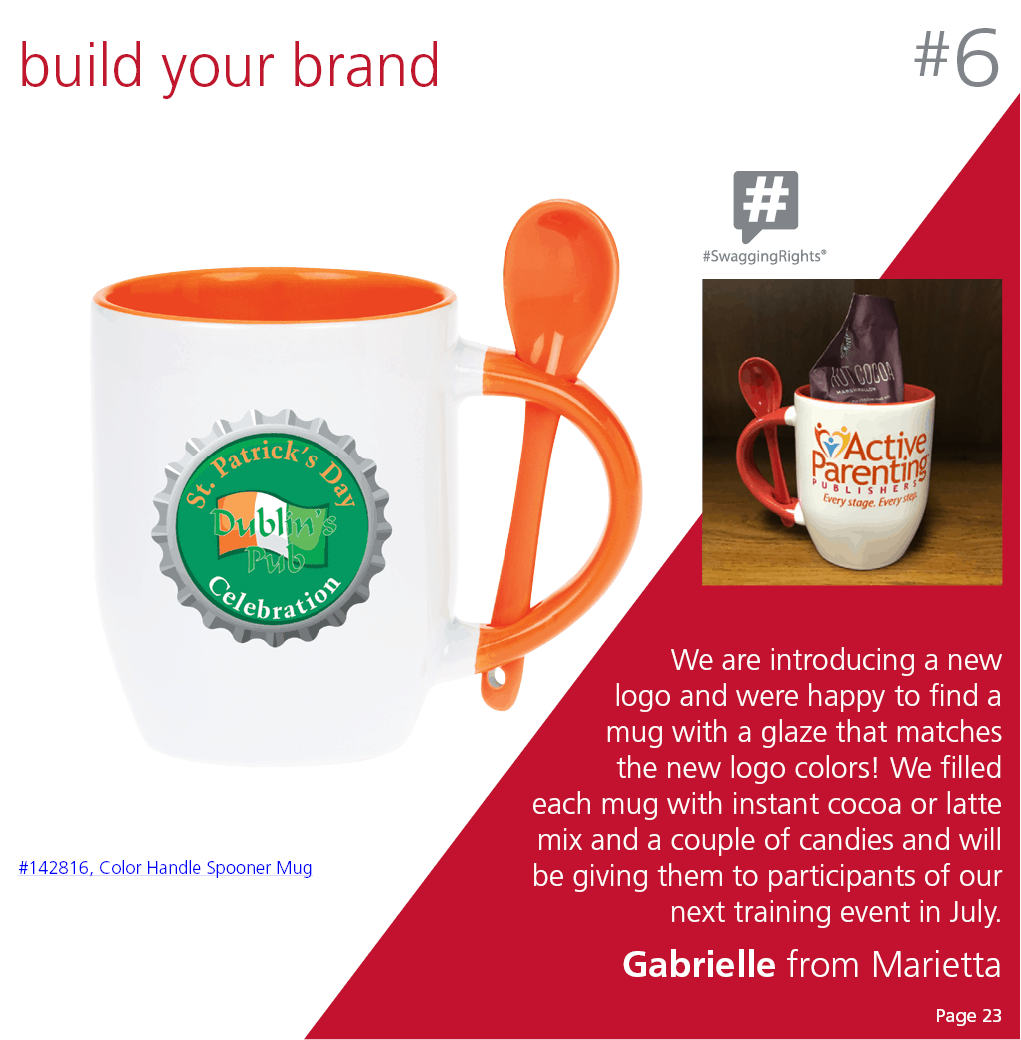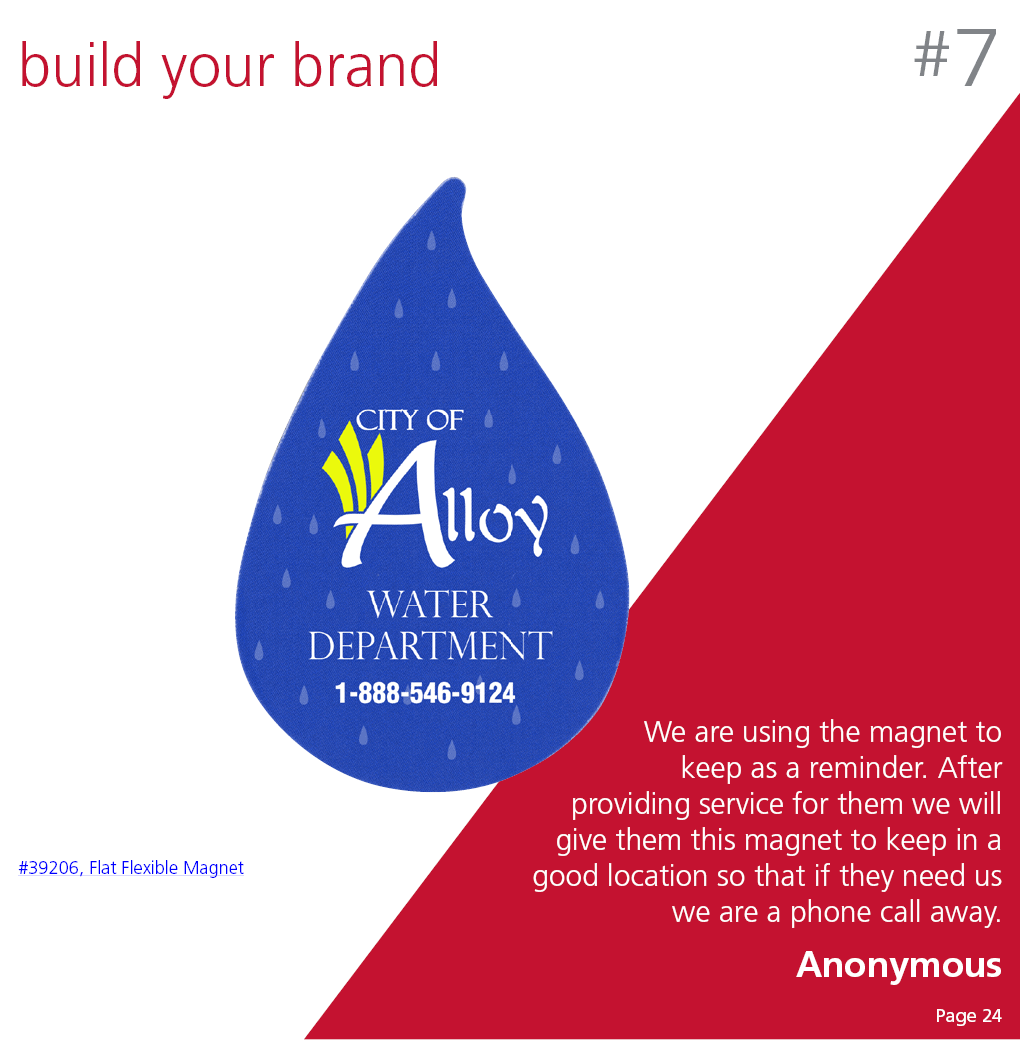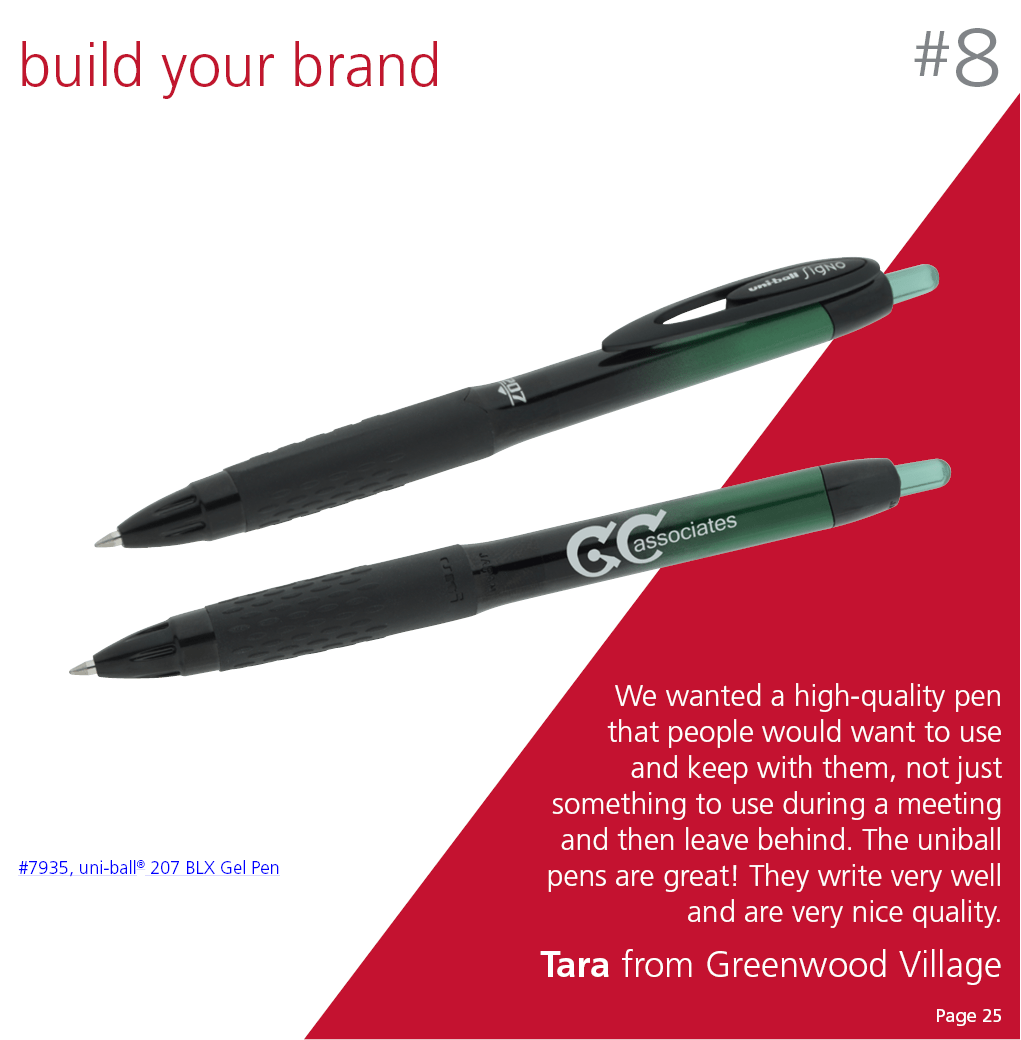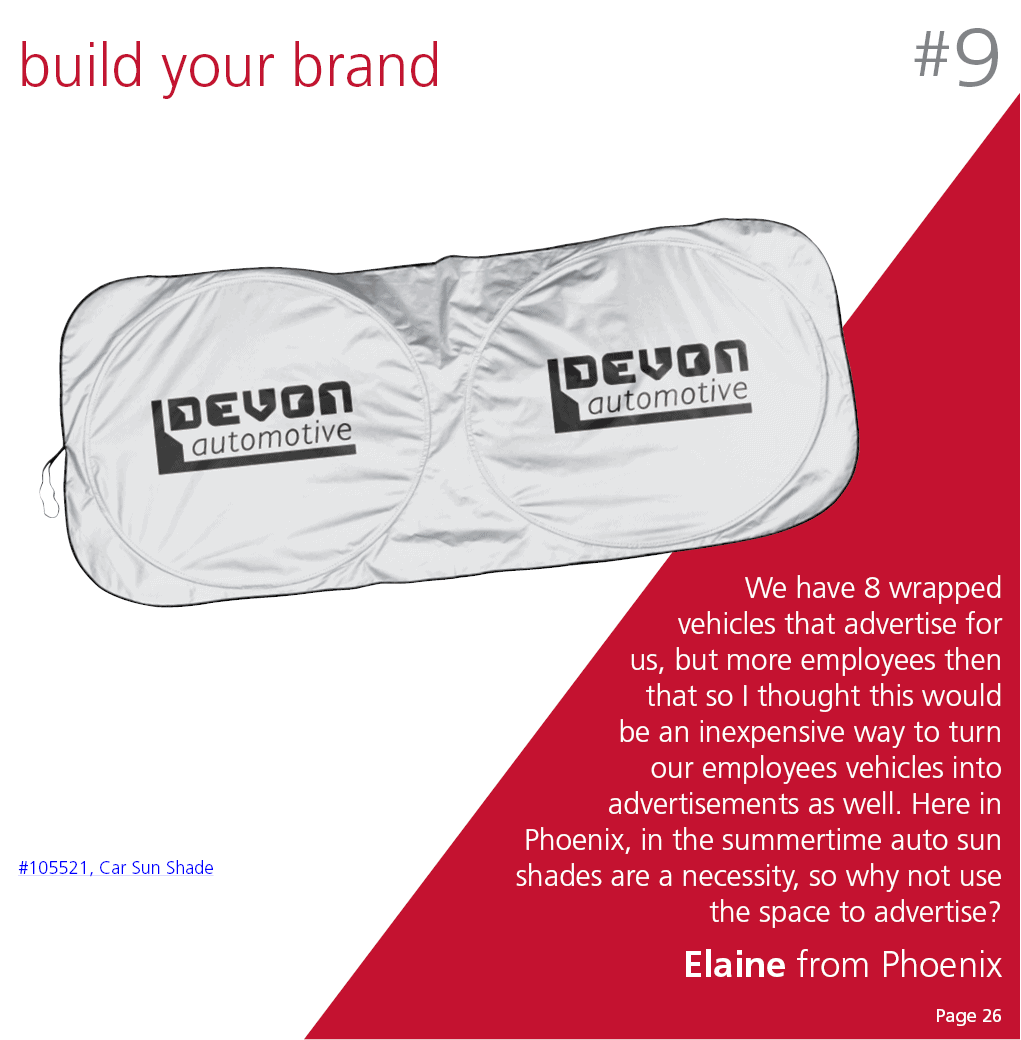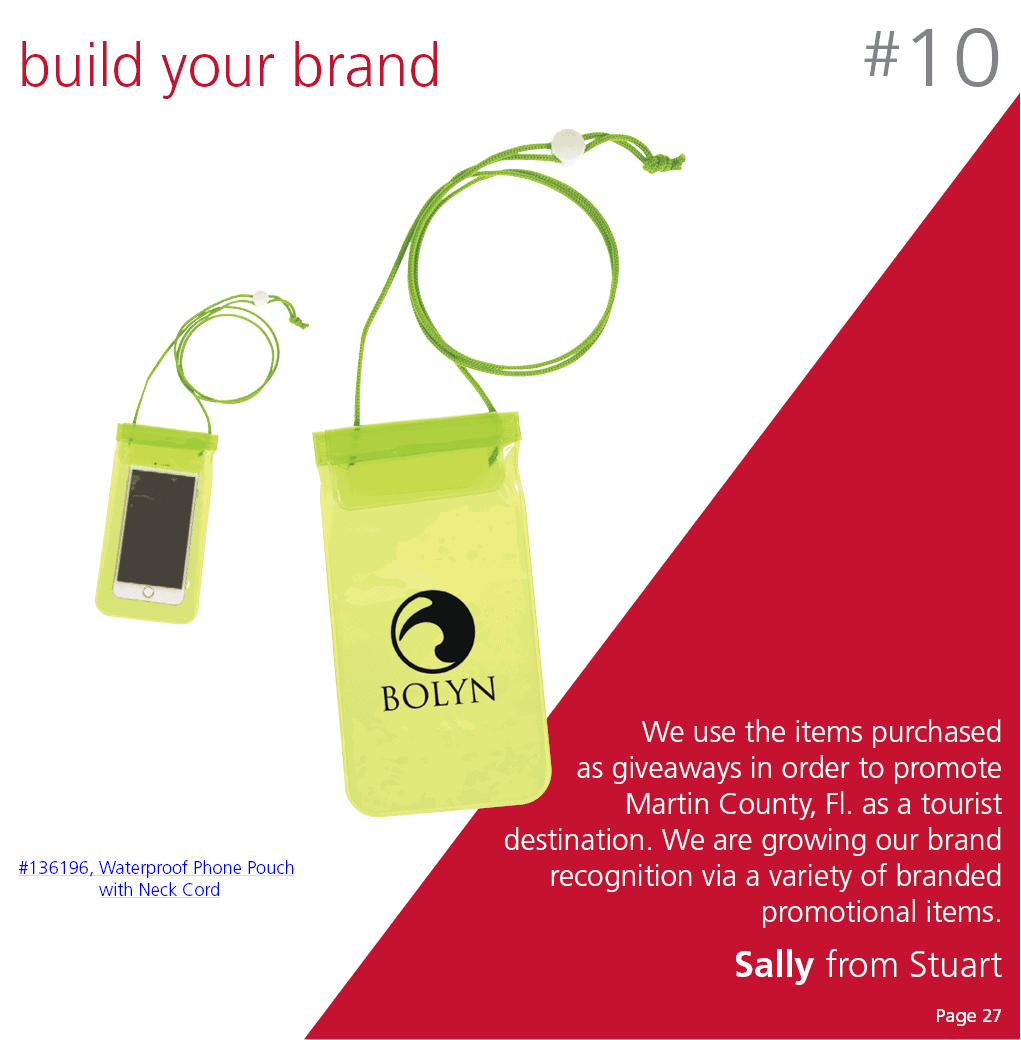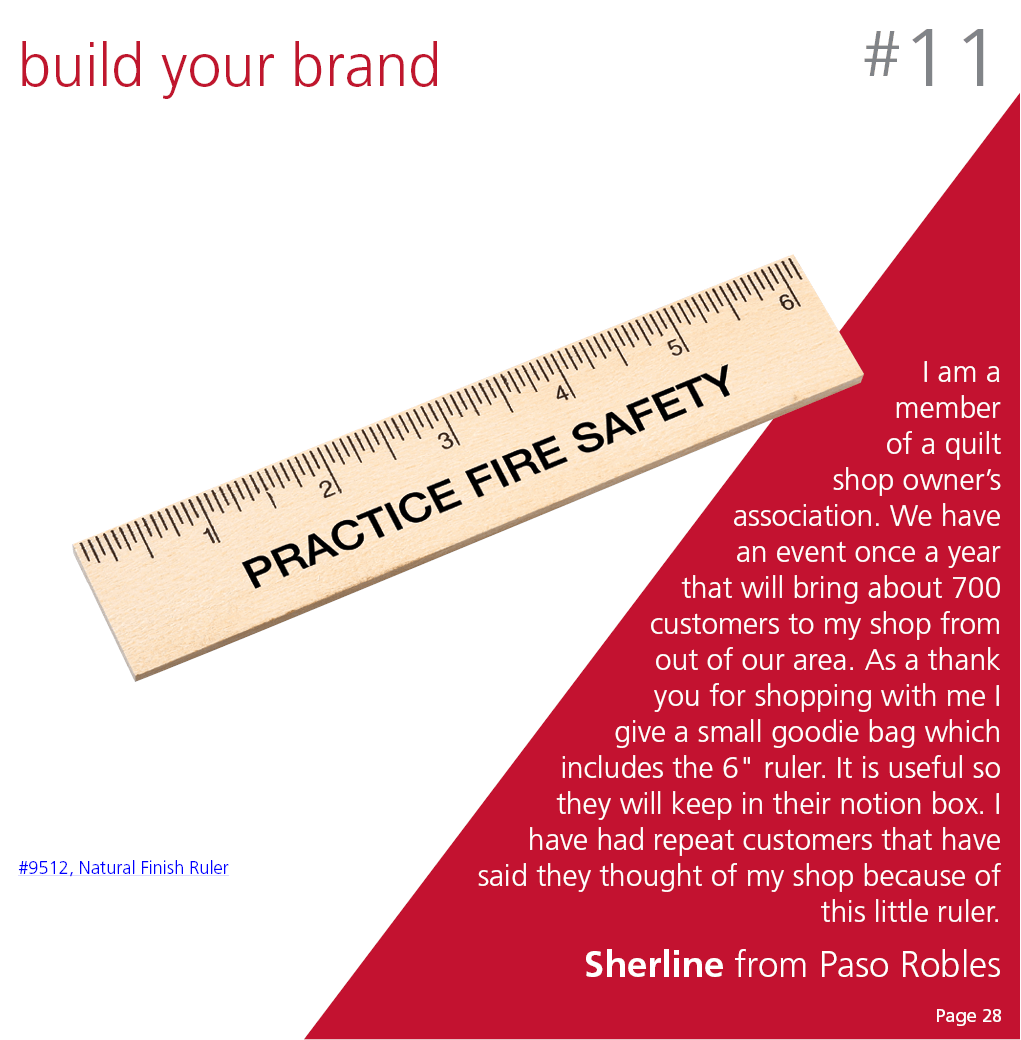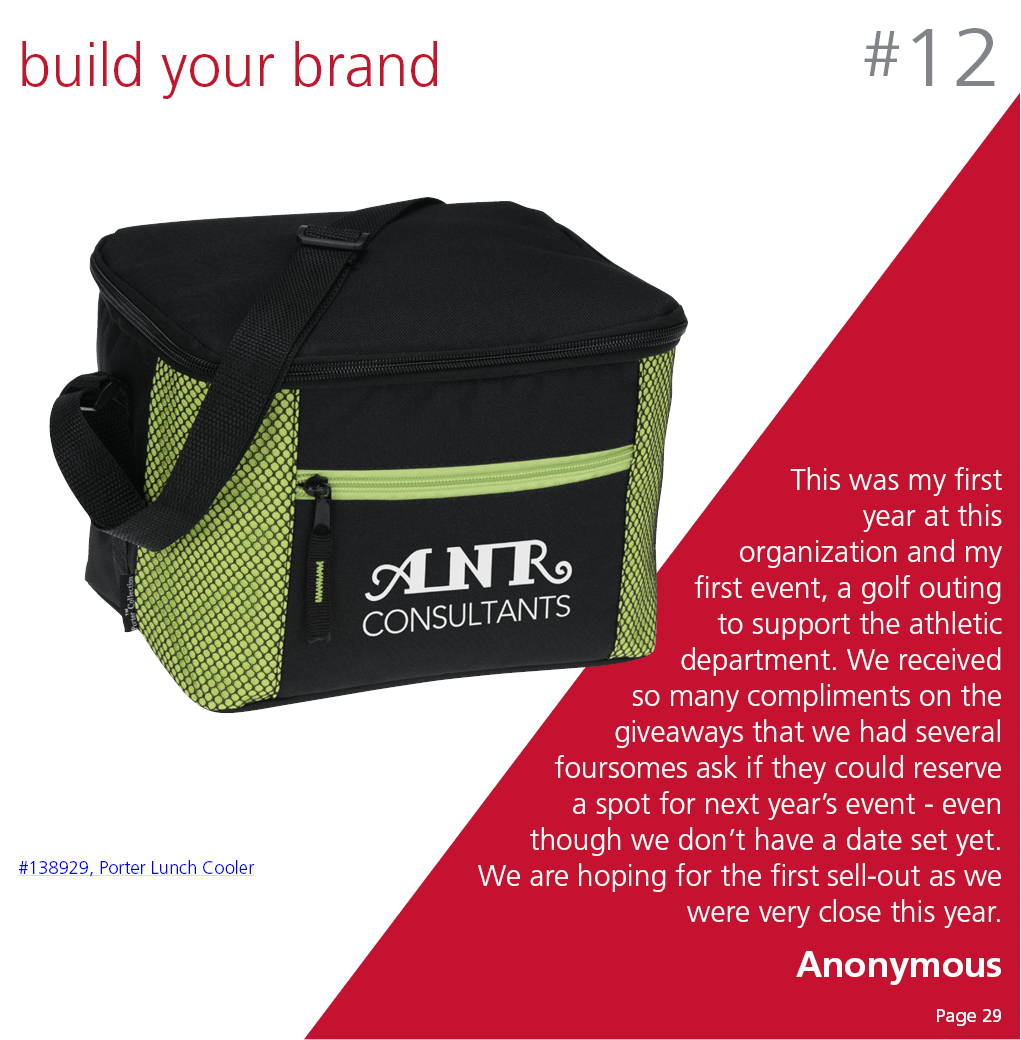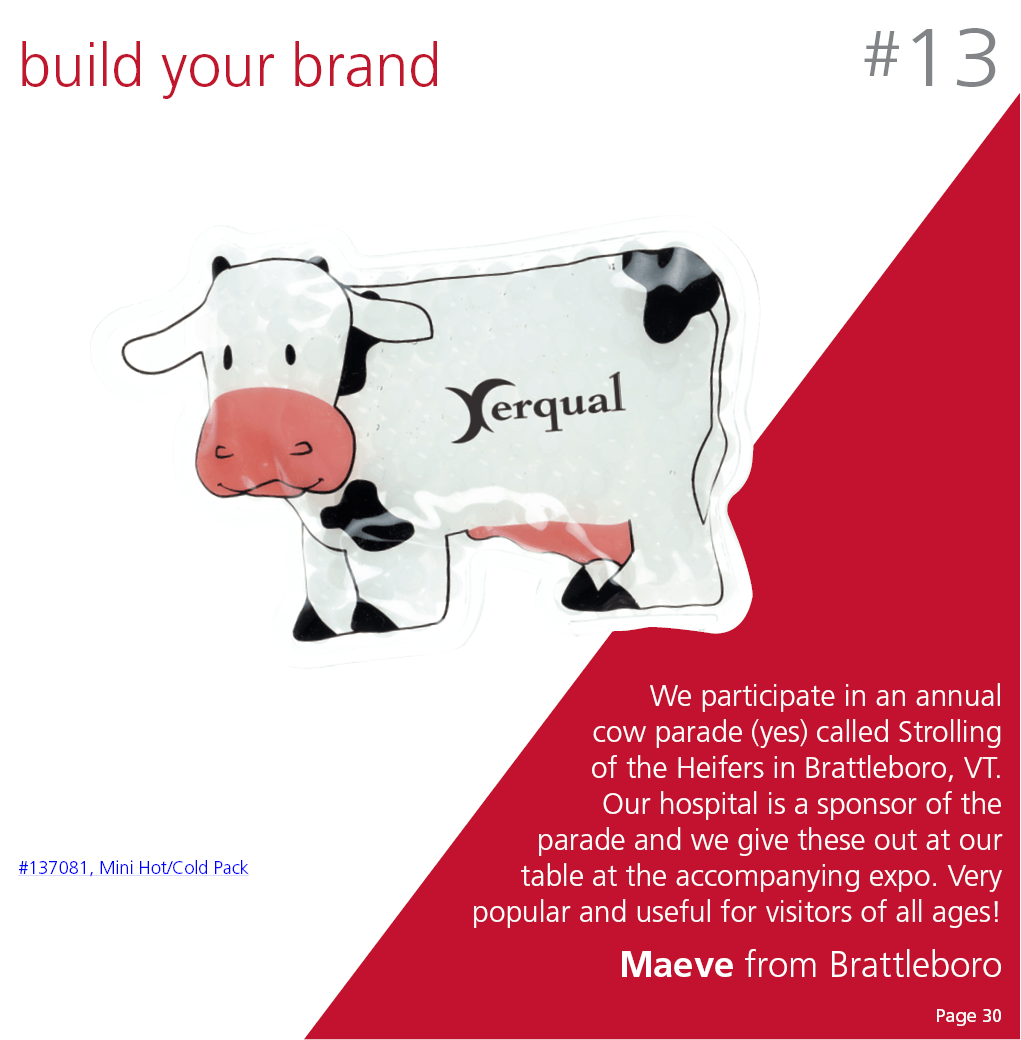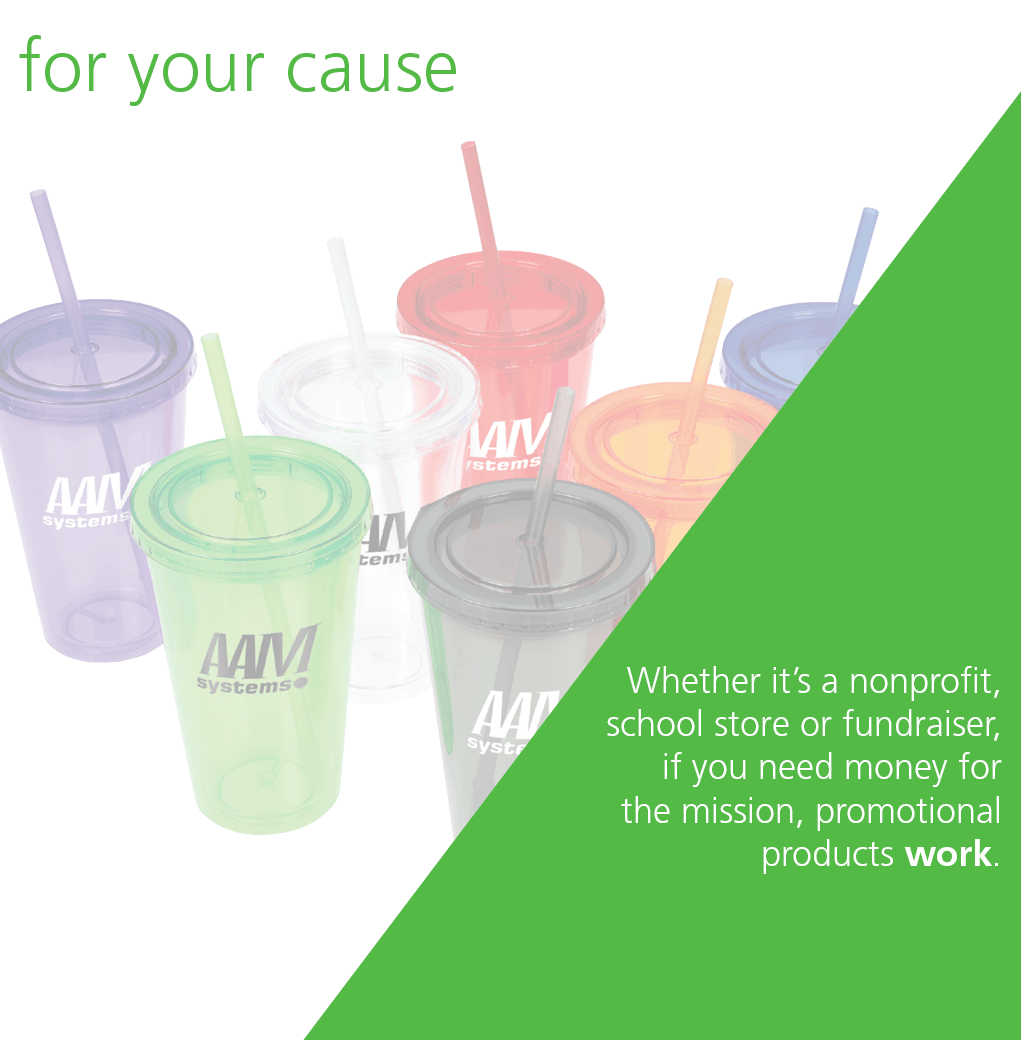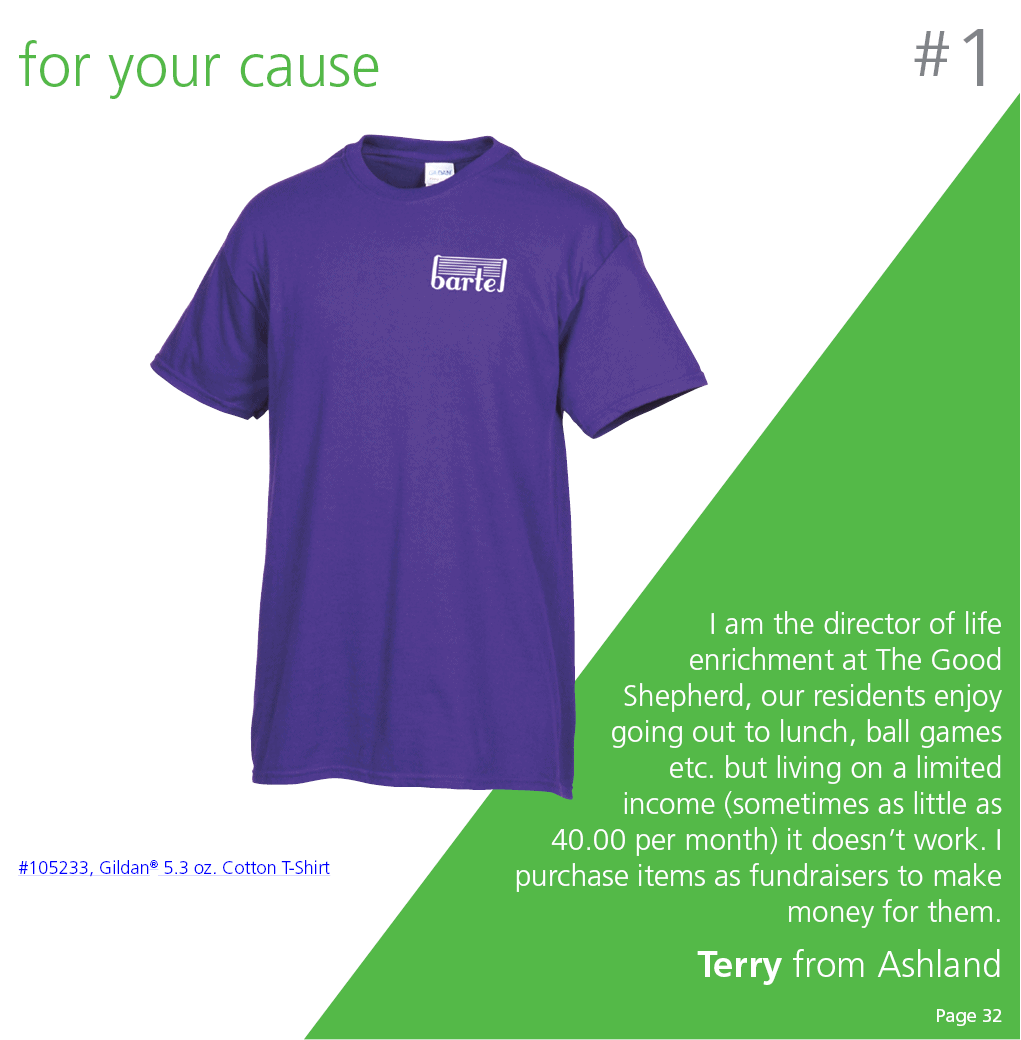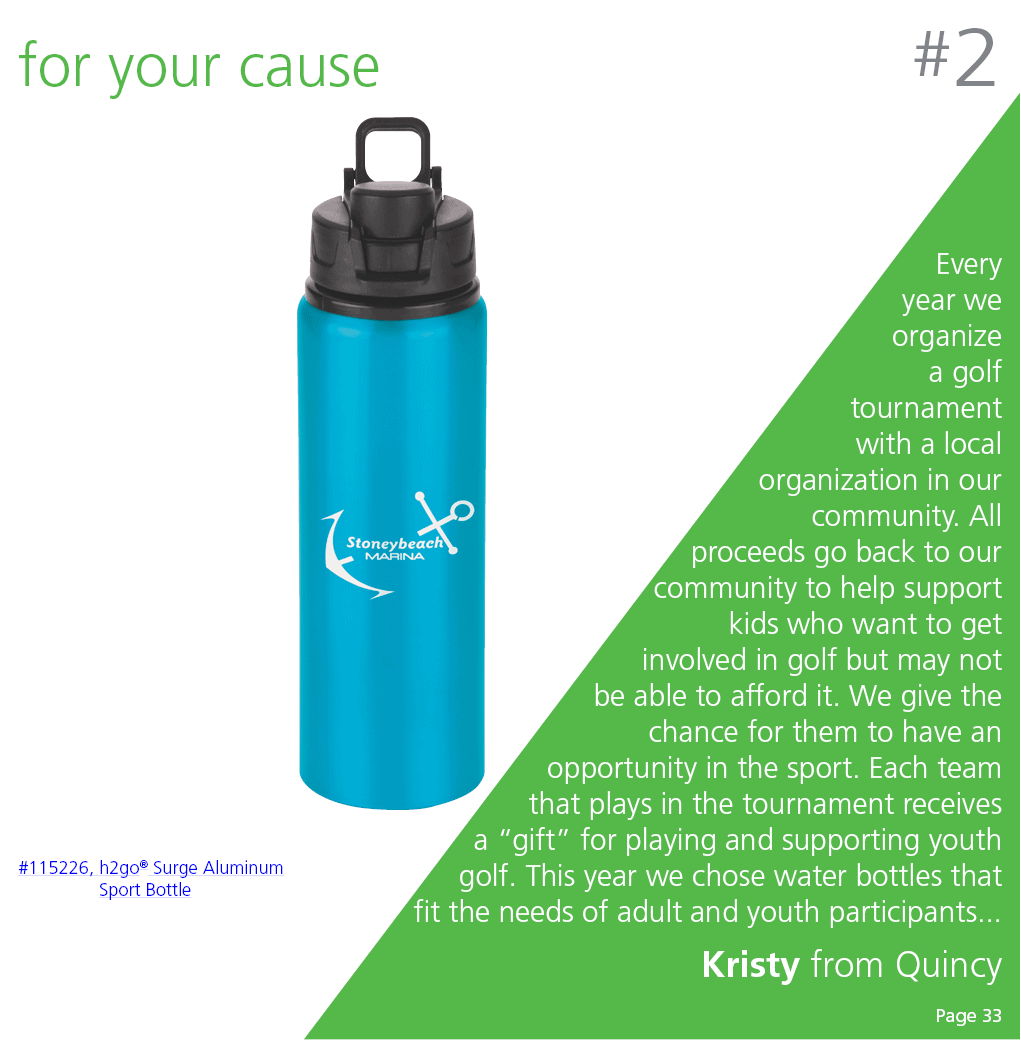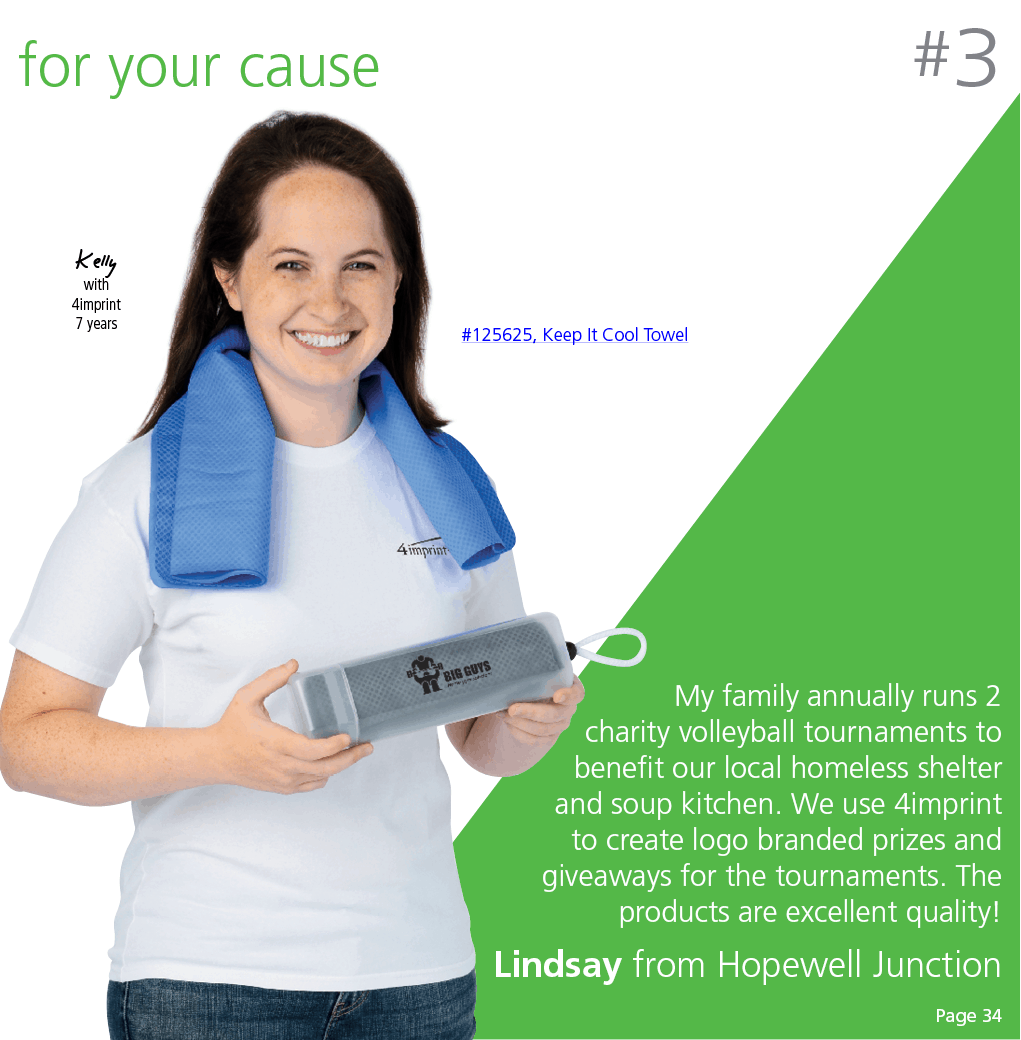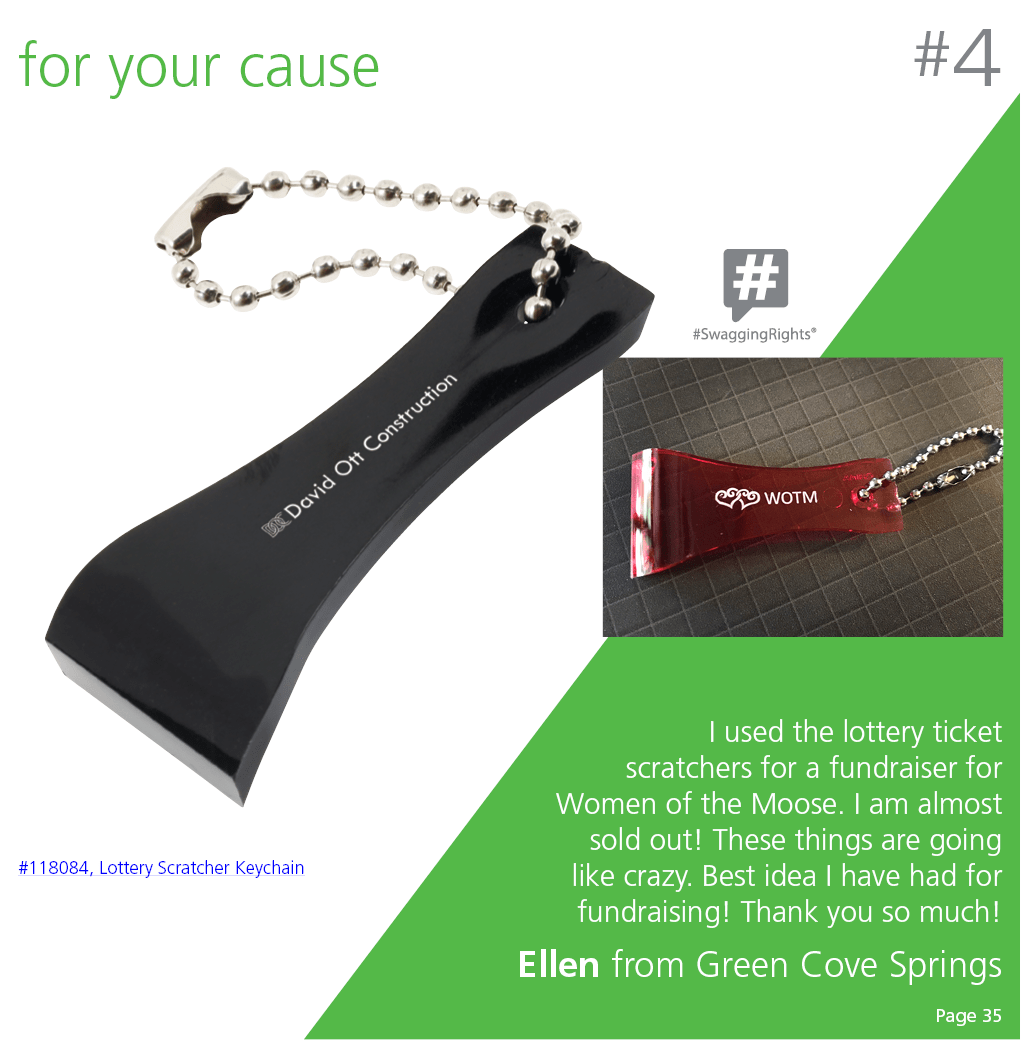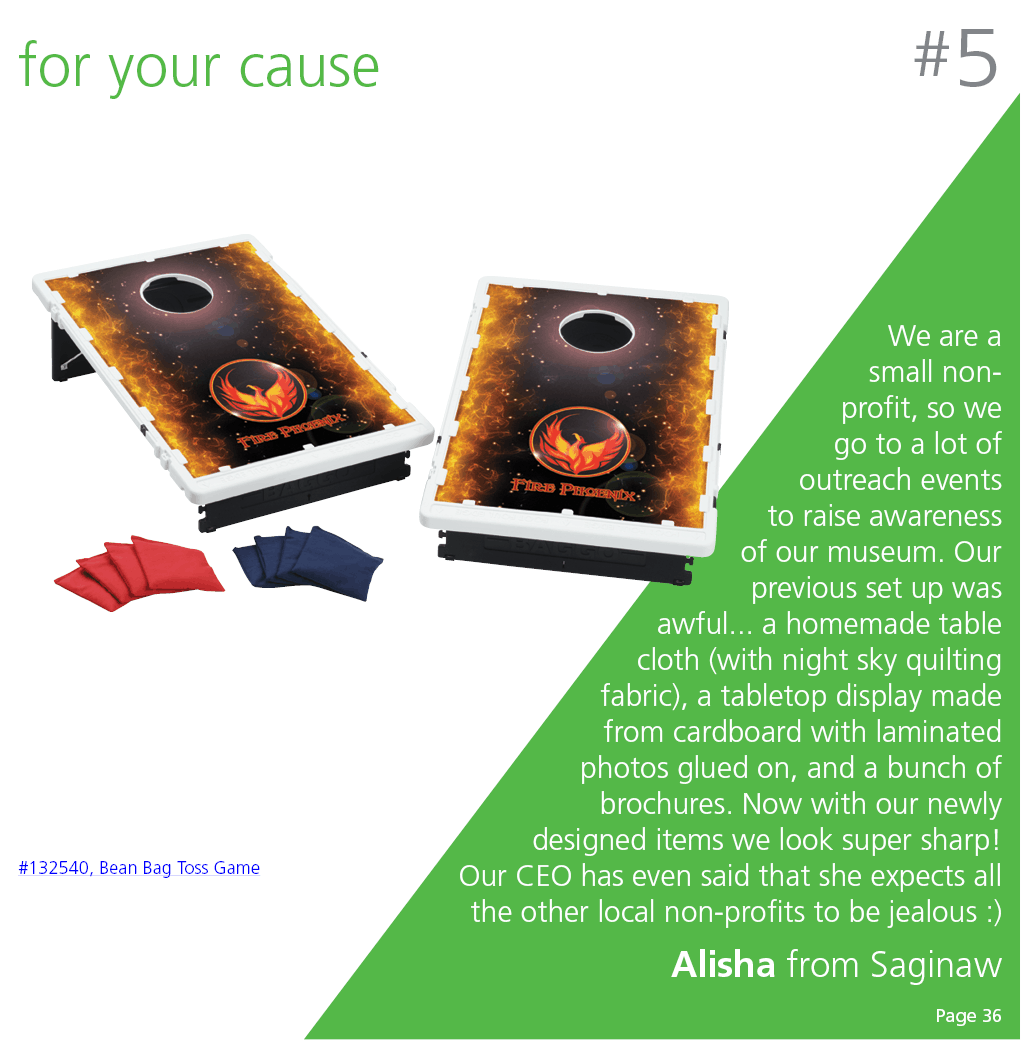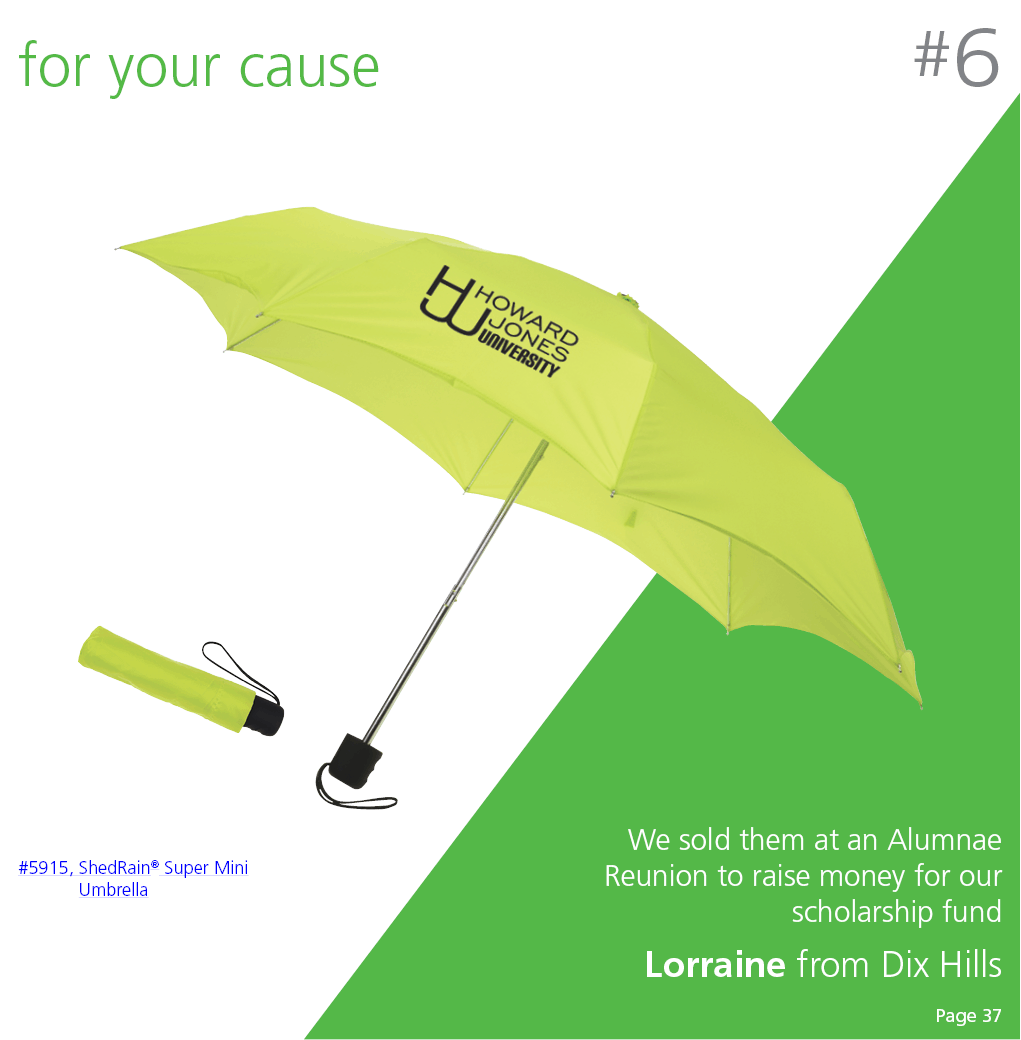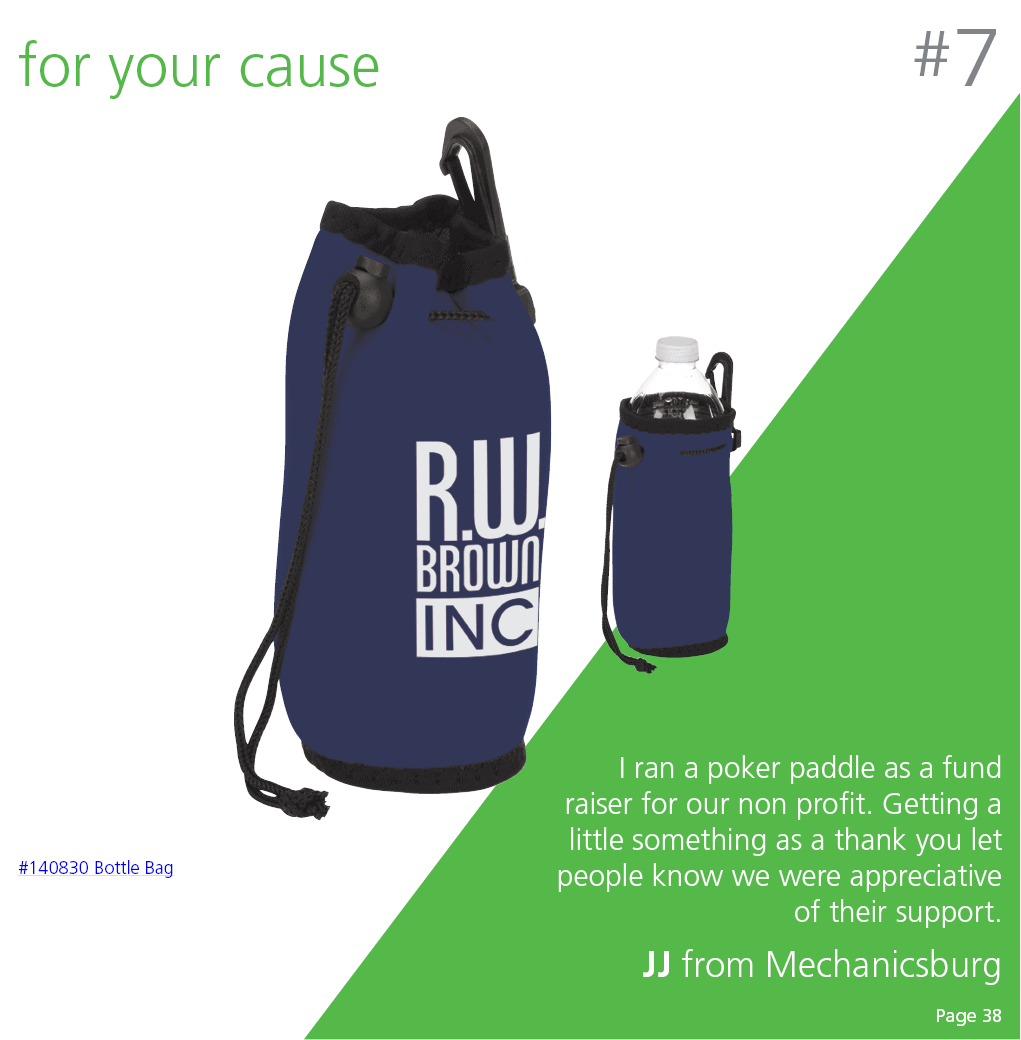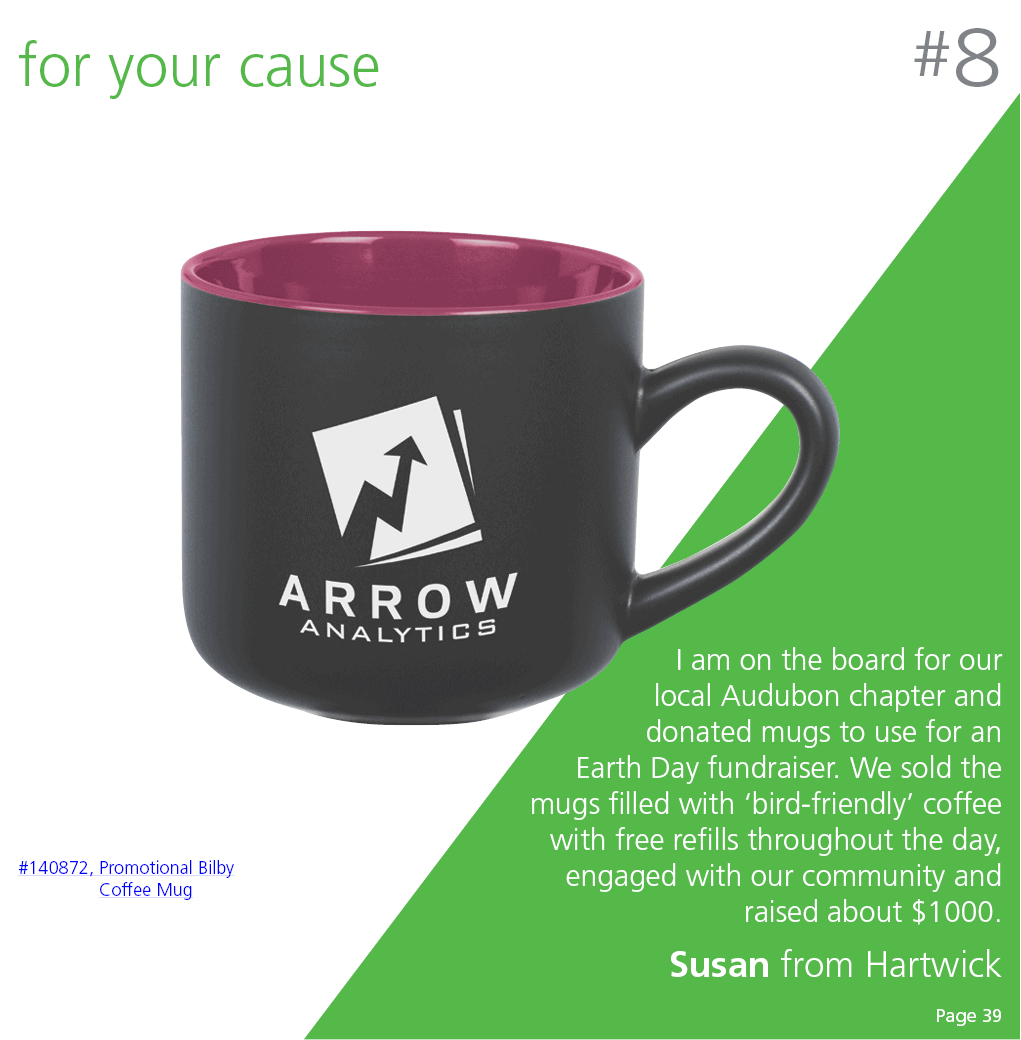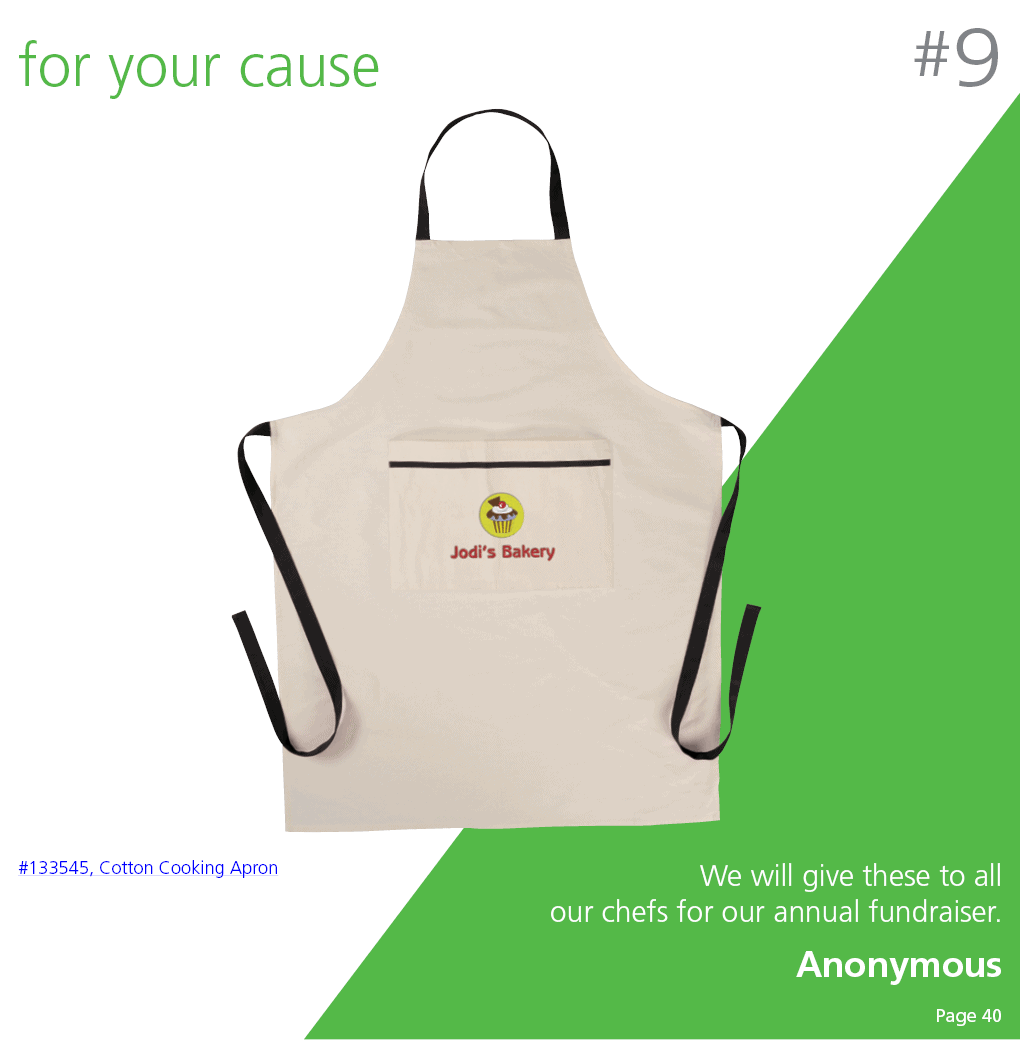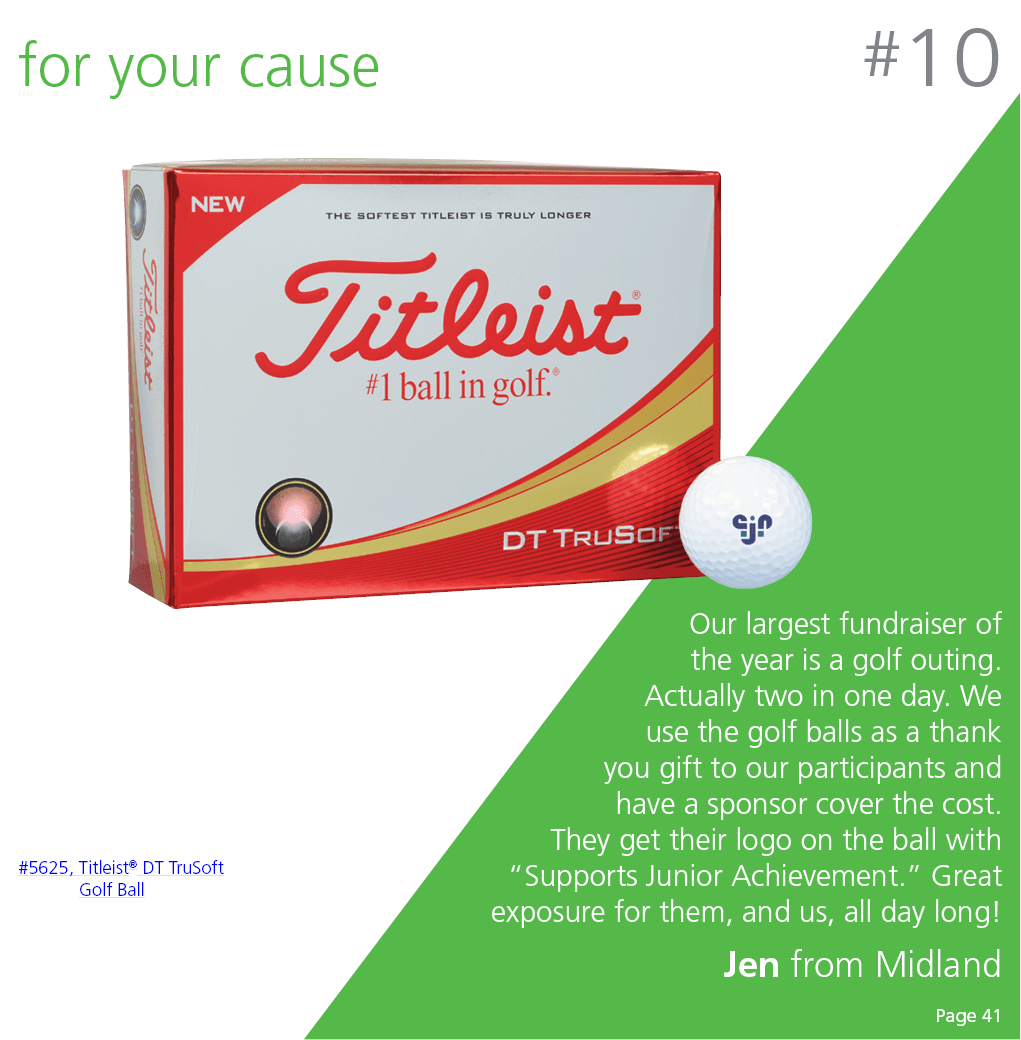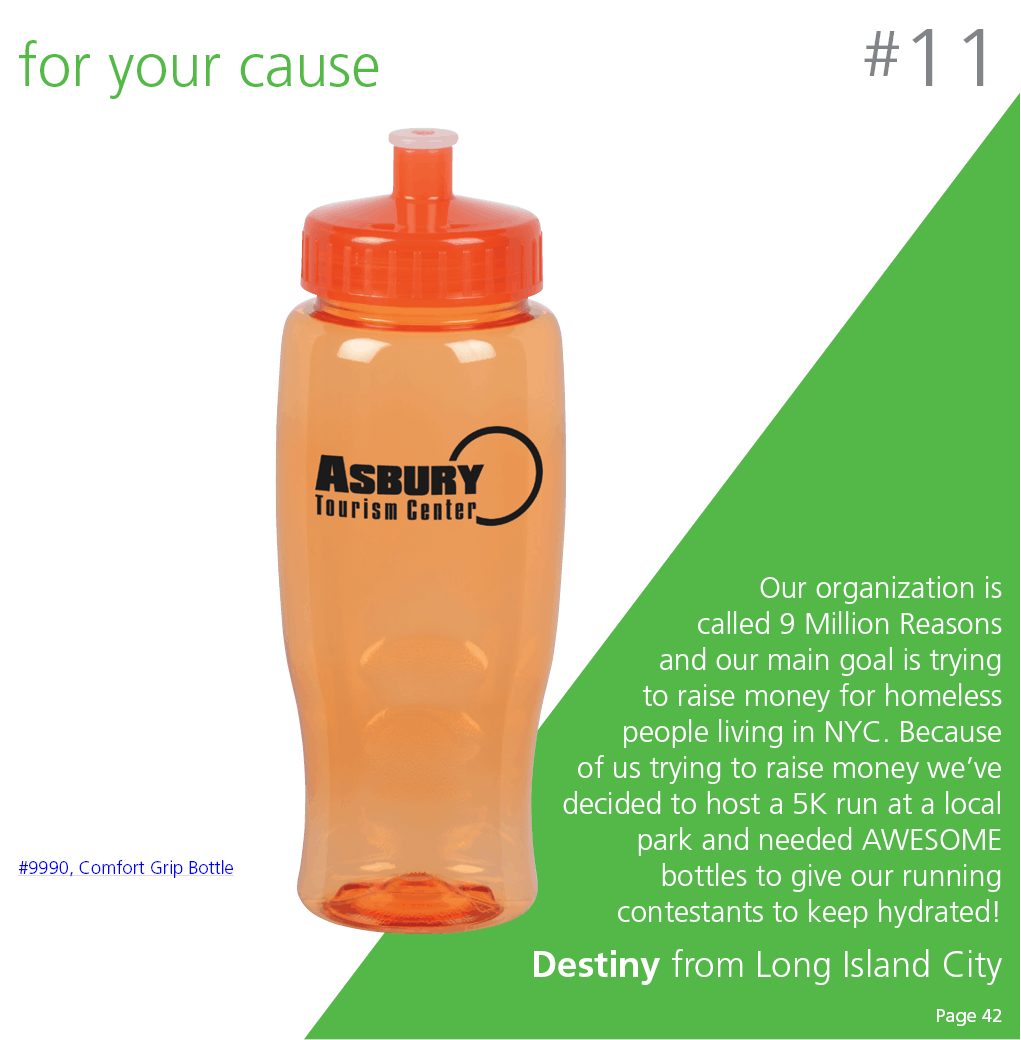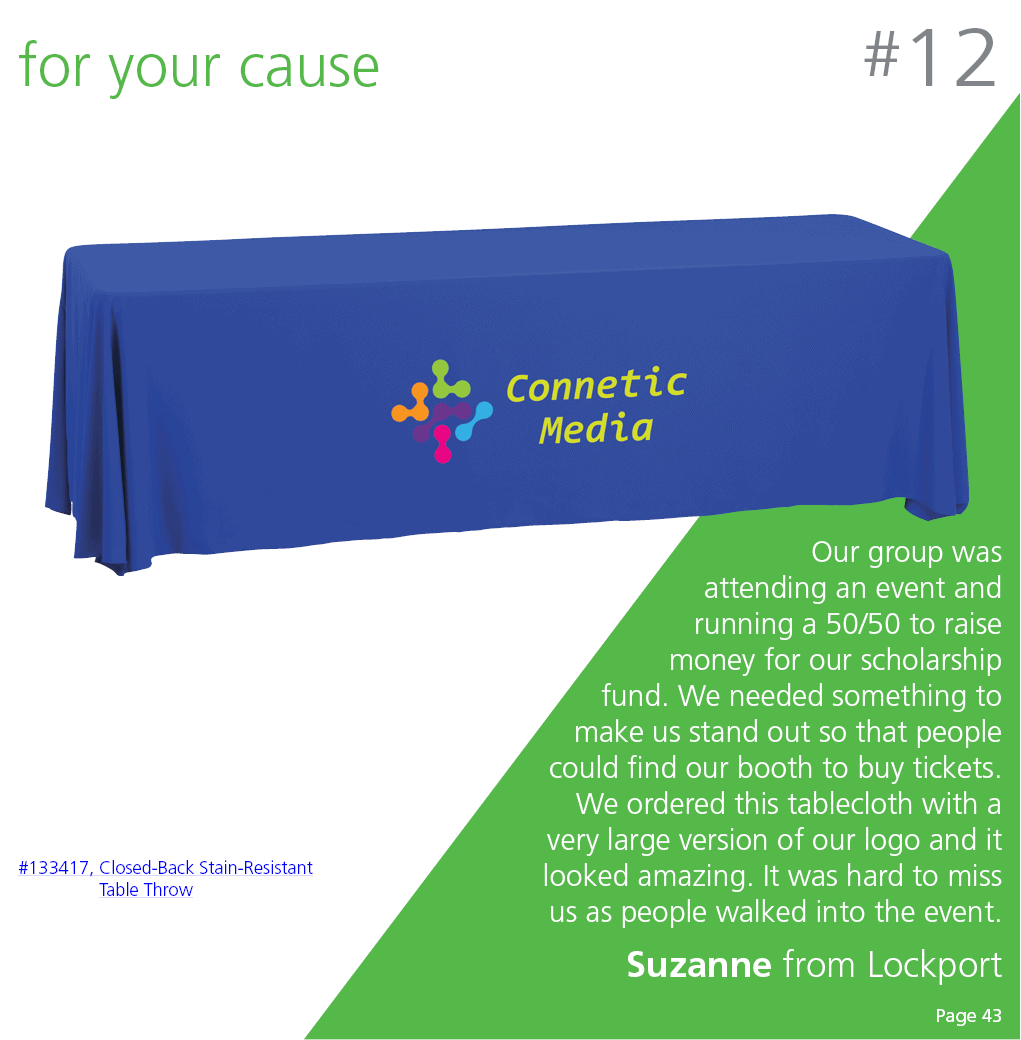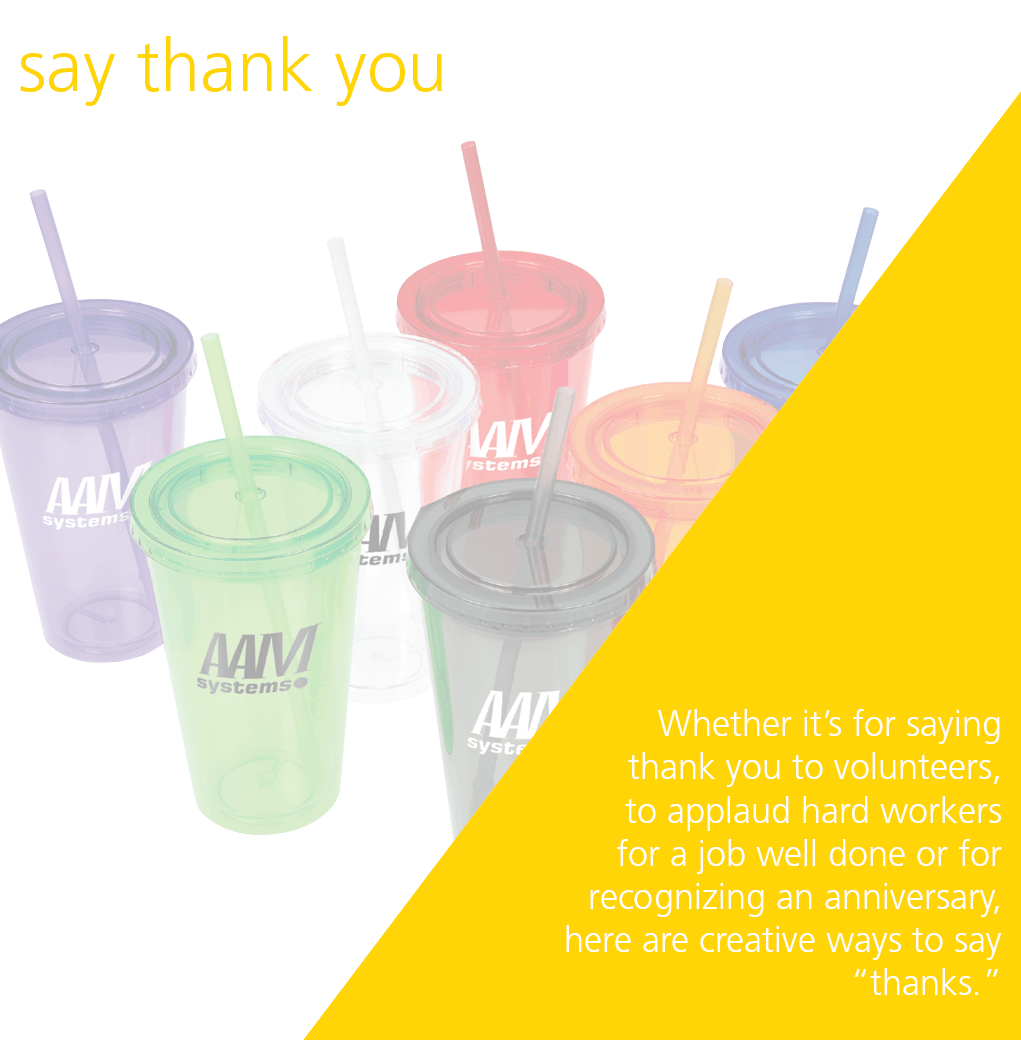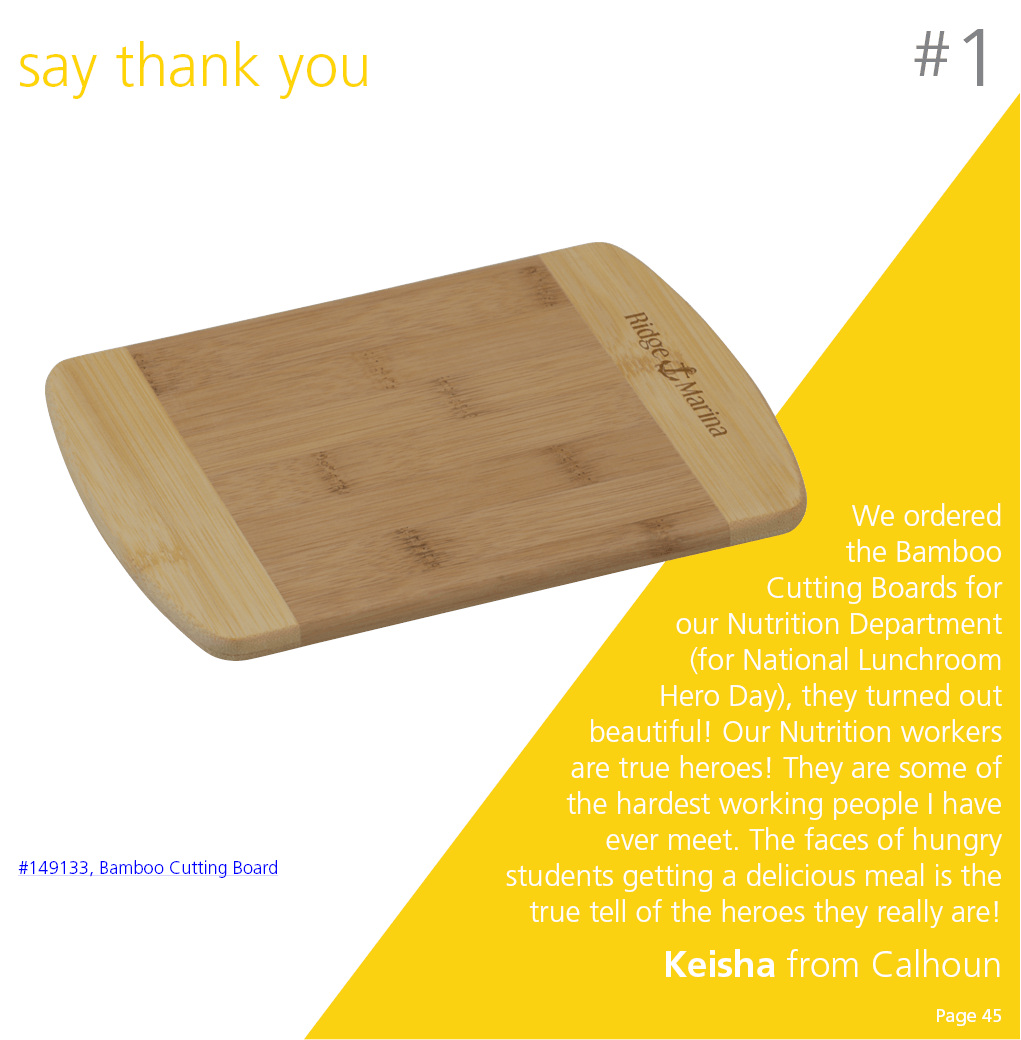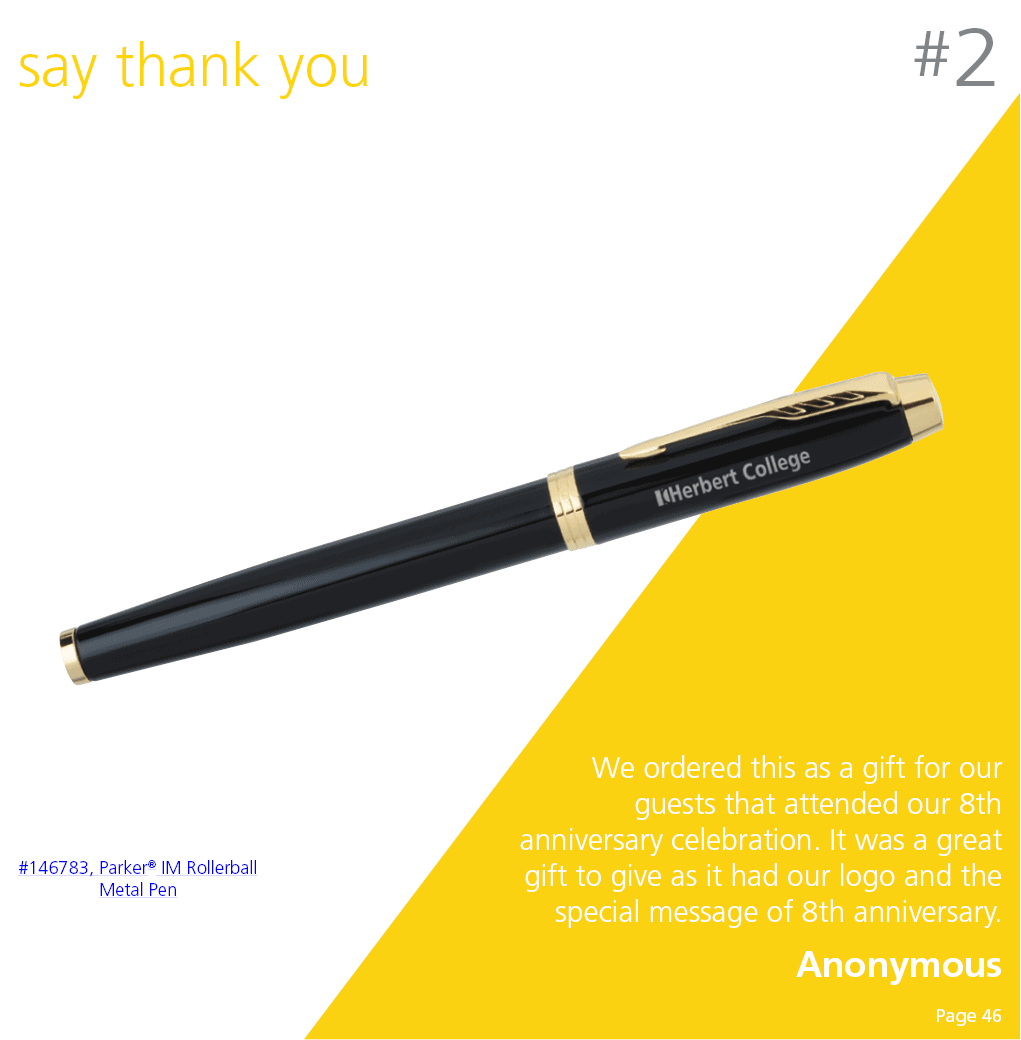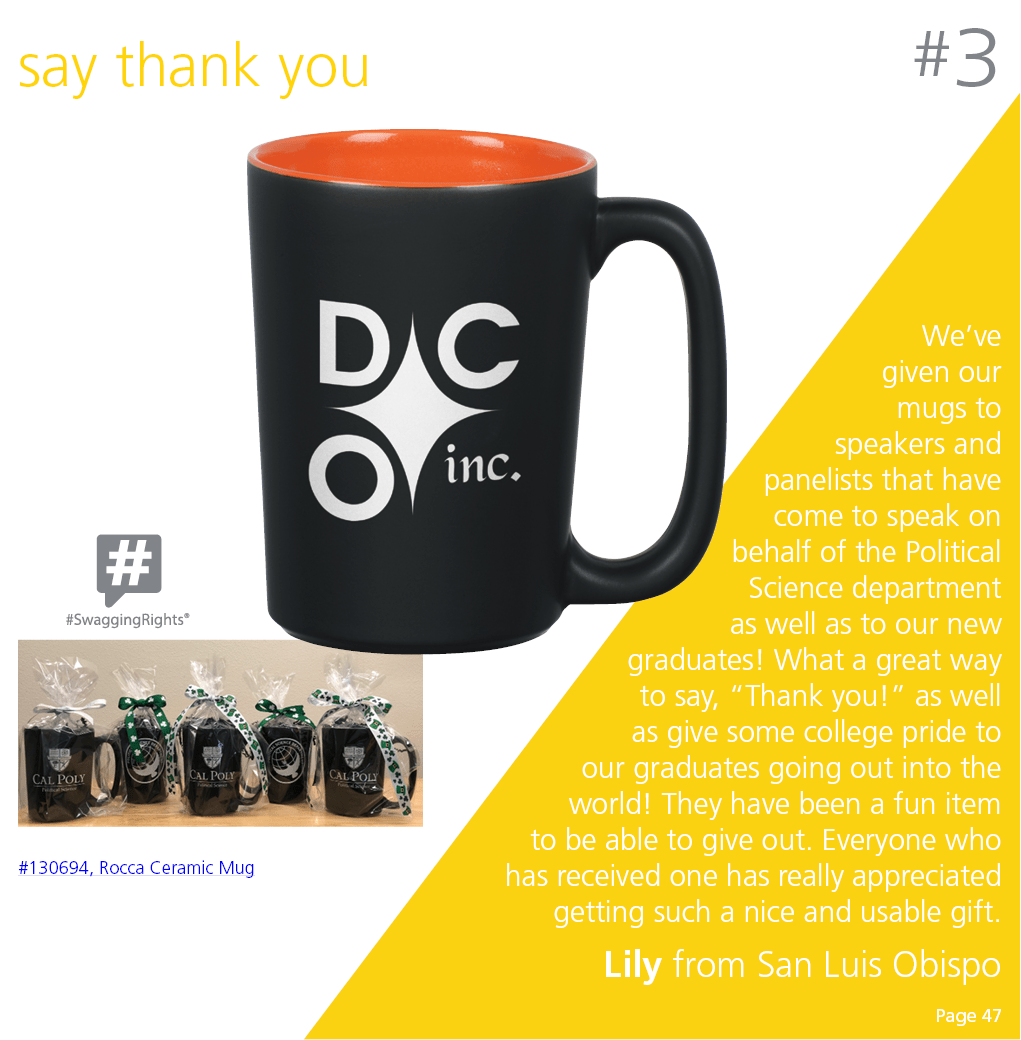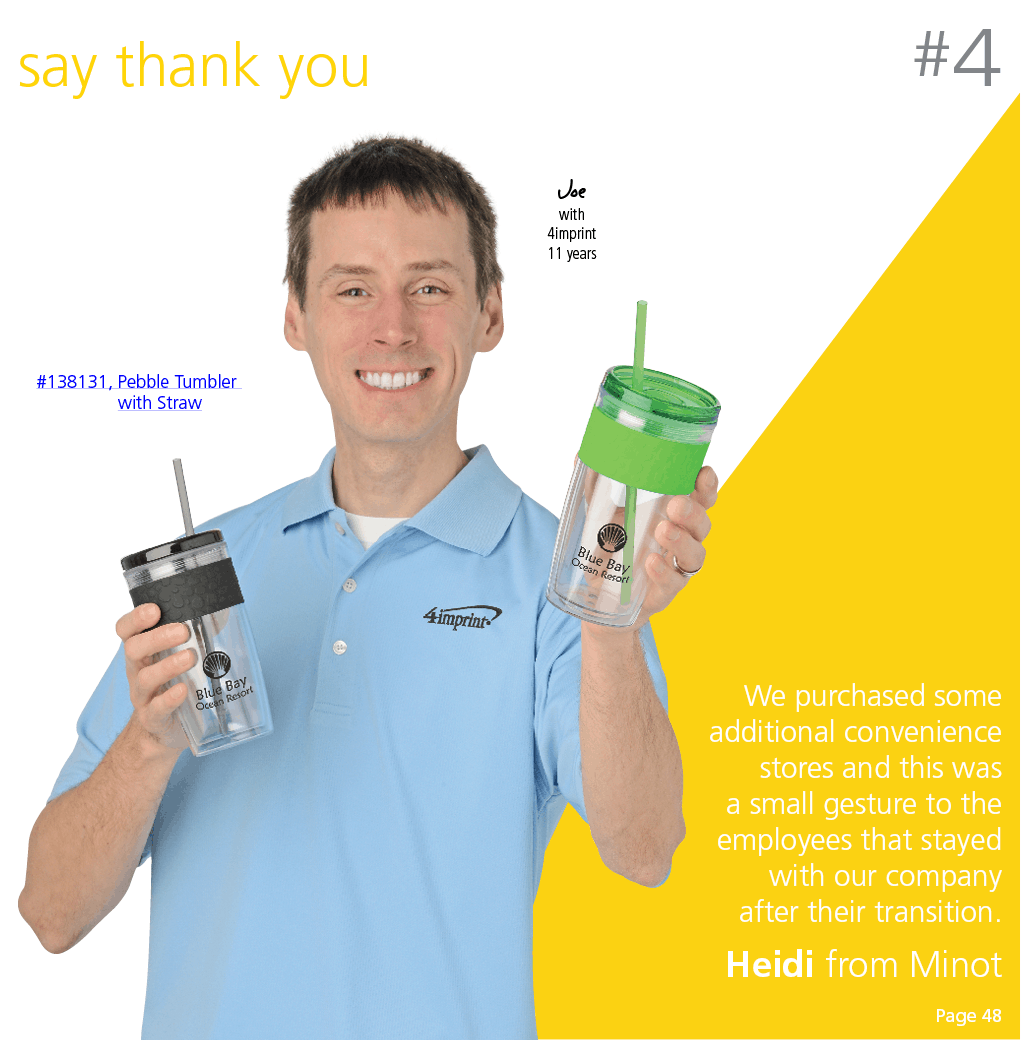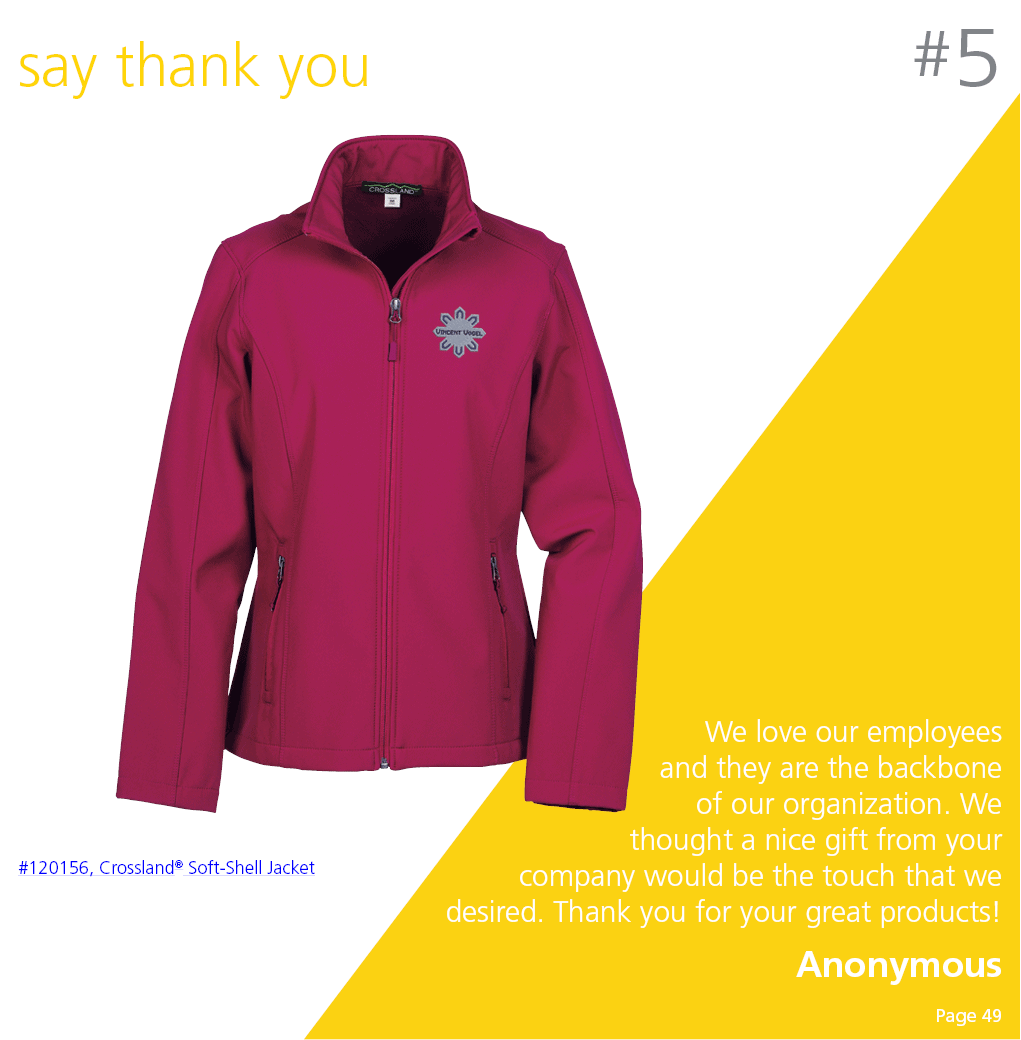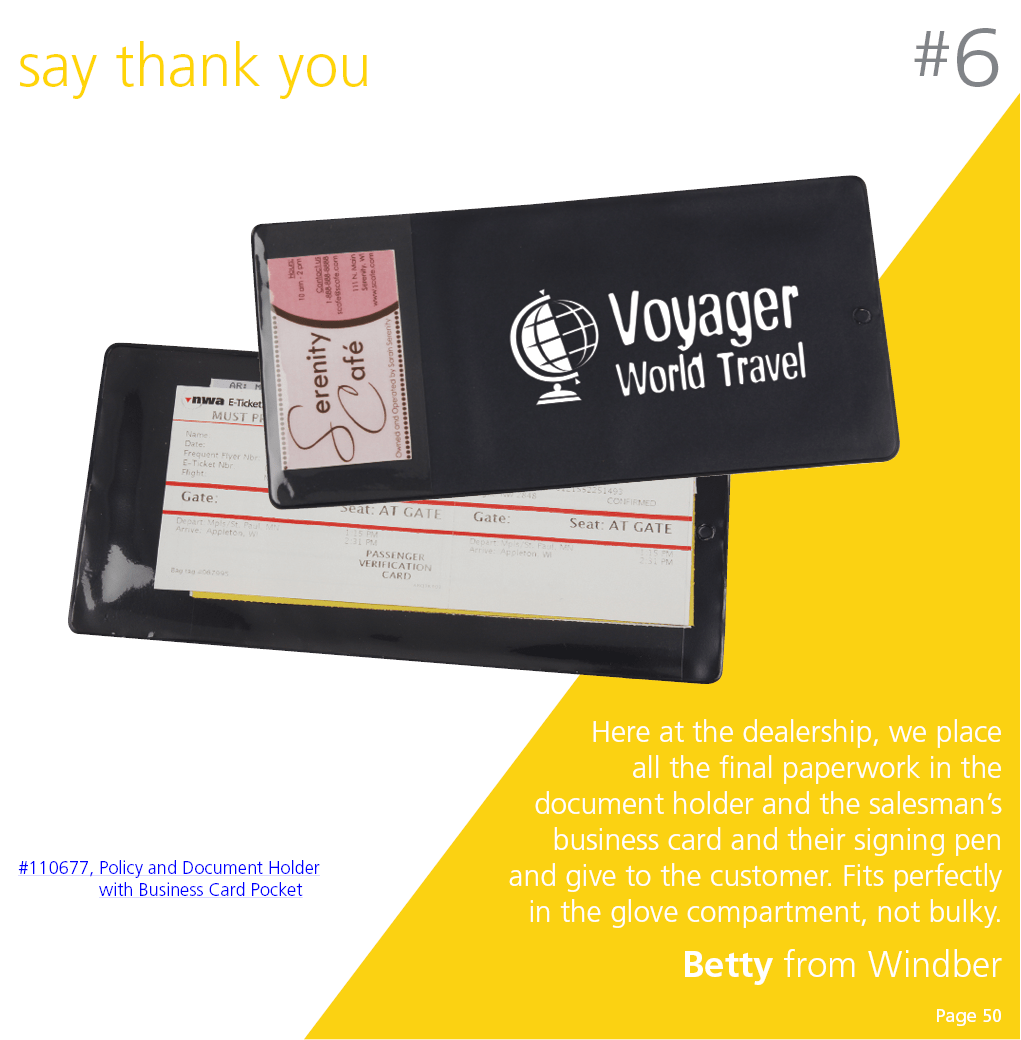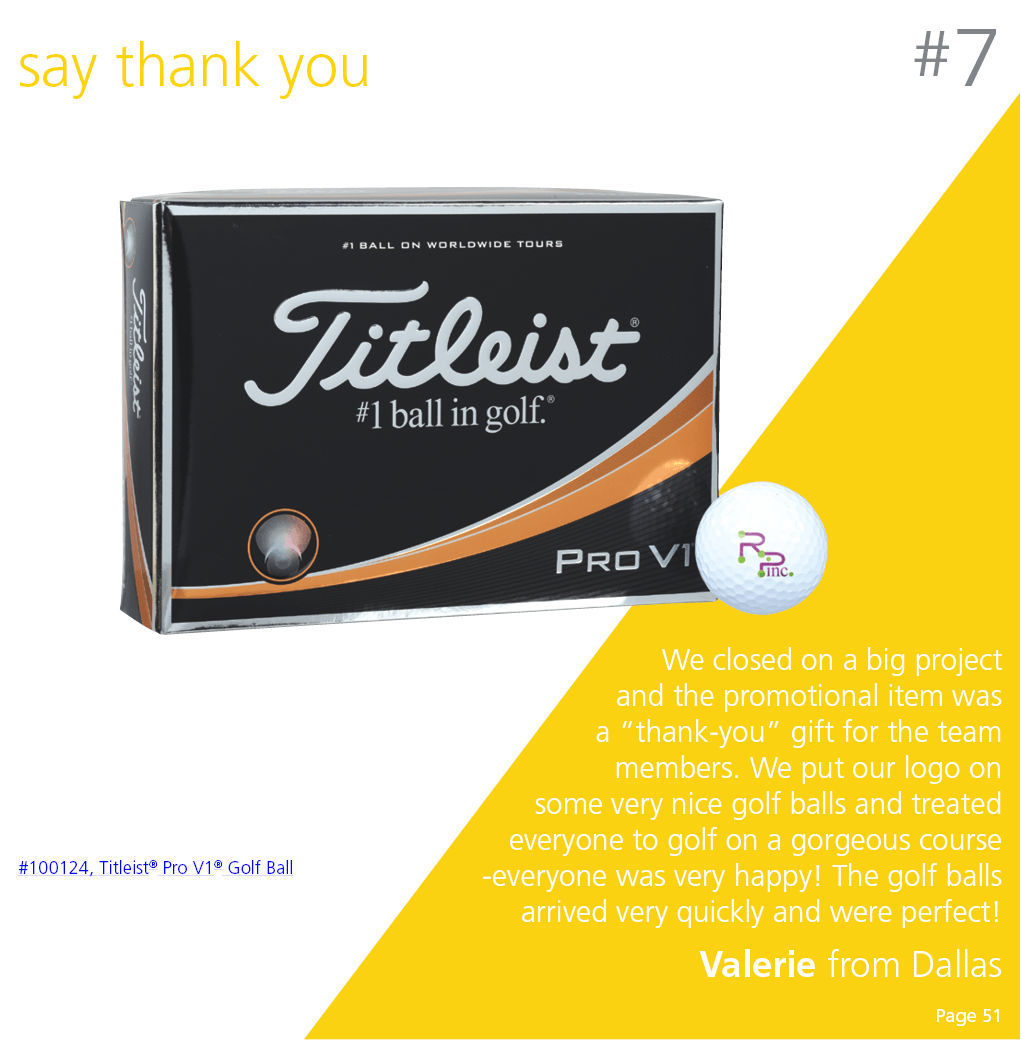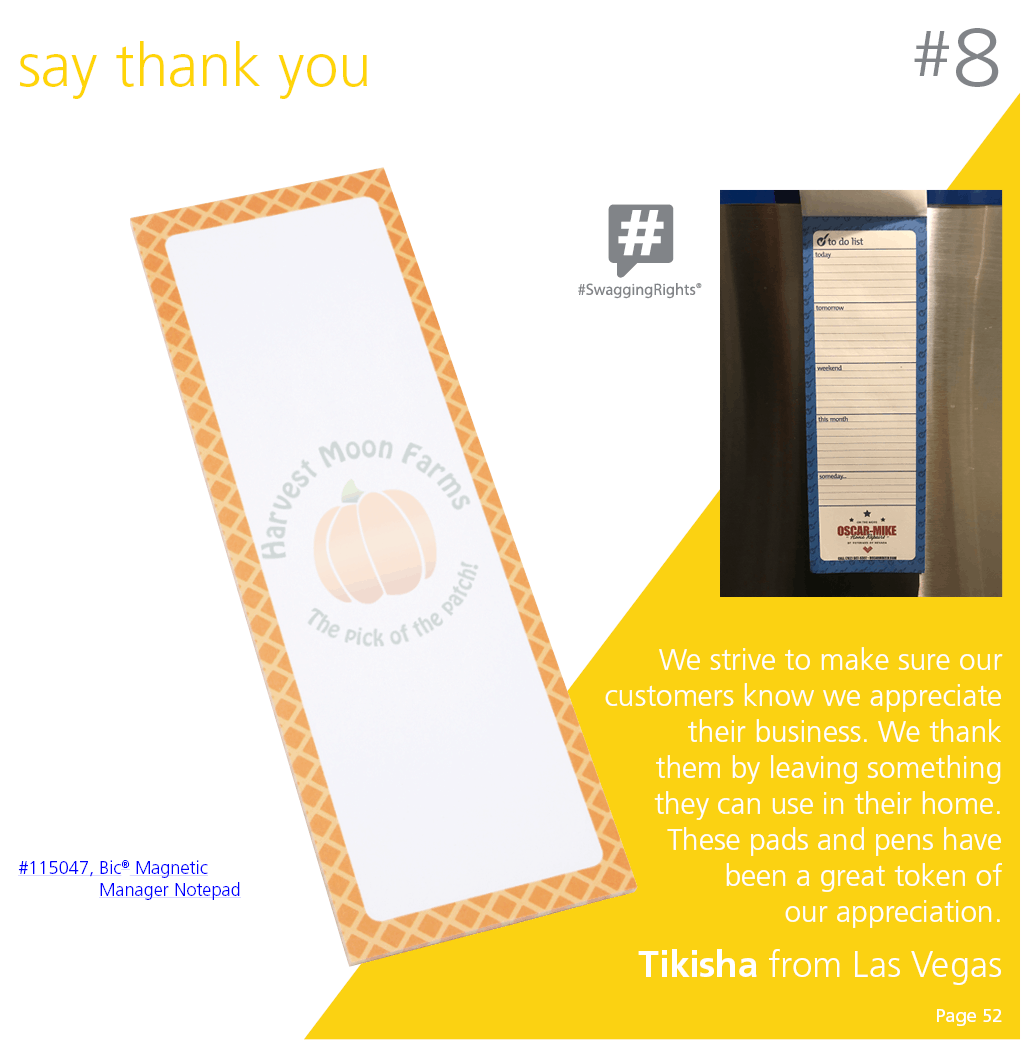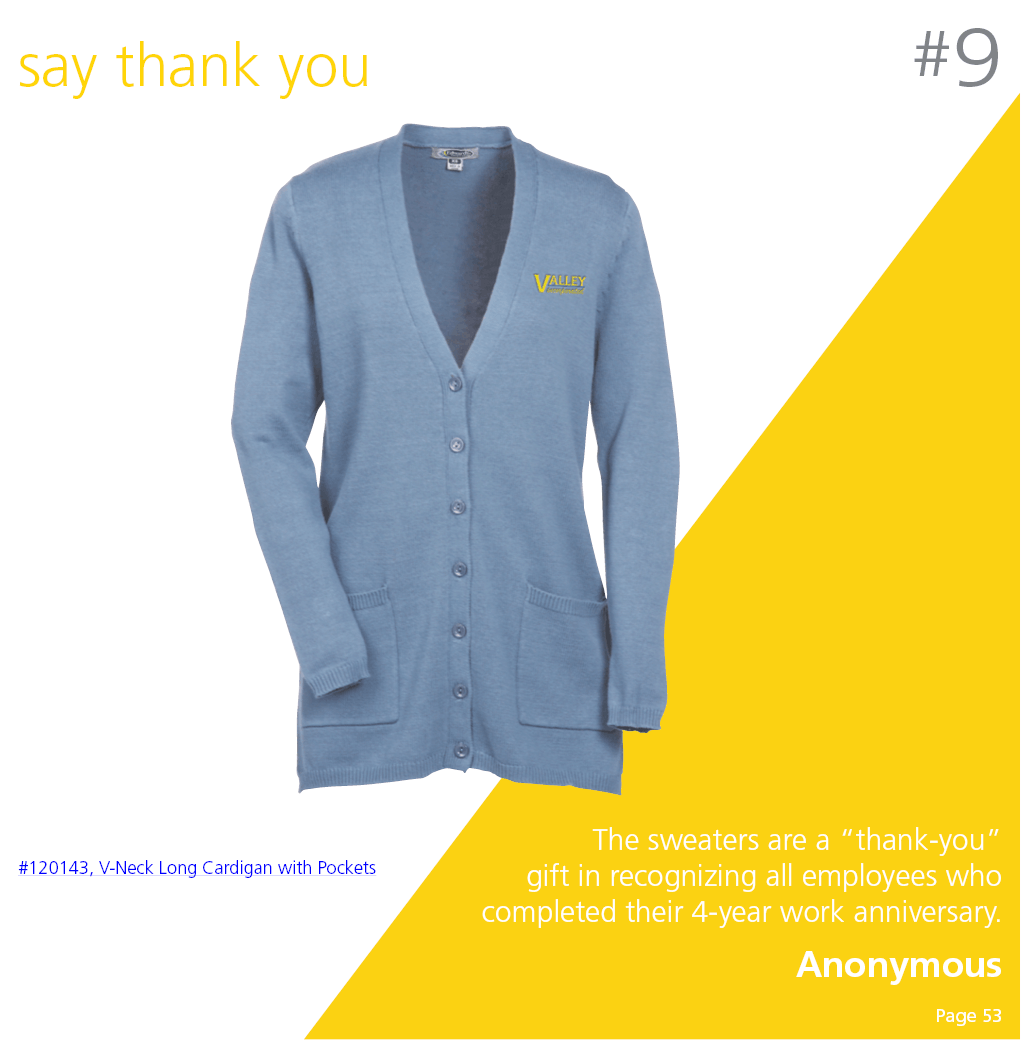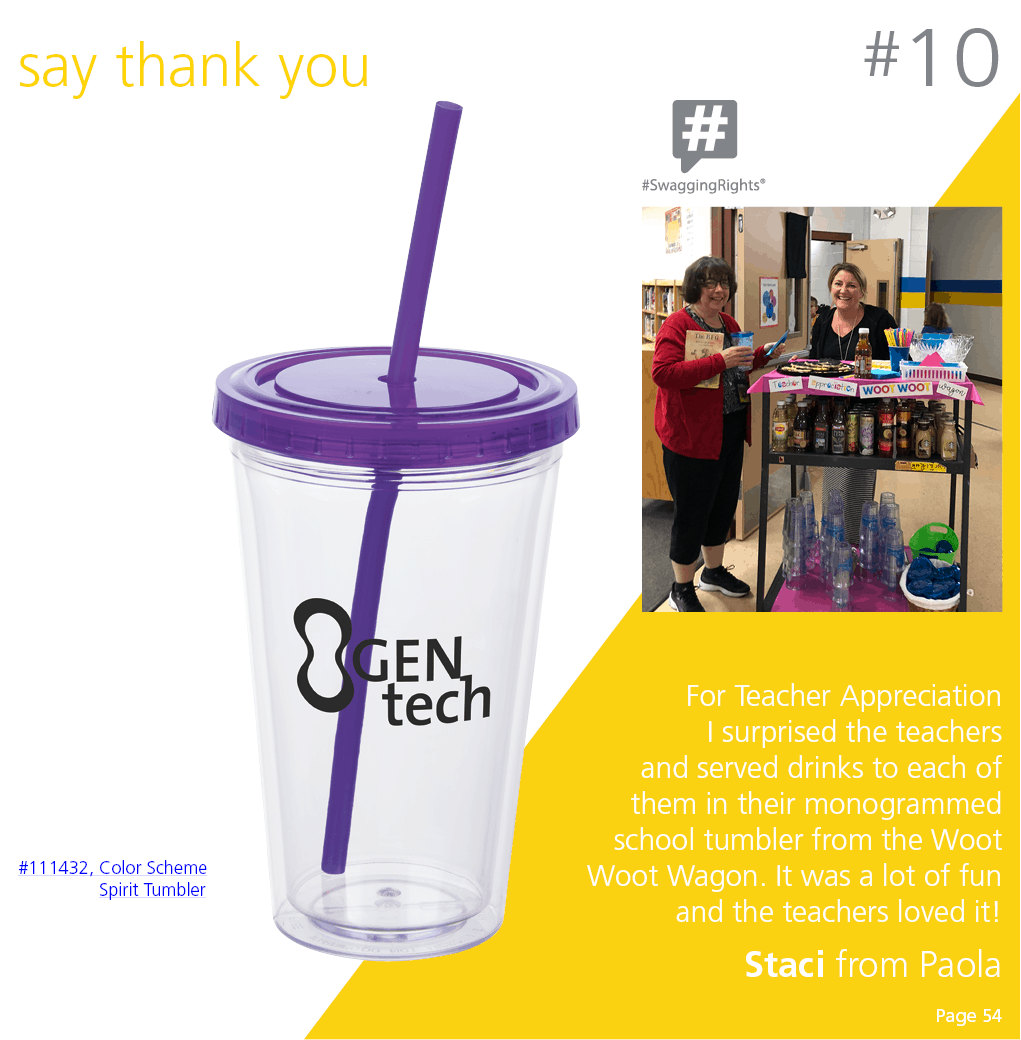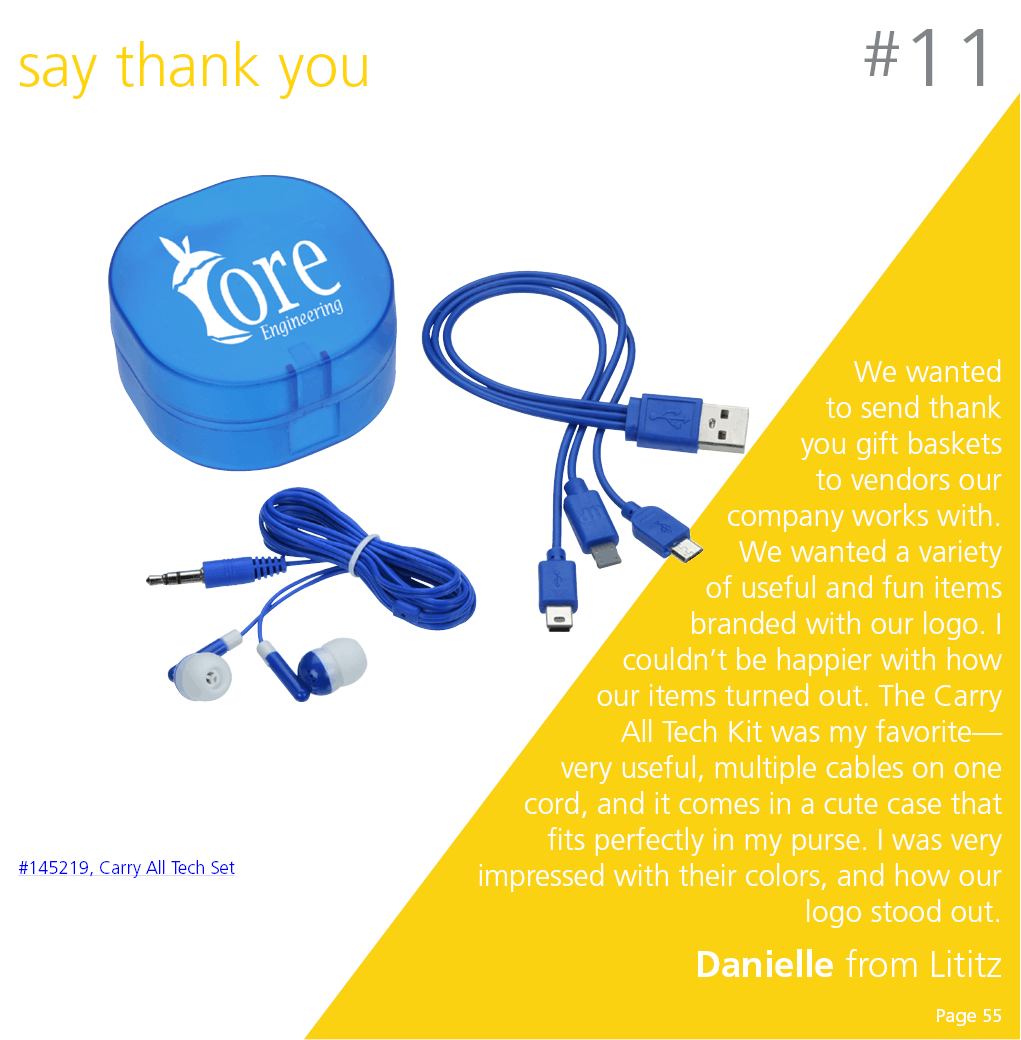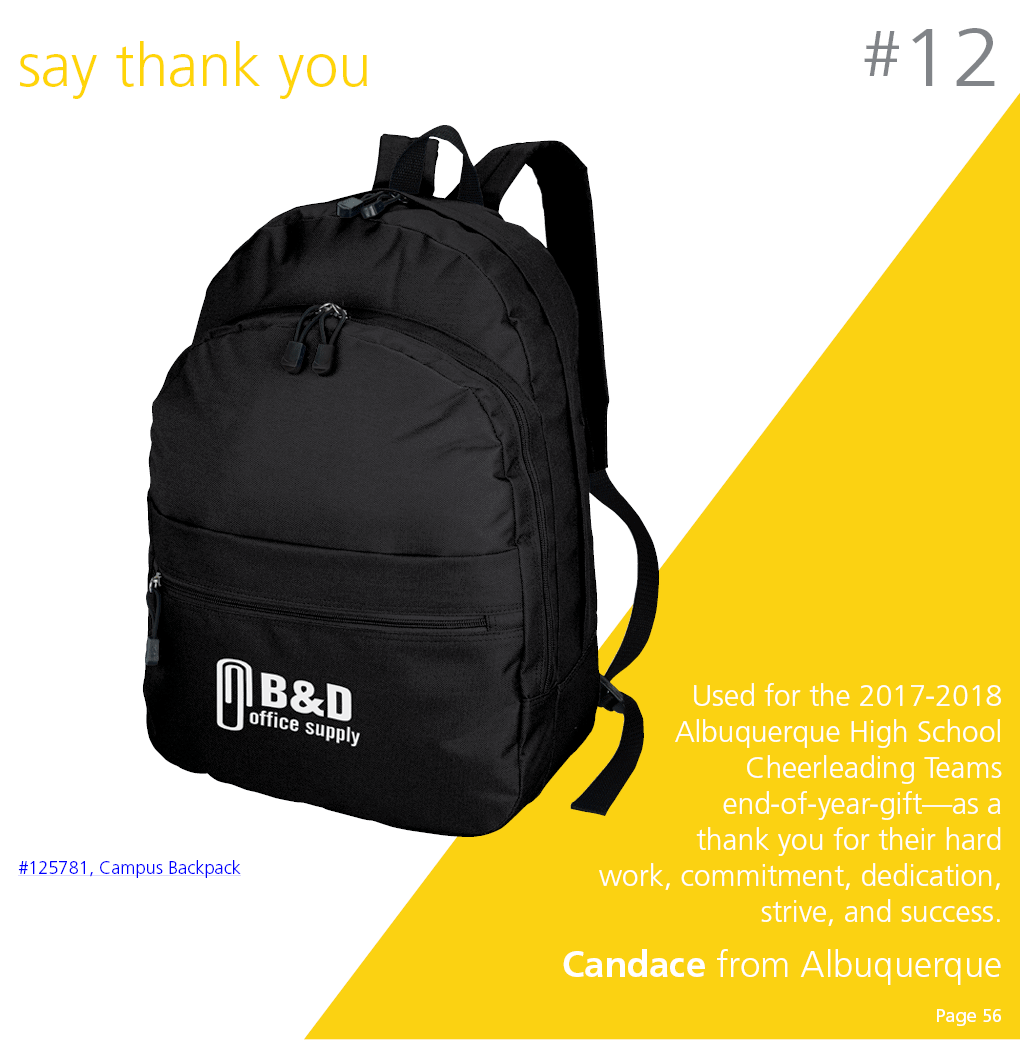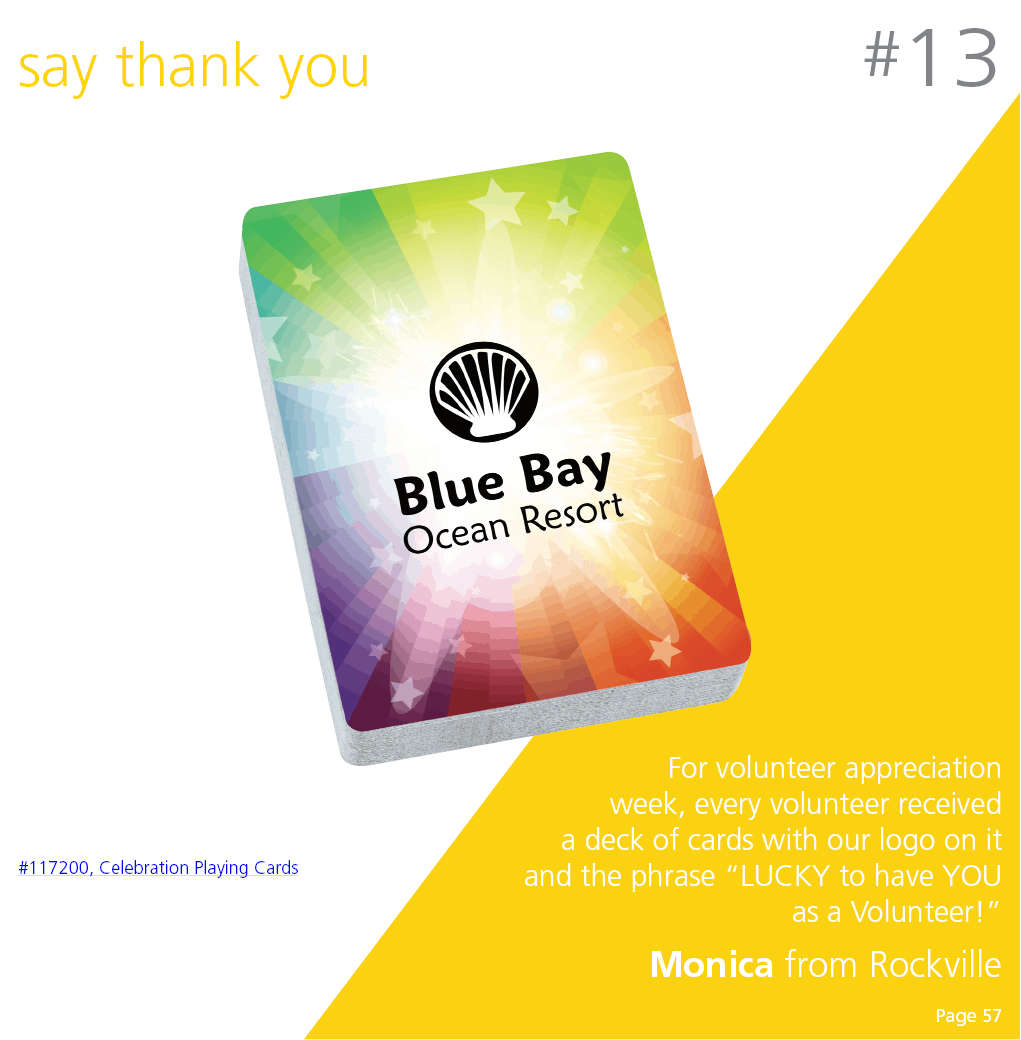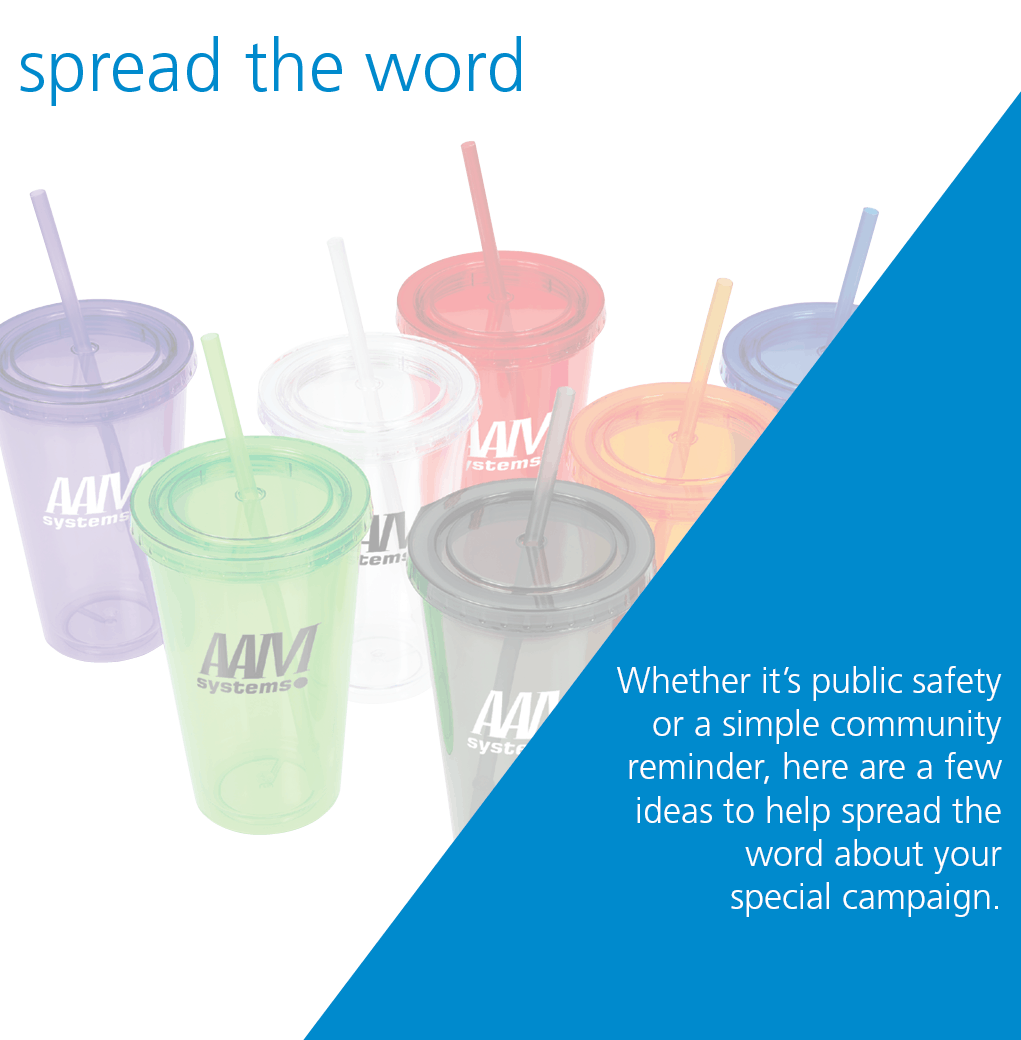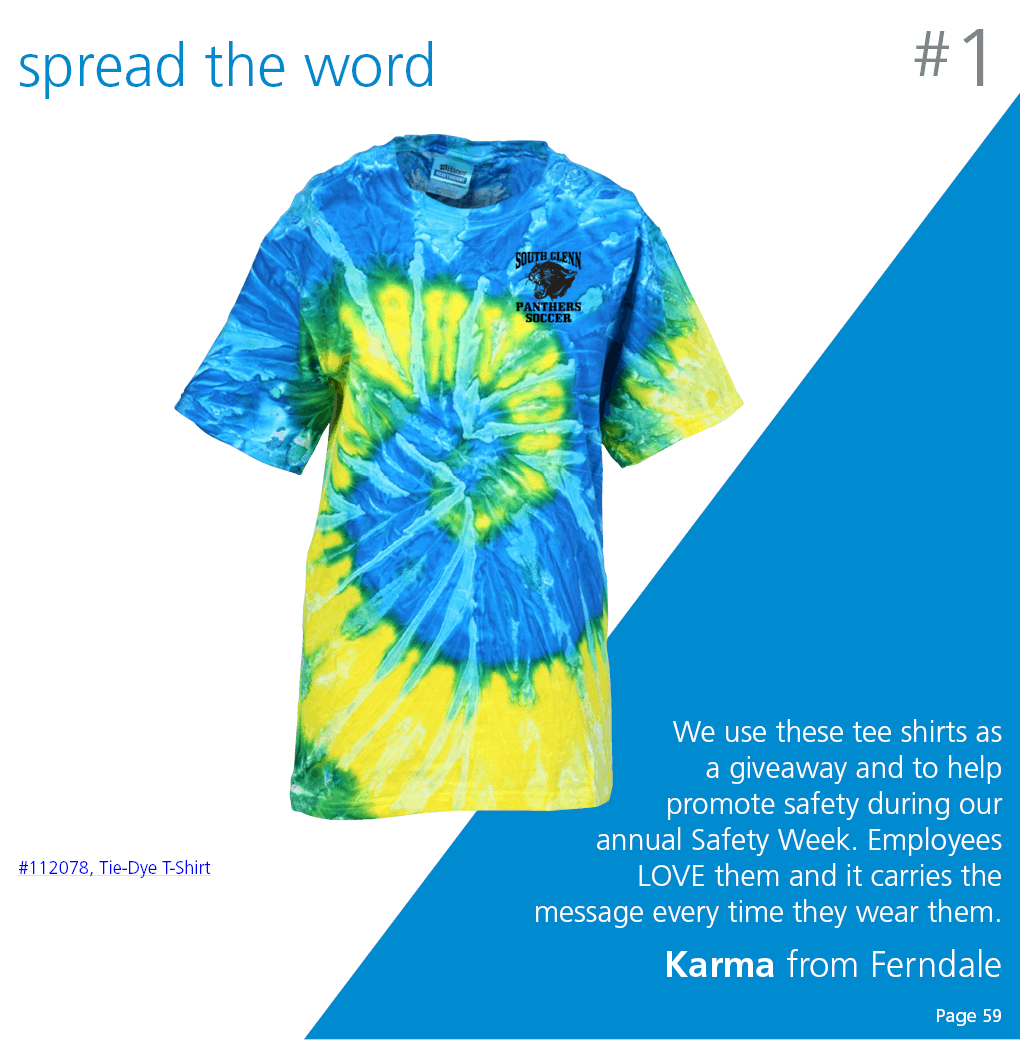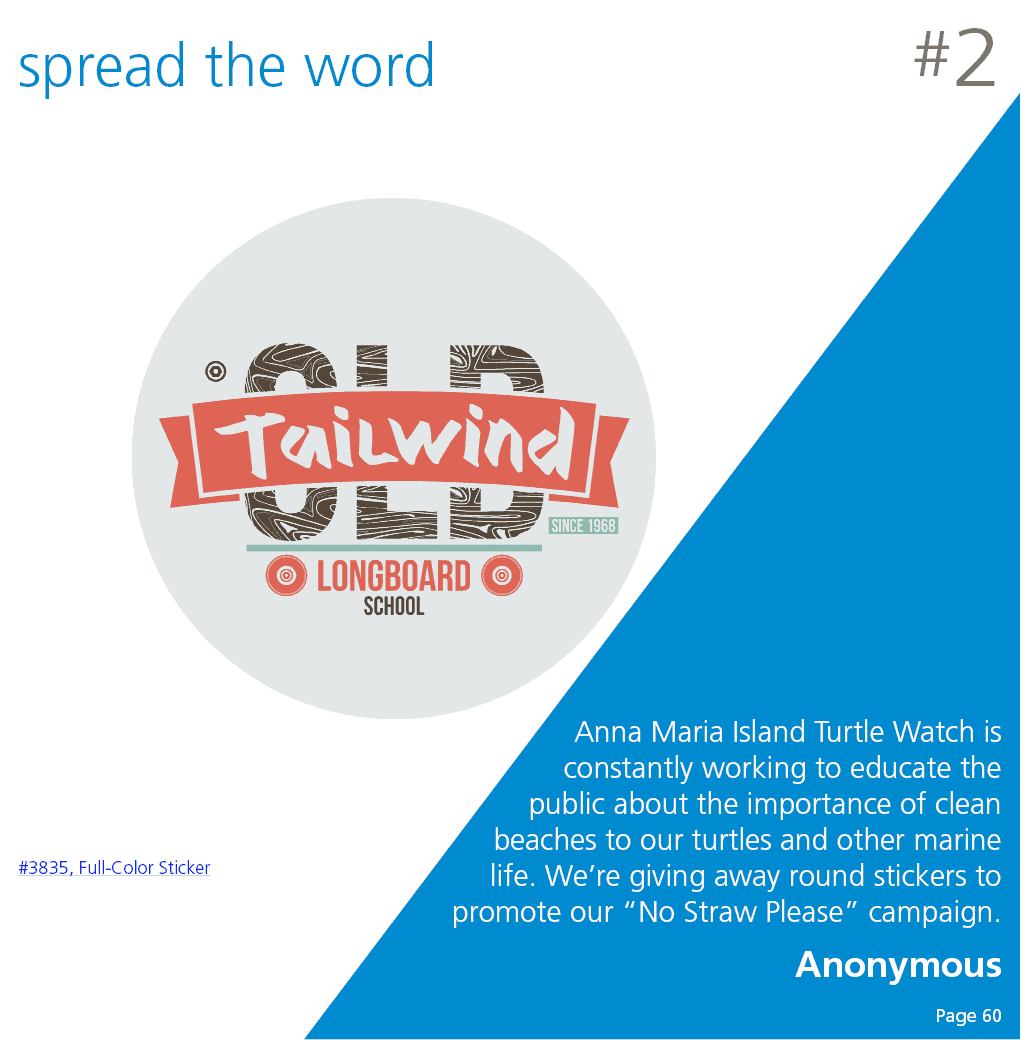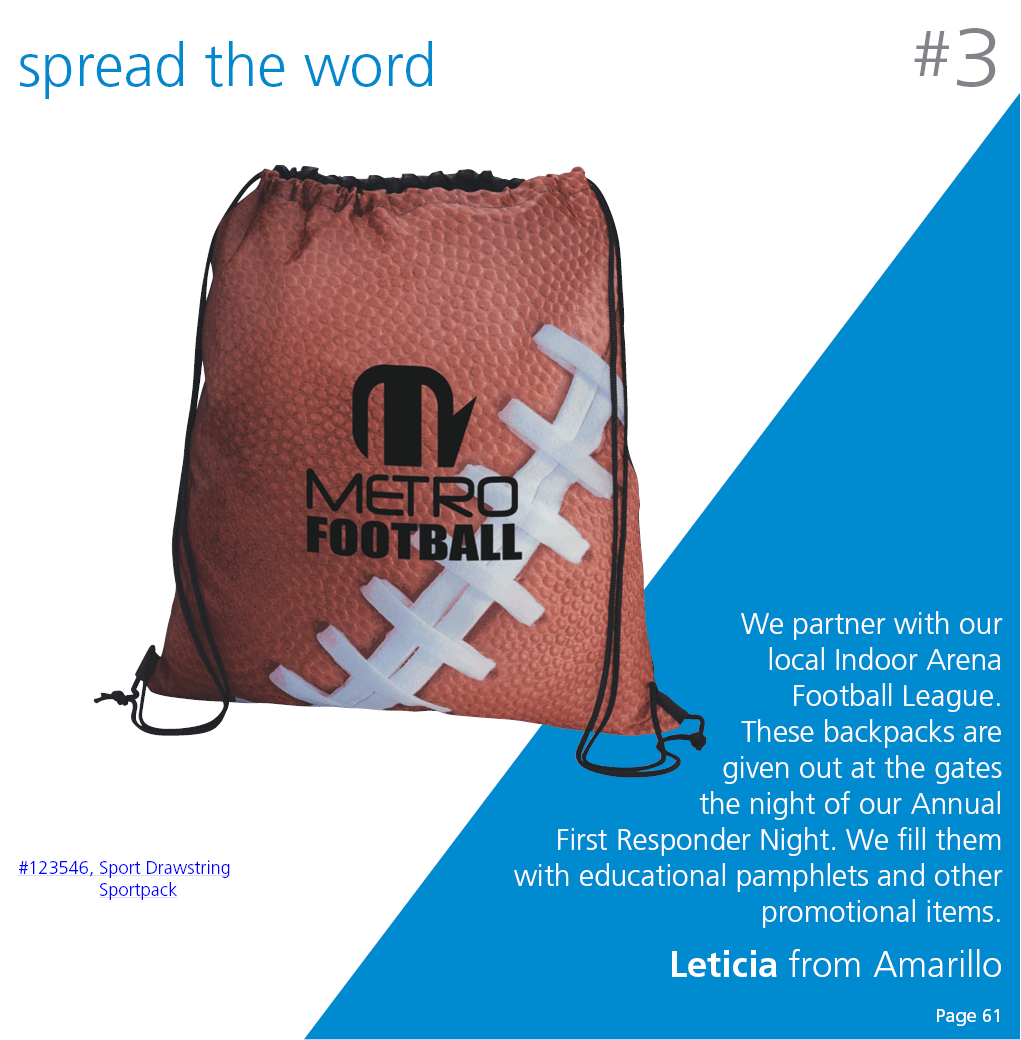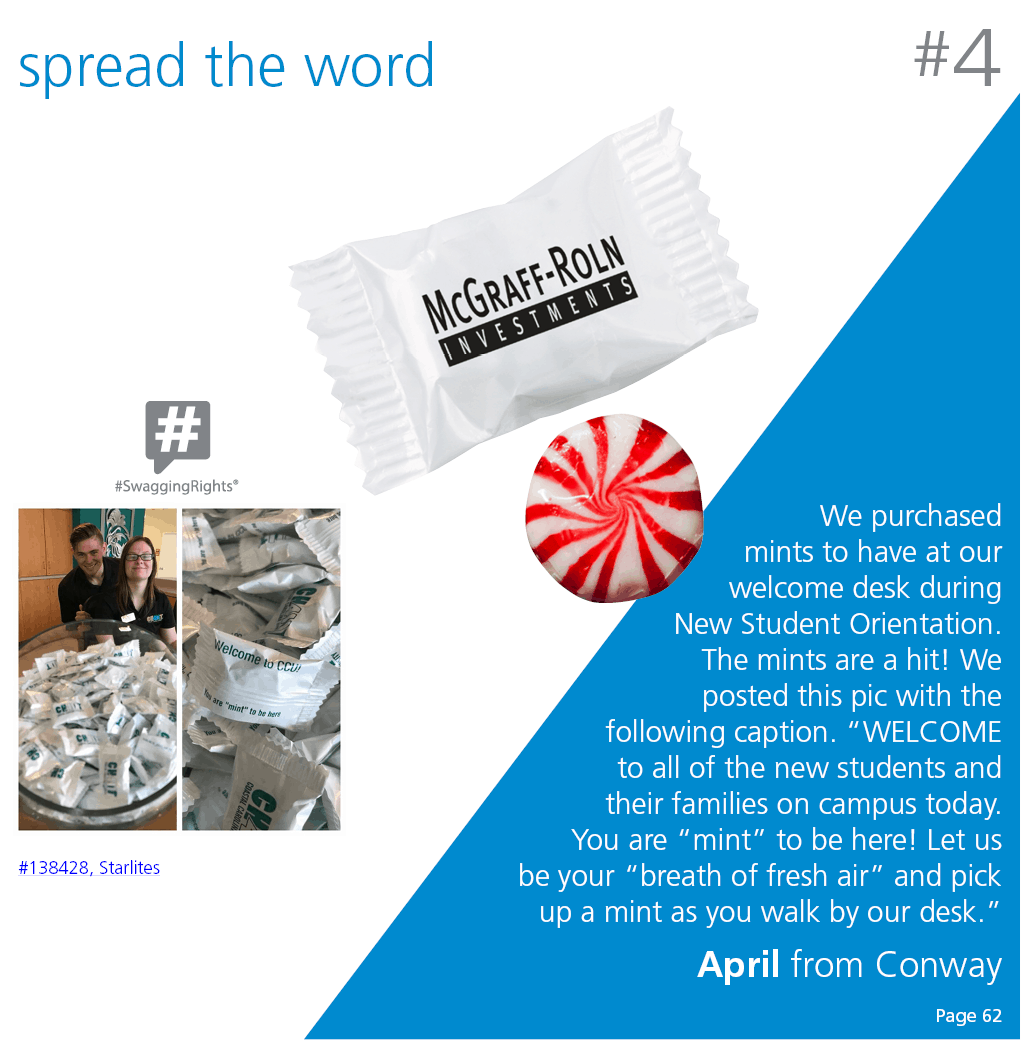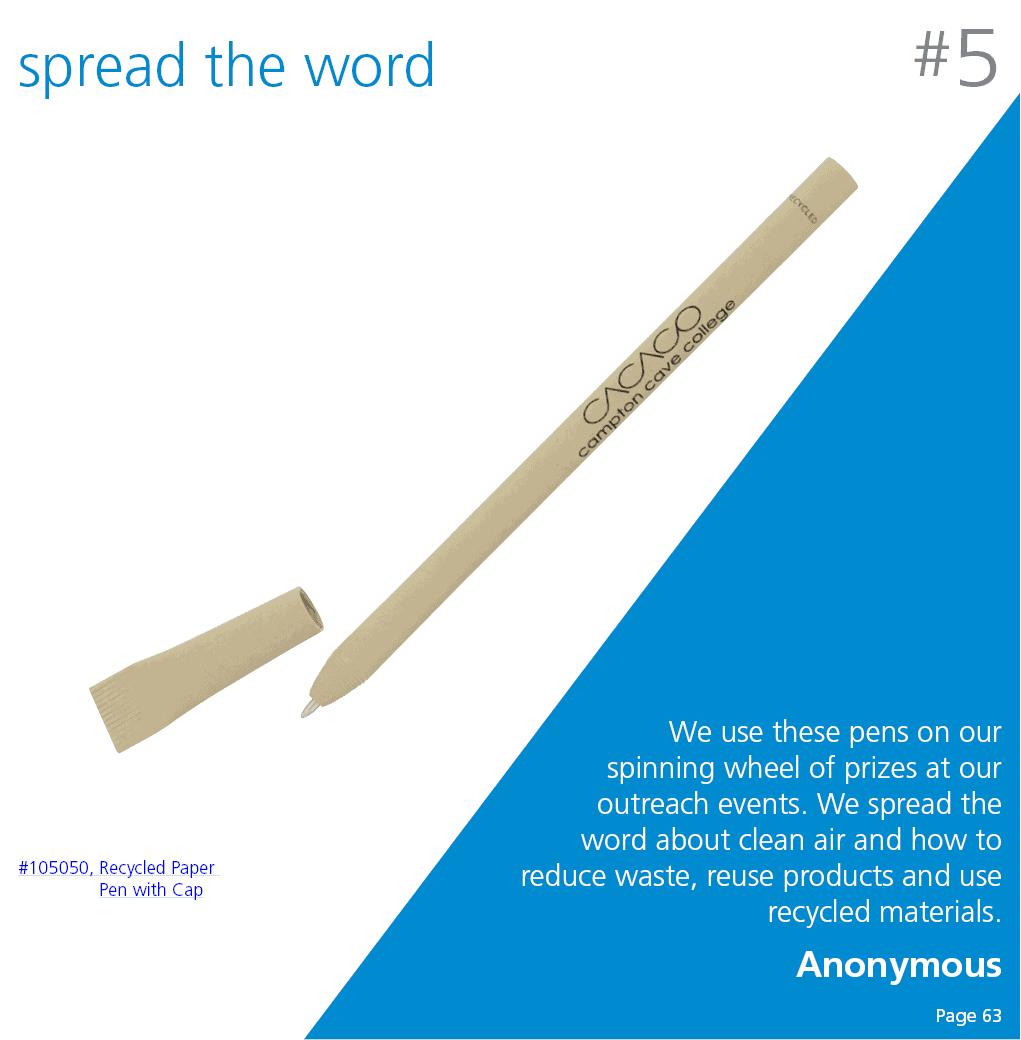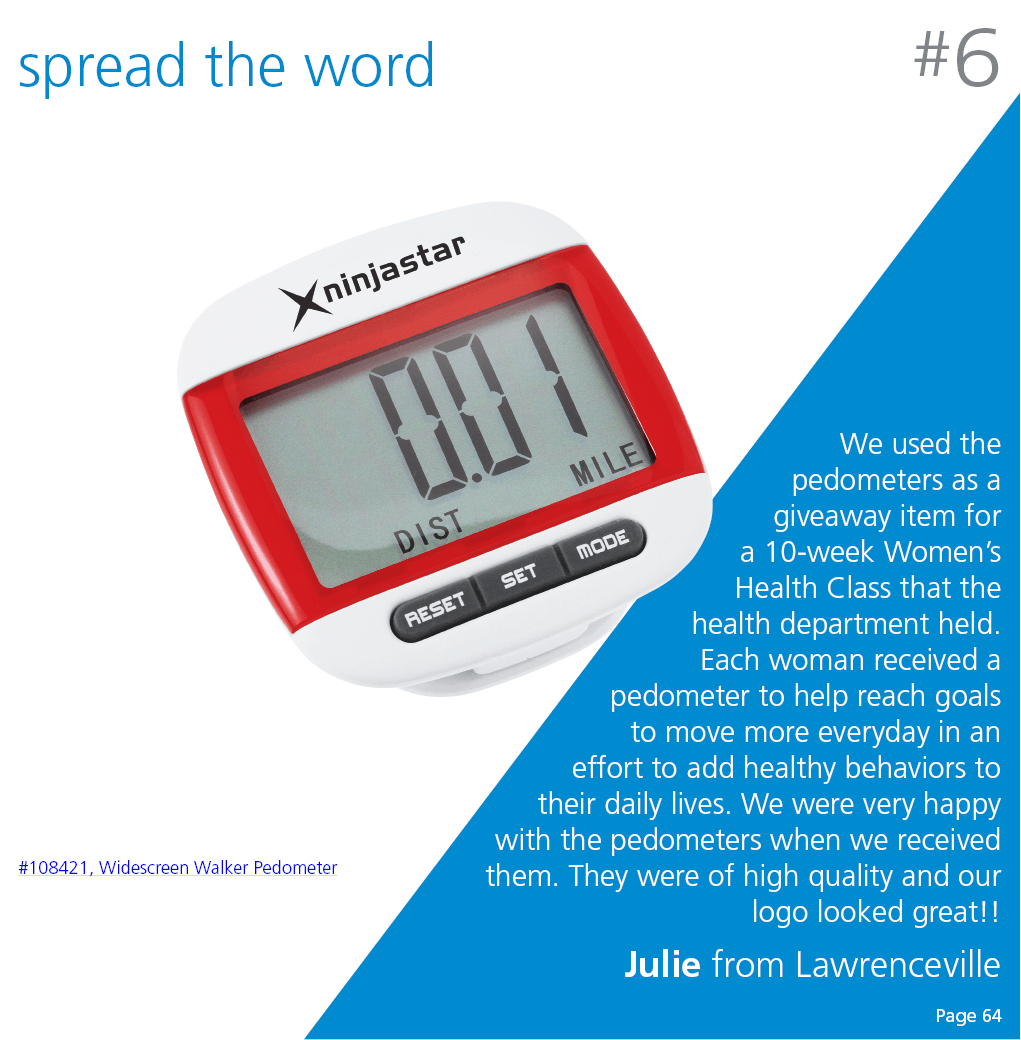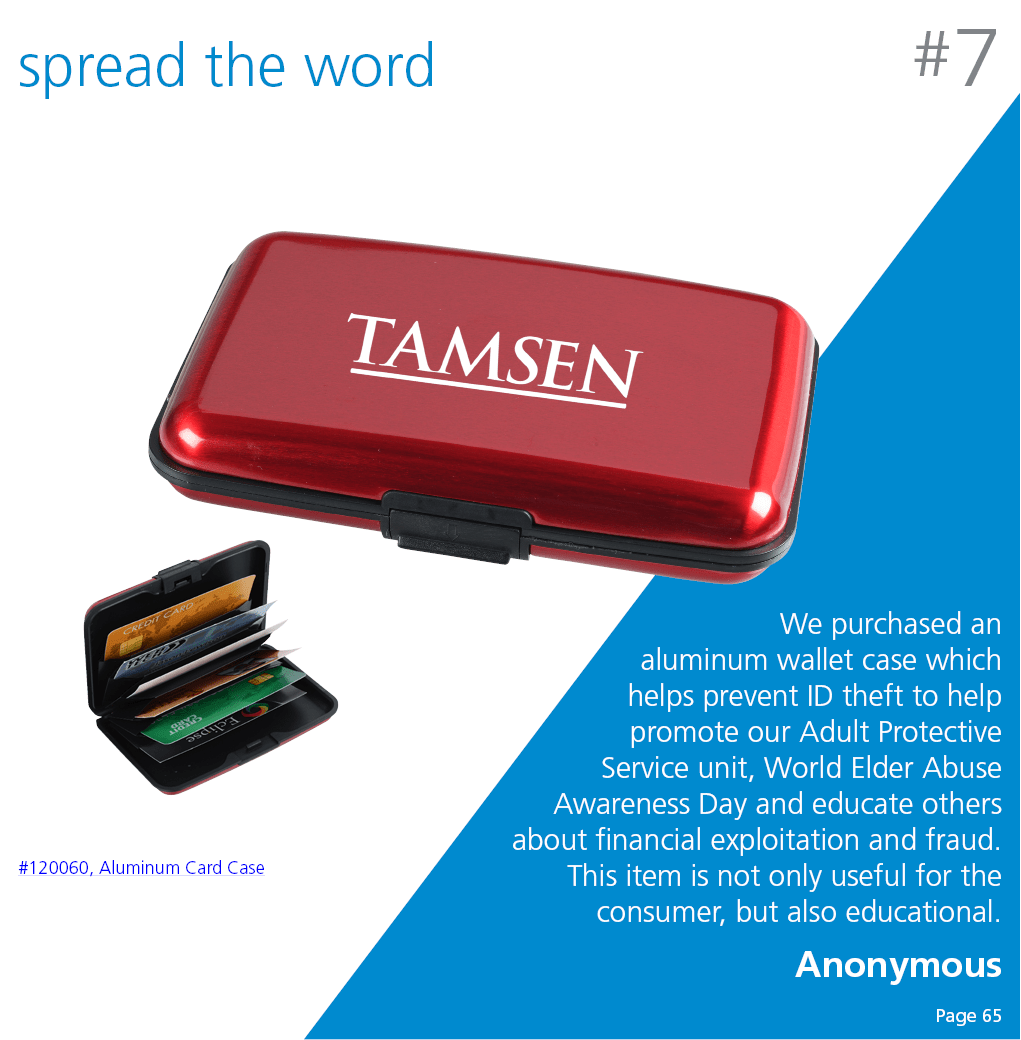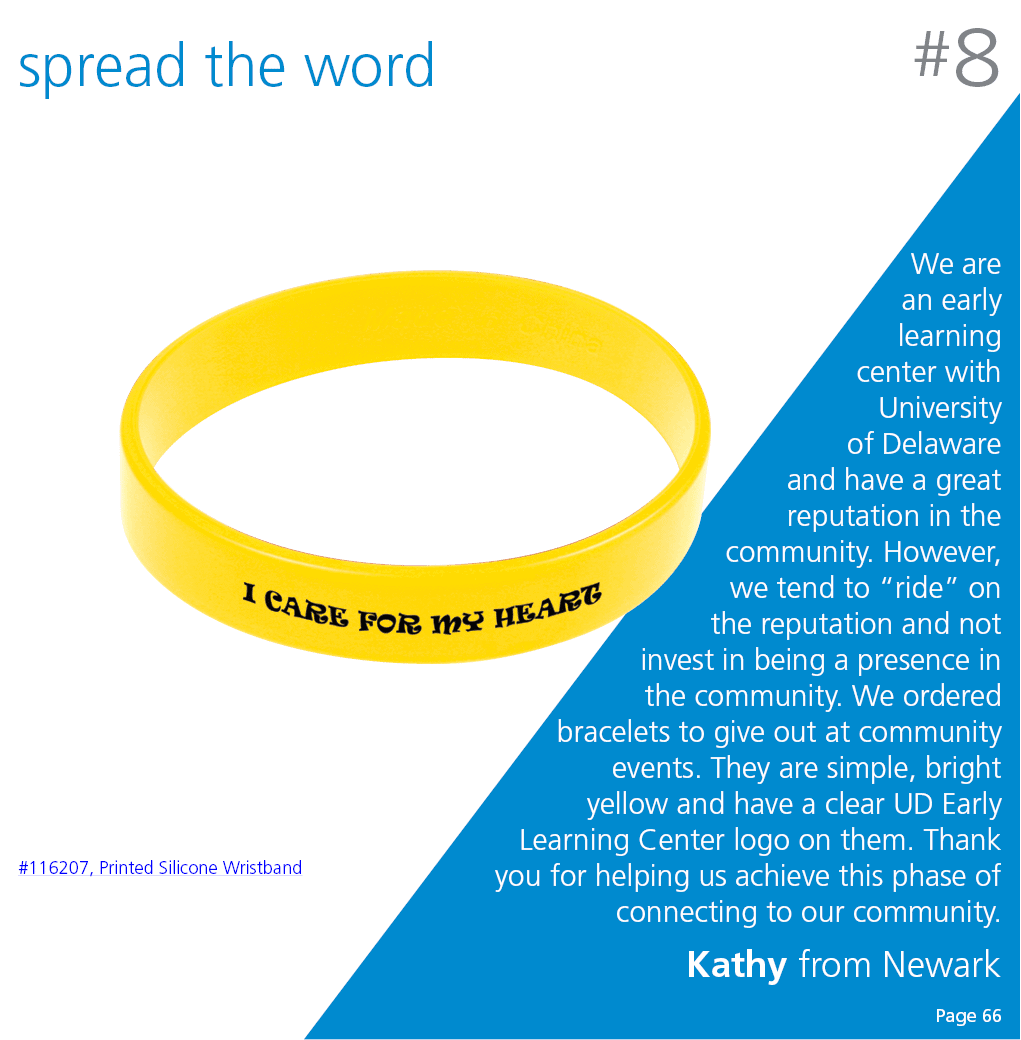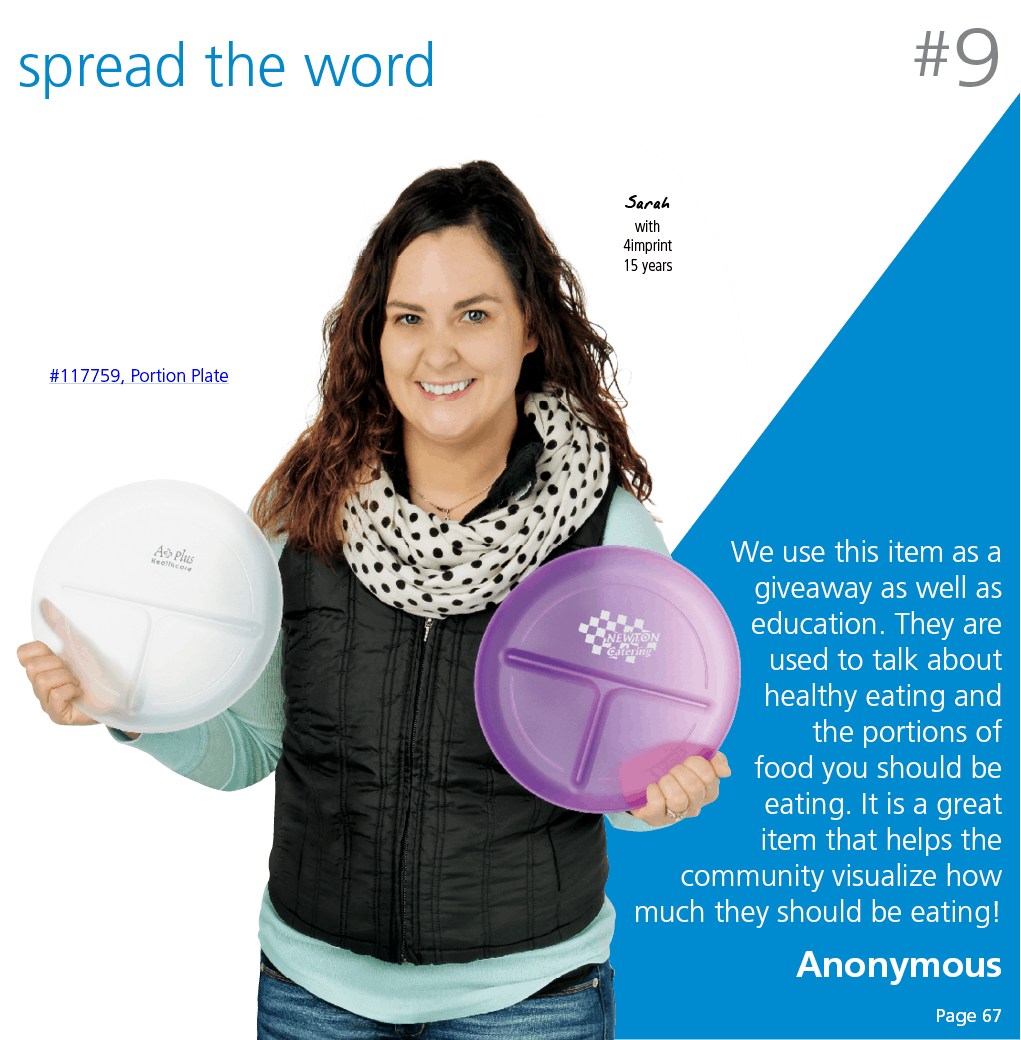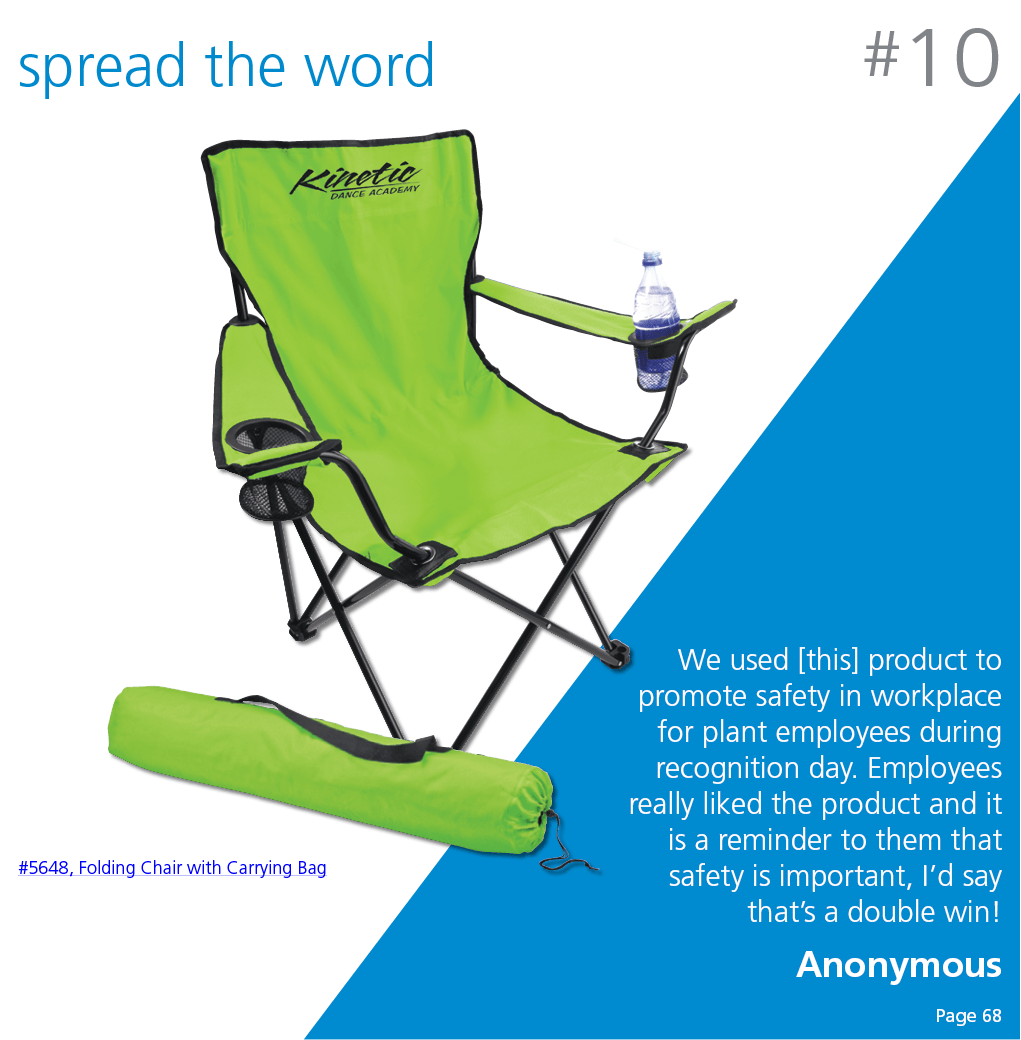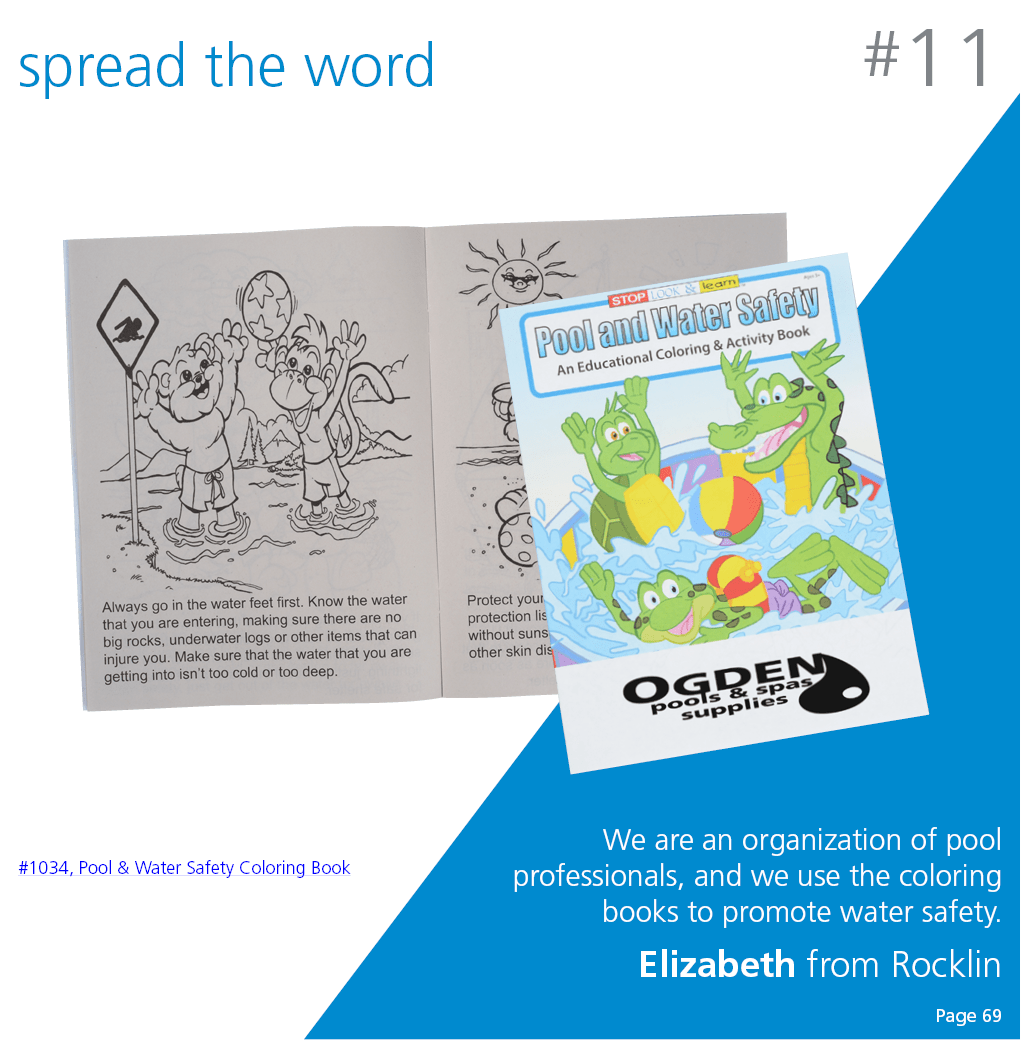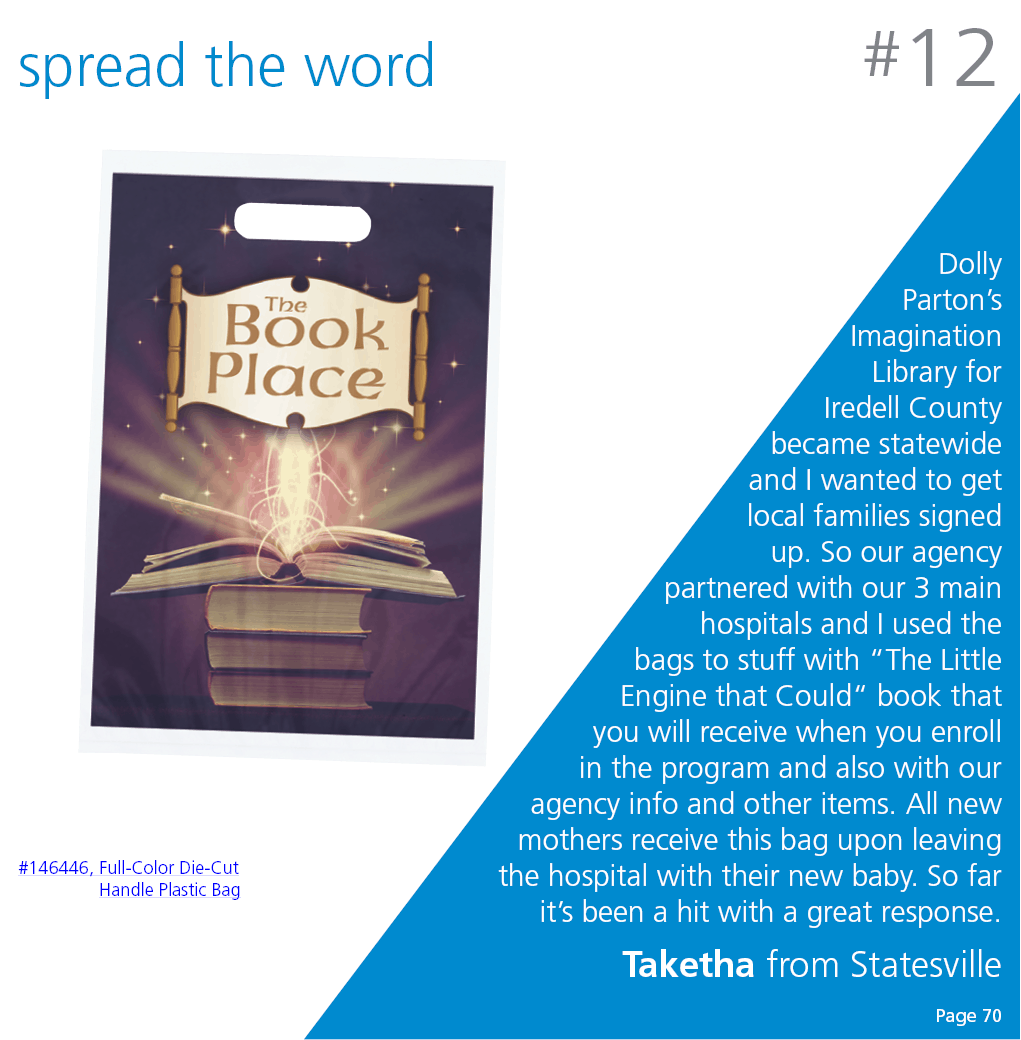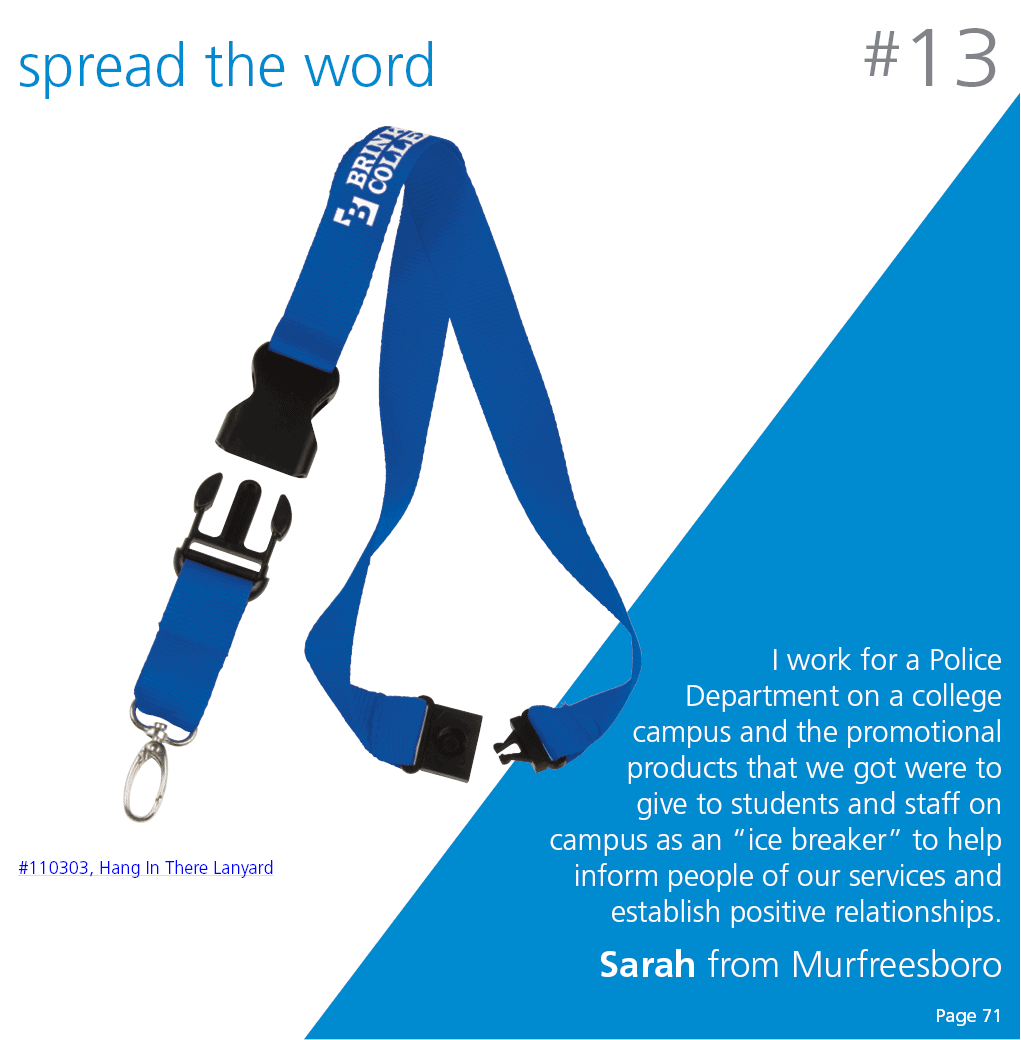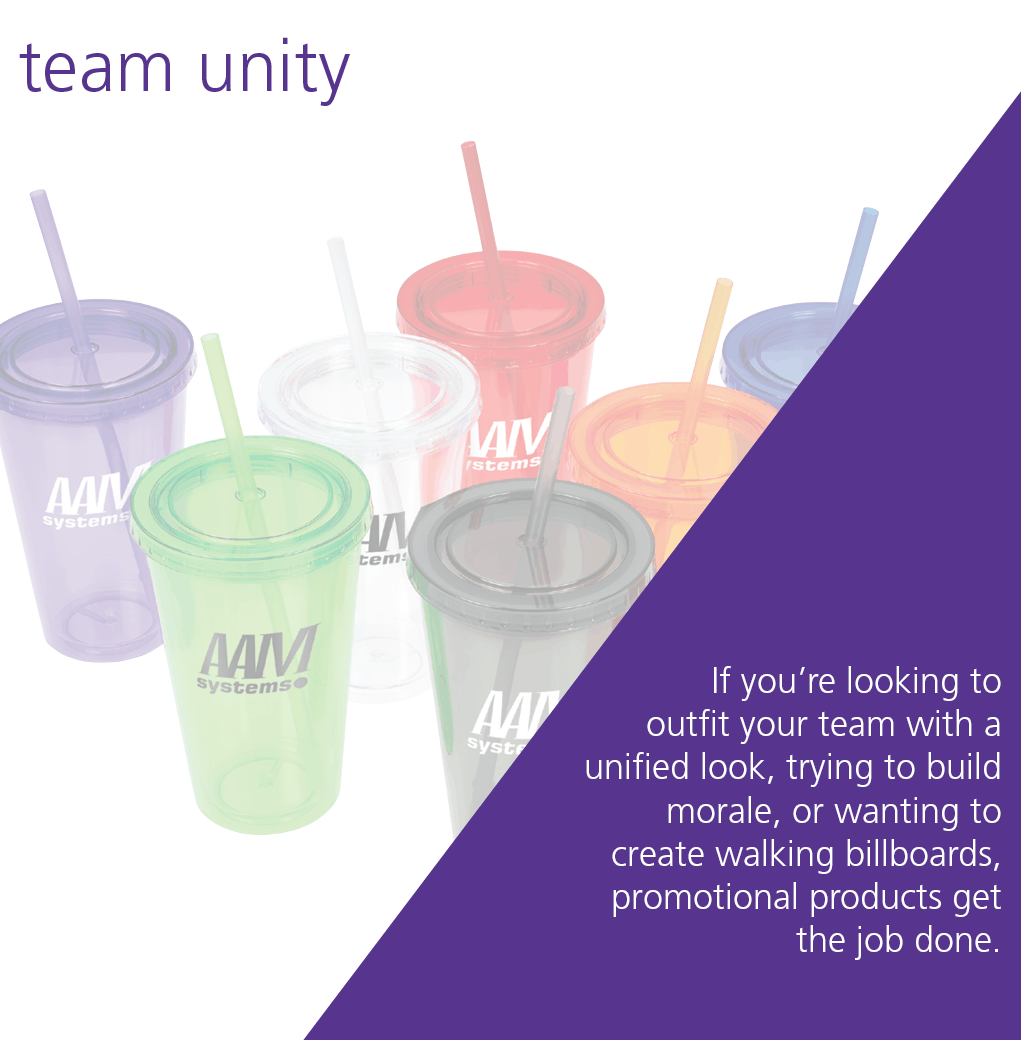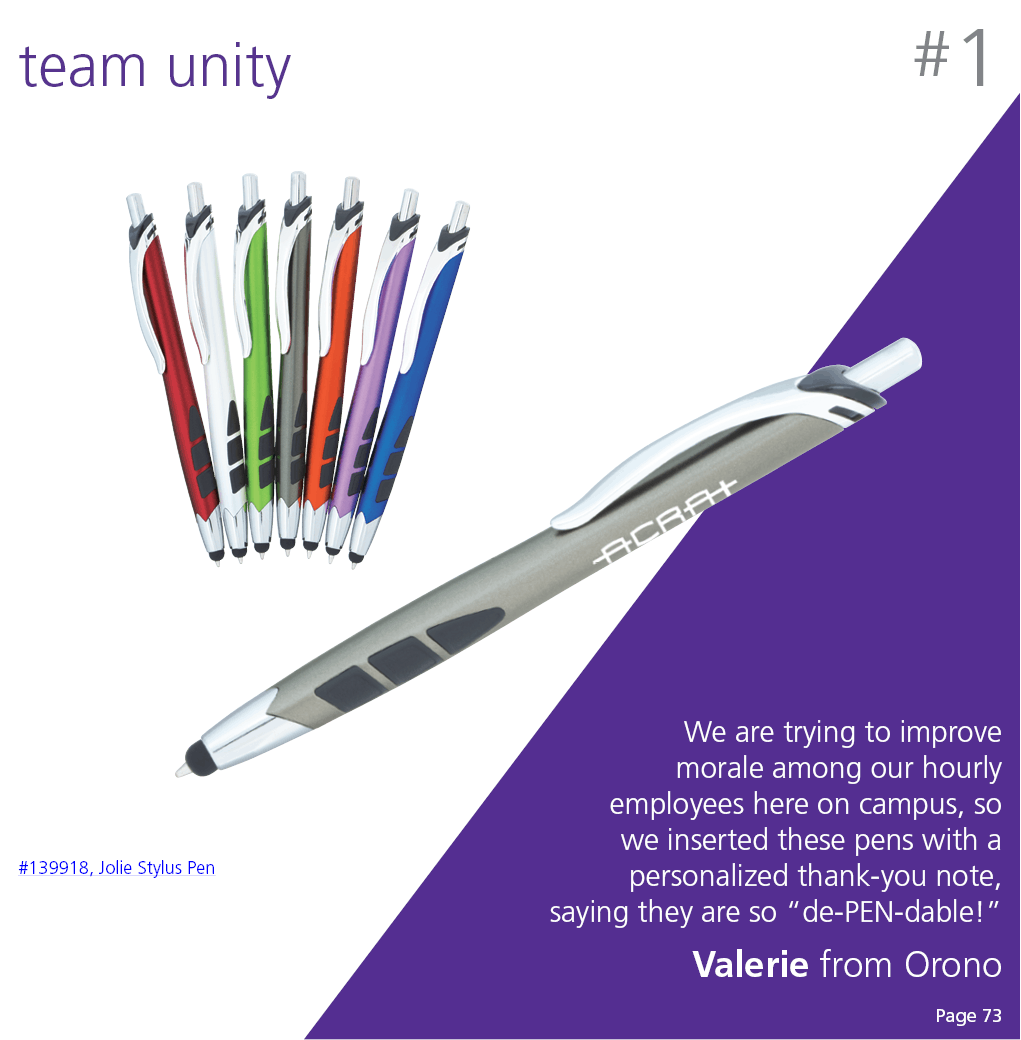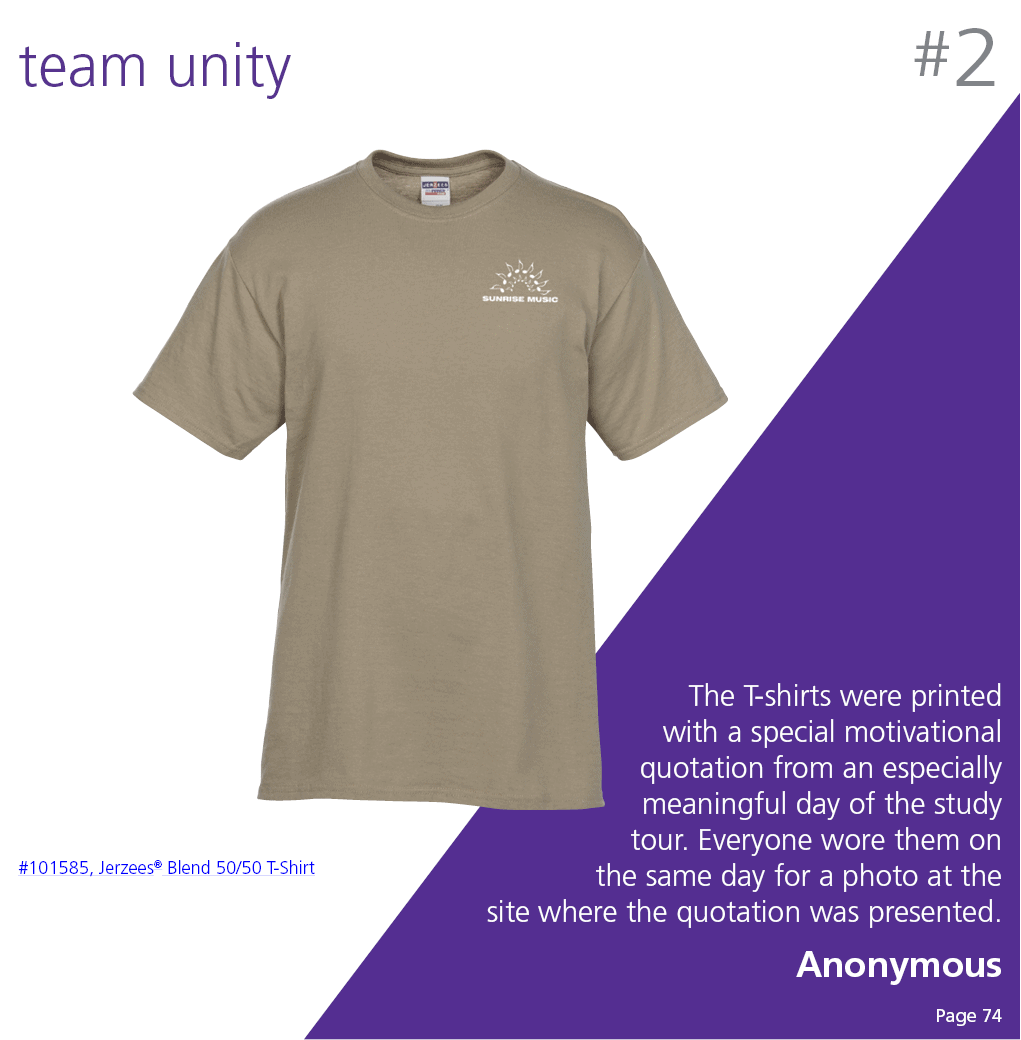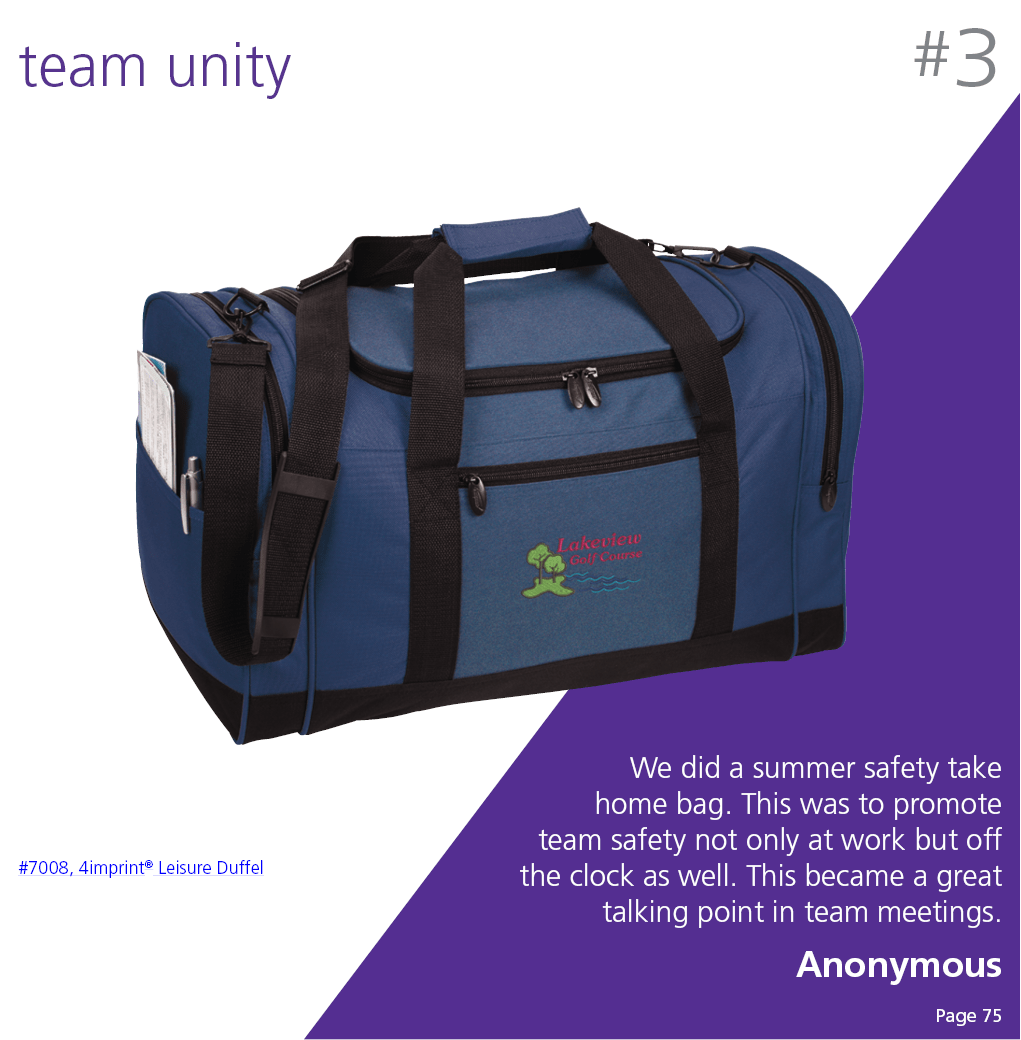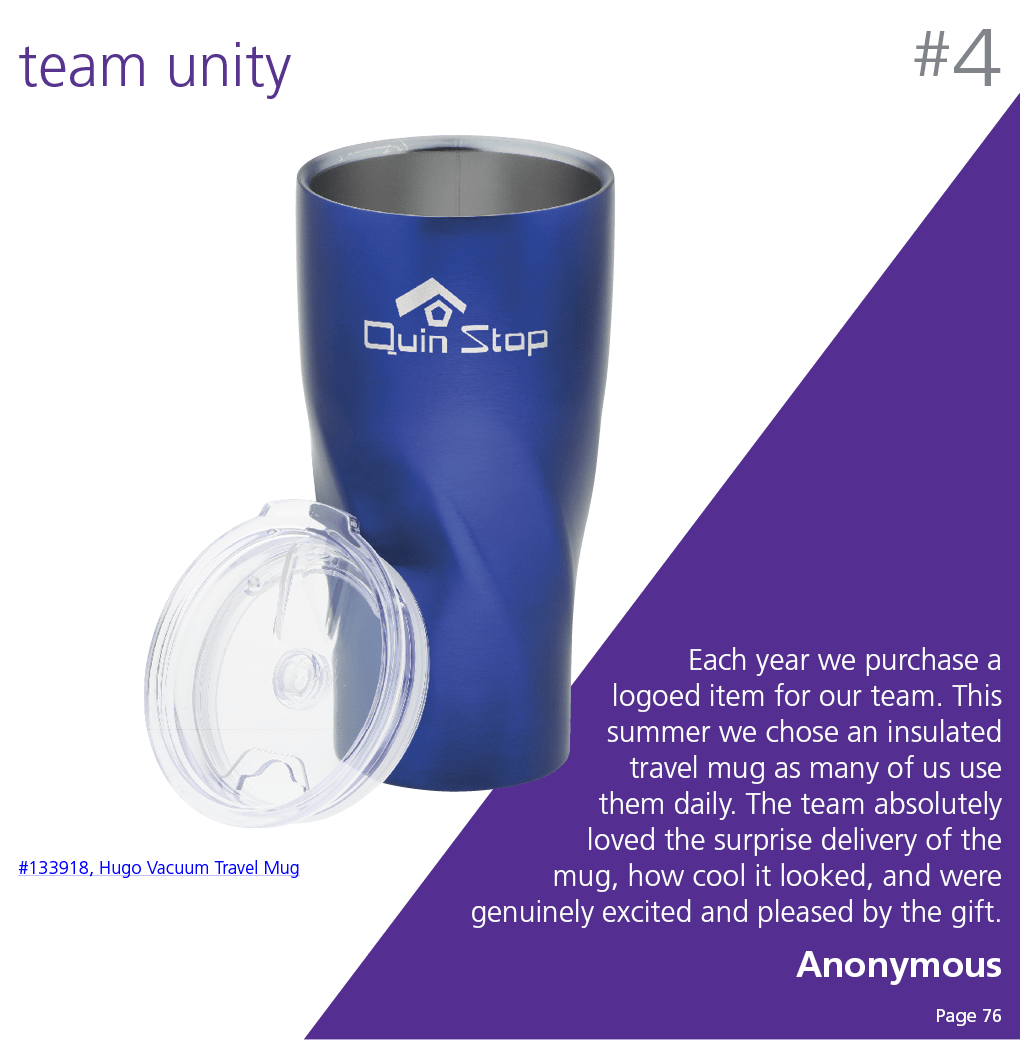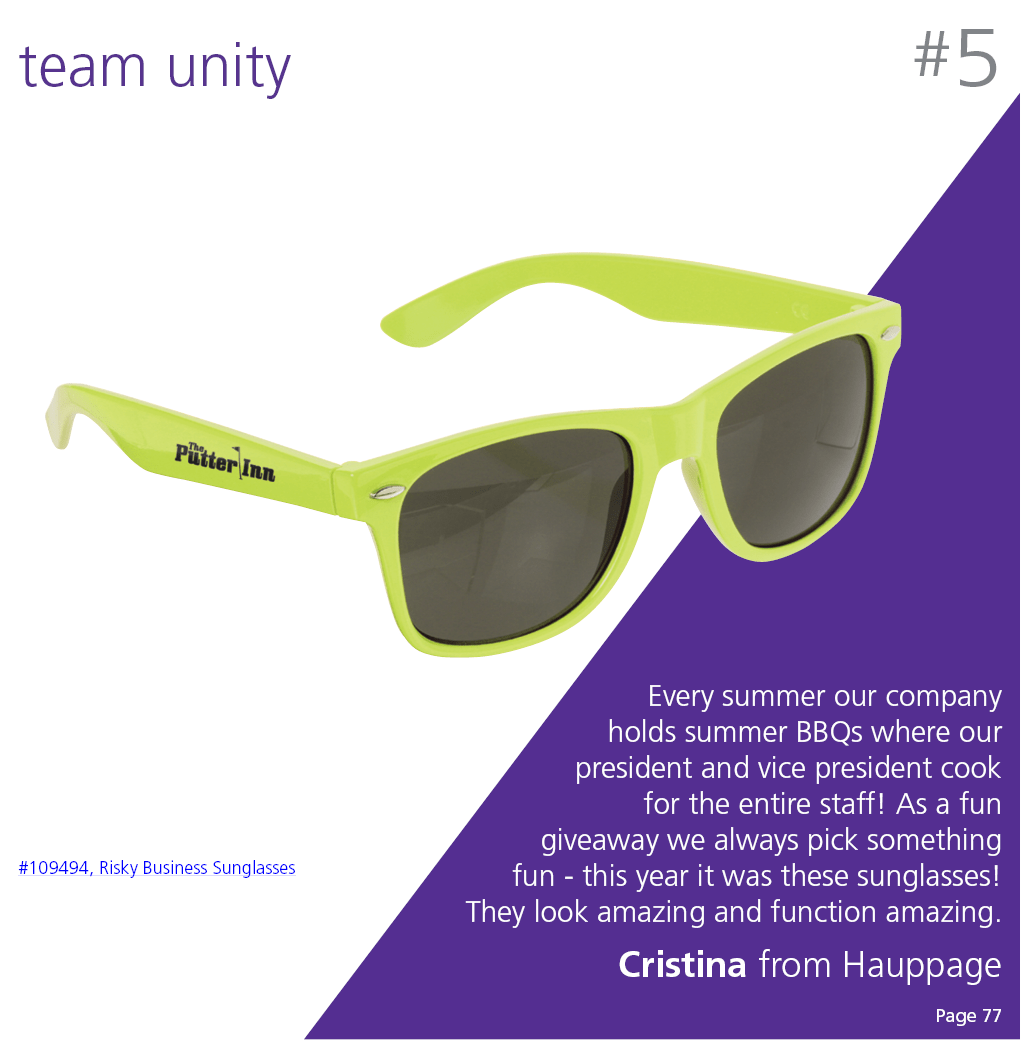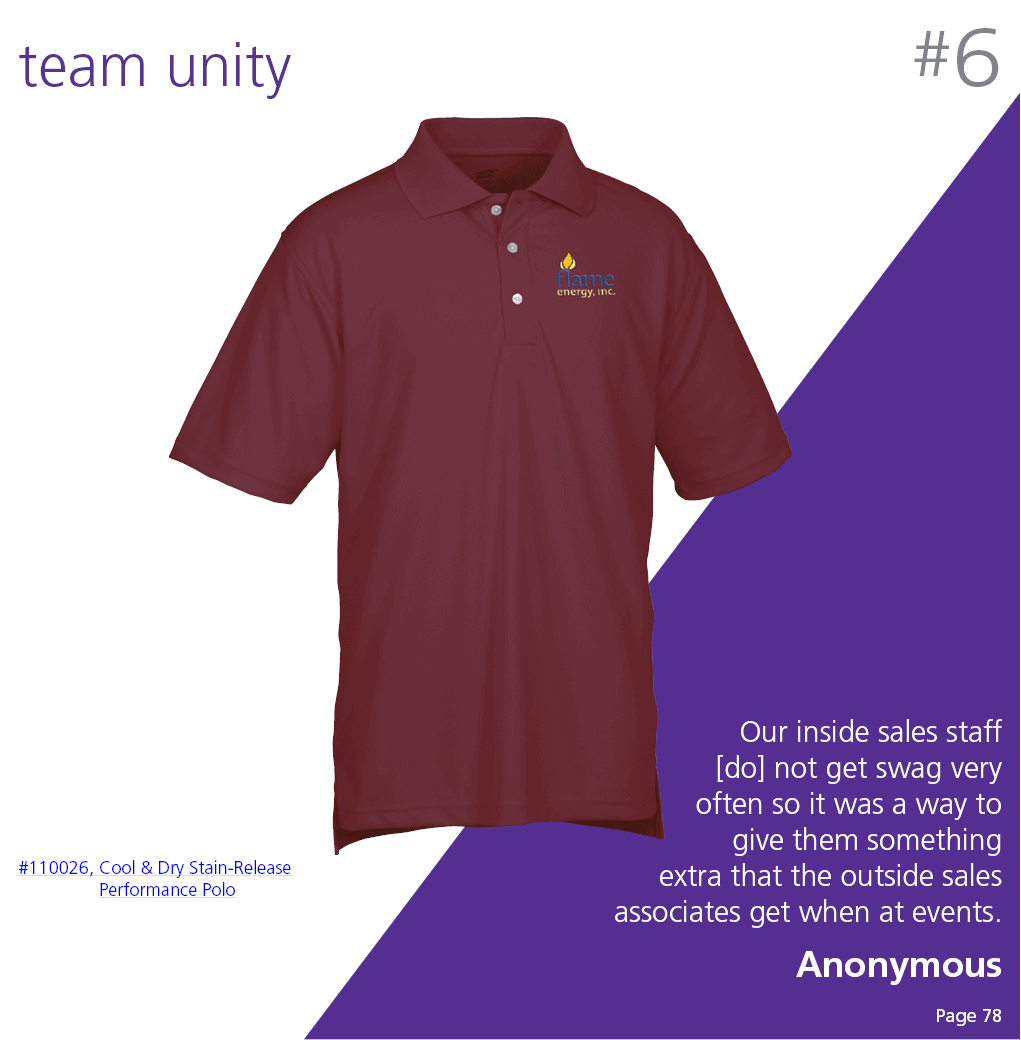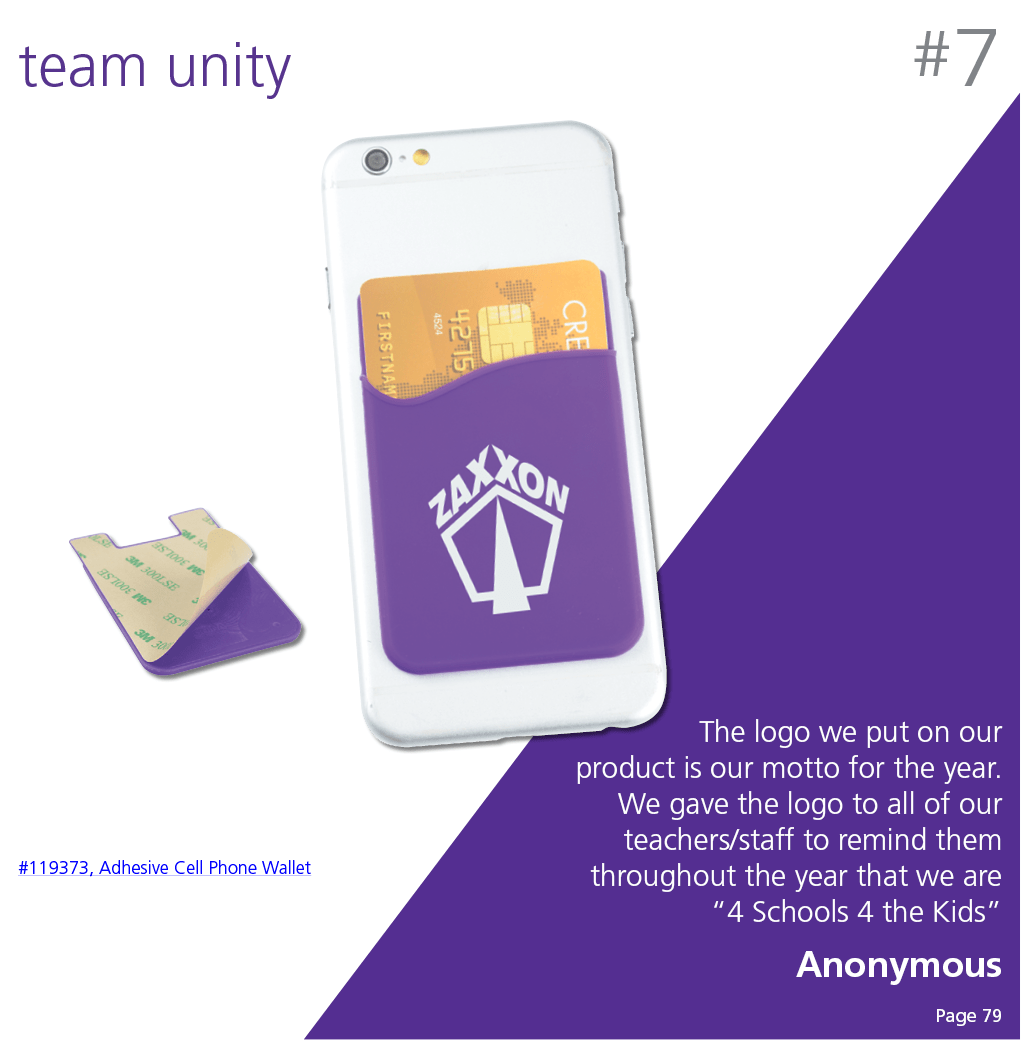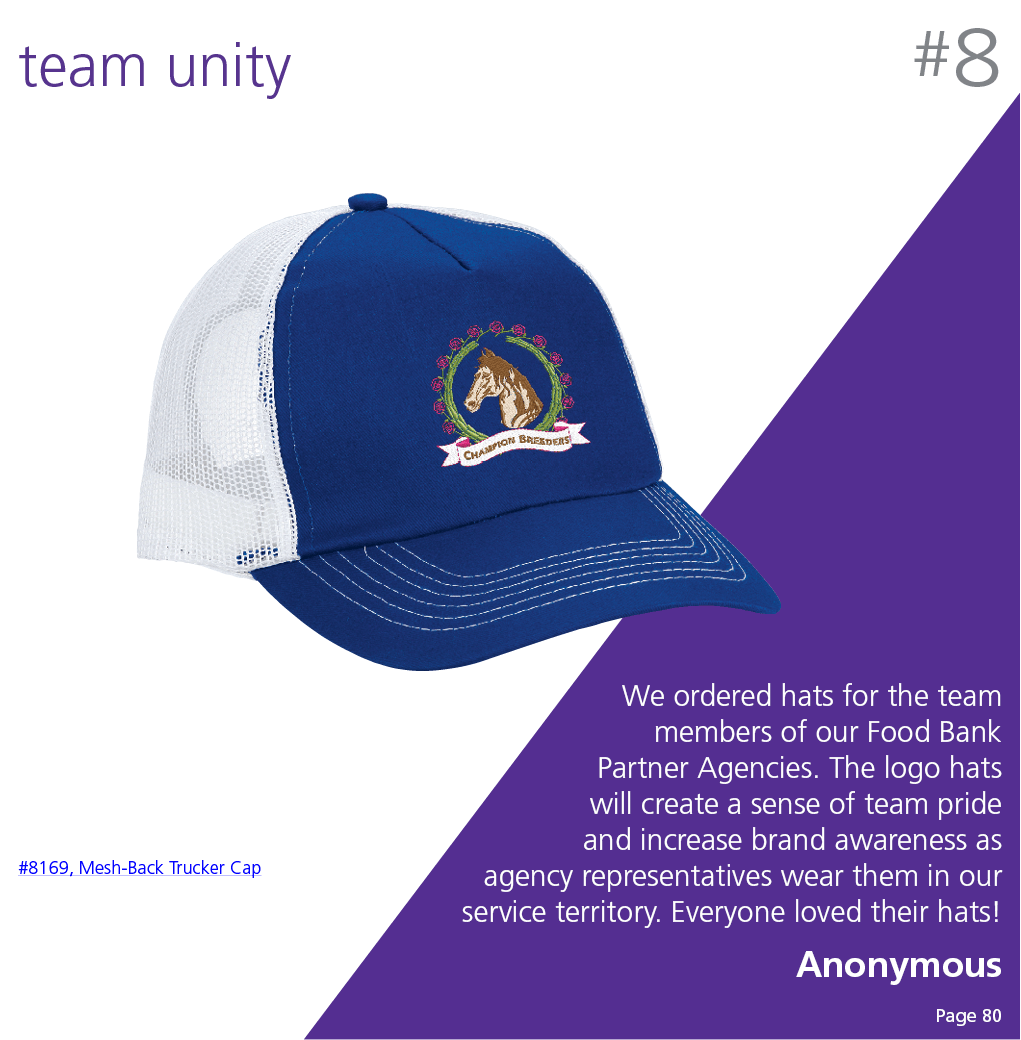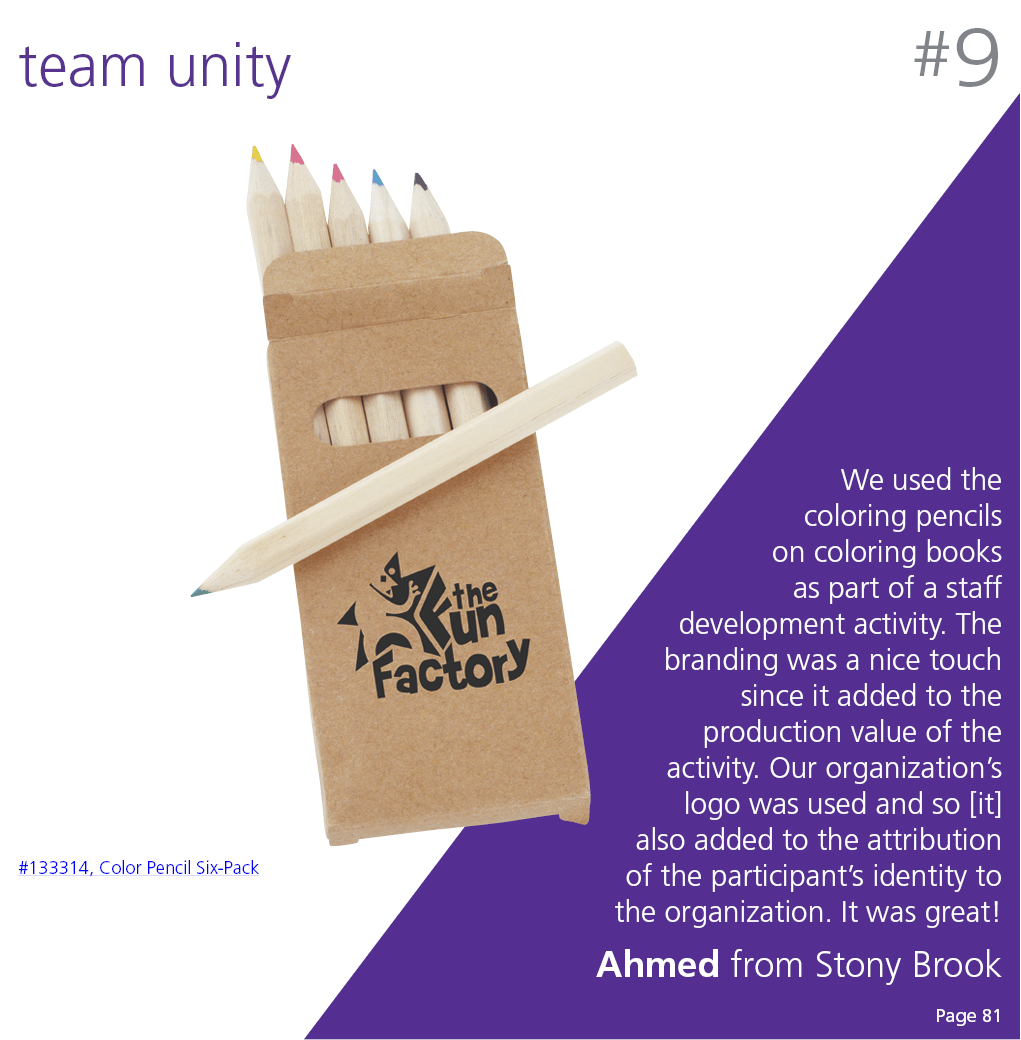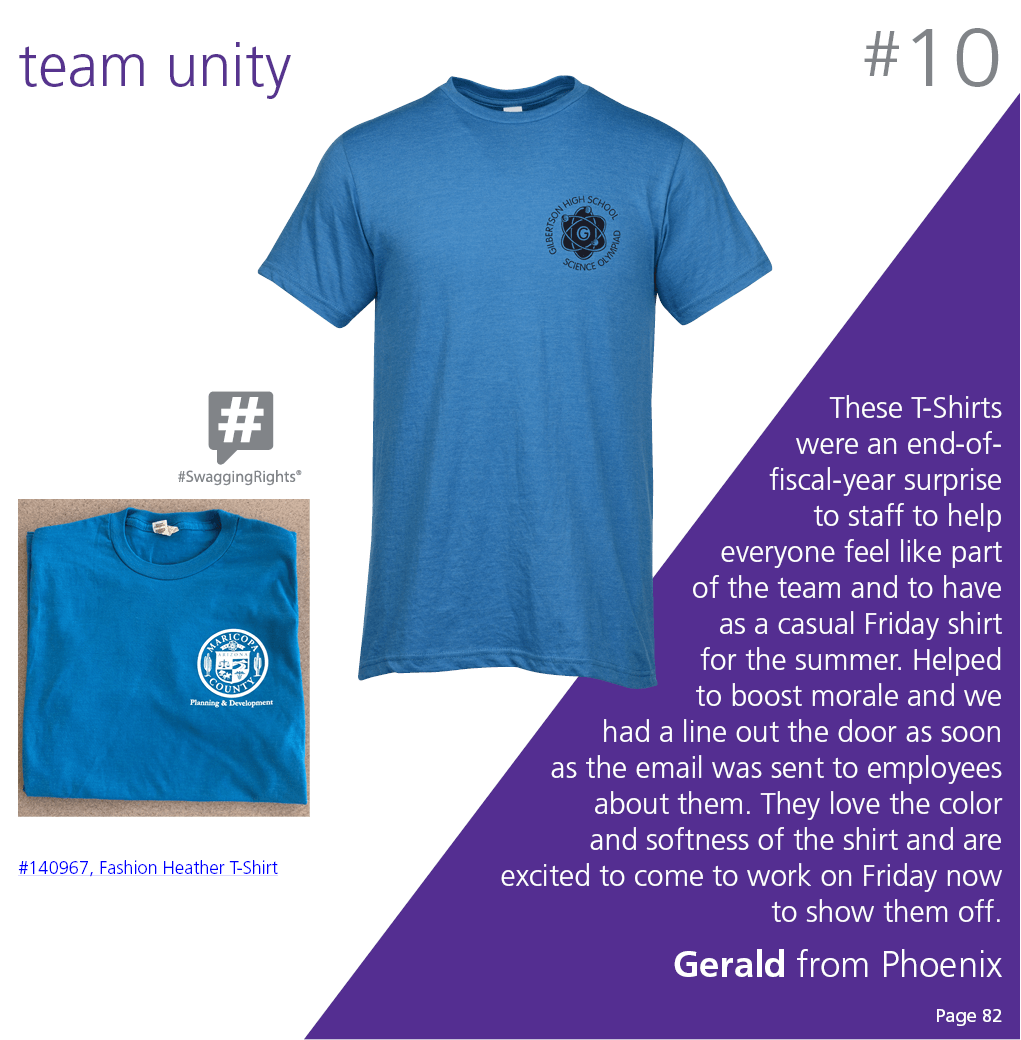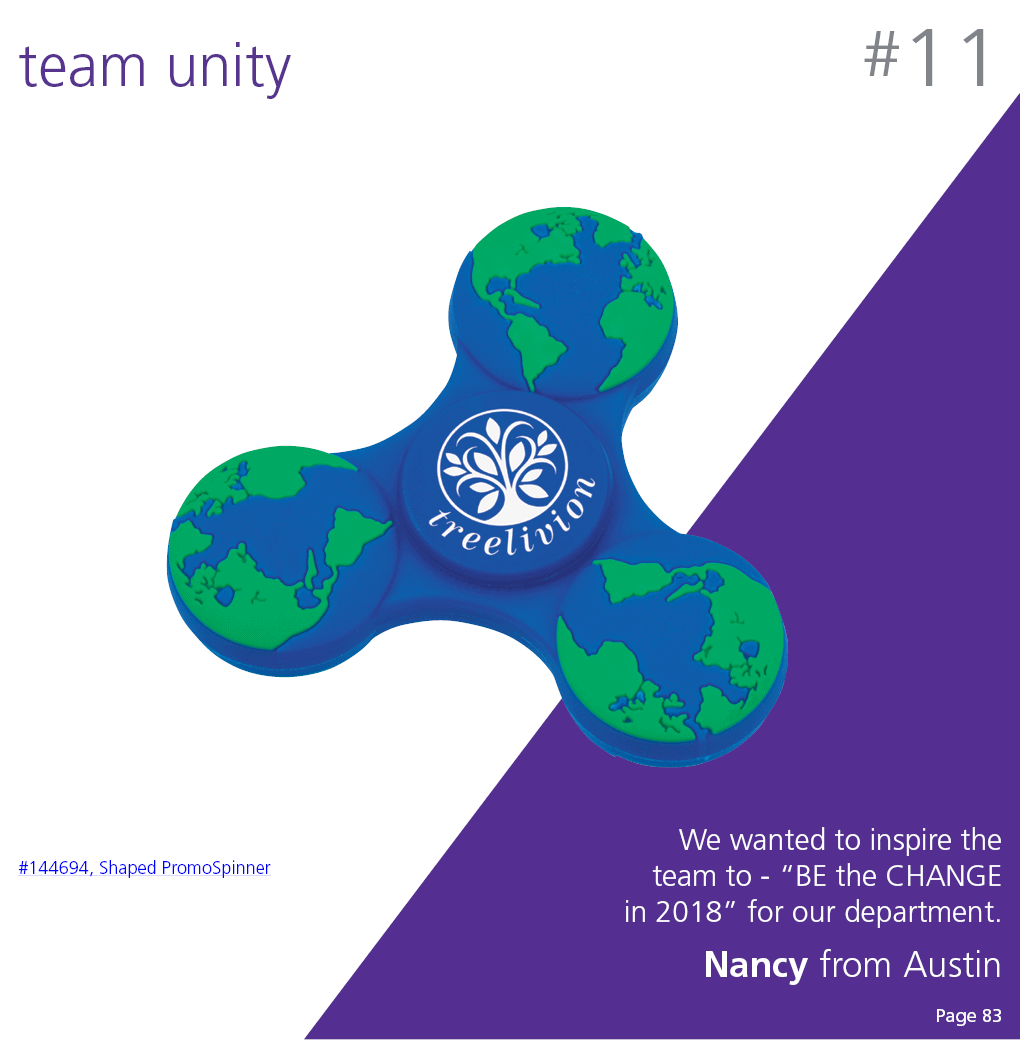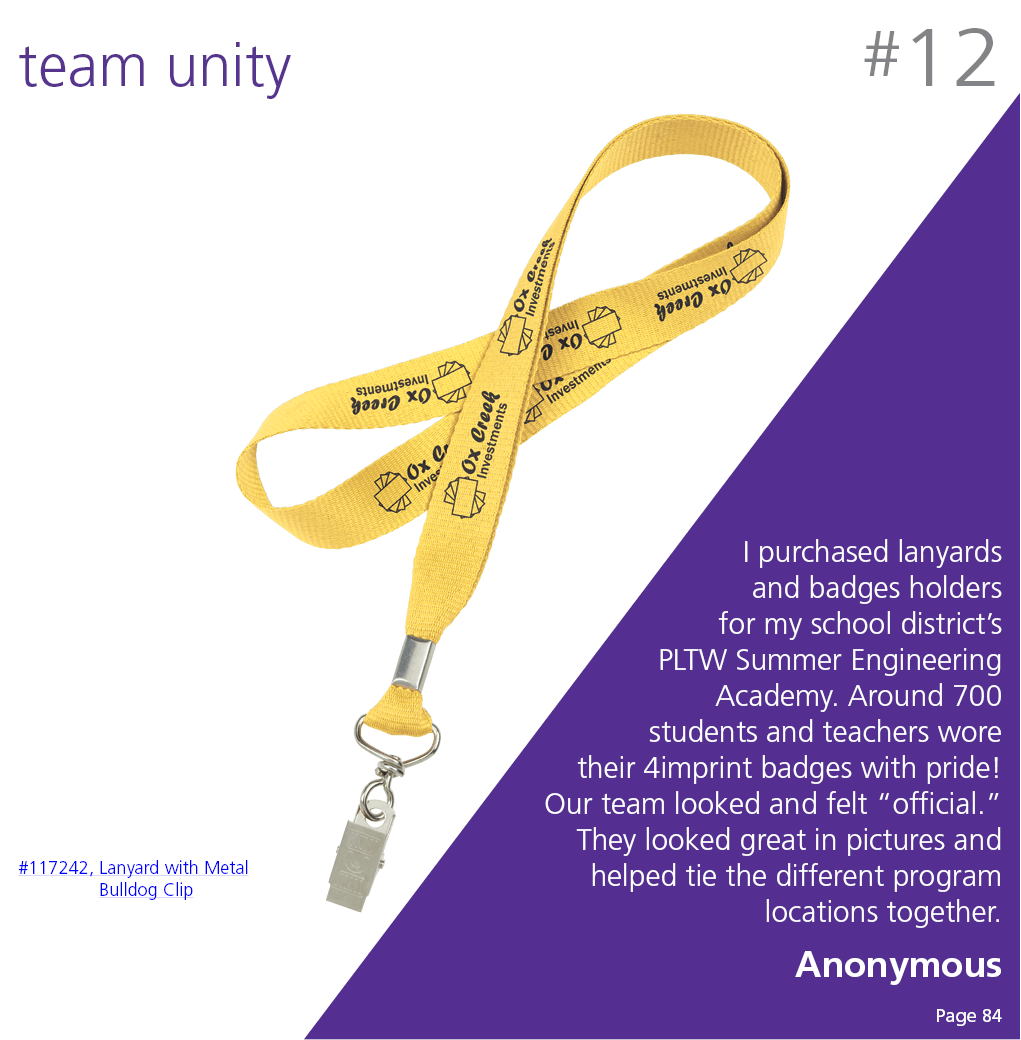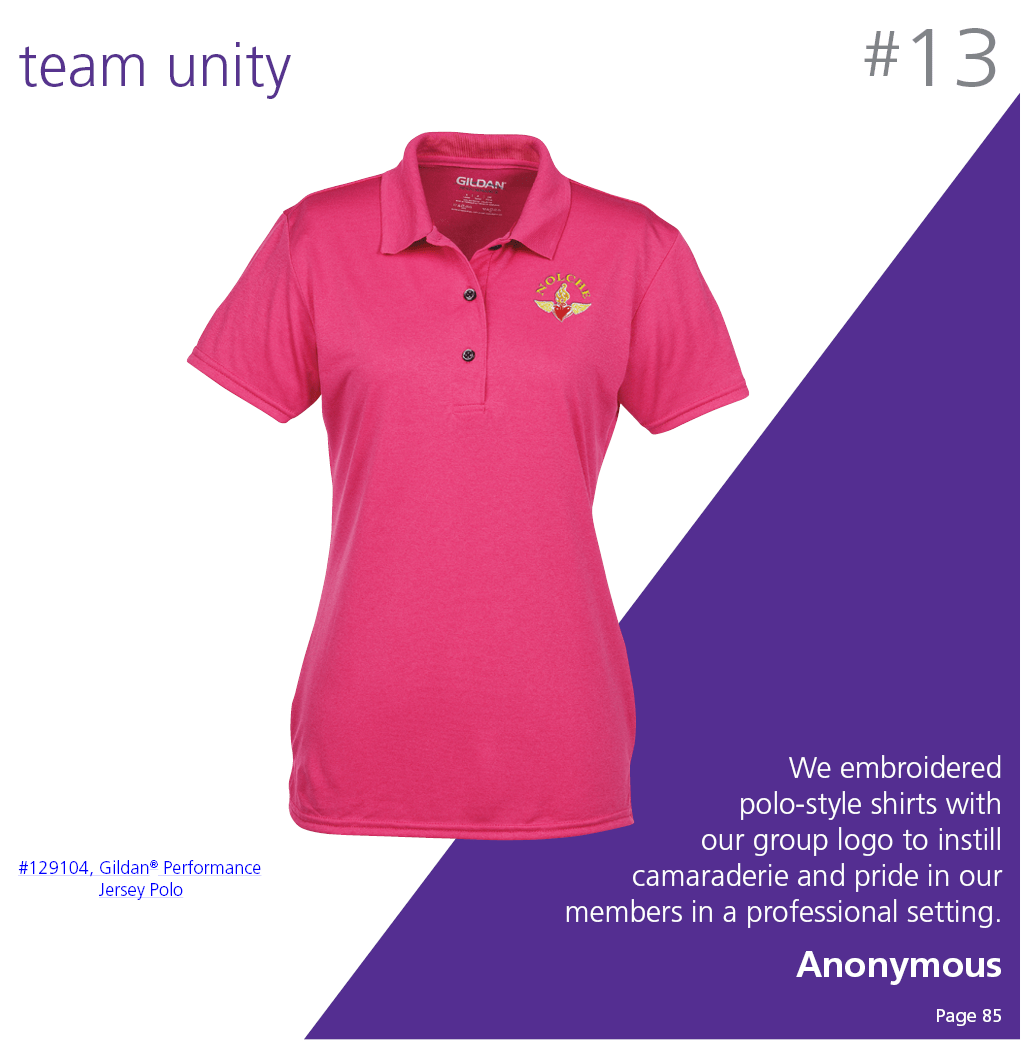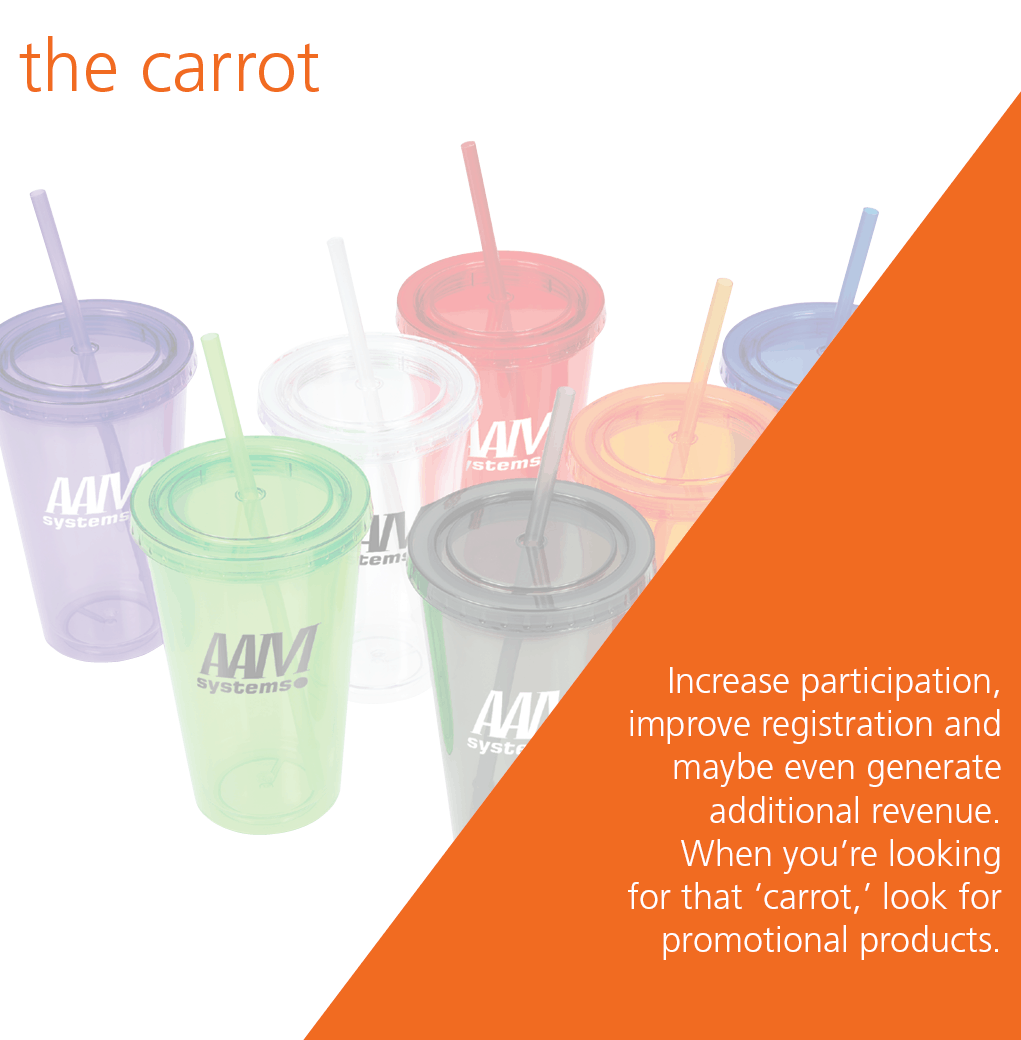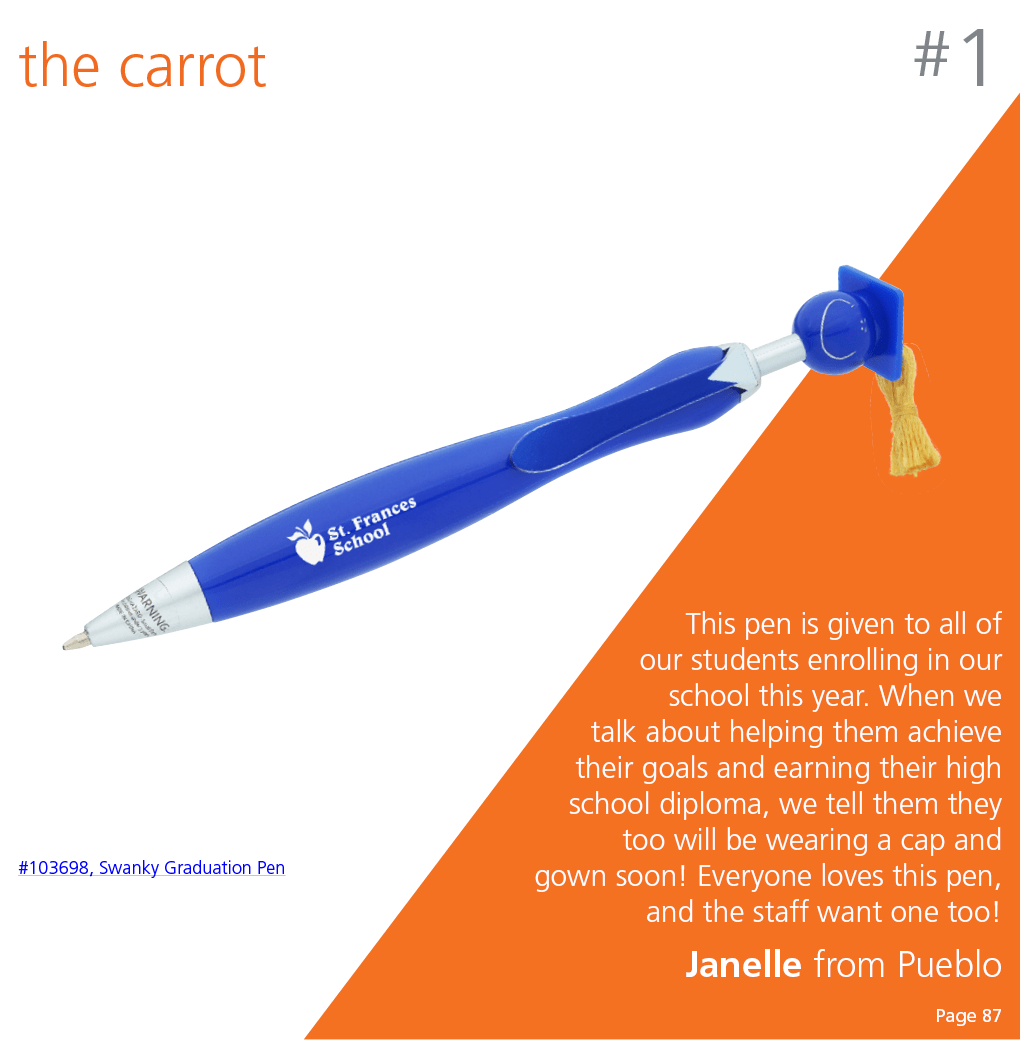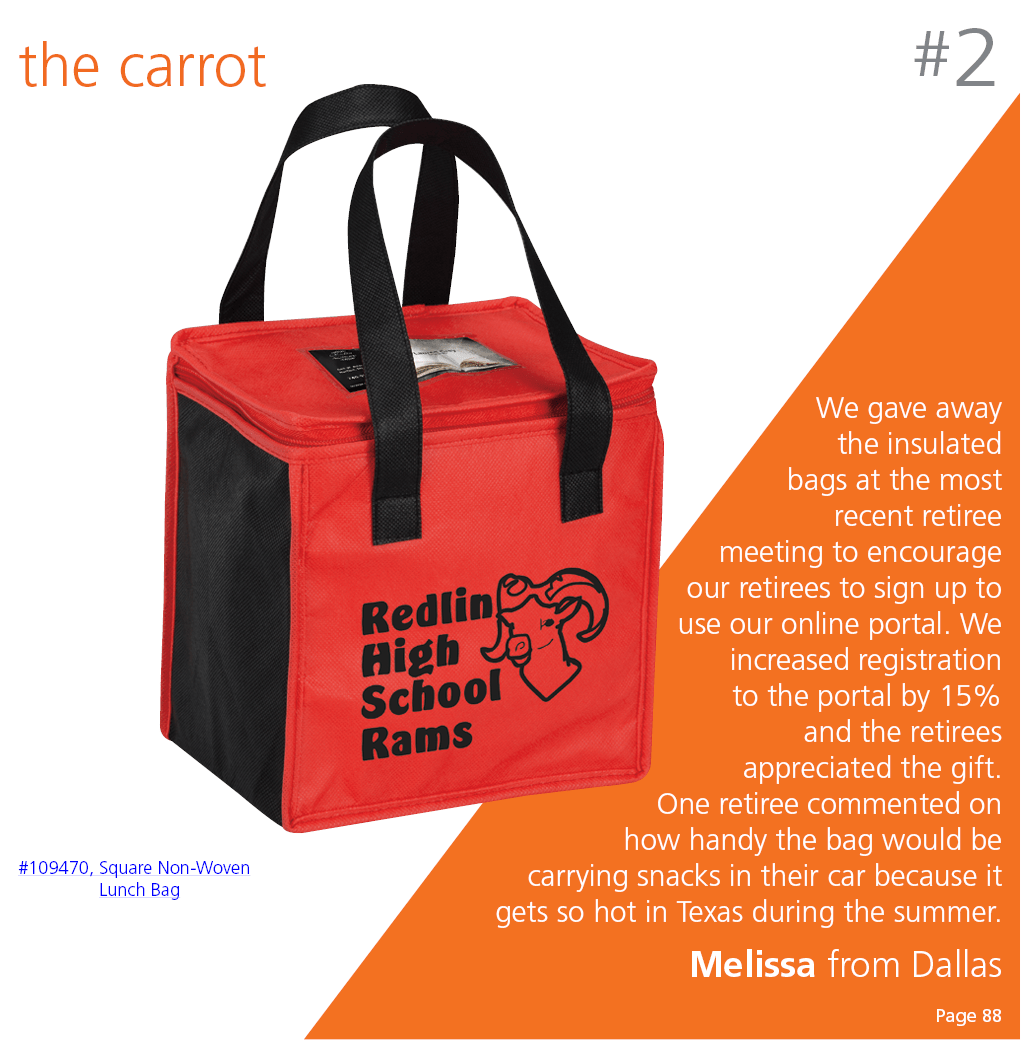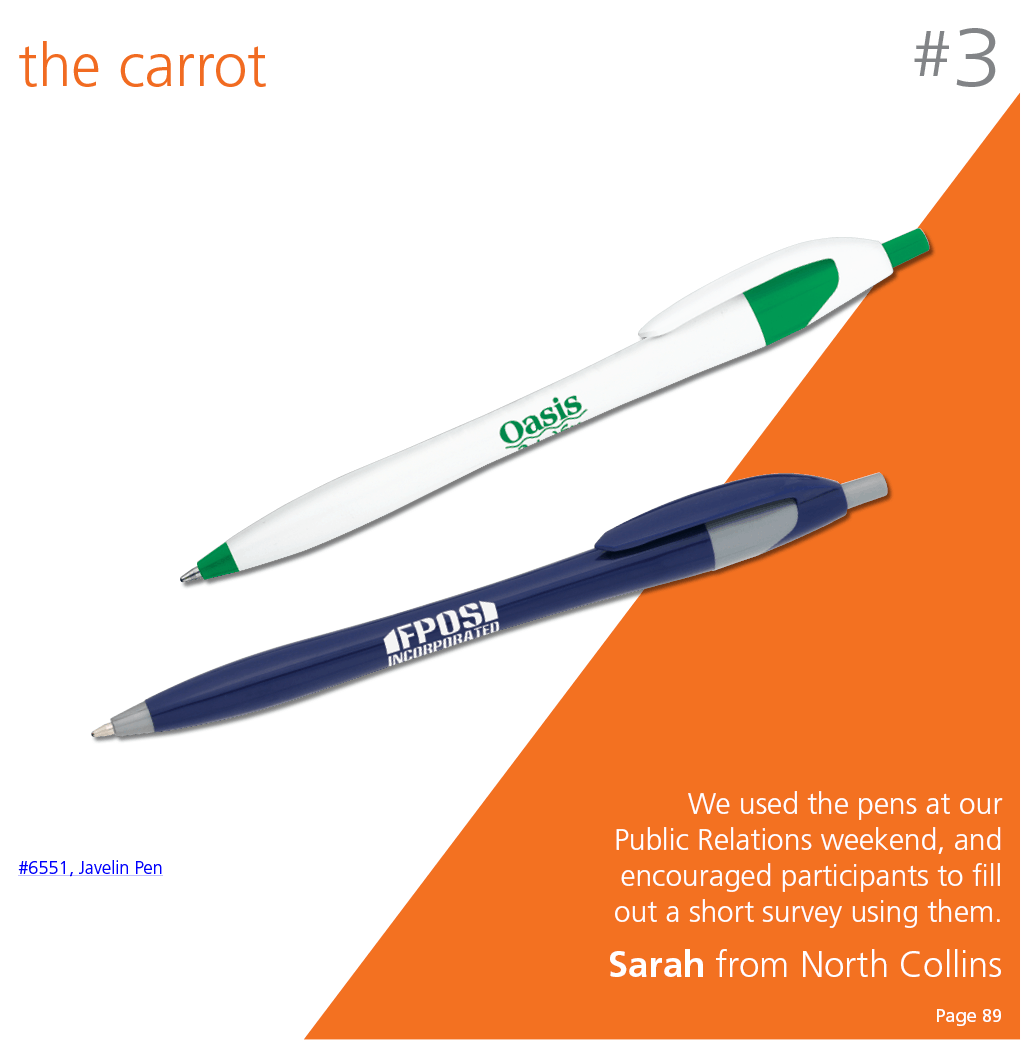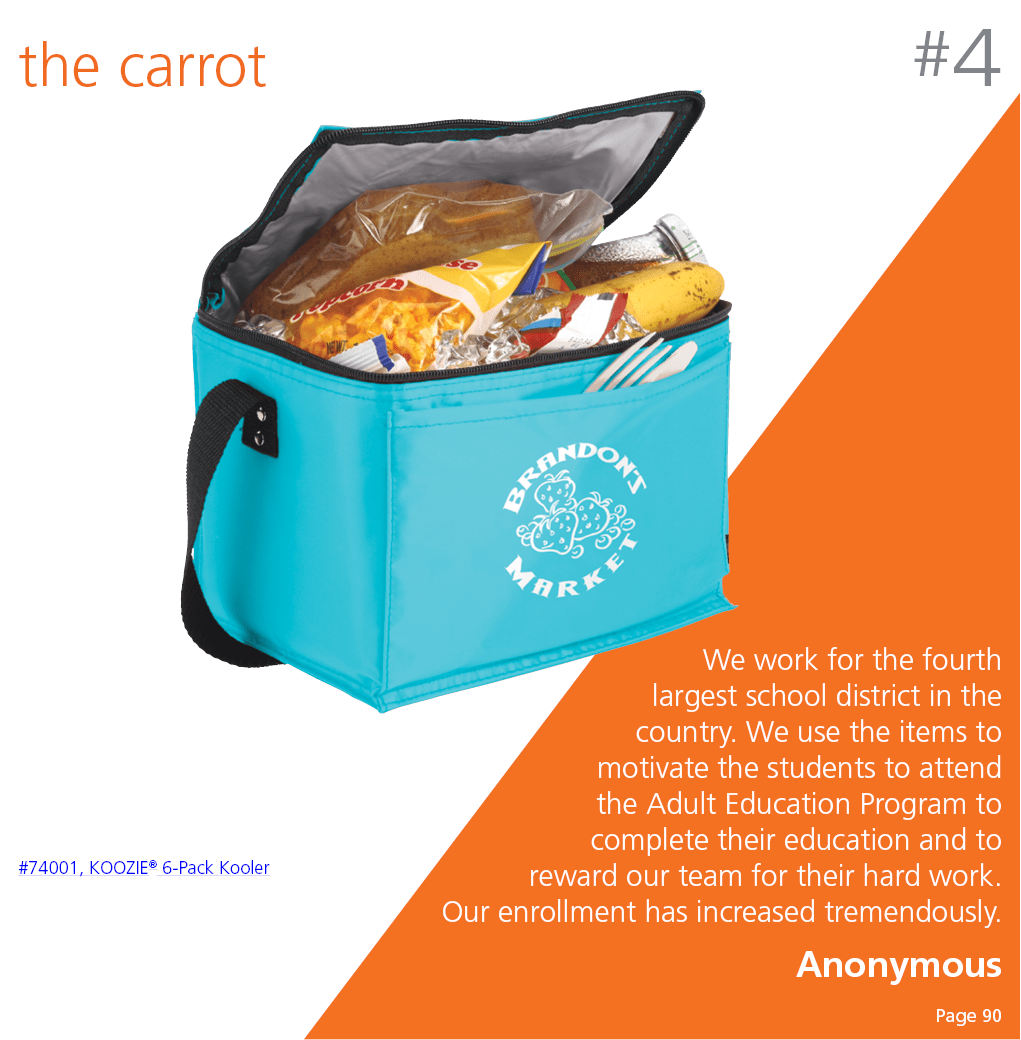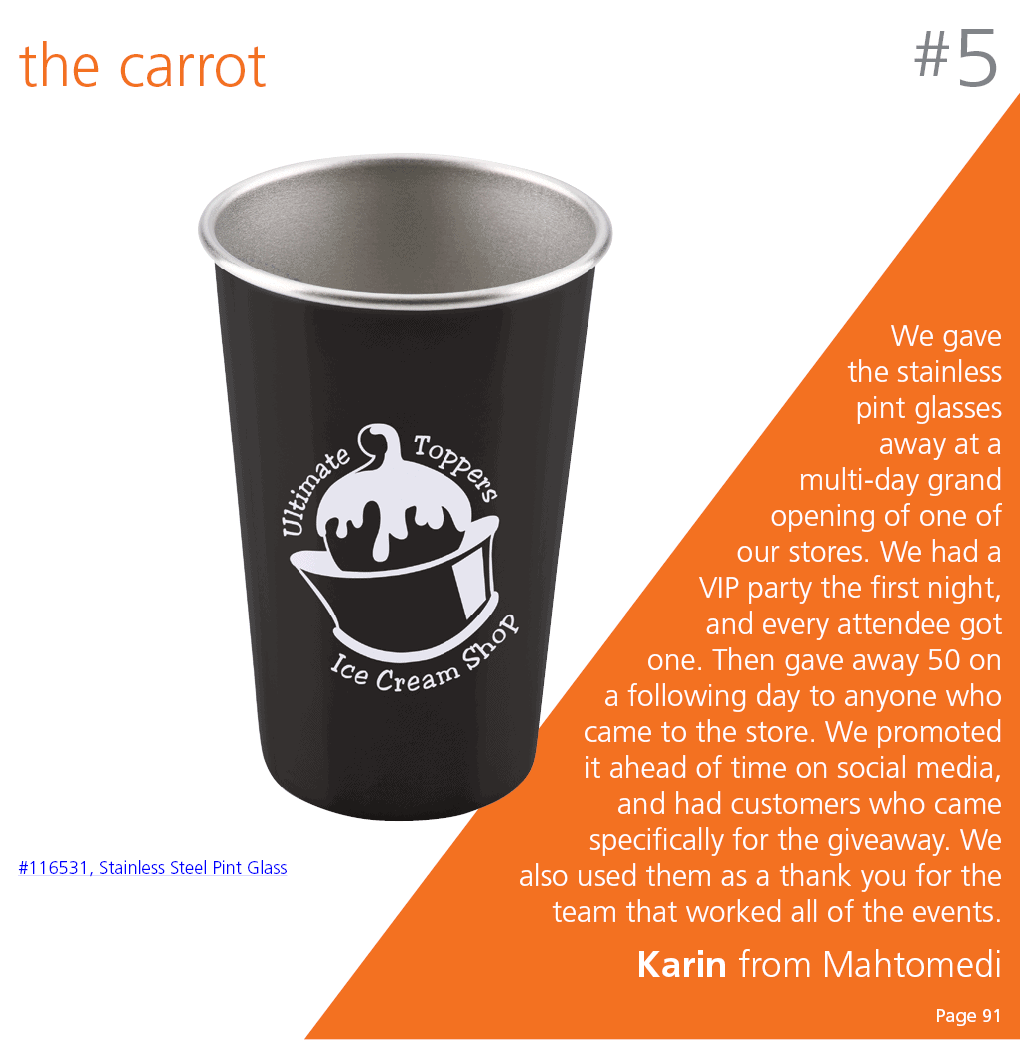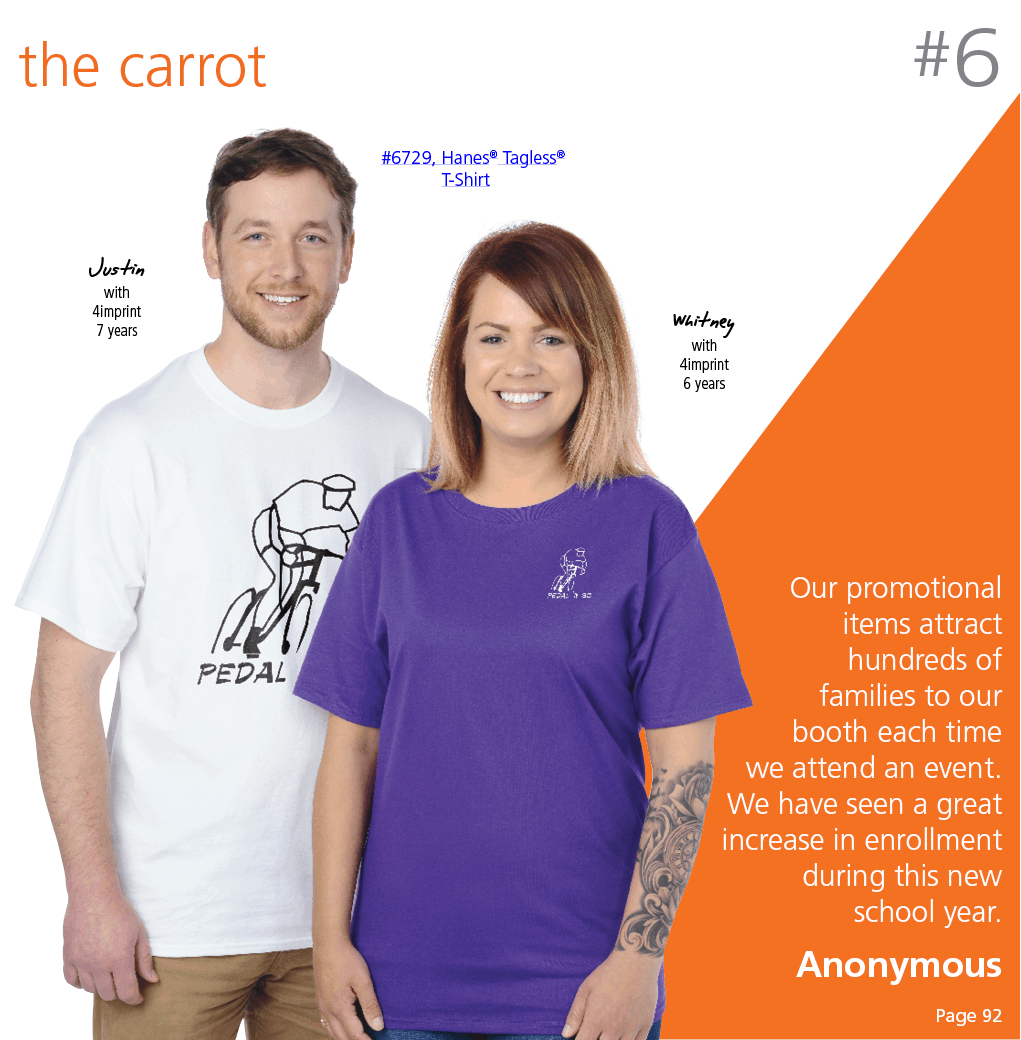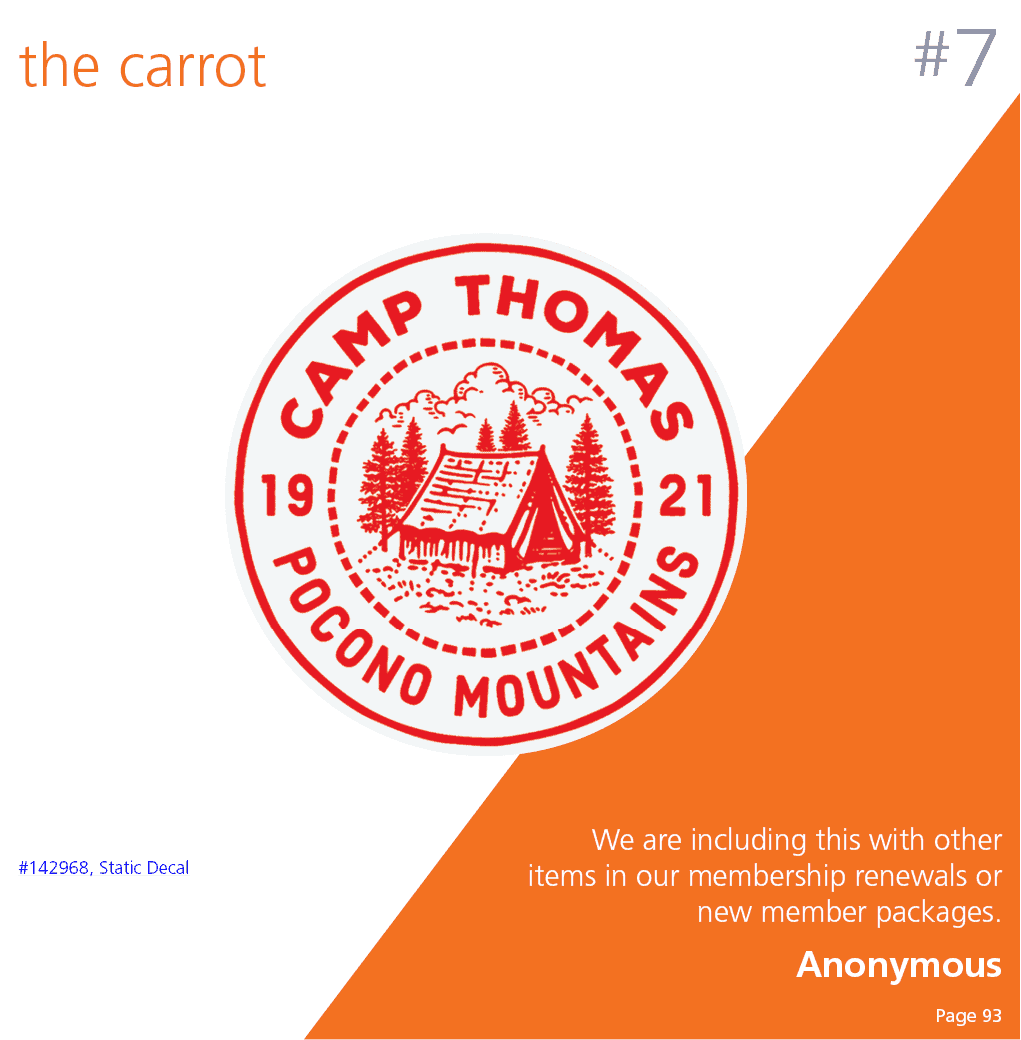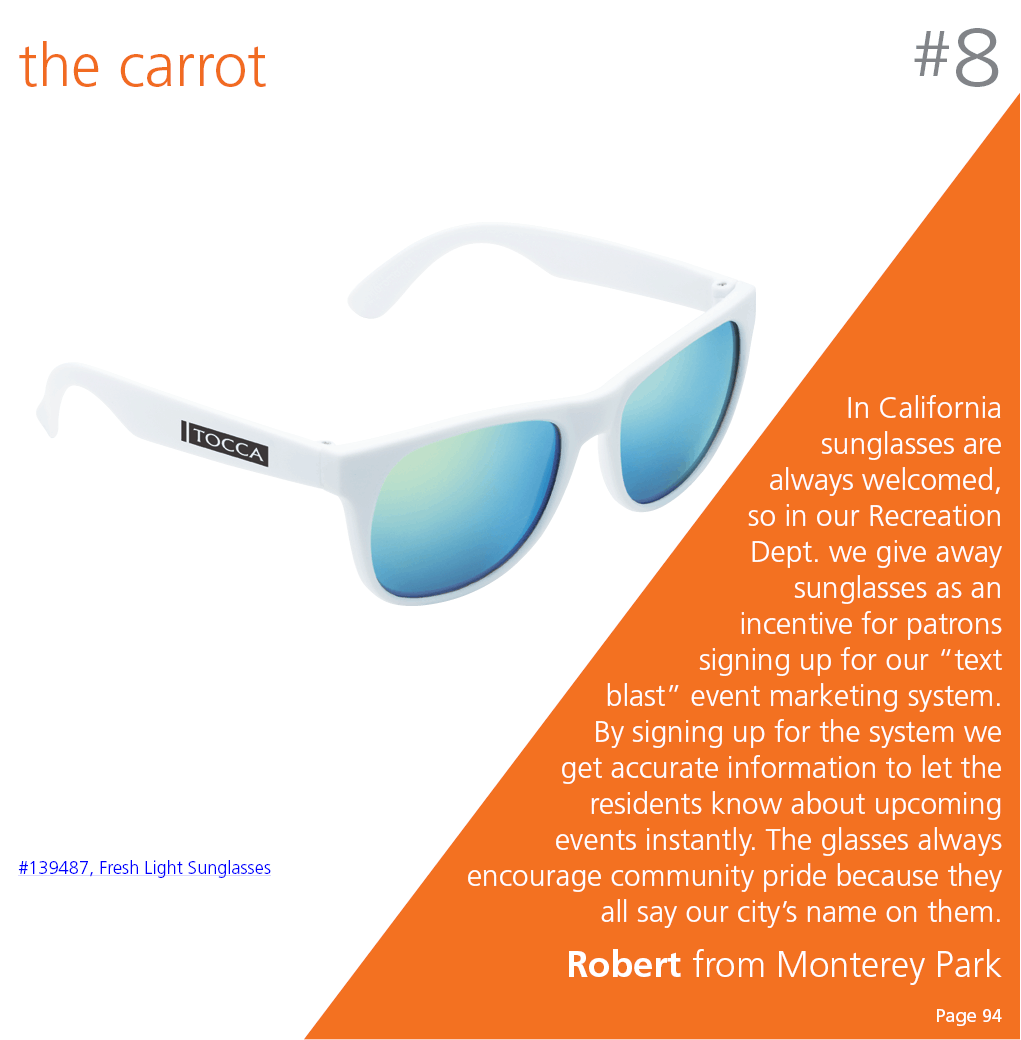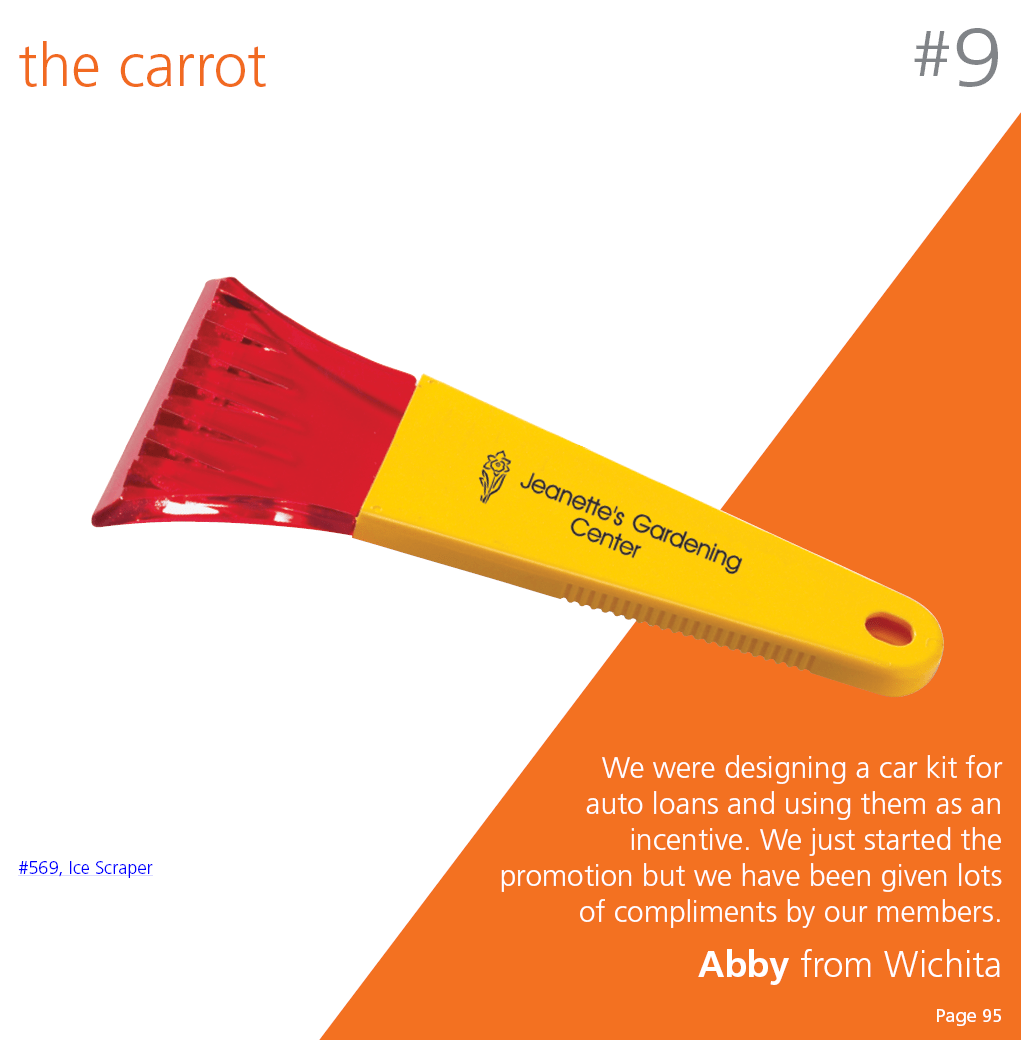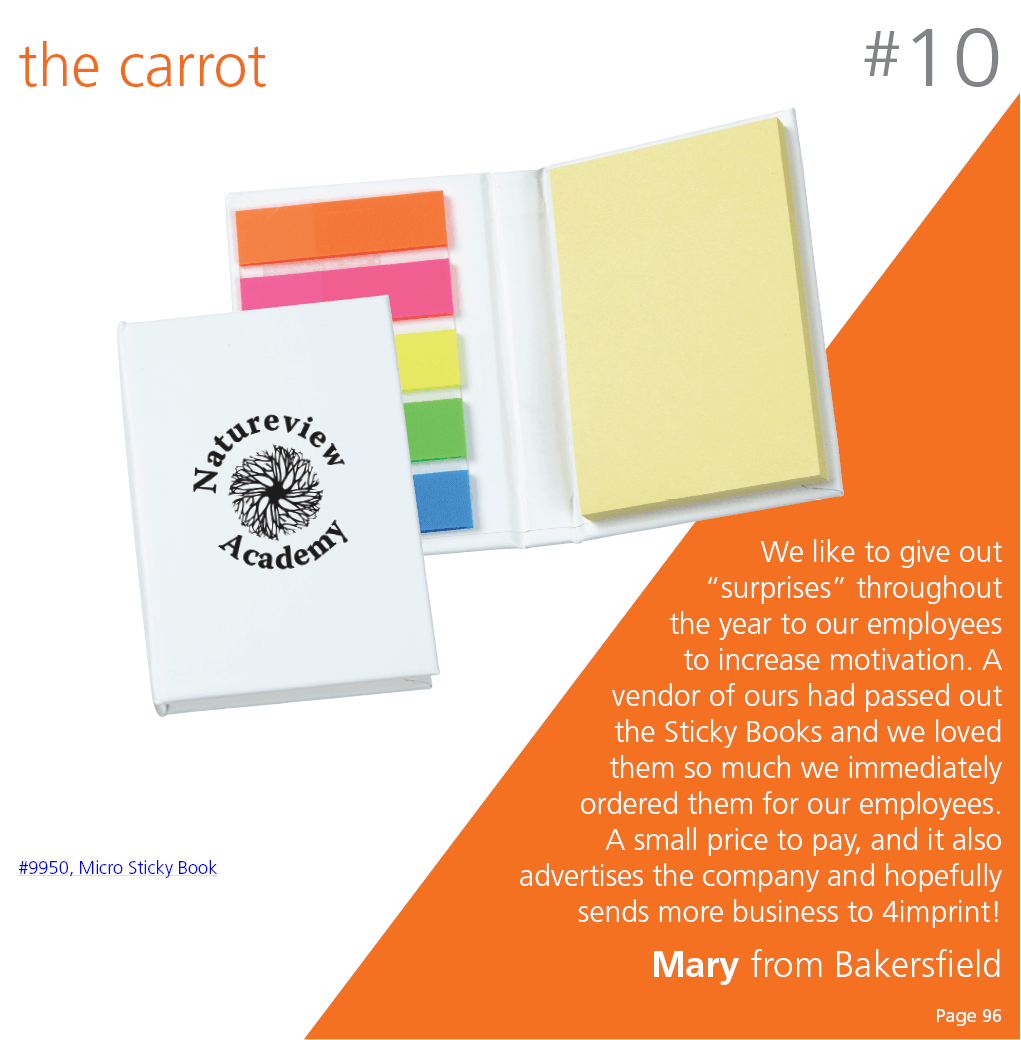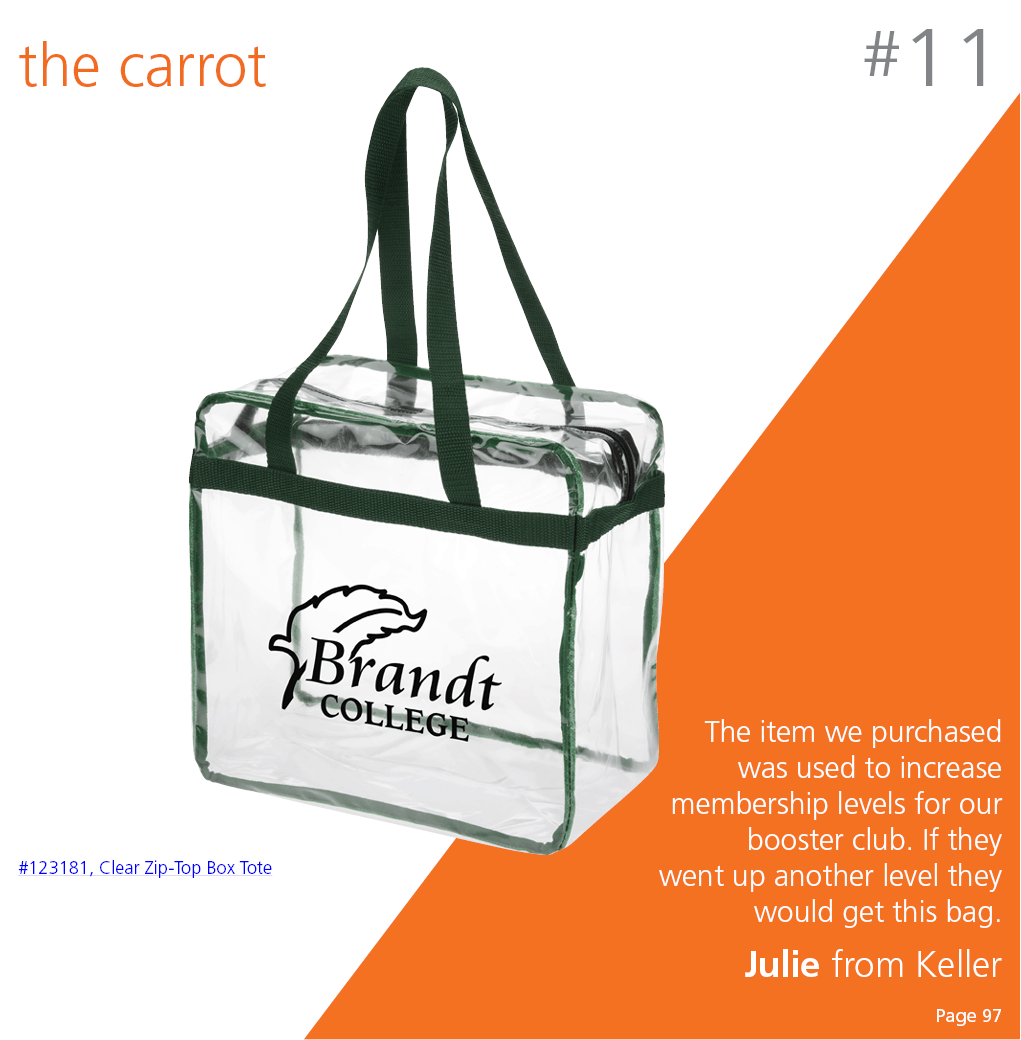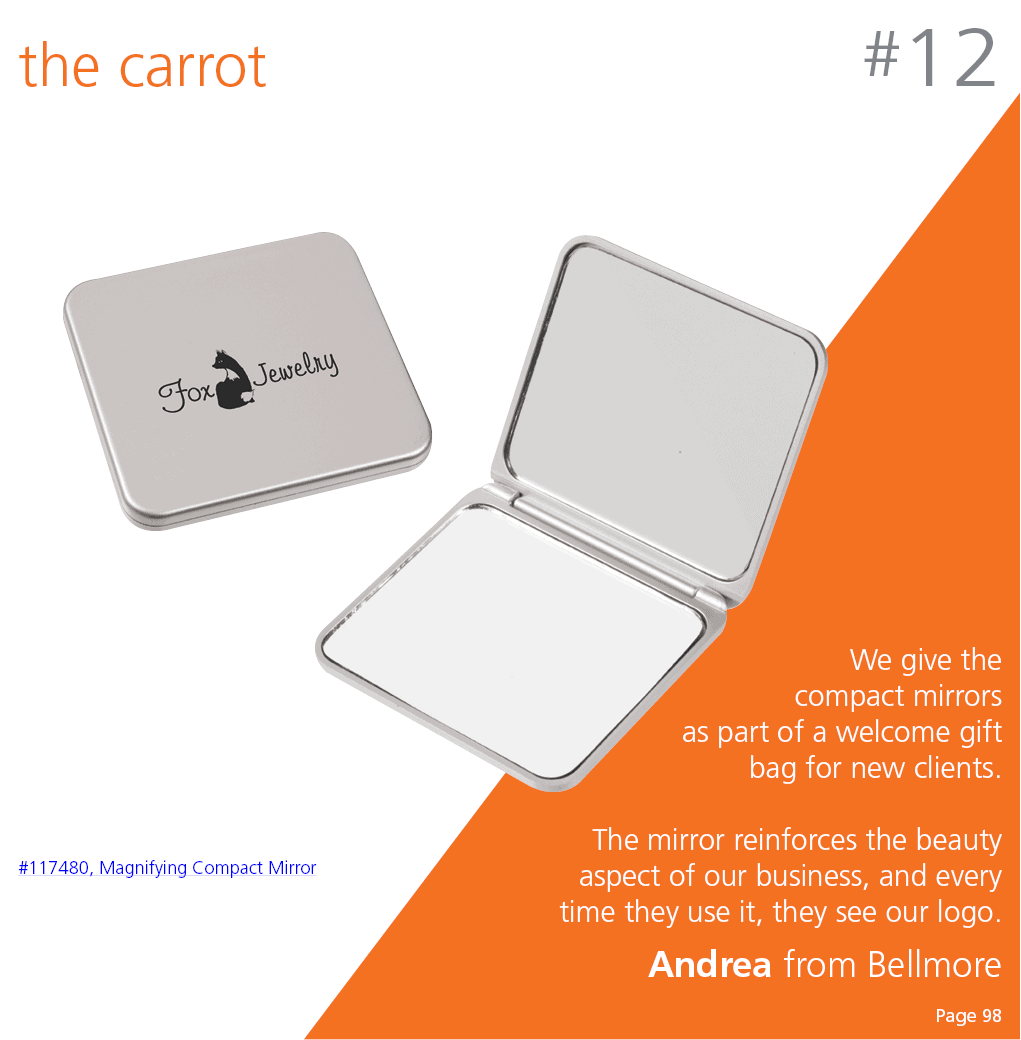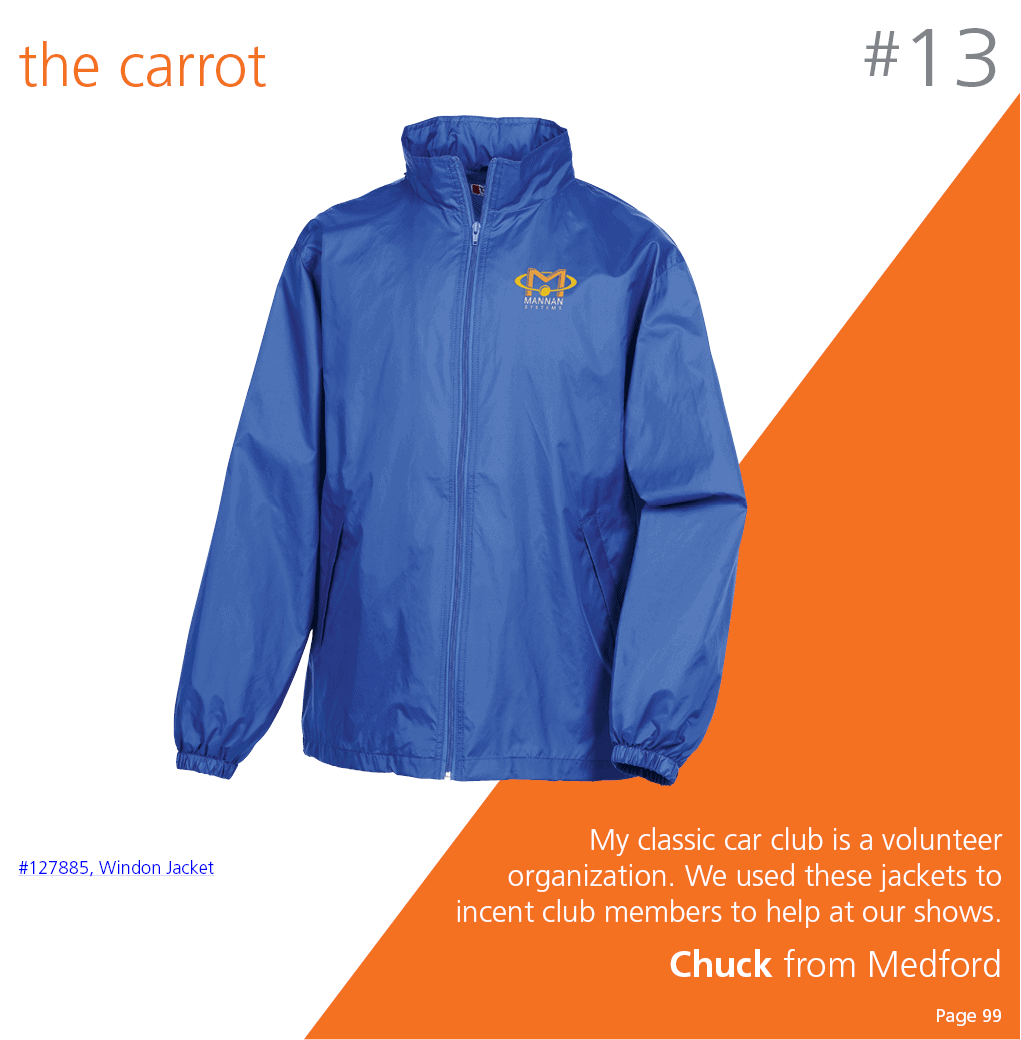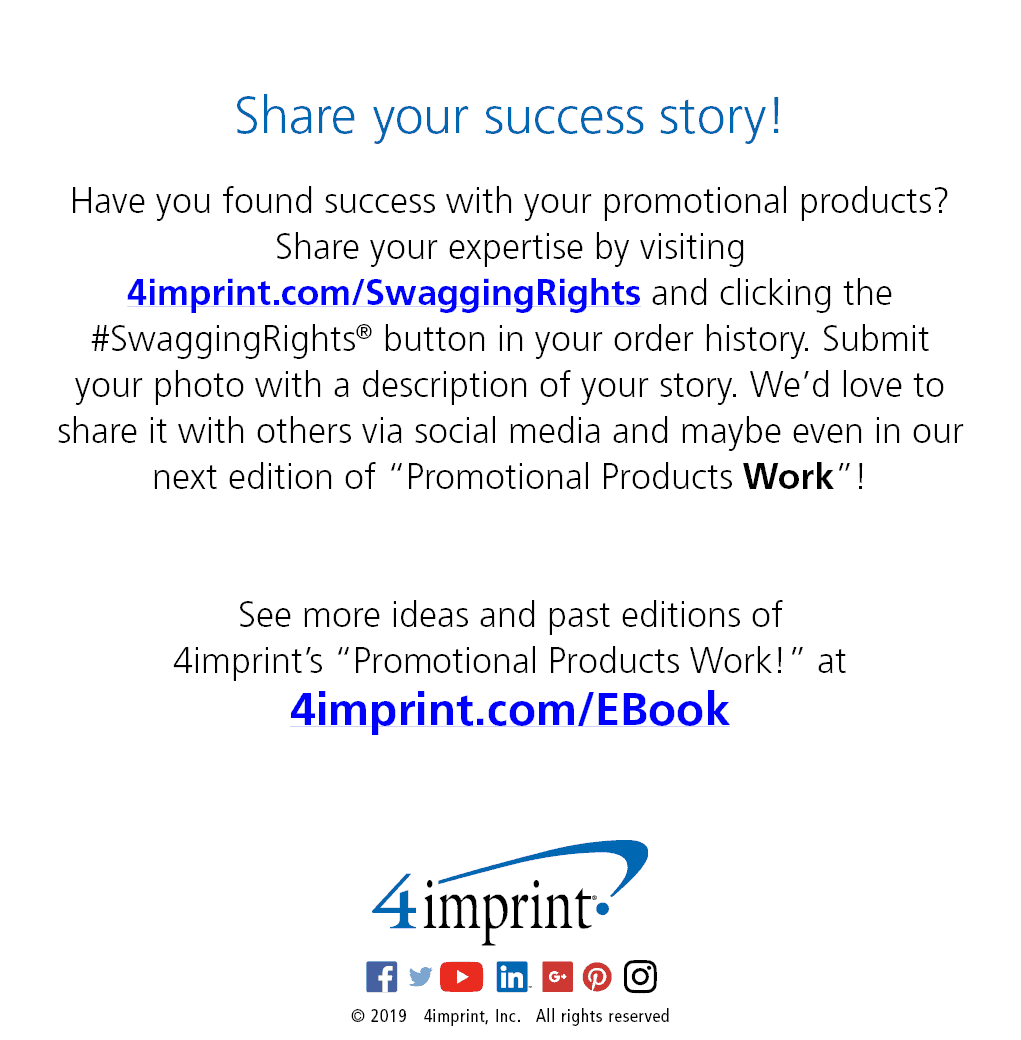 Transcript
promotional products work
4imprint customers tell you how they have used promotional products to grab attention, grow their business, say 'thanks,' raise awareness or otherwise spread the word!
Welcome to the fifteenth edition of 'Promotional Products Work'!
Helping people. It's so simple.
That's how this little ebook got its start—a collaborative effort to help our customers help others. By sharing your stories of promotional product success, you're not just helping your customers; you're also helping other organizations discover what works. and by extension, you're helping them help THEIR audience. It's a beautiful cycle of helping others.
Now we're 15 editions in, and the stories just keep coming. I'm so honored you've chosen to let us be part of your story.
Need help getting your name out there? Increasing sales? Want to inspire your staff? Bring in more donations? Check out the stories in this book. Maybe you'll even share your success story with us. And perhaps your story will be in a future edition of this ebook, so you can become a helper too.
Even if you aren't interested in sharing your story, go ahead and share this little book with someone who may benefit from the stories inside. Keep that cycle going.
Let's make 2019 a year of helping others.
Best,
Kevin Lyons-Tarr
CEO
4imprint, Inc.
booth buzz
Promotional products might be the best thing ever when it comes to making sure your booth is the one they visit. Up first are ways
to make sure there is a well-worn path right to your booth.
The table cover was a great eye-catcher to invite folks to come and check us out. We use it at community events to spread information about our mission to the community. Jim from Birdsboro
We use the clips at our trade shows. We clip all our literature together and hand them to attendees. It is a great thing because it holds all our stuff together plus it is a promotional item! Anonymous
These totes were perfect! The purple color was similar to the one used in our actual logo, so it helped with brand recognition. Whenever we attend senior expos, guests always appreciate tote bags to store their info and goodies. These worked very well.
Anonymous
We are a health care center and used these at a large community health fair. People were lined up around the building to get in as the event was giving out free backpacks of school supplies. I took them outside and shared them. (It was SUPER hot, as we live in Florida.) People were incredibly grateful. Paulina from Tallahassee
We ordered five pop-up banners, each with a different message we were trying to get across to our conference attendees.
Anonymous
This item has become our signature give away item at trade shows and when meeting with clients. They are small so they are easy to pack and every time a person opens it, our logo is there to remind them of our company. Anonymous
We sell a residential and commercial basketball court system so these stress balls complimented our brand perfectly and were a popular giveaway to interested customers at several trade shows. Anonymous
We used our promotional items to give to prospective customers and aviation enthusiast at the trade show. It was awesome to see so many people walking around with our brand. Tempist from Arlington
At our Education Fair, we gave these notebooks away as part of a goodie bag for attendees. We inserted business cards in the front stating "Take Note and Explore the Possibilities!" Anonymous
This was a giveaway at our tradeshow booth. We also offer free charging outlets for mobile devices at our booth, so the charging cable was very useful, as well as a great giveaway. Anonymous
Our goal was to bring more traffic to our booth at our last event. We purchased small cups and created a small kids project to bring in more traffic. Everyone loved the idea and was happy to visit. It was successful for branding our company. Anonymous
We wanted to make our booth more fun and attract more people to it by adding a prize wheel. Anonymous
We were attending an event with many other businesses and colleges and we were using the maze pens to attract students to our booth. They loved them and so did the adults! Kathleen from Olean
build your brand
From small business to big business, university to nonprofit, the name of the game is to make sure people know who you are and what you're about. Promotional products work when it comes to building your brand.
We provided these bags to existing and prospective clients who attended an invite-only lunch which we hosted for them. The bags
included information sheets about our company's services along with other promotional items. The bags were presented to the guests at the conclusion of the event… Anonymous
We sponsored one of our customers' events and they asked if we had something to add to their 'customer giveaway' goody bags…We thought this would make for a good brand booster. Sonia from City of Industry
Waste Material Trucking Company gave away "Flyers" and recycling coloring books purchased from 4imprint at a Touch A Truck
event in Southington, Ct. The kids loved them!!!!! Maureen from Farmington
Our group is a research collaborative specializing in pediatrics. We've grown rather quickly and host conferences to collaborate,
onboard and generate better science. We wanted our logo to stand out and have items for members to take away as a representation of our group as an established collaborative. Anonymous
In a campaign to let people know that we are open, we attended a local powwow and handed out promotional items. Many people were surprised to know that we were open and were grateful for the items. In the following weeks, we have seen an increase in traffic. Aaron from Browning
We are introducing a new logo and were happy to find a mug with a glaze that matches the new logo colors! We filled each mug with instant cocoa or latte mix and a couple of candies and will be giving them to participants of our next training event in July. Gabrielle from Marietta
We are using the magnet to keep as a reminder. After providing service for them we will give them this magnet to keep in a good location so that if they need us we are a phone call away. Anonymous
We wanted a high-quality pen that people would want to use and keep with them, not just something to use during a meeting
and then leave behind. The uniball pens are great! They write very well and are very nice quality. Tara from Greenwood Village
We have 8 wrapped vehicles that advertise for us, but more employees then that so I thought this would be an inexpensive way to turn our employees' vehicles into advertisements as well. Here in Phoenix, in the summertime auto sun shades are a necessity, so why not use the space to advertise? Elaine from Phoenix
We use the items purchased as giveaways in order to promote Martin County, Fl. as a tourist destination. We are growing our brand recognition via a variety of branded promotional items. Sally from Stuart
I am a member of a quilt shop owner's association. We have an event once a year that will bring about 700 customers to my shop from out of our area. As a thank you for shopping with me I give a small goodie bag which includes the 6″ ruler. It is useful so they will keep in their notion box. I have had repeat customers that have said they thought of my shop because of this little ruler.
Sherline from Paso Robles
This was my first year at this organization and my first event, a golf outing to support the athletic department. We received
so many compliments on the giveaways that we had several foursomes ask if they could reserve a spot for next year's event – even though we don't have a date set yet. We are hoping for the first sell-out as we were very close this year. Anonymous
We participate in an annual cow parade (yes) called Strolling of the Heifers in Brattleboro, VT. Our hospital is a sponsor of the parade and we give these out at our table at the accompanying expo. Very popular and useful for visitors of all ages! Maeve from Brattleboro
for your cause
Whether it's a nonprofit, school store or fundraiser, if you need money for the mission, promotional products work.
I am the director of life enrichment at The Good Shepherd, our residents enjoy going out to lunch, ball games etc. but living on a limited income (sometimes as little as 40.00 per month) it doesn't work. I purchase items as fundraisers to make money for them.
Terry from Ashland
Every year we organize a golf tournament with a local organization in our community. All proceeds go back to our community to help support kids who want to get involved in golf but may not be able to afford it. We give the chance for them to have an opportunity in the sport. Each team that plays in the tournament receives a "gift" for playing and supporting youth golf. This year we hose water bottles that fit the needs of adult and youth participants… Kristy from Quincy
My family annually runs 2 charity volleyball tournaments to benefit our local homeless shelter and soup kitchen. We use 4imprint to create logo branded prizes and giveaways for the tournaments. The products are excellent quality! Lindsay from Hopewell Junction
I used the lottery ticket scratchers for a fundraiser for Women of the Moose. I am almost sold out! These things are going like crazy. Best idea I have had for fundraising! Thank you so much! Ellen from Green Cove Springs
We are a small nonprofit, so we go to a lot of outreach events to raise awareness of our museum. Our previous set up was awful… a homemade tablecloth (with night sky quilting fabric), a tabletop display made from cardboard with laminated photos glued on, and a bunch of brochures. Now with our newly designed items, we look super sharp! Our CEO has even said that she expects all the other local non-profits to be jealous 🙂 Alisha from Saginaw
We sold them at an Alumnae Reunion to raise money for our scholarship fund. Lorraine from Dix Hills
I ran a poker paddle as a fundraiser for our nonprofit. Getting a little something as a thank you let people know we were appreciative of their support. JJ from Mechanicsburg
I am on the board for our local Audubon chapter and donated mugs to use for an Earth Day fundraiser. We sold the mugs filled with 'bird-friendly' coffee with free refills throughout the day, engaged with our community and raised about $1000. Susan from Hartwick
We will give these to all our chefs for our annual fundraiser. Anonymous
Our largest fundraiser of the year is a golf outing. Actually two in one day. We use the golf balls as a thank you gift to our participants and have a sponsor cover the cost. They get their logo on the ball with "Supports Junior Achievement." Great exposure for them, and us, all day long! Jen from Midland
Our organization is called 9 Million Reasons and our main goal is trying to raise money for homeless people living in NYC. Because of us trying to raise the money we've decided to host a 5K run at a local park and needed AWESOME bottles to give our running contestants to keep hydrated! Destiny from Long Island City
Our group was attending an event and running a 50/50 to raise money for our scholarship fund. We needed something to make us stand out so that people could find our booth to buy tickets. We ordered this tablecloth with a very large version of our logo and it looked amazing. It was hard to miss us as people walked into the event. Suzanne from Lockport
say thank you
Whether it's for saying thank you to volunteers, to applaud hard workers for a job well done or for recognizing an anniversary,
here are creative ways to say "thanks."
We ordered the Bamboo Cutting Boards for our Nutrition Department (for National Lunchroom Hero Day), they turned out beautiful! Our Nutrition workers are true heroes! They are some of the hardest working people I have ever meet. The faces of hungry students getting a delicious meal are the true tale of the heroes they really are! Keisha from Calhoun
We ordered this as a gift for our guests that attended our 8th anniversary celebration. It was a great gift to give as it had our logo and the special message of 8th anniversary. Anonymous
We've given our mugs to speakers and panelists that have come to speak on behalf of the Political Science department
as well as to our new graduates! What a great way to say, "Thank you!" as well as give some college pride to our graduates going out into the world! They have been a fun item to be able to give out. Everyone who has received one has really appreciated getting such a nice and usable gift. Lily from San Luis Obispo
We purchased some additional convenience stores and this was a small gesture to the employees that stayed with our company
after their transition. Heidi from Minot
We love our employees and they are the backbone of our organization. We thought a nice gift from your company would be the touch that we desired. Thank you for your great products! Anonymous
Here at the dealership, we place all the final paperwork in the document holder and the salesman's business card and their signing pen and give to the customer. Fits perfectly in the glove compartment, not bulky. Betty from Windber
We closed on a big project and the promotional item was a "thank-you" gift for the team members. We put our logo on some very nice golf balls and treated everyone to golf on a gorgeous course -everyone was very happy! The golf balls arrived very quickly and were perfect! Valerie from Dallas
We strive to make sure our customers know we appreciate their business. We thank them by leaving something they can use in their home. These pads and pens have been a great token of our appreciation. Tikisha from Las Vegas
The sweaters are a "thank-you" gift in recognizing all employees who completed their 4-year work anniversary. Anonymous
For Teacher Appreciation I surprised the teachers and served drinks to each of them in their monogrammed school tumbler from the Woot Woot Wagon. It was a lot of fun and the teachers loved it! Staci from Paola
We wanted to send thank you gift baskets to vendors our company works with. We wanted a variety of useful and fun items
branded with our logo. I couldn't be happier with how our items turned out. The Carry All Tech Kit was my favorite—very useful, multiple cables on one cord, and it comes in a cute case that fits perfectly in my purse. I was very impressed with their colors, and how our logo stood out. Danielle from Lititz
Used for the 2017-2018 Albuquerque High School Cheerleading Teams end-of-year-gift—as a thank you for their hard work, commitment, dedication, strive, and success. Candace from Albuquerque
For volunteer appreciation week, every volunteer received a deck of cards with our logo on it and the phrase "LUCKY to have YOU as a Volunteer!" Monica from Rockville
spread the word
Whether it's public safety or a simple community reminder, here are a few ideas to help spread the word about your special campaign.
We use these tee shirts as a giveaway and to help promote safety during our annual Safety Week. Employees LOVE them and it carries the message every time they wear them. Karma from Ferndale
Anna Maria Island Turtle Watch is constantly working to educate the public about the importance of clean beaches to our turtles and other marine life. We're giving away round stickers to promote our "No Straw Please" campaign. Anonymous
We partner with our local Indoor Arena Football League. These backpacks are given out at the gates the night of our Annual
First Responder Night. We fill them with educational pamphlets and other promotional items. Leticia from Amarillo
We purchased mints to have at our welcome desk during New Student Orientation. The mints are a hit! We posted this pic with the
following caption. "WELCOME to all of the new students and their families on campus today. You are "mint" to be here! Let us
be your "breath of fresh air" and pick up a mint as you walk by our desk." April from Conway
We use these pens on our spinning wheel of prizes at our outreach events. We spread the word about clean air and how to reduce waste, reuse products and use recycled materials. Anonymous
We used the pedometers as a giveaway item for a 10-week Women's Health Class that the health department held. Each woman received a pedometer to help reach goals to move more every day in an effort to add healthy behaviors to their daily lives. We were very happy with the pedometers when we received them. They were of high quality and our logo looked great!! Julie from Lawrenceville
We purchased an aluminum wallet case which helps prevent ID theft to help promote our Adult Protective Service unit, World Elder Abuse Awareness Day and educate others about financial exploitation and fraud. This item is not only useful for the consumer, but also educational. Anonymous
We are an early learning center with the University of Delaware and have a great reputation in the community. However, we tend to "ride" on the reputation and not invest in being a presence in the community. We ordered bracelets to give out at community
events. They are simple, bright yellow and have a clear UD Early Learning Center logo on them. Thank you for helping us achieve this phase of connecting to our community. Kathy from Newark
We use this item as a giveaway as well as education. They are used to talk about healthy eating and the portions of food you should be eating. It is a great item that helps the community visualize how much they should be eating! Anonymous
We used [this] product to promote safety in the workplace for plant employees during recognition day. Employees really liked the product and it is a reminder to them that safety is important, I'd say that's a double win! Anonymous
We are an organization of pool professionals, and we use the coloring books to promote water safety. Elizabeth from Rocklin
Dolly Parton's Imagination Library for Iredell County became statewide and I wanted to get local families signed up. So our agency
partnered with our 3 main hospitals and I used the bags to stuff with "The Little Engine that Could" book that you will receive when you enroll in the program and also with our agency info and other items. All new mothers receive this bag upon leaving the hospital with their new baby. So far it's been a hit with a great response. Taketha from Statesville
I work for a Police Department on a college campus and the promotional products that we got were to give to students and staff on
campus as an "icebreaker" to help inform people of our services and establish positive relationships. Sarah from Murfreesboro
team unity
If you're looking to outfit your team with a unified look, trying to build morale, or wanting to create walking billboards, promotional products get the job done.
We are trying to improve morale among our hourly employees here on campus, so we inserted these pens with a personalized thank-you note, saying they are so "de-PEN-dable!" Valerie from Orono
The T-shirts were printed with a special motivational quotation from an especially meaningful day of the study tour. Everyone wore them on the same day for a photo at the site where the quotation was presented. Anonymous
We did a summer safety take home bag. This was to promote team safety not only at work but off the clock as well. This became a great talking point in team meetings. Anonymous
Each year we purchase a logoed item for our team. This summer we chose an insulated travel mug as many of us use them daily. The team absolutely loved the surprise delivery of the mug, how cool it looked, and were genuinely excited and pleased by the gift.
Anonymous
Every summer our company holds summer BBQs where our president and vice president cook for the entire staff! As a fun giveaway we always pick something fun – this year it was these sunglasses! They look amazing and function amazingly. Cristina from Hauppage
Our inside sales staff [do] not get swag very often so it was a way to give them something extra that the outside sales associates get when at events. Anonymous
The logo we put on our product is our motto for the year. We gave the logo to all of our teachers/staff to remind them throughout the year that we are "4 Schools 4 the Kids" Anonymous
We ordered hats for the team members of our Food Bank Partner Agencies. The logo hats will create a sense of team pride
and increase brand awareness as agency representatives wear them in our service territory. Everyone loved their hats! Anonymous
We used the coloring pencils on coloring books as part of a staff development activity. The branding was a nice touch since it added to the production value of the activity. Our organization's logo was used and so [it] also added to the attribution of the participant's identity to the organization. It was great! Ahmed from Stony Brook
These T-Shirts were an end-of-fiscal-year surprise to staff to help everyone feel like part of the team and to have as a casual Friday shirt for the summer. Helped to boost morale and we had a line out the door as soon as the email was sent to employees about them. They love the color and softness of the shirt and are excited to come to work on Friday now to show them off. Gerald from Phoenix
We wanted to inspire the team to – "BE the CHANGE in 2018" for our department. Nancy from Austin
I purchased lanyards and badges holders for my school district's PLTW Summer Engineering Academy. Around 700 students and teachers wore their 4imprint badges with pride! Our team looked and felt "official." They looked great in pictures and helped tie the different program locations together. Anonymous
We embroidered polo-style shirts with our group logo to instill camaraderie and pride in our members in a professional setting.
Anonymous
the carrot
Increase participation, improve registration and maybe even generate additional revenue. When you're looking for that 'carrot,' look for promotional products.
This pen is given to all of our students enrolling in our school this year. When we talk about helping them achieve their goals and earning their high school diploma, we tell them they too will be wearing a cap and gown soon! Everyone loves this pen, and the staff wants one too! Janelle from Pueblo
We gave away the insulated bags at the most recent retiree meeting to encourage our retirees to sign up to use our online portal. We increased registration to the portal by 15% and the retirees appreciated the gift. One retiree commented on how handy the bag would be carrying snacks in their car because it gets so hot in Texas during the summer. Melissa from Dallas
We used the pens at our Public Relations weekend and encouraged participants to fill out a short survey using them. Sarah from North Collins
We work for the fourth largest school district in the country. We use the items to motivate the students to attend the Adult Education Program to complete their education and to reward our team for their hard work. Our enrollment has increased tremendously.
Anonymous
We gave the stainless pint glasses away at a multi-day grand opening of one of our stores. We had a VIP party the first night,
and every attendee got one. Then gave away 50 on the following day to anyone who came to the store. We promoted it ahead of time on social media and had customers who came specifically for the giveaway. We also used them as a thank you for the team that worked all of the events. Karin from Mahtomedi
Our promotional items attract hundreds of families to our booth each time we attend an event. We have seen a great increase in enrollment during this new school year. Anonymous
We are including this with other items in our membership renewals or new member packages. Anonymous
In California sunglasses are always welcomed, so in our Recreation Dept. we give away sunglasses as an incentive for patrons
signing up for our "text blast" event marketing system. By signing up for the system we get accurate information to let the residents know about upcoming events instantly. The glasses always encourage community pride because they all say our city's name on them. Robert from Monterey Park
We were designing a car kit for auto loans and using them as an incentive. We just started the promotion but we have been given lots of compliments from our members. Abby from Wichita
We like to give out "surprises" throughout the year to our employees to increase motivation. A vendor of ours had passed out
the Sticky Books and we loved them so much we immediately ordered them for our employees. A small price to pay, and it also
advertises the company and hopefully sends more business to 4imprint! Mary from Bakersfield
The item we purchased was used to increase membership levels for our booster club. If they went up another level they would get this bag. Julie from Keller
We give the compact mirrors as part of a welcome gift bag for new clients. The mirror reinforces the beauty aspect of our business, and every time they use it, they see our logo. Andrea from Bellmore
My classic car club is a volunteer organization. We used these jackets to incent club members to help at our shows. Chuck from Medford
Share your success story!
Have you found success with your promotional products?
Share your expertise by visiting 4imprint.com/SwaggingRights and clicking the #SwaggingRights® button in your order history. Submit your photo with a description of your story. We'd love to share it with others via social media and maybe even in our
next edition of "Promotional Products Work"!
See more ideas and past editions of 4imprint's "Promotional Products Work!" at 4imprint.com/EBook