Jumping for joy: Thanking families with gifts and custom giveaways for kids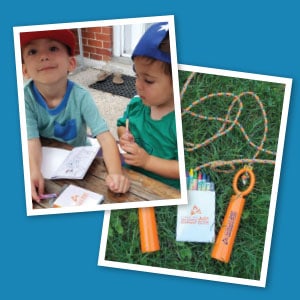 Having a child in the hospital while caring for their siblings can be challenging. That was the case for Alana Geller and her husband when one of their infant twins needed a heart operation. While at a hospital in the United States, they discovered a "sibling park," where stimulating free childcare was provided for their other twin. Once back in Montreal, Alana teamed with Jodie Frenkiel Zimmerman, another mother of twins, to raise funds for the Montreal Children's Hospital to create a sibling park and help families cope with the stress of a hospital stay.
Keeping kids happily occupied
Just for Kids Foundation (JFK) raises funds to purchase high-priority medical equipment and to support initiatives that improve the quality of care for patients of the Montreal Children's Hospital. The organization worked hard to bring an all-out event to the community—JFK Stroll for Kids. The event is a fun-filled day in the park with lots of activities and a great lunch for both children and adults. This event is an opportunity to give back as an entire family and to teach children about philanthropy.
Organizers filled the bag with donated items. A children's author donated her books. A baker put in her banana bread recipe. Another company donated bananas. The bags also included a coloring page and skipping rope challenge. And thanks to a 4imprint one by one® grant, the JFK Foundation was able to stock the bag with crayons and skipping ropes.
"We have a lot of gratitude toward our fundraisers because we know it can be a difficult time for a lot of people. And they really came through," says Events Manager Cory Garfinkle.
Thanks to the funds JFK raises, JFK Sibling Park—and other hospital programs they support—continues to help overwhelmed parents.
A note from Cheryl:
When parents are going through difficult times, any help they receive is much appreciated. We're honored to have provided Just for Kids Foundation with custom giveaways for kids so they could continue to say thank you to donors who help them continue their good work. For more information on our grant program, visit onebyone.4imprint.ca