Sometimes the smallest thing can have a big impact. Here's one example.
-Cheryl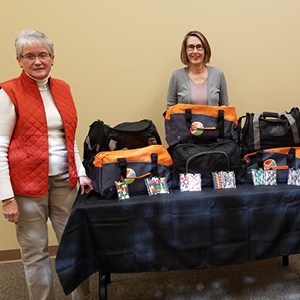 When a child must be removed from an abusive or neglectful home and transferred into foster care or relative care, representatives of Jackson County GAL/CASA (Guardian ad litem/Court Appointed Special Advocate) know the experience can be traumatic and scary. Often there's little time to gather clothes and other necessities, so belongings are sometimes hastily placed in a paper or plastic bag. The psychological effect of having everything you own in the world tossed into a garbage bag cannot be understated.
"That's how we came up with our CASA duffel bag project. Our goal is to provide duffel bags, so when a case manager goes into a home, they have these bags accessible to pack the child's belongings in," says Deena Personett, program manager for Jackson County GAL/CASA.
"A lot of kids don't have much, and it means a lot to them to be able to take what they can, anything that is theirs."
The bags are more than just luggage. To children who have lost their sense of home, who don't know where they will be sleeping in the future, having a bag that will hold their few belongings, no matter where they go next, is vital.
Jackson County GAL/CASA received 60 sports duffel bags from 4imprint to support these children in transition. These bags will allow children to reclaim a sense of belonging, no matter where their journey takes them.
To learn more about the 4imprint one by one program, visit our website at onebyone.4imprint.com. You can read more stories from our inspiring group of one by one recipients on Cheryl's blog.