It looks like classic is the new trendy.
The Associated Press reports consumers are craving the tried-and-true, with a healthy dose of nostalgia in their holiday décor and gifts.  Consumer psychologists say classic colors, shapes and styles evoke welcome feelings of security and stability.
If classic gifts will resonate with your customers, suppliers, donors, volunteers or members, a gift like our 3 ¼" Round Shatterproof Ball Ornament might be a good option.  We've given it a slight update, screening a holiday motif and the year on one side, with room for your logo in a subdued, metallic gold on the other.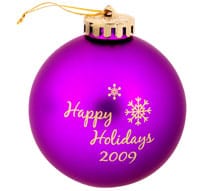 The ornament comes in muted, matte shades of classic holiday colors: red, gold, green, blue, clear, white and purple.  These are available in quantities as few as 100, for just $2.50 each.  Packaged in an individual gift box, these ornaments are ready-to-give.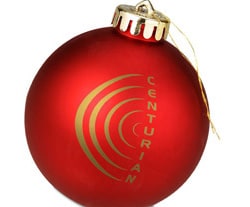 In fact, you may even want to start a new tradition – making this the first in series of collectibles you share with customers. You'll have your holiday gift-giving figured out for years to come!
-Suzanne