Fun promotional pens grab attention. They can draw people to your table at a trade show, put a smile on the face of your customers and get used again.
These unique pen giveaways revolve around the ever-popular promotional product—the writing instrument. How popular? Eighty-nine percent of people (PDF) own a promotional writing instrument.
Putting a twist on the classic pen has created some serious promotional fun that your employees and customers are sure to love. We offer four:
Sunflower potted pen
Bend-a-pen
Buddy pen with screen cleaner
MopTopper spinner pen
1. Sunflower potted pen
The Sunflower Potted Pen will add some sunshine to anyone's day.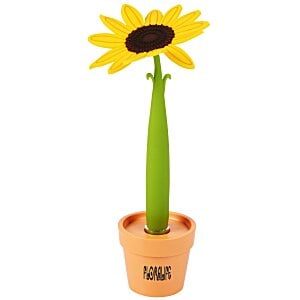 Great for promoting a florist shop, plant nursery or themed party, this unique pen giveaway is always on display in its included flower pot.
2. Bend-a-pen
The Original Bend-a-Pen is a fun pen that people can bend and contort. It even stands straight up on its own two feet.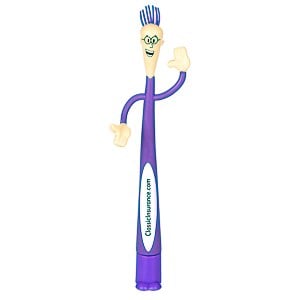 The bendy pen will catch a lot of attention at a trade show—and keep your brand top of mind for long afterward.
3. Buddy pen with screen cleaner
Looking for something with extra functionality but just as eye-catching?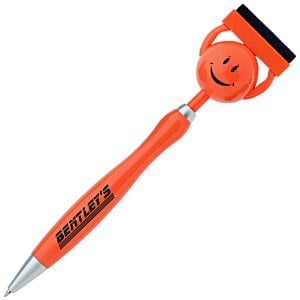 The Buddy Pen with Screen Cleaner brightens everyone's day with a big smile. Use one end to write and the other to polish up phone and tablet screens.
4. MopTopper spinner pen
Another fun promotional pen option is the MopTopper Spinner Pen.
When seen on a trade show table, its smiling face and screen-cleaning hair will generate grins and pique curiosity. The head is mounted on a spinner, making it fun for writing and fidgeting.
Functional and fun promotional pens for the win
If you're trying to find a fun promotional pen that catches attention at trade shows and brings smiles to everyone's face, these fun promotional pens are sure to turn any frown upside-down.