In recent years, both consumers and corporations have started to change their behavior in an effort to preserve our world for future generations. Corporations have introduced products made with alternative materials like biodegradable corn plastic and repurposed tires, or redesigned packaging to be less wasteful. As consumers, we can opt for reusable shopping bags instead of plastic, replace bottled water with refillable bottles or use public transportation to cut down on vehicle emissions.
One of the most impacting eco-friendly decisions we can make is recycling. It sounds simple, but have you ever been confused about what you can recycle, and how? I have! The little arrow triangle and number system in place now can be overwhelming and downright baffling.
Not to worry! A revamp of the familiar recycling codes is rolling out now on select grocery products as part of a nationwide pilot program. The new symbols clearly identify what parts of a product can be recycled and provide better instructions, like "recycle if clean and dry," or "empty & replace lid".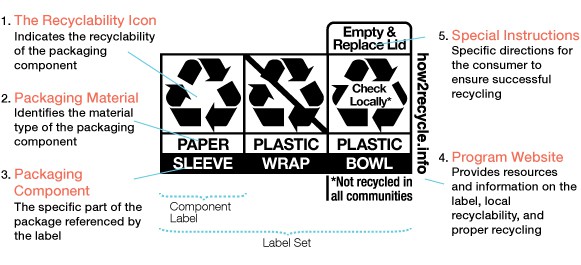 The organization behind this new program is called GreenBlue Sustainable Packaging Coalition, whose goal is "[to create] a clear, well-understood and harmonized label that enables [the] industry to convey to consumers how to recycle a package." The GreenBlue Sustainable Packaging Coalition has an informational site at https://www.how2recycle.info/. Keep your eyes peeled for this new feature at a grocery store near you!
-Moriah
At 4imprint, we do our best to provide a hearty selection of recycled promotional products to support green initiatives, community clean-ups, local recycling centers or any event that makes environmental responsibility a priority.