Indoors or outdoors, flowers or vegetables, the popularity of gardening has sprung up exponentially over the past few years.
Everyone from millennials to baby boomers has shown a budding interest in this relaxing hobby. In fact, about one in three homes grows vegetables, flowers or both each year. In addition, households are spending more on gardening than ever before.
Since this pastime has become so well-liked by people of all ages, custom-printed seed packets make a great giveaway for clients, employees, events and everything in between. Plus, there are seed options for flowers, herbs and vegetables.
Here are a few ways to use gardening promotional items in your messaging. One quick note: Be sure to check local regulations regarding plants and seeds, some areas have controls around distribution of some plant species.
Highlight growth
What better way to highlight company growth or a new product launch than with a promotional item that actually grows? To show appreciation to long-term customers, employees or vendors, create a personalized message to thank them for helping your brand grow.
Small seed packets are thoughtful giveaways. Choose seeds that will flower into one of your brand colors for an extra special touch. For example, for a yellow logo, consider the Standard Series Seed Packet with Marigolds.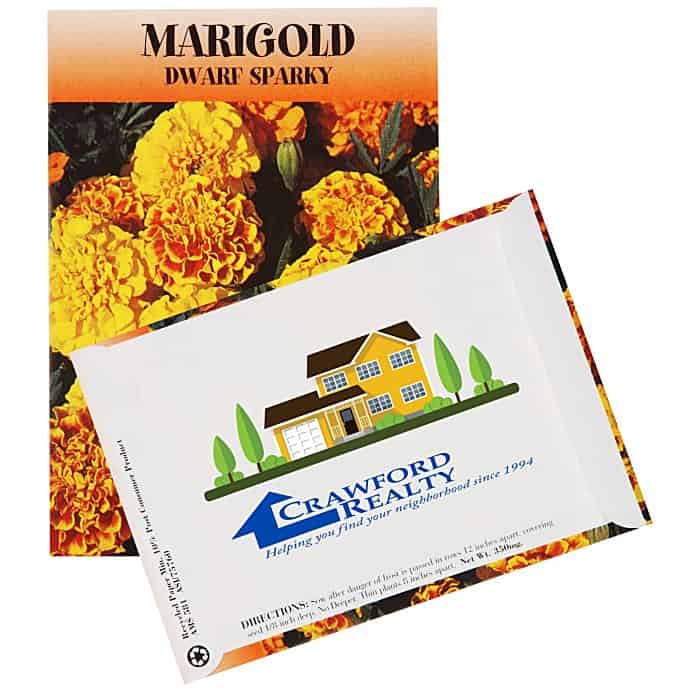 Every bright, yellow bloom will remind them of your brand.
Seeded paper makes another great giveaway. The seeds are embedded in a piece of paper available in several shapes. The heart-shaped Plant-A-Shape Flower Seed Packet, for example, comes in a clear envelope and includes simple planting instructions even rookie gardeners can follow.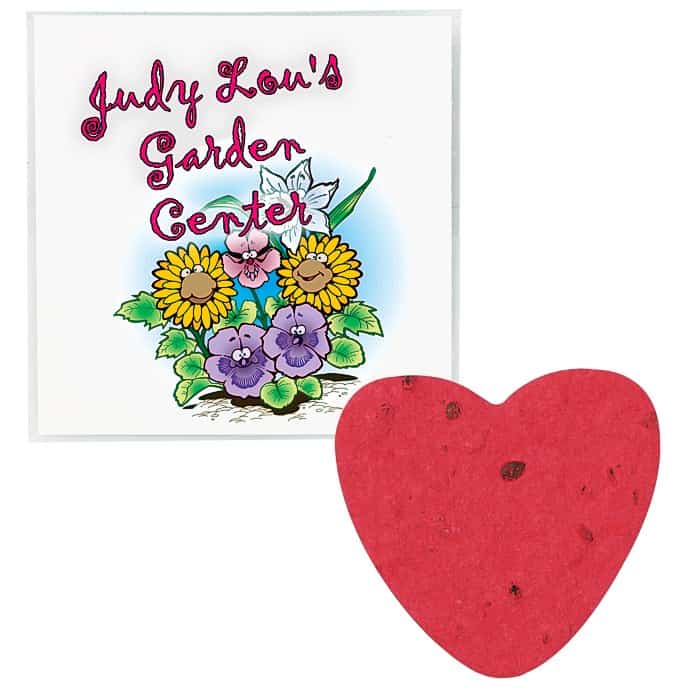 Give away at events
From trade shows to farmers markets, custom-printed seed packets are great for capturing the attention of attendees and leaving an imprint.
Plants in the office can reduce stress, increase productivity and boost creativity. Use this knowledge to start the conversation at trade shows. Then leave your contact information on a memorable gardening gift that can be used in the workplace.
The Growable Planter Gift Kit comes with basil, oregano, thyme or parsley seeds and includes everything they'll need to get started.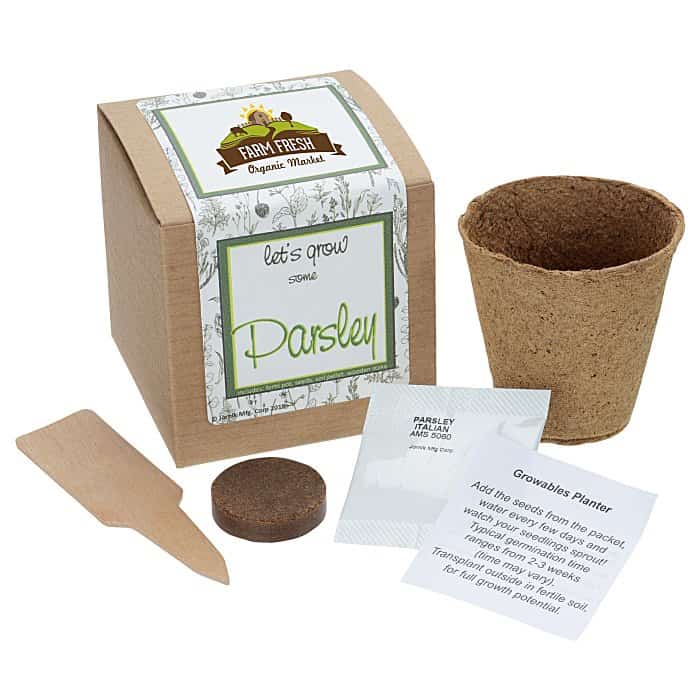 Once the seeds sprout, they not only provide office greenery, but can even be used to add a fresh flavor to employees' lunches.
Increase your brand's presence in the community by giving away seeds at your local farmers market. With more than 8,400 farmers markets in the National Farmers Market Directory—and 85 percent of them looking to expand—these community events are a great way to be seen by local customers. Vegetable seed packets make great farmers-market promotional items. Organic green pepper, tomato and cantaloupe seeds will encourage farmers-market attendees to tend their garden while reminding them of your brand.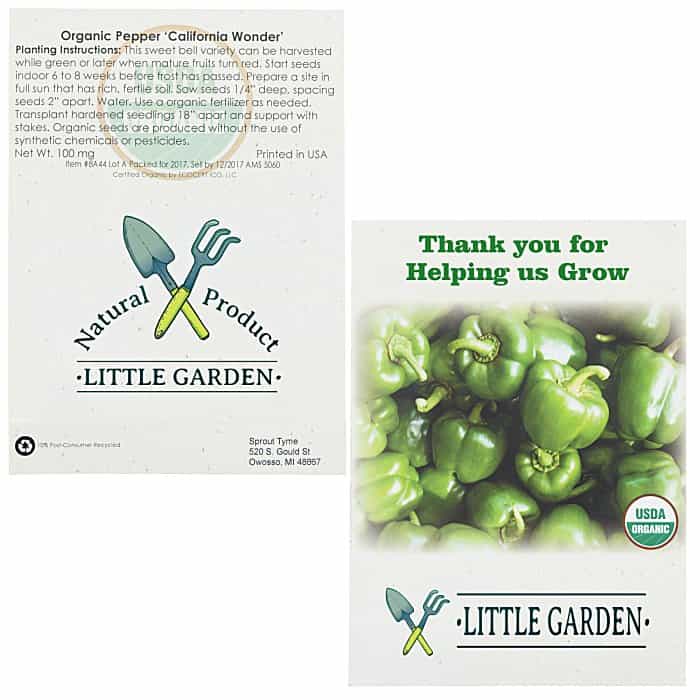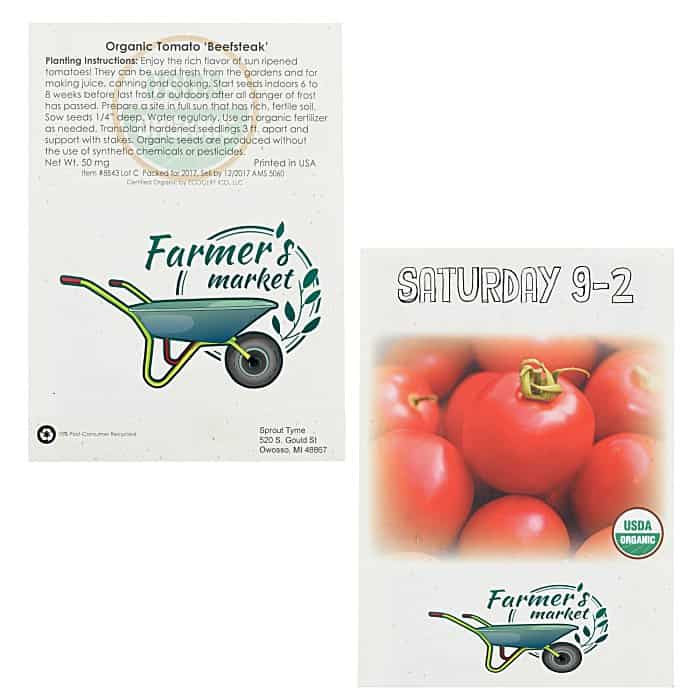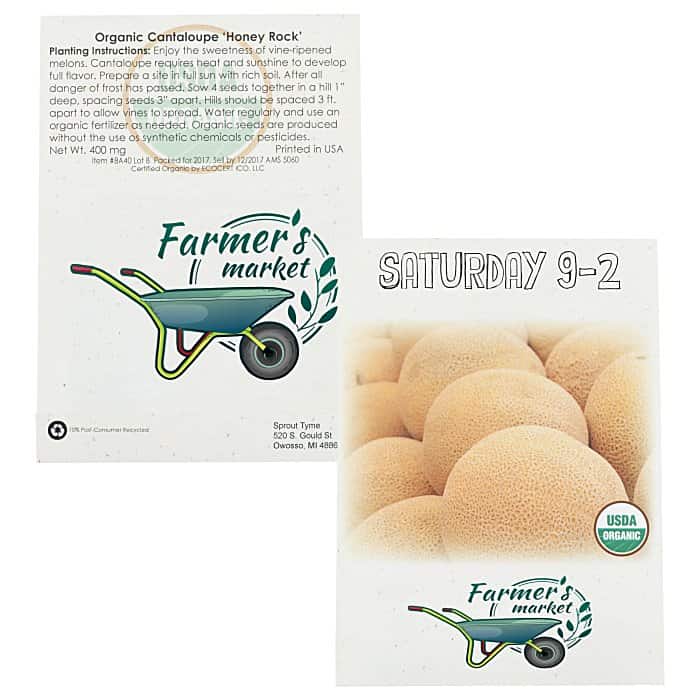 Finally, include promotional seed packets as a special gift in swag bags for any event. Whether a casual school picnic or a black-tie gala, seed packets will remind guests of the fun—while growing your business relationships.
Create gift baskets
For retiring employees, client gifts or any other celebration, add promotional seed packets to a garden-themed gift basket. Bundle together an apron, garden tools, unique pots and other items alongside garden promotional items.
For larger promotional gifts to include in your basket, choose the Mini Watering Can Blossom Kit.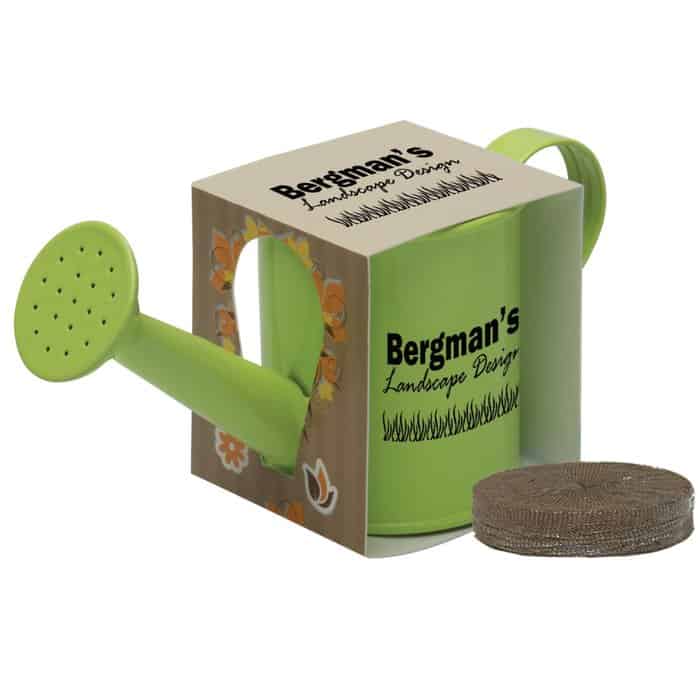 This easy-to-use kit includes seeds, soil and a planter (with your logo on it). The Grow Your Own Herbal Tea Garden is also perfect for a gift basket.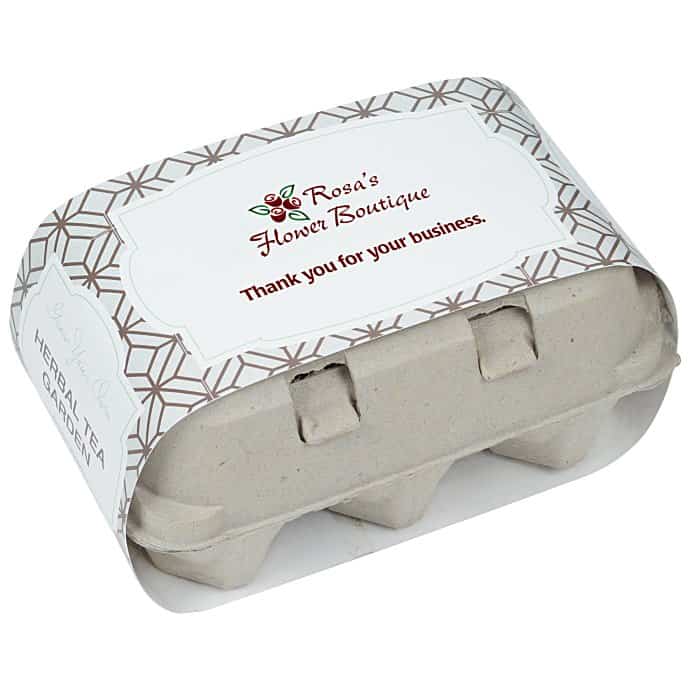 With lemon balm, lavender and chamomile, recipients can grow their own sweet-smelling tea ingredients in the included carton.
Watch your messaging grow
Custom-printed seed packets are an excellent giveaway idea—from client gifts to employee appreciation to farmers-market promotional products. As the popularity of gardening continues to grow, your contacts will appreciate the thoughtful gift.