one by one®: Edmonton Public Schools
Junior high can be a challenging time for many students. Physical, emotional and social changes can create obstacles that make academic goals a bit harder to reach. It's no different for Edmonton Public School students in Chelsey Ambrosio's class. Her three classes of about 60 students are part of the Strategies program, which helps students with mild or moderate learning difficulties.
"Reading and writing are something they struggle with," Ambrosio said. "Getting them to not dislike writing is a goal of mine."
To help make learning goals more attainable, Ambrosio tries different strategies to help students connect concepts. For example, students create sketch notes during social studies class. This activity helps them link concepts with visual aids, which assists in analyzing and synthesizing information. Still, despite her academic support, students can sometimes feel tired or discouraged when tackling a new concept or getting through a difficult day.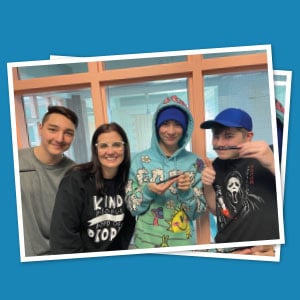 How student giveaways make tough days brighter
To help keep students encouraged, Ambrosio uses promotional pens imprinted with positive messages as student giveaways. She presents the pens to students as prizes or small tokens of appreciation when a student needs a pick-me-up. Plus, the students can use their pens to complete classwork.
"I write them little notes that say things like 'Great job' or 'I know you're having a tough day,'" said Ambrosio. "I have a system for making sure different kids get them."
To help better tailor the gifts to the individual child, she tries to make the presentation of the pen match the student's personality. For example, she sometimes gives the pens privately, such as slipping the note and pen onto the student's desk when no one is looking. At other times, she makes a big display in front of the class.
Her students have reacted to the pens in an overwhelmingly positive way. "They are honestly all super excited about them. They say, 'I would do anything for a Ms. A pen,'" she said. "Some say that they don't ever want to use their pen because they don't want it to run out!"
Ambrosio's colleagues have also reacted positively to her methods. "Other teachers see them and think they're a good idea too," she said.
Ambrosio hopes to continue providing student giveaways to keep students focused and to support them academically and emotionally in the classroom. "Little things can make a big difference with junior high kids," she said. "I'm super grateful. I would never be able to spend this amount of money on pens, and they're making a difference, one kid at a time."
A note from Cheryl
It is so inspiring to see how Ms. Ambrosio goes above and beyond to provide encouragement and support for her students. 4imprint is pleased to be a small part of Edmonton Public Schools' mission by providing promotional pens for student giveaways. To learn more about a 4imprint one by one® grant, visit onebyone.4imprint.ca.