Here's a story that's incredibly touching.
-Cheryl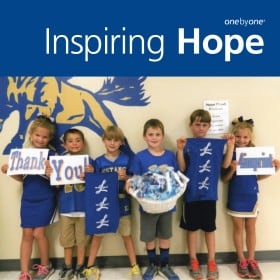 As part of its 2nd grade service learning project, Huntingdon Primary School raised money and assembled gift bags for residents of the Memphis, TN Ronald McDonald House who are undergoing cancer treatment. This labor of love was done in memory of Lori Pearson, a mother of three former Huntingdon Primary School students, who fought and lost a courageous battle with inflammatory breast cancer. A local nonprofit organization, the Never Quit Foundation, was started in her memory to aid cancer victims and spread awareness about inflammatory breast cancer.
Huntingdon Primary School received a one by one® grant from promotional products retailer 4imprint®. It used the grant to purchase gift bag stuffers, including Wild Smilez pens and Fandana head wraps. Students also created get-well cards that were included in the gift bags. Some of the leftover pens were sold to students to raise donations for the Ronald McDonald House. "It is such a blessing to be able to honor this mother by encouraging others in their fight for cancer," said Huntingdon Primary School teacher Connie Bond. "We appreciate the one by one grant and the spirit of giving it brings. It benefits people exponentially as the giving keeps on going."
To read more stories like this one, check out Cheryl's blog.  If you'd like to learn more about 4imprint's one by one program, visit our website at onebyone.4imprint.com.