one by one®: Epilepsy and Seizure Association of Manitoba
The Epilepsy and Seizure Association of Manitoba takes a unique approach to supporting people with epilepsy. Its staff members are available for people who just want to talk. Whether they're housebound and want to hear a friendly voice, or feeling scared because they just had a seizure, individuals can reach out and talk to an understanding person.
Every step of the way, the organization helps people with epilepsy live a more fulfilling life. This support wouldn't be possible without the generous support of its donors. And this year, the Epilepsy and Seizure Association of Manitoba is thrilled to be able to thank participants in its biggest fundraiser with umbrella giveaways as prizes.
Shattering stigma, empowering people
It's not uncommon for people to walk past the Epilepsy and Seizure Association of Manitoba's event booth, wait until there's no one around, and then quietly disclose they have epilepsy but don't want anyone to know.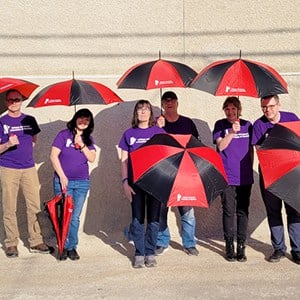 The organization is passionate about making a positive difference in the lives of local people affected by epilepsy. It provides a safe and supportive space, and works hard to dispel myths, misconceptions and stigmas surrounding the disorder.
Some of the organization's most common calls are received from people who have just been diagnosed. Many feel afraid, unsure and overwhelmed. But the Epilepsy and Seizure Association of Manitoba is there to listen, answer questions and provide support at a time when callers need it most.
In addition to offering an empathetic ear, helpful resources are provided and referred, such as basic epilepsy education, counseling and support groups. Some people who received support from the organization in the past now serve on the board of directors. They know firsthand the challenges of living with epilepsy and want to make a difference in the lives of others.
Using umbrella giveaways as prizes to thank supporters
One of the organization's largest and most labor-intensive fundraisers is its annual golf tournament. This fundraiser is critical to keeping the organization's doors open, and it relies heavily on donations received at the event to continue its work.
"In the past, we had to cobble together various items for prizes for our participants. This year, we really wanted something branded and cohesive to give to our golf tournament participants," said Sara Bettess, executive director. Thanks to a one by one® grant, Sara was able to order branded umbrella giveaways as prizes.
"The umbrellas are beautiful. We practically did a happy dance when I showed them off at our board meeting. Our board members love them, and we can't wait to use them for the tournament," Bettess said.
A note from Cheryl
It's uplifting to see the impact the Epilepsy and Seizure Association of Manitoba has on people diagnosed with epilepsy. 4imprint is honoured to provide the umbrella giveaways used to thank its supporters. To learn more about a one by one grant, visit onebyone.4imprint.ca.