Trade shows offer a huge opportunity—even when your funds are limited. More than 90% of attendees are looking for new products, which can be showcased in a stand-out way without breaking the bank. And 60% of businesses plan to exhibit at more trade shows this year than in previous years, due to the potential to gain new clients and valuable exposure. Whether you're a first-time exhibitor or a seasoned veteran, planning for a trade show on a small budget presents a unique set of challenges. Make sure your company gets the largest ROI without overextending your budget. We offer ideas on how to plan for a trade show to get the best bang for your buck.

1. Stay local
Local events can help your company save on hotels, transportation and food. Staff members can drive to the event from their own homes and can even save money on meals. Provide each booth staffer with a Harvest Bento Lunch Box and Stainless Cutlery Set in Case as encouragement to bring their own lunch. These gifts can double as trade show giveaways too. Staff will appreciate the thoughtful and practical gift. And attendees will surely want to get their hands on one of these useful pieces of swag.
If you have remote team members or staff who are spread throughout the country, you can take advantage of a unique opportunity and have them represent your organization at events near them.
2. Plan way ahead
Plan, plan and plan some more. When you figure out in advance which events will be most beneficial for you to attend, you can save big. Early-bird discounts can help you save on everything from renting trade show floor space to booking lodging. And watching for deals can help you save on your trade show giveaways too.
Review upcoming events to determine which might be the best fit. Research the event itself as well as the type of audience that attends to make sure that the goals align with your business.
3. Leave wiggle room
When dealing with a small budget, it's best set to aside a small amount to cover unexpected expenses. For instance, reservation and registration fees, fuel costs, shipping costs, booth storage fees and promotional expenses.
Review costs from previous trade shows to get an idea of what the overall budget will be. If the last show was over budget, find out why. And then use this data to determine how much wiggle room you may need.
4. Stand out
Every company's goal is to stand out. These ideas can help draw a big crowd on a small budget.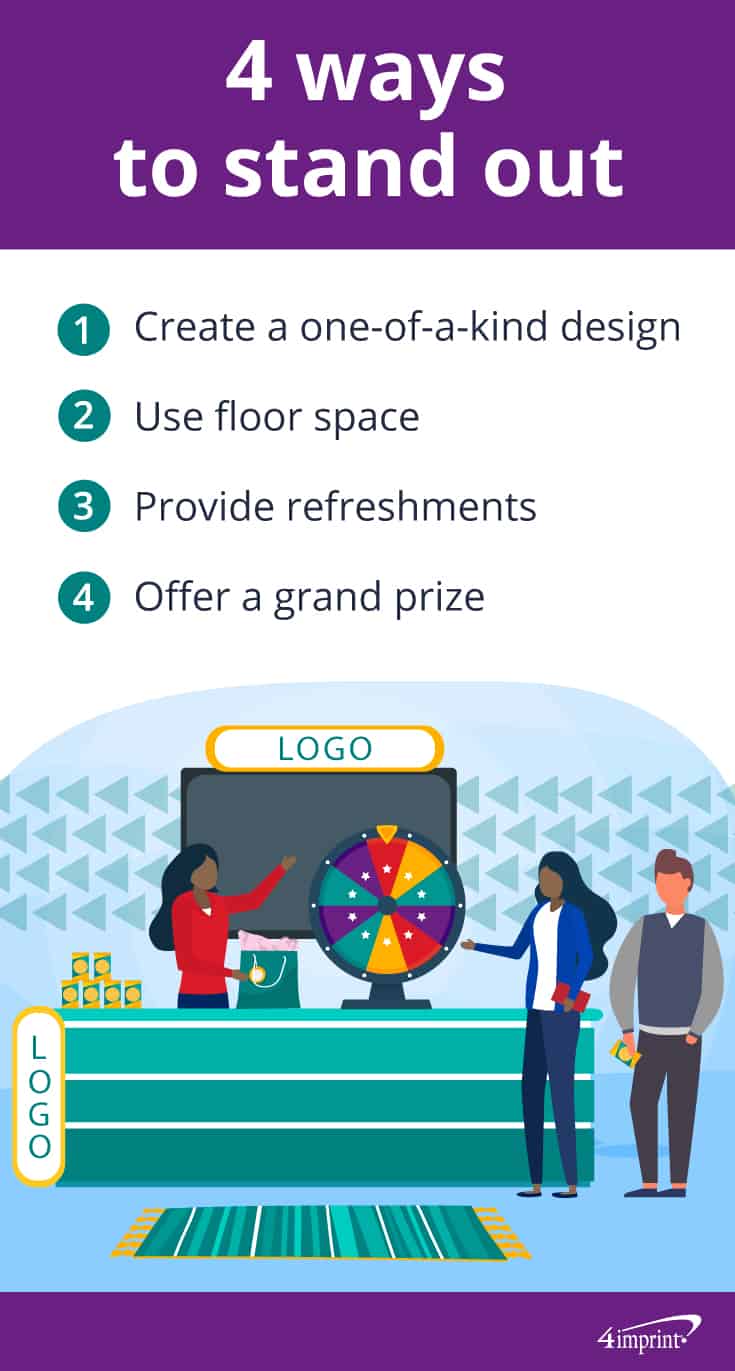 Create a one-of-a-kind design. Months before the big day, start crowdsourcing your team for the best unique booth design ideas. Offer fun prizes, like light bulb pencils and stress relievers, for everyone who shares their ideas.
Use floor space. A colourful rug or interactive floor display can jump out at attendees as something that other booths aren't doing. Providing comfy seating, charging stations and fun music is another way to draw in a crowd without breaking your budget.
Provide refreshments. Cold water and hot coffee are just the pick-me-ups that passersby need to stay energized on the trade show floor. And snacks, like chocolate covered almonds, candy snack jars and salted jumbo cashews, are trade show giveaways no one can resist.
Offer a grand prize. Whether you select a high-end duffel or offer a cash prize, the chance to win can be a huge draw. Reward those who sign up for your email list, agree to a product demo, or schedule a consultation by entering them in your prize draw to ensure you are generating quality leads.
Easily stretch your dollar
With these ideas for how to plan for a trade show on a budget—planning far ahead and leaving wiggle room in the budget—your team can easily draw a big crowd on a small budget. Good luck!
Key Takeaways:
Choose local events to save on costs
Plan months ahead for discounted rates
Leave wiggle room for unexpected expenses