Most effective promotional products
Face masks
USB drives
Writing instruments
Bags
T-shirts
Hats
Calendars
Desk accessories
Drinkware
Outerwear
Promotional products continue to have a significant advantage in the world of marketing.
Seventy-three percent of people prefer promotional products over other kinds of advertising. And 85% of those who receive a promotional product remember the brand that gave it to them. (PDF)

If you're looking for the most effective choices to build your brand, we put together a top 10 promotional items list based on findings from the Advertising Specialty Institute® (PDF).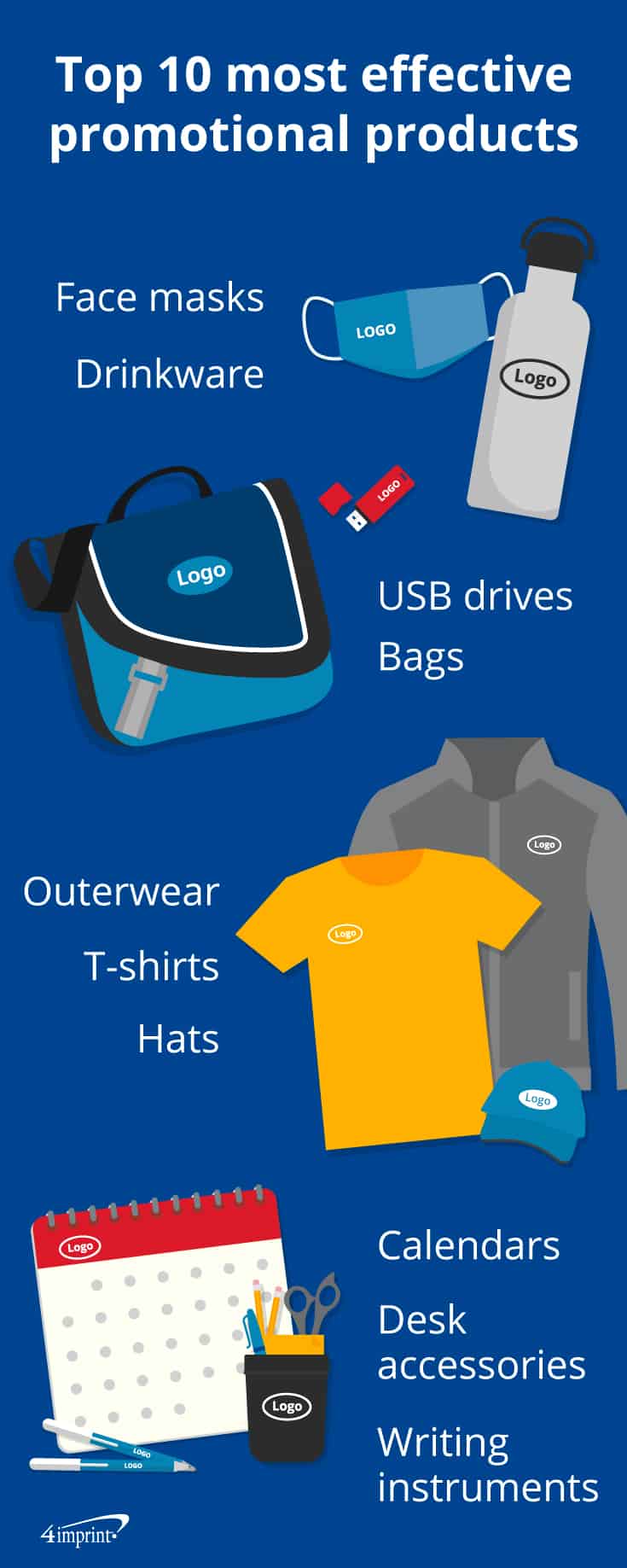 1. Face masks
We are still in a pandemic, which means that face masks will be a fact of life for some time to come.
Seventy-one percent of people wear branded face masks at least weekly. (PDF)
making it number one on our top 10 list of promotional items. If your business is open to the public, hand out a comfortable cotton face mask with every purchase. Or consider mailing them if you don't get a lot of foot traffic. Get extra brand exposure by asking customers to post a mask-wearing selfie, along with a branded hashtag, on social media.
2. USB drives
Even with the growing use of cloud storage, USB drives are still popular. Data is always available—even if there is no internet access. Plus, their small size makes USB drives easy to carry and store. And interestingly enough, 56% of consumers would prefer a USB drive (PDF) over a power bank. Give your traveling salespeople a branded USB so information is always available, anywhere they go. Or hand out drives pre-loaded with company information and marketing materials to customers and prospects.
3. Writing instruments
Everyone appreciates a pen. In fact, 89% of consumers own a promotional writing instrument (PDF). And, on average, people keep them for nine months. They're relatively inexpensive, too. Offer each customer an antimicrobial pen when signing receipts. And bring a stash to client meetings for signing contracts, sales agreements and more.
4. Bags
If you're looking for a way to have people literally carry your brand name around town, tote bags are one of the most effective promotional items.
The average promotional bag gets 3,300 sets of eyes on it in its lifetime. (PDF)
Choose one that costs $5 and that's just 2/10 of a cent per impression. The roomy Market Tote will quickly become your customers' favourite reusable shopping bag. Give them out for free with a purchase or sell them. Offer a future discount every time they shop with it.
5. T-shirts
Make customers, employees and anyone else a walking billboard for your brand when you give them a promotional T-shirt. Not only are they a great way to put your organization's name in front of a lot of eyes (3,400 sets, on average (PDF)), just about everyone wears them. Whether you're looking to promote your start-up, build school spirit or provide employees with comfy work-from-home attire, there's a crewneck or V-neck that can do the job.
6. Hats
Promotional hats get about the same number of impressions (PDF) as branded T-shirts (3,400). Plus, like T-shirts, there are countless styles to choose from. They make perfect giveaways for golf outings, company picnics and any other outdoor occasion. Trucker hats are a popular choice because their snap-back closure provides a comfortable fit for any wearer.
7. Calendars
While a range of digital options exist to help track daily and monthly tasks, sometimes people want the month-at-a-glance view only a paper calendar can provide. Plus, what other promotional product puts your brand in front of customers every day of the year? Whether their thing is art, muscle cars, travel or wildlife, there's a calendar for them. Mail them to top customers, along with an invite to grab a coffee already penciled in. Or give them out to help employees track their daily schedules.
8. Desk accessories
Spring is just around the corner and so is spring cleaning. Desk accessories help staff stay tidy, plus they have staying power.
Promotional desk accessories are kept for an average of 13 months. (PDF)
Help staff stay on top of things with a promotional desk caddy. Make it part of the welcome basket for new employees or use them in communal areas to help keep things organized.
9. Drinkware
Branded drinkware is a top promotional item. Not only are reusable cups and tumblers useful, they help cut down on waste when compared to disposable options. Consider that almost half (46%) of consumers think better of a company (PDF) that gives them an environmentally friendly promo product. Replace disposable cups with reusable options like the Grand Ceramic Mug. Keep some on hand for customers and give one to every employee to show appreciation.
10. Outerwear
If you're looking to boost brand awareness, outerwear may be the most effective promotional item for the job. With the average piece getting 6,600 impressions in its lifetime (PDF), it's the perfect product to spotlight your brand. A packable jacket is lightweight and easy to carry, making it a customer favourite. It also makes a great employee anniversary gift or thank-you gift for customers.
The most effective promotional items are ones that your customers will use again and again. Get lots of eyes on your brand when you choose of these top 10 items for your next promotion.
Top Takeaways:
71% of people wear branded face masks at least weekly.
56% of consumers would prefer a USB drive over a power bank.
89% of consumers own a promotional writing instrument.
The average promotional bag gets 3,300 impressions while promotional T-shirts and headwear get an average of 3,400 impressions.
Promotional desk accessories are kept, on average, for 13 months.
46% of consumers think better of a company that gave them a promo product if it is environmentally friendly.
On average, promotional outerwear gets 6,600 impressions.