When a trade show ends, it's just the beginning of a flurry of follow-up emails, phone calls and meetings meant to turn introductions at the show into long-term business relationships. Quite often, exhibitors look for trade show swag ideas to thank attendees for stopping by. Or remind them of a conversation on the show floor.
But which trade show gifts are best at helping turn a prospect into a sale? According to a recent original 4imprint survey, 20% of organizations use promotional products when following up with leads after a trade show. However, many of those respondents said they are uncertain which promo items were most effective when following up.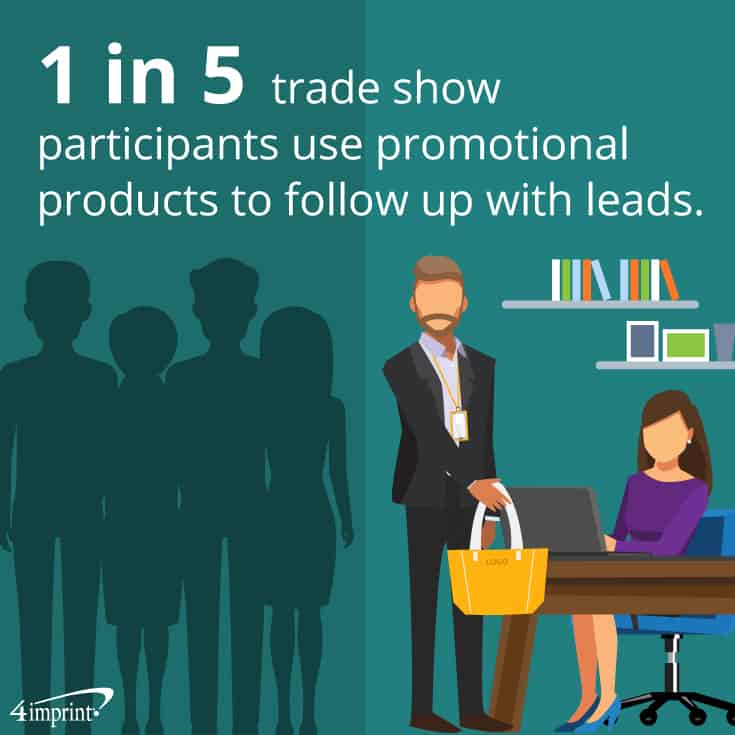 For this edition of our Blue Papers®, we talked to customers to get giveaway ideas that turned connections into customers.
Case study 1: Finding ways to connect again and again
According to our survey, more than 60% of respondents follow up with leads five times or less. However, a Hubspot® study found that sales leads may need up to six calls before they respond. That's why it's not uncommon for customers to make the extra effort to connect and reconnect with customers both in person and online.
One customer we spoke with attends three or four trade shows a year, using trade show gifts as prizes when people offer connection information and as a way of following up with customers.
Trade show attendees who offer their contact information are put into a drawing, with winners receiving items like a Crossland® Microfleece Jacket. When they offer the prize, the company also asks for permission to post pictures on social media.
During the trade show, potential customers are encouraged to connect with the company on social media. This can have a powerful impact, as 73% of marketers feel social media marketing has been effective for their company.
As they continue to follow up with customers and complete the sales process, follow-up trade shows swag ideas play an important role. Products are used as prizes in social media posts to keep customers engaged and the company also gives customers a tumbler, such as a Refresh® Pebble Tumbler, as a thank-you gift after a sale.
Every post-trade show social media picture, post and prize keeps customers engaged and creates a fresh touchpoint that can lead to new sales.
Case study 2: Gifts enhance an onsite tour
If trade shows are a chance to make first impressions, follow-up trade show gifts are a chance to make lasting impressions—something SAFE Boats International, LLC in Bremerton, Washington, likes to do whenever a customer visits their business. The company builds high-end custom boats primarily for municipalities like military, police and fire departments.
SAFE Boats attends a variety of trade shows across the country, including the International WorkBoat Show in New Orleans, Louisiana. "People from all over the world come to that—contractors buying for a customer or actual customers," Marketing & Sales Specialist Troy Knivila-Ritchie said. "We'll also have government officials from foreign countries. These are the contract specialists who have the ability to purchase."
Foreign officials visit the SAFE Boats facility for a number of reasons: to learn more about what the company can build and how the boats are made, to check on the progress of boats being built for them, or for training. "A lot of it is follow-up," Knivila-Ritchie said. "People want to come and see what we can offer."
Visitors get a bag with brochures, sales sheets and some fun swag like hats, pens, luggage identifiers or water bottles. "We hope that when they use them, they'll think about our products," Knivila-Ritchie said.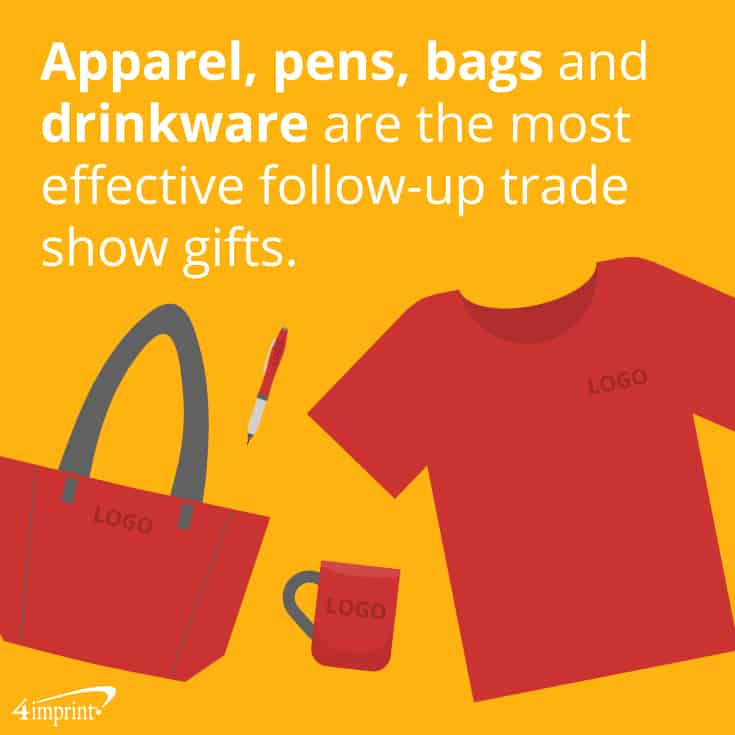 With their bags, hats and water bottles, SAFE Boats offers three of the four most effective trade show follow-up giveaways as a part of its sales process. Moreover, the gifts won't just make an impression on the recipients. Bags and hats generate more than 3,000 impressions (PDF), which means every time one of their customers is thinking of SAFE Boats, another potential customer will likely be thinking of them, too.
Case study 3: Share information easily
Although customers may sometimes leave a trade show with lots of information about your organization, there still may be gaps in their knowledge. Send them value-added informational content to help make the sale. Don't be surprised if the amount of information they need is extensive. One study showed that, on average, people need to see 11.4 pieces of content before making a buying decision.
Pergam Technical Services in Renton, Washington, found a simple, space-saving way to share information with potential customers and partners: They use Swing USB Drives for trade shows and follow-up.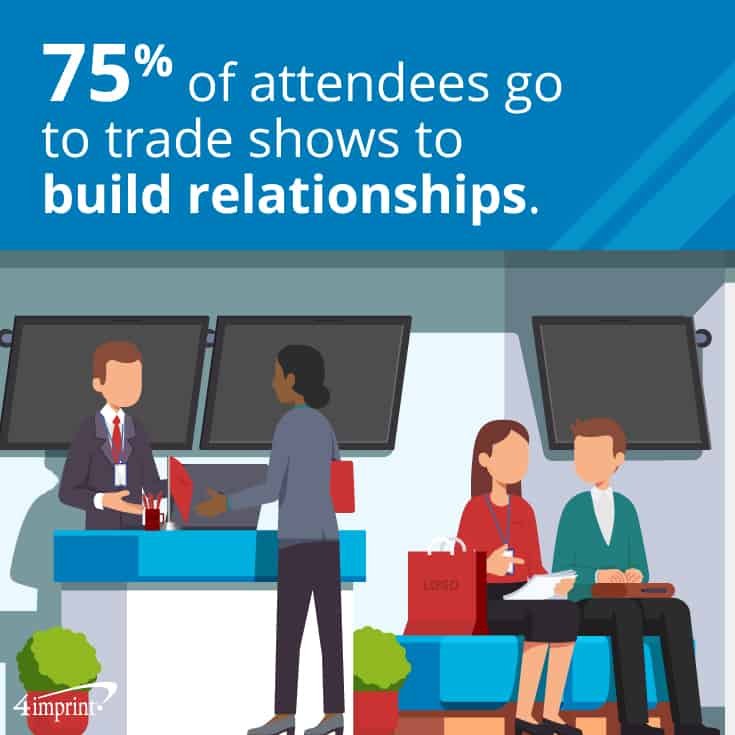 Like 75% of trade show attendees, Pergam attends trade shows to build relationships. They connect with utility companies that use their services and with helicopter businesses they partner with.
"We do large and small trade shows," said Office Administrator and Marketer Susan Holton. "Maybe 15 to 20 a year. People don't usually want to carry around a lot of paper at a trade show, so we put everything on the drive, including brochures, literature, catalogs, studies and reports that people can look at later, at their leisure. We put it into a small bag along with a business card and a directory of what's on the drive."
The drives allow them to follow up in a variety of ways. Companies that purchase their products receive manuals, quick-start guides and troubleshooting information on another drive.
"We hand them a whole lot of information on a little stick," Holton said with a laugh.
The USB drives also provide customization options when following up. "Last week, we did a short video for an organization that ordered 200 pieces of equipment and added it to the drives," Holton said. "We also use the drives to follow up with people who are on the fence, because we can share previous leak-detection results to show the outcome they'll likely get when using our equipment to do the same thing."
"They used to say a picture is worth a thousand words, but now a USB drive is practically an unlimited number of words." Holton said.
Create your own success story
As these trade show swag ideas show, giveaways don't have to be expensive or complicated to be effective. Pairing gifts with your follow-up—whether through the mail or in person—will help you create your own success story.