Working with charities like this is one of the things I love about my job. 
-Cheryl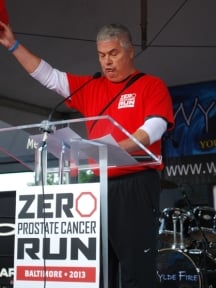 ZERO Prostate Cancer Challenge
ZERO Prostate Cancer is a national nonprofit organization on a mission to end prostate cancer. They advance their mission through research, education, support and awareness. One program, the ZERO Prostate Cancer Challenge run or walk and golf tournament was started by Baltimore, Maryland's Chesapeake Urology less than seven years ago. Today, 37 cities across the nation participate. This year, the Baltimore ZERO Prostate Challenge attracted more than 1700 participants.
The Challenge has a fair-like atmosphere—there are vendors, speakers, politicians, etc. Lenny Moore, former Baltimore Colts running back and prostate cancer awareness advocate helps chair the event. There is a special hat ceremony held to honor survivors at the start of the run. It has been named the, "Ring of Honor" and this year there were 150 survivors who participated. Survivors received hats that were purchased with a one by one® grant from promotional products retailer 4imprint®. The survivors held their hats high and waved them in the air while listening to the words of prostate cancer survivor, Phil Shulka:
"We stand before you today being blessed to survive this deadly disease. Some, however, are not so lucky. A man dies every 18 minutes from prostate cancer. We stand before you today proud to be recognized as a survivor, increasing the awareness of prostate cancer and more importantly to say thank you for supporting this cause. We tip our caps in appreciation and encourage you to continue to help us to find a cure."
The money raised from the event goes towards providing free screenings for at-risk populations, particularly in the African-American community where the prevalence rate is much higher. A screening bus, staffed by volunteers goes into at-risk communities 10-12 times a year—each time screening between 100-150 men. Approximately 76 Americans die each day from prostate cancer, and the mission of the ZERO Prostate Cancer Challenge is to drastically reduce this number and save more lives.
You can read more recipient stories on the one by one website. To apply for a one by one grant, visit onebyone.4imprint.com and click the Application tab.