Recently, I was fortunate enough to be able to take part in a tour of Zappos headquarters in Las Vegas.
The company Tony Hsieh has created has been highlighted many times for its exemplary customer service and fun working atmosphere. They are also big believers in using promotional products. Zappos gives out t-shirts every year to commemorate sales achievements.
My favorite was for 2007; they were so proud of hitting their first $5 million sales day that they 'splurged' on long sleeved t-shirts!  What an inexpensive but fun way to reward teams for doing a great job, celebrate employment anniversaries or meet sales goals.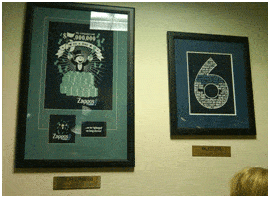 To highlight their company growth each t-shirt had been framed and hung – they looked great.
-Suzanne