You never know how an organization will make a difference. Here's one inspiring story.
-Cheryl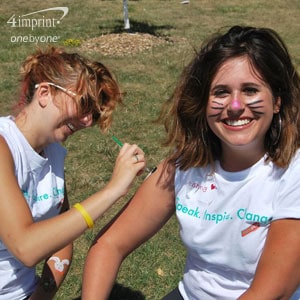 YouthSpeak empowers youth in the Greater Toronto Area struggling with mental health issues, bullying and/or addiction by providing them the training and leadership skills necessary to share their personal and inspiring stories with others in assemblies and workshops. Since its inception in 2003, YouthSpeak has reached more than 150,000 people; just last year, the organization's 18 speakers were seen in front of 30,000 elementary and post-secondary students, parents and teachers. Countless others heard the message at YouthSpeak's first annual Big BAM Challenge. The event sought to provide area youth with a variety of experiences to help build leadership and empowerment skills. These challenges included indoor fitness instruction, a bike course, a hockey challenge, a pie-eating contest and an obstacle course created by York Region Police.
YouthSpeak was a recipient of a one by one® grant from promotional products retailer 4imprint®. It used the grant to purchase custom silicone bracelets for Big BAM Challenge attendees. "We were thrilled to receive this grant," said Una Wright, YouthSpeak founder and team coach. "Our event was all about making connections, and these bracelets allowed us to do just that."
To read more stories like this one, check out Cheryl's blog. If you'd like to learn more about 4imprint's one by one program, visit our website at onebyone.4imprint.com.