You never know how an organization will make a difference. Here's one inspiring story.  
-Cheryl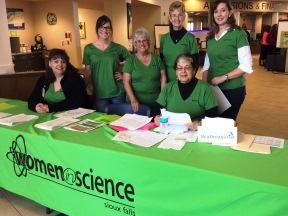 For some young girls, the thought of a career in science is less than exciting. But that can change after they attend the Sioux Falls Women in Science Eighth Grade Career Expo—said by some students to be the best field trip of the year. This fun, high energy event just held its tenth annual expo, led by a committee of 17 professional women volunteers and attended by more than 600 eighth grade girls from 30 area schools.
The expo offers attendees a chance to participate in hands-on activities related to career exploration and provides the opportunity to meet more than 100 professional women in science as well as representatives from area colleges to help prepare for higher learning. Young girls learn about careers in science and similar fields that aren't necessarily found in a traditional school curriculum. "This program fills the gaps that the schools aren't able to," said Women in Science Board Member Kristy Jackson. "It gives girls a chance to see if they can see themselves fitting into those [career] fields."
This nonprofit organization was a recent recipient of a one by one® grant from promotional products retailer 4imprint®. The grant was used to purchase a logo'd tablecloth for the registration table and stress balls to thank volunteers for their time. "The tablecloth really helped us to have a presence at the event and stand out as the central resource center," said Jackson. "We've been able to use it at other events as well and it really contributes to a professional look."
You can read more recipient stories on the one by one website. To apply for a one by one grant, visit onebyone.4imprint.com and click the Application tab.