Sometimes it's the little things that make a big difference.
-Cheryl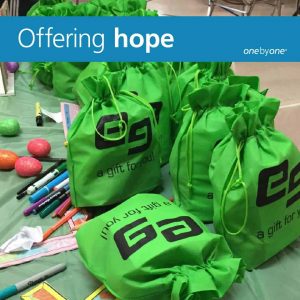 Vancouver Chinese Pentecostal Church's Emerging Generations ministry welcomes everyone from kindergarten through college (plus the occasional young at heart). The group meets for Friday night worship, attends events and participates in church-led activities. This group also does so much more than that—Emerging Generations' youth literally walk the walk and talk the talk. Perhaps this is best illustrated by the charitable organization's student-led "Adopt-a-Block" initiative. Each month, Emerging Generations students (age 10 and up) team up to walk the area's Downtown Eastside to participate in homeless outreach. The area is known as the "poorest postal code in the country" due to its crime rate, homelessness and mental illness, said Emerging Generations Pastor Vincent Chan. This doesn't sway the youth group as it delivers food and water, talks, listens and offers prayer to upwards of 250 people. 

Emerging Generations received a one by one® grant from promotional products retailer 4imprint®. It used the grant to purchase tote bags for its special Good Friday outreach. The bags were filled with fruit and contained a special Easter greeting. "Because of the bags, we're now known on the street as the 'group with the green bags,'" said Chan. "We were really pumped 4imprint selected our church for this grant. It's provided us with so many opportunities."
To read more stories like this one, check out Cheryl's blog. If you'd like to learn more about 4imprint's one by one program, visit our website at onebyone.4imprint.com.