Back in England, everyone has umbrellas in their cars, homes, bags, etc. If you leave on one the train, it's not a big deal, because you have another.  If you don't, there's likely an umbrella vending machine nearby where you can get one.
Five years ago, umbrellas were just functional.  If you wanted something really different, you might be able to get an umbrella with alternating color panels.  But, that's all changing.  Take a look at some of these new styles.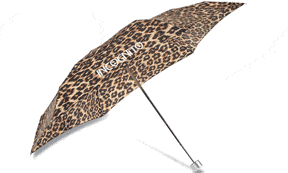 The totes jingle 'brella in Leopard is a high-quality product from a well-recognized umbrella-maker.  This umbrella also comes in Polka Dots and Solid colors.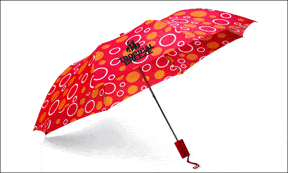 Looking for designer style at budget-friendly prices?  The Expressions Umbrella comes in three eye-catching colors that provide a snappy background for your logo.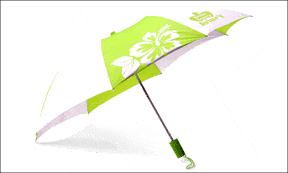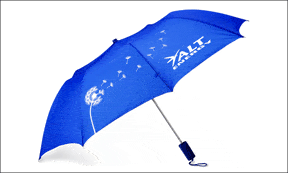 The MonoGraFX Silhouette Auto Open Umbrella or the MonoGraFX Breeze Auto Open Umbrella are two budget-friendly, stylish option.  Bold images of a flower or dandelion blowing in the breeze look great against a red, green, blue or black background.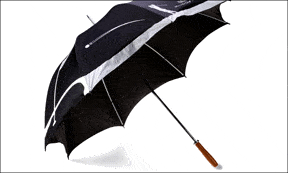 The MonoGraFX Golfer Umbrella is equally eye-catching, with its swinging golfer and course design rimming the umbrella's edge.
The style upgrades make umbrellas a great corporate giveaways if you (or your customers) live in the Pacific Northwest, Florida or another place where carrying an umbrella is a way of life.
-Suzanne