We love hearing stories like this.
-Cheryl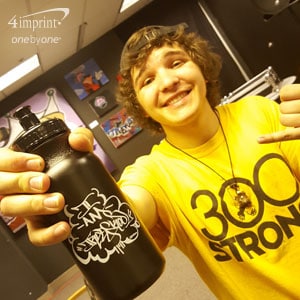 Nonprofit organization TRUE Skool has been providing services to Milwaukee high school students for more than 12 years. The after school program uses urban arts to engage youth in social justice, wellness, leadership and workforce development. The group's 40 students are taught to succeed at life by learning important coping skills as well as healthy ways to process social/emotional and gender-specific issues. All these life lessons come through project-based learning focused on the arts, music and dance. TRUE Skool's services are offered free of charge to those willing to commit to three weekly sessions during the school year as well as a number of community service hours. Students generally stay in the program two to four years and, after that time, can continue on through summer workforce development programs, internships and even teaching opportunities.
TRUE Skool received a one by one® grant from promotional products retailer 4imprint®. It used the grant to purchase branded water bottles. These are gifted to new students in a welcome bag, along with a combination notebook/sketchbook, pen and stickers. "All the items in our welcome bag are very purposeful," said executive director Sarah Dollhausen. "We are big on conserving water, and the reusable bottles help support that goal."
To learn more about the 4imprint one by one program, visit our website at onebyone.4imprint.com. You can read more stories from our inspiring group of one by one recipients on Cheryl's blog.