'Tis the season for travel and warm beverages.
And, that makes this a good time of year to talk about travel mugs. In this post, I want to show you travel mugs in a few new styles that are designed to attract more attention to your logo.
High Contrast Colors, New Logo Area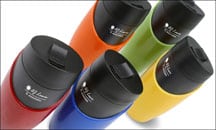 If you're looking for a more modern travel mug design, look at one of the new options with high-contrast style. The Nerva Travel Mug (pictured above) attracts attention because the logo isn't in the usual imprint spot. Bright colors contrast against the black imprint area and lid for a very now look.
Straight Sides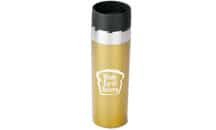 These mugs are sleek. Straight sides give an updated, minimalist look. Mugs in this style are available in both acrylic and stainless. The Biodegradable Venti Tumbler (pictured above) is acrylic.
The Ellipse Tumbler (pictured below) is made from stainless steel.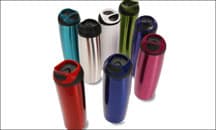 The Paper-look-alike
For the latest mug style, consider a paper-look-alike mug. The Terra Coffee Cup is actually ceramic with a rubber lid.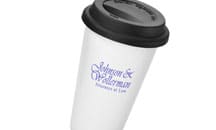 These are fun to carry around because people often do a double-take, when they realize this isn't a throwaway cup. These will make fun holiday gifts for those looking to make a statement.
-Suzanne