Here's a product that caught my eye.  This clever little bookmark is called the mark-my-time(TM).  As its name suggests, it has a timer attached to it.  Parents can use the timer with their children, encouraging them to read for 20 minutes each day.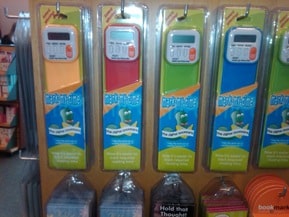 Ever wondered why 20 minutes is the standard?  The American Educational Research Association answered that question in their newsletter, citing research that shows students who scored highest on tests for reading proficiency read at least 20 minutes a day, taking in 1.8 million words per year.  That's more than 5 times as many words as children who read just 5 minutes a day.
We expect to add a bookmark timer to our promotional products line later this summer.  Stay tuned!
-Suzanne