Sometimes it is just about the unexpected, the surprise.
That's what this nice parcel from hotels.com was… a nice surprise.
As someone that travels quite a lot, I'm a frequent customer of theirs and part of their FIVESTAR loyalty program. That said, I'm a good customer to several travel companies but don't think I've ever had a real thank you gift from anyone else. (Plastic cards and miles don't count!)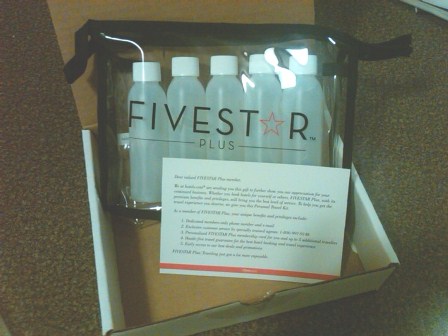 Perfect for today's travelers they sent me a TSA-sized plastic travel bag, complete with a set of bottles for toiletries, etc.
The gift is useful, but I'll remember this more for the fact that it was unexpected and made me feel that they valued my business – even though an organization like theirs probably has hundreds of thousands of customers. How very unexpected.
-Suzanne