Sometimes it's the little things that make a big difference.
-Cheryl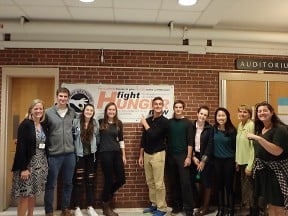 The Greater Boston Food Bank
The Power of Change Project
Last year, The Greater Boston Food Bank® (GBFB) distributed more than 54 million pounds of food—enough to provide 43 million meals to half a million hungry people in eastern Massachusetts. The nonprofit organization accomplishes this through food industry donations, purchasing food, financial contributions, and of course, the help of its more than 25,000 volunteers. This year, GBFB will also benefit from the Power of Change Project. Brainchild of Lexington High School junior Christi Lee (daughter of GBFB board member Ken Lee), the Power of Change's mission is two-fold: To empower teens to give through philanthropy and to raise awareness of domestic hunger.
The project operates under the premise that you don't have to give a lot to make a difference. In fact, a 50-cent challenge is being held at Lexington High School and 16 other area high schools. A one by one® grant was awarded to the Power of Change project—the grant was used to purchase collection boxes for donations and banners for promotion. "Hunger in our own communities is often invisible. Christi formulated the Power of Change Project after realizing how few people recognize domestic hunger as a serious community issue. She wanted to show that teens can make a difference," said Ken Lee. "The project is building momentum, and this grant allowed Christi to put a professional look to the campaign—she was so grateful for the support!"
You can read more recipient stories on the one by one website. To apply for a one by one grant, visit onebyone.4imprint.com and click the Application tab.