Meet Project Buddy.
Project Buddy is a 5 x 7 notebook that comes fully equipped for project work.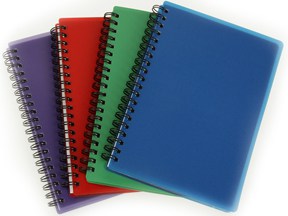 The idea for Project Buddy came from our best-selling Pocket Buddy – a promotional notebook with a re-sealable pouch at the back.  Like Pocket Buddy, it includes a great imprint space on the notebook's cover.  But, Project Buddy also includes a re-sealable plastic pouch at the back with a pen, paper clips and sticky flags.  And, the three-pocket pouch has space for toting anything else that might be needed to see a project through to completion.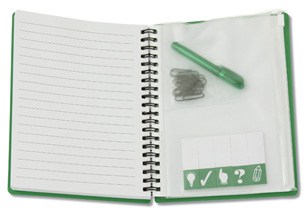 This is one of the most useful promotional items we've designed!  There are so many different ways you could use Project Buddy.
Give Project Buddy to project teams during project kick-off meetings.
Hand this promotional notebook out to college first-year students during orientation.
Provide these promotional products to employee wellness groups to track nutrition and exercise.
Include this giveaway with conference materials so attendees can easily track notes, business cards and other materials in one convenient location.
The potential uses are almost endless.  What other ideas do you have?
-Suzanne