Blue or black?
The question of ink color is one that draws lots of conversation.  Here in the U.S., many pens come with black ink as the default.  In other parts of the world (such as Europe), it's actually the other way around and the default is blue.
I have good news for fans of blue ink!  Coming soon is the stylish new Athena Pen with blue ink.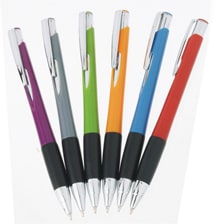 This 4imprint exclusive comes in molded plastic and will be available in a refreshed palette of bright promotional colors.  The range of hues features black rubber and chrome-colored accents.  Each color looks great with blue ink, of course!
-Suzanne