Planning party for a grown-up crowd? Here are a couple of promotional products that will put a smile on their faces.
The re-usable Red Party Cup takes the college party classic to a whole new level. And, that's what makes it party-perfect for adults.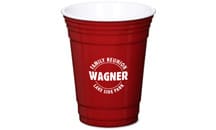 This drinkware will not only make your guests smile, it also doubles as a party favor and personalized giveaway. That'll keep the fun of your party on your guests' minds for years to come.
Another fun party giveaway is the Vino2Go Tumbler, a promotional product with a split personality. On the outside, it looks like a travel mug. But, inside, it is molded to look like a wine glass.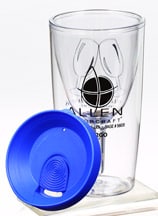 This makes these unbreakable tumblers perfect for camping trips, eliminating wine will be spilled from the mesh cup holder of a fold-up chair.
And, here's a sneak preview of another item: If you're looking for something with more vintage appeal, check out this new spin on the vintage jar.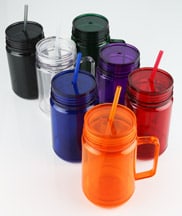 Though the Game Day Mason Jar (Product #117770) silhouette is rich with tradition, the addition of color, cover, straw and handle transform this travel mug into a new classic.
That's what makes all of these travel mugs and tumblers the perfect addition to a family reunion, company picnic or golf outing. They're promotional items that inspire a little bit of fun. And, that goes a long way!
-Suzanne