We are continually impressed by the good work charitable organizations do. 
-Cheryl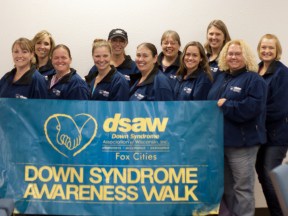 Timothy Ditter was the Walk Ambassador at the 2011 Awareness Walk for the Down Syndrome Association of Wisconsin—Fox Cities. For the 2012 Awareness Walk on Saturday, October 6, a team walked in his memory instead. It was Timothy's personal journey that inspired so many to give and walk in his name.
Planning the Awareness Walk was a big project for the Down Syndrome Association of Wisconsin—Fox Cities (DSAW-FC). An organization dedicated to providing "support to families and individuals with Down Syndrome through education, information and the exchange of ideas and experiences," the group serves over 100 families in the Fox Cities region of northeast Wisconsin by putting on social events, workshops, providing new parent information, continuing education scholarships and grant opportunities.
Those families—and many others—participated in this fall's Awareness Walk at Riverside Park in Neenah, Wisconsin. In each of the first two years, the DSAW-FC raised approximately $60,000. In 2012, however, they were able to raise $75,000. Money raised will go towards sustaining DSAW-FC programs including a continuing education scholarship in Timothy Ditter's name.
Melanie Baeten helped lead the DSAW-FC walk committee in their planning efforts. When one of the committee members introduced her to the 4imprint® one by one® charitable giving program, Melanie happily applied. Not long after, she was thrilled to accept the in-kind donation of 12 fleece jackets for every member of the walk committee to wear during the day's festivities.
The Awareness Walk was a great day and a great fundraiser for the Down Syndrome Association of Wisconsin-Fox Cities. For Melanie, it renewed her sense of purpose in the organization and the people and families it serves. "There is definitely a need for an event like this here," she says.
You can read more recipient stories on the one by one website. To apply for a one by one grant, visit onebyone.4imprint.com and click the Application tab.