How wonderful to hear about such meaningful work.
-Cheryl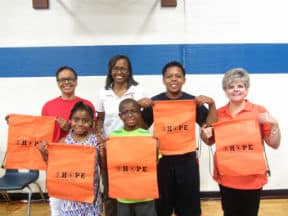 The Daniel Migael Foundation, Inc.'s "Better Vision Better Hope" program operates under the belief that with better vision, there is hope for better education, business and spirituality. This nonprofit organization provides free eye exams and prescription glasses for those with low income, who are homeless or in rehab facilities and programs. These free screenings are provided to people in developing countries as well as at major health events and in shelters throughout the nation. At the last health event, held at the Alamodome in San Antonio, eye exams were given to almost 2,000 patients and more than 1,400 pairs of eye glasses were prescribed.
The Daniel Migael Foundation, Inc. was the recipient of a one by one® from promotional products retailer 4imprint®. The Foundation used the grant to purchase cinch bags to distribute to children at screening events and in shelters and orphanages. The bags contained sunglasses, finger puppets, coloring books, teddy bears and literature on the importance of protecting the eyes. "We were honored to receive this grant," said Dr. Gayle Daniels, foundation founder, Optometrist and executive director. "One young lady was given glasses and was able to complete a training course and then get a job. Another man, 50 years old with 20/50 vision, never had an eye exam or glasses. His eyes became red with tears when we finally showed him what he was missing."
You can read more recipient stories on the one by one website. To apply for a one by one grant, visit onebyone.4imprint.com and click the Application tab.