Whether the goal is to thank donors or raise awareness, it's really fun to hear about some of the creative things charities do.
-Cheryl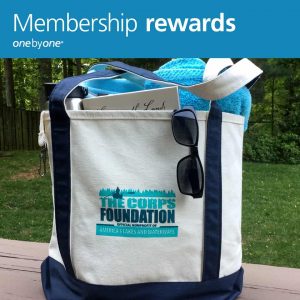 Until 2006, The U.S. Army Corps of Engineers (The Corps) was the only national agency of its kind that did not have a non-profit partner to raise awareness of its natural resources work. That year, a group of volunteers launched The Corps Foundation to fill this gap. The foundation is essentially an extension of its national partner, working to support our lakes and waterways and boosting awareness of natural resource conservation, water safety practices and recreational opportunities. 
The Corp manages 12 million U.S. acres of wildlife and fisheries habitats in 43 states. Along with that, 54 non-profit organizations—known as "friends" groups—work locally to support lakes and waterways in their areas. The Corps Foundation acts as an information network to these friends, providing them with training and information in grant writing, fundraising and promotional awareness. The Corps Foundation also has established its own membership base, which provides the organization with a network through which to disseminate information, raise funds and recruit volunteers. 
The Corps Foundation was a recipient of a one by one® grant from promotional products retailer 4imprint®. The foundation received tote bags that it will use as a membership premium during its upcoming membership drive. As the organization reaches out to its database of 645 individuals and organizations, it plans to incentivize those who join or renew with the tote as a thank you gift. "It's one more way for us to demonstrate and thank the people who want to support us and to give them something valuable in return," said Donna Asbury, board member and membership committee chair. "It's also important for people to see our logo and to see we are working for their benefit and for the benefit of our natural resources."
To read more stories like this one, check out Cheryl's blog.  If you'd like to learn more about 4imprint's one by one program, visit our website at onebyone.4imprint.com.