Whether the goal is to thank volunteers or raise awareness, it's really fun to hear about some of the creative things charities do.
-Cheryl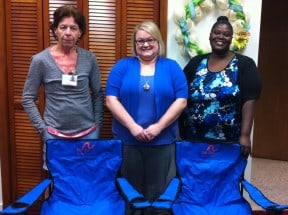 The Arc of Davidson County was founded in 1951 to provide support to those with intellectual and developmental disabilities. Today, the nonprofit organization serves hundreds of Davidson County residents—directly and indirectly—through advocacy and resource and referral assistance. An additional 23 adults are served through the organization's residential assistance program, which provides in-home care, staffed around the clock by direct support professionals (DSPs). DSPs are responsible for resident health, safety, personal care, transportation and more. "It can be a lot," said executive director Teresa McKeon. "Some of our staff have been here 16 years—it is an emotional and sometimes draining job." 
The Arc of Davidson County was the recipient of a one by one® from promotional products retailer 4imprint®. It used the grant to purchase logo'd folding chairs as a gift to its DSPs during September's National Direct Service Professionals Week. "We really wanted to celebrate our DSPs and show them how much we value them," said McKeon. "This grant provided the opportunity to deliver a tangible thank you. We were over the moon!"
You can read more recipient stories on the one by one website. To apply for a one by one grant, visit onebyone.4imprint.com and click the Application tab.