Candy is always a hit at trade shows. While delicious, standard store-bought, pre-wrapped candy giveaways do nothing to reinforce your brand.
That's where these sweet treats come in.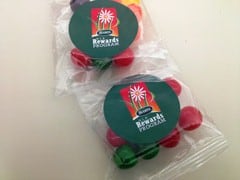 The personalized Tasty Bites Gourmet Jelly Beans can be packaged with your logo AND in your logo colors.
That means if you have a green and red logo (as in the example shown above), your promotional candy packs can be filled with only green and red jelly beans.
If you are looking for a creative way to use these promotional products to grab even more attention, ask trade show attendees a trivia question. Or, invite attendees to an hourly demo, during which you take questions from the group. With each answer or question, toss a brightly colored package of candy. That's a simple way to get people talking about your brand and your giveaway.
-Suzanne