There are so many worthy causes that need help. This one is particularly touching.
-Cheryl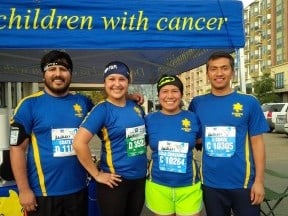 Sunshine Kids Foundation has been dedicated to providing fun, excitement and normalcy to kids with cancer for more than 30 years. The nonprofit organization serves approximately 5,000 kids undergoing cancer treatment each year and provides them with exciting, positive group activities so they may once again do what they are meant to do—have fun and celebrate! Sunshine Kids organizes and funds 8 to 10 national trips annually where teens travel on weeklong, exciting vacations to places like Colorado, New York, Florida and more. For younger children and their families, there are daytime events to amusement parks, museums, water parks, sporting events and shows such as Monster Jam® and Disney® on Ice. The trips aim to remove youth from the hospital setting so they can have fun, socialize and meet others experiencing similar situations.  You can learn more about the Sunshine Kids Foundation at www.sunshinekids.org. 
Sunshine Kids is one of the official charities of the annual Chevron Houston Marathon. A recipient of a one by one® from promotional products retailer 4imprint®, it used the grant to purchase T-shirts for its team of runners. "A lot of runners were once Sunshine Kids themselves," said Rachel Moody, development associate for the organization. "We also get parents, other family members, volunteers, even nurses. And because we had such amazing shirts, we were able to get our name out more and really stand out in the marathon." The Sunshine Kid's marathon team raised more than 20,000 dollars this year. "This grant helped us save a lot of money in fundraising costs and enabled us to put more of that money toward the kids—that really helps," said Moody.
You can read more recipient stories on the one by one website. To apply for a one by one grant, visit onebyone.4imprint.com and click the Application tab.