It's the bane of business travel. In a world of black suitcases and bags, business travelers find themselves standing at the turnstile after an exhausting flight, longing for a shower, a great meal and a soft bed. Instead, they find themselves waiting at the luggage carousel trying to be sure they are taking the right black bag. Chances are your customers and teammates have been there, too. Help them solve this problem with personalized luggage tags.
Personalized Luggage Tags to the Rescue
What's a savvy traveler to do? To expedite the baggage claim process, maybe you've tried tying a colorful ribbon on the handle, so you can spot your luggage quickly. Perhaps you've put some unsightly bumper stickers on your bag and found only sticker residue remains. Maybe you've considered buying new luggage.
Personalized luggage tags can make it easier than ever for you and your customers to identify the right suitcases. Not only that, custom luggage tags can also add color, style, personality and even a touch of whimsy to your journey.
Choosing Logo'd Luggage Tags
As you jet off into the great beyond, bedazzle your bags with one of these promotional luggage tag wonders.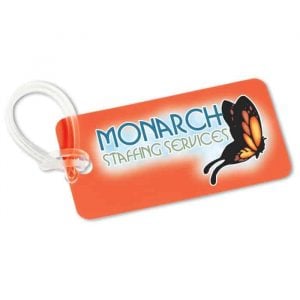 The Destination Luggage Tag comes in a rainbow of exclusive colors, from pink to light blue and sunny yellow. Select a variety of shades so your customers can select the color that reflects their individuality.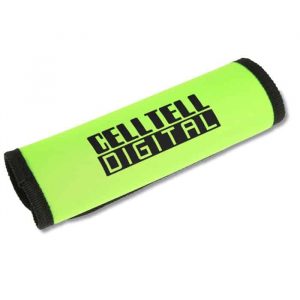 You might even want to consider the Grip-it Luggage Identifier, for next-level luggage style.
Add Some Style to Your Suitcase
To select custom luggage tags as individual as your customers, choose from these whimsical tags that make luggage (and brands) instantly recognizable.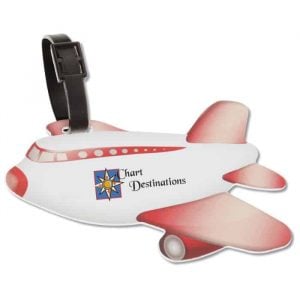 The Airplane Luggage Tag is not only unique and fun, it comes in a variety of colors, too.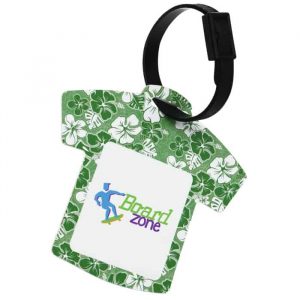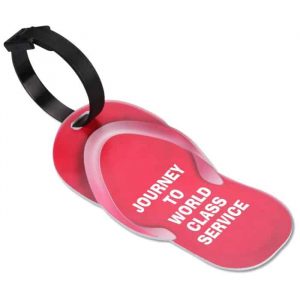 And if you have sunny locales on the mind why not lock in the beachy look? Check out the Aloha Hawaiian Shirt Luggage Tag or this Sandal Luggage Tag. Both are ready for the beachy destination of your dreams.
Logo Luggage Tags: A Business Traveler's Best Friend
When you give your customers or team logo'd luggage tags, you provide them with a solution to that awkward moment when you grab the wrong bag. Personalized luggage tags have come to the rescue! That way, they can roll into the airport with confidence and style, all the while giving a nod to your world-wise, jet-setting brand. Wheels up!
–Suzanne